Beach waves on long hair with shaved sides
@thecuthousesalon
Bold but elegant! Beach waves are really versatile and you can pair them with a shaved side cut to show off your playfulness. This is a good signal for you to spice up your long hair with blonde curls.
Bright black long hair with shaved sides
@claragondin8
Q&A with style creator Clara Gondin
Hairdresser @ Hair and Makeup by Clara in Porto, Portugal
How would you describe it?
This long hair with shaved sides for women gives you something edgy at the same time. It's not too crazy, but it's very interesting! Do you like to shave on the side? This is a modern style and an amazing way to express yourself!
What's your best advice?
If you think a lot about doing something like this but aren't sure, just do it! It's a great feeling and you feel so much adrenaline the first time you shave! It's super fun!
Don't worry too much about what you will do when you want to grow it out. You can just put your hair on the other side and it will look like you didn't even shave to the side. You can also do fun hairstyles like a low ponytail or braids to hide the shaved part.
As far as shaved hair styles go, it's a lot of fun to do a high ponytail with lots of volume in your hair, boxer braids, or just wear them loose!
You can also shave just the bottom of your head, shave both sides of your head, just the back of your head, or both! Just do it! Don't be afraid. It's much easier than you think. And don't forget, it's hair, it's growing back!
Natural long hair with shaved sides
@chairezcoiffure
Q&A with style creator Enrique Chairez
Salon Owner / Stylist @ Chairez Coiffure Salon in El Paso, TX
---
How would you describe it?
When it comes to long hair, shaved sides make for a very bold and unapologetic hairstyle. Women wearing it tell you that they are confident, strong and brave.
What's your best advice?
If a woman decides to keep her hair as short as shown in the picture, it is costly, but with the right products, it also requires minimal maintenance and gentle growth. It's a medium hold styling wax like Amika's Heist and a styling lotion like Amika's Velveteen to keep your hair frizz-free and silky. You should also consider the Denman brush.
First, blow on the short side, following the fibers and directing the airflow towards the hair so that it does not fly apart and close the cuticle. The rest of the hair is up to you whether you want to wear it wavy or straight.
Half shaved blonde long hair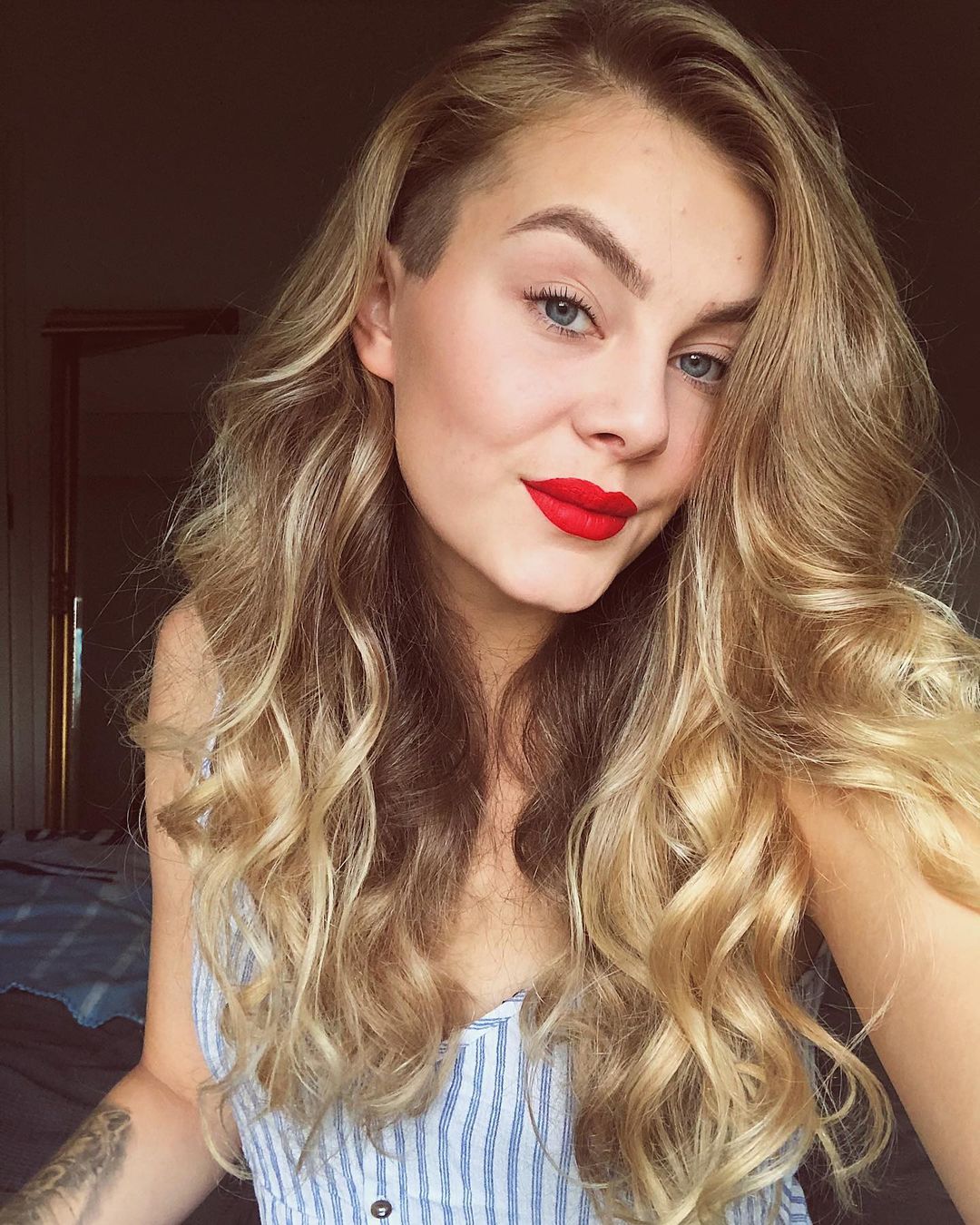 @neeasaarela
Half-shaven long blonde hair proves one thing: the undercut is not only suitable for short hair. With this chop, a lady can go from edgy to girly. Style your hair in waves to accentuate your blonde hue and give it a more feminine look. For thick curls, an undercut is one of the best options. This reduces the volume of the hair.
Punk rock undercut with shaved sides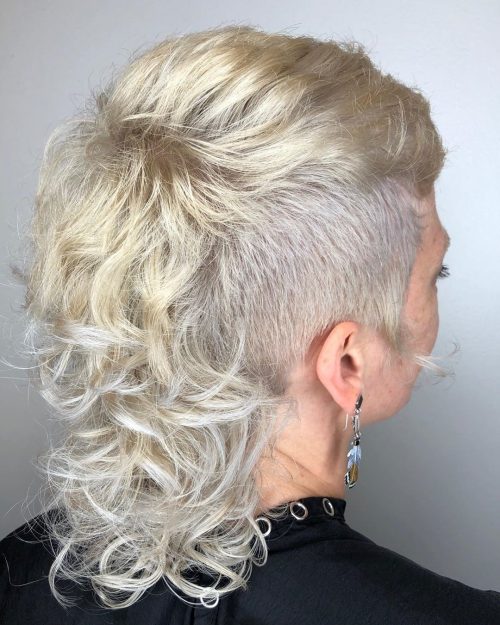 @prepanfoxx
Looking for a cool hairstyle? Give your long hair a twist by shaved on both sides for an edgy look. This punk rock hairstyle has a modern mullet vibe perfect for your natural gray roots. Add some blonde and ombre for a melting color effect that matches the ends of your beach waves.
Shaved undercut with long braids
@miss.destiny.evans
An unexpected pairing like long braids and shaved sides can be the perfect combination you've been looking for! Punk rock and puppetry meet in this incredibly flattering shaved side long hairstyle!
Long hair with shaved hair and shaved eyebrows
@exoticismos
Hidden under your gorgeous, textured hair is an intricate pattern thanks to the magic of using a clipper to make these undercut designs! Put on your long hair with a short bob to show off this amazing surprise that everyone will appreciate. Haircut with shaved hair for women is very fashionable!
Shaved sides for long straight hair
@meganreidhair
An unexpected twist to long straight hair, shaved sides can have an unexpected look like this one right here. Straight hair and bangs can be easily updated with a clipper!
Daring long hair
@rachelnbettis
Q&A with style creator Rachel Bettis
Master Hairdresser @ Ulta Beauty in Houston, TX
---
How would you describe it?
This edgy long hair can be quite versatile. It features soft and sexy long curls with a rocker edge.
What's your best advice?
Before cutting your hair in this way, keep an eye on the shape of the head just above the parietal ridge. This will help the hair lie better on that far side.
Changing the part on the opposite side or in the middle will completely cover the shaved side. Do this if you want to create a more conservative style.
Thick fluffy hair has fabulous shapes, it looks like this, because if you want it is much easier to hide the shave on the side.
Blowing your hair out with a medium hold mousse/foam will give you more control. Try Kenra thickening mousse or Redken Guts.
Get ready for a slow regrowth process!! It will take a whole year to get about 6 inches tall.
Long hair shaved on one side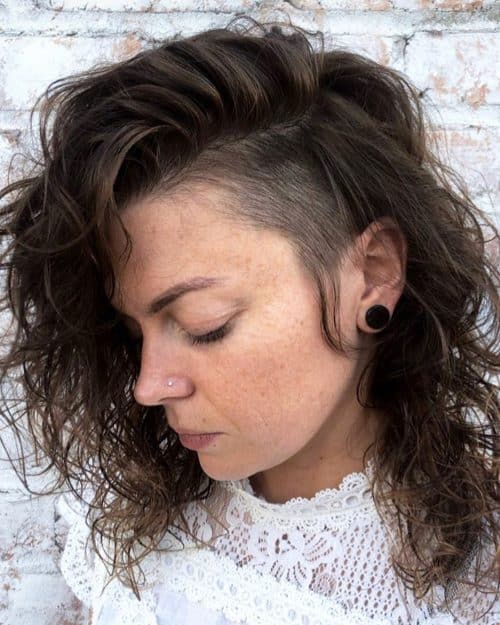 @dnalabsalon
Lightly shave off your long hair on one side for the perfect punk rock cut! Any hair, especially this textured wavy hairstyle, promises to be well-completed with an undercut.
Curly Long Hair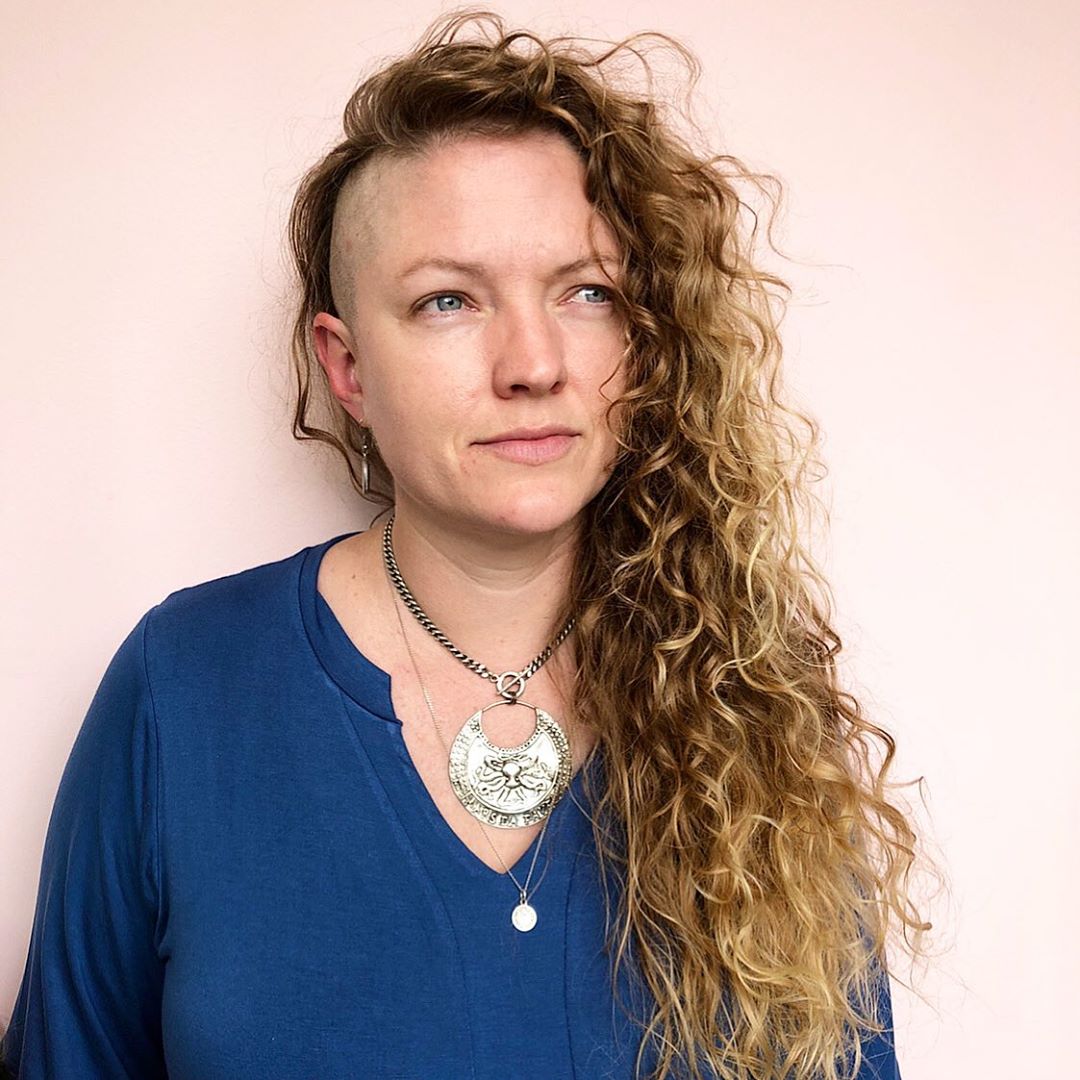 @mr_d_hair
Choose curly long hair with a shaved side for a rock and roll vibe. The length and curls somehow give it a classy, ​​feminine touch. Chop, meanwhile, offers a strong, edgy finish to the exterior.
Long hair shaved to one side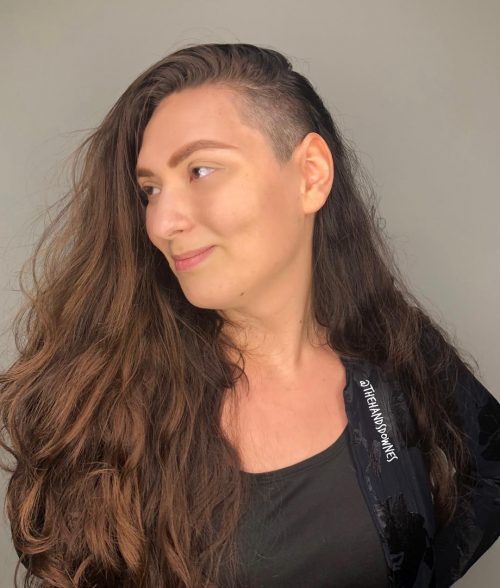 @thehandsdownes
Q&A with Style Creator Daniel Downes
Hairdresser @ Salon Gratitude Inc in New Hope, PA
---
How would you describe it?
It's "Rebel Soul Rapunzel" because of the combination of ultra-feminine romantic length and anarchy whisper buzzing side.
What's your best advice?
If you are interested in long hairstyles with shaved sides, do not be afraid to have a good 20-minute consultation with your stylist/hairdresser to assess your hair type and daily styling. So they can customize the location, length and width of the buzz to suit your needs. This may mean paying the full cost of the haircut for the time spent in their chair, but it guarantees a result you won't regret.
As for the product, use Paul Mitchell Hydrocream Whip at the base and along the entire length for volume and flexible control. Especially if you have a thick wavy texture. Then blow dry, apply Paul Mitchell Hot Off The Press Thermal Spray and use the brush to curl a few strands to enhance the natural wave.
Shaved sides and back with ponytail
@crisrojasacosta
Q&A with style creator Chris Rojas
Hairdresser @ Hair by Cris in Cortazar, GTO
---
How would you describe it?
This long haircut with combed sides looks bold.
What's your best advice?
If you want to shave your sides, do it!
If your hair is very thin, then shaved sides on long hair are very easy to place from side to side. If yours is very thick, it may be harder to manipulate.
Shaved sides on very long hair
@hairthethinggg
Q&A with style creator Rebecca Valein
Hairdresser/stylist @ All Society Salon & Barbering in Murrieta, CA
---
How would you describe it?
This long haircut is shaved underneath so you can show as much or as little of your wild side as possible! This is great for women with thick or even very long hair because you keep the length but get rid of a lot of volume.
What's your best advice?
This makes it easier to style long hair because there are half as many of them. With the length, you can still do curls and keep your girly side. If you feel like living on the edge, wear a fancy braided hairstyle or just a bun and you have a mohawk!