Warm Golden Brown Hair Color
Photo Credit: Instagram @r.a.d.color
Fashionable hair right at your fingertips – this warm golden brown hair with highlights on dark hair really has an amazing glow. A simple tousle gives that dimension and accentuates your hair's glossy finish. This is a dark golden brown hair color but there are lighter options as well like the next one.
Caramel to Golden Brown Ombre
Photo Credit: Instagram @sharplookbylaura
End your waves with sweet toffee shades dripping from your rich brunette base. This hair color trend makes your locks appear lighter and way prettier! The caramel to golden brown hair color is a beautiful transition.
Golden Brown Weave
Photo Credit: Instagram @norastylez
Accent every turn of your marvelous waves with luscious mocha hues for more defined texture and movement. These stunning long pieces are sure to turn heads on your way! It's the best golden brown hair color on black hair that you'll see.
Light Golden Ash Brown
Photo Credit: Instagram @hairby.kd
Update your long healthy locks with this glossy mocha hue that screams of sophistication and elegance! Style your hair straight for shine or wavy for a multi-dimensional finish with this type of golden brown hue.
Golden Highlights on Dark Brown Hair

@micahblue7
Talk about real dimension and movement! Reveal the beauty of this hue of golden brown when you go under any light. It's one of my favorite golden brown hair dye ideas.
Light to Dark Golden Brown Ombre
Photo Credit: Instagram @elie_klein_hair
Q&A with style creator, Elie Klein
Hair Master @ La Belle Salon in Springfield, MA
How would you describe this look?
I describe the color of the base as dark chocolate brown hair while the ends are a light golden brown shade. I was inspired by the sunset which was the view from the glass window of the salon. This is a beachy long layered cut and is probably the most ideal haircut for golden brown hair.
Any advice for someone considering it?
I think this bronde hairstyle is very easy to recreate at home. It keeps being versatile and suitable for many ages and lifestyles. Long layers will allow the client to style her hair in so many ways.
In this specific case, my client is a nurse/student/mother of 3. She barely had time for herself, so this look doesn't tie her up to a touch-up for a longer period of time. Also, this hairstyle can be used by any face and body frame. About the color, you always can keep it playful going lighter or changing the times on each visit to the salon. Be always fun and never boring!
Light Brown on Long Hair
Photo Credit: Instagram @hairbyvioletta
Q&A with style creator, Violetta Domondi
Hair Stylist / Colour Specialist @ Hair by Violetta in Liverpool, UK
---
How would you describe this look?
This look is glamorous natural golden brown hair. She used to have a blonde ombre which turned orange and then yellow. That's why she wanted to go back to her natural hair color as the previous hairstylist also over-bleached her hair.
I had to do a pre-pigmentation on her hair, which is really important to keep the shine and the color for a long time, otherwise, it would fade back to blonde very quickly. After the pre-pigmentation, finally, I did the color and cut the split ends. For the style, I gave a bit of glam with the classic GHD tong and brushed out to achieve this red carpet look.
Any advice for someone considering it?
For this look, it is necessary to have a longer, thicker hair. To keep the color longer and the hair healthy, I always recommend to the clients to use a sulfate-free shampoo. I feel this is the key to great hair care, as the sulfate is a really harsh chemical product, which fades the color out quite quick. Also, it is really important to use a good conditioner after the shampoo, and after, when your hair towel dry, use a leave-in conditioner as well. Before you start blow drying you hair, use a heat protector as well. When your hair is dry, always leave your hair minimum of 30 mins before you start your styling.
To achieve exactly this look, you will need a classic GHD tong. After you used the tong all over on your hair, leave the curls to cool down for 5 mins and then brush it troughs a couple of times to get this result. It suits anyone, but if you have a round-shaped face, I would recommend keeping your hair straight.
It is a perfect hairstyle for night outs, dates, or if just want to add a bit of glam to your everyday look. Also if you wake up in the following morning, just brush through the curls again, and do a messy high ponytail, and it will look just like you left the salon a few minutes ago! Good luck!
Golden Brown Hair with Blonde Highlights
Photo Credit: Instagram @darkhairbrighthair
Q&A with style creator, Delia Garcia
Hairstylist @ Totally You Salon & Spa in La Quinta, CA
---
How would you describe this look?
Personally, my favorite features about this balayage golden brown hair with blonde highlights are the different dimensions. The blend of blonds and deep golden brown should be smooth and effortless especially when the sun hits the hair, bringing out the shiny beautiful colors.
Any advice for someone considering it?
Clients always question how the hair color and style would look on them. My advice would be when considering this style you need to be all in. You must invest in good products like sulfate-free shampoo and a good purple shampoo to prevent the hair from getting brassy.
In addition, for those wondering who can rock this hair, anyone who just wants to have fun! No matter if you have straight or curly hair or even beach waves for that summer vibe hair. Or, you can rock this look all year round! However, as a stylist I will make sure the colors and cut chosen will suit you and your personality. That's the beauty of this art. No one needs to look the same!
Sunkissed Hair
Photo Credit: Instagram @beautybytiff
Q&A with style creator, Tiffany Francis
Hair & Makeup Artist @ Salon Plum in Ladera Ranch, CA
---
How would you describe this look?
This beautiful client of mine has a level 7/6 for her natural light brown hair color. She asked for a sun-kissed golden glow, and I knew a full highlight with some lowlights would give her the dimension and warmth to achieve these golden brown streaks.
The best about this is the beautiful warm tones that complement her skin tone so well. I also love the shine that she has from the golden tones that reflect the light. Her beautiful thick hair was also a great canvas for a long layered cut that's easy to style with Unite hair products, 7 seconds leave-in, and U Oil.
Any advice for someone considering it?
Make sure your lifestyle allows for the upkeep. With this look to stay fresh and seamless, I would recommend coming no later than 8 weeks. I'd also say this look is for someone with light brown to dark blonde hair to achieve these tones.
Any hair type would be great for this and as far as styling I always recommend that my clients use both leave in conditioner and oil to protect their color and keep the hairs integrity. I do recommend curling the hair to bring out the dimension of the color as well as fullness. For clients who want to know if blondes really do have more fun, they should try this look and see.
Golden Chestnut Brown
Photo Credit: Instagram @hairby_joeschmo
Q&A with style creator, Joe Szozda
Hairstylist @ Tease Salon in Milwaukee, WI
---
How would you describe this look?
The color is creamy milk chocolate brown hair with caramel swirls. When coloring hair, I really love to incorporate different dimensions, such a red hair color in this one for a hint of auburn. I feel it makes the color more beautiful.
For the style of her hair, I was inspired by Julianne Hough. She always has a beautiful texture to her hair and is a great reference for clients when describing beach waves.
For the cut, I decided to do a long bob. The client in the photo has finer hair and likes it to look full. Long bobs are the perfect cut for fine hair to give the illusion of volume.
Any advice for someone considering it?
It's a super easy cut to style. Blow dry the hair and finish with a round brush for volume. Then grab a wand and throw some waves in it to add texture and you're ready to go. Products I would recommend would be a volume shampoo and conditioner to start. For volume, I would add a mousse at the root and some sort of thermal protectant for the ends to keep them healthy.
This is a super easy cut and color to maintain. Because of the length, the client could get away with color refreshing every 8 weeks and a cut every 12 to 16 weeks. I think this cut can be done on all face shapes. Tweaks will have to be made for each person to make sure it fits them perfectly but these are small tweaks. Bangs or no bangs, above or below the shoulder, long layers or blunt.
All in all, this is a super easy and trendy shade of golden brown that can be worn by anyone from the new mom to the high school graduate heading off to her first semester of college.
Honey Brown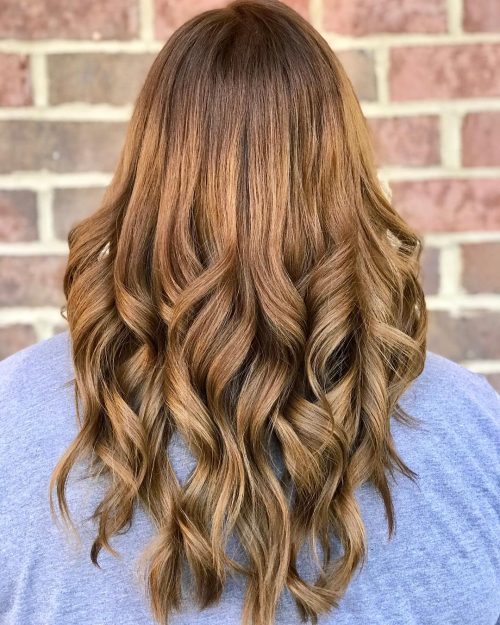 Photo Credit: Instagram @hairbykrc
Q&A with style creator, Krystal Cuevas
Stylist @ Bangs Salon in Beaufort, SC
---
How would you describe this look?
This is honey golden brown hair, and I absolutely love this color! Any guest could really pull this off. I used Davines color to achieve this along with Davines finishing products such as a texture spray and shine finish. This look is for a subtle rich color the loose waves done by chi lava was the perfect finish to show the depth of this natural color. The cut was one length with long layers. Just like honey, golden brown hair shades produces a nice shimmer.
Any advice for someone considering it?
My client had a round face which is why we kept it long to help give her some length in the face. I'd tell anyone who wanted a low maintenance color that still has a lot of richness to it this is the perfect color. Depending on face shape would determine the cut. I always recommend a texture spray for fun waves that last. Doing waves makes it easier on the client because they are not uniformed therefore they do not need to be perfect.
Golden Brown Highlights
Photo Credit: Instagram @dani_style11
Q&A with style creator, Danielle Vasta
Master Stylist / Colorist @ Avenue 145 in Mt. Kisco, NY
---
How would you describe this look?
This is a low maintenance golden brown hair color on dark brunette hair, but yet still right on-trend. What I love most about this look is the tone of the golden brown highlights. I kept it golden, but not brassy. The cut is also easy and can be versatile with styling. Keeping the look as a whole low maintenance but fashion-forward.
Any advice for someone considering it?
Listen to the direction your colorist/stylist is steering you. This client came in with an old ashy-toned foiled look. She is a young working mom and doesn't have a ton of time for herself (in general and in her morning routine). Balayage keeps it age-appropriate and fashion-forward. This also gives her the ability to go a few months in between colors. The ashy tones washed her out, giving her the golden tone brightened up her face. I also incorporated low lights to keep the depth which some foil clients lack after a while.
For her cut, we needed to keep her hair on the longer side to hide a birthmark spot on her right side. I lightly layered the interior for movement. This adds to the versatility for those busy mommy mornings prior to getting to work.
Medium Golden Brown
Photo Credit: Instagram @cristan.richardson
Q&A with style creator, Cristan Richardson
Owner / Hairstylist @ Amica Hair Studio in Pasadena, CA
---
How would you describe this look?
This look is a warm, dimensional medium golden brown hairstyle. I did every aspect of this – color, cut, style, and the extensions which we've added in for fullness (as opposed to length).
The best things about this would have to be the richness of the color and the multi-dimensional tones. I'm am not a fan of flat, one-color hair. It's just not natural, everyone has natural highlights and lowlights in their color so making everything flat and one dimensional just doesn't provide a good platform for beautiful shiny results.
The different tones catch the light and help to showcase any styling, like the soft curls we did. Even when the client goes home and styles it themselves, they'll feel like it's salon visit every time they style.
Any advice for someone considering it?
I think this particular golden brown tone is good for a large percentage of people. The soft warmness of this color will be flattering regardless of the hair is thick or thin or even face shape. The medium/long layers provide some body and volume while keeping the style very romantic and comfortable.
There are a lot of women who have a busy lifestyle, working, going out, or raising kids. They are just normal women living life, not looking for crazy vivid colors or severe cuts but still wanting to have a beautiful custom color. This one is definitely for them. Even the styling is fairly easy.
I always recommend large hot rollers. I find they are the easiest for my clients to use and can best recreate the big loose curls like these. A little flat ironing on top if you have some wave or frizz, and voila. Not hard to maintain, never going out of style, it's just a great effortless look that people will always notice and admire.
Dark Golden Brown
Photo Credit: Instagram @danidoesdopehair
Some streaks of golden blonde caramel highlights and honey brown could give your typical dark brown hue a golden, glamorous makeover. I just love these golden brown tones.
Golden Copper Brown Balayage
Photo Credit: Instagram @hairbysheilamacchia
Sun-kissed in all the natural ways! Get glowing hair this season with the right amount of caramel blonde dye to create these golden brown undertones.