Partial spiral curl
@staceylouiise91
Unlike your regular spiral perm, this one is a bit looser, thanks to a long curling iron and a little mousse to keep it in place. After the procedure, you will have lush hair with texture and elasticity.
Long loose curl
@vis_ooi27
Achieve natural waves with a perm! For these long strands, some texture could be used at the ends, giving excellent contrast between roots and ends.
Perm large curls
@brisdalebeauty
It is best to use large barrel curlers to create such thick locks. A layered arrangement is the best choice for this haircut as it will create more bounce.
Corkscrew Perm
@meldavishair
A very simple and achievable hairstyle for many women. Just get your curling iron ready and you'll be rocking those perky vertical spirals in no time!
long curly perm
@bewitchedbeauty_
These long strands really need styling! Curly curls create texture and hold the body of your hair, giving it a really thick look.
Long hair with bangs
@city_planning15
Permanent waving can be as effortless as natural waves from root to tip. The texture and wild shape that is currently the style with bangs framing the face are the ultimate benefits of this redeeming hairstyle.
Long wavy perm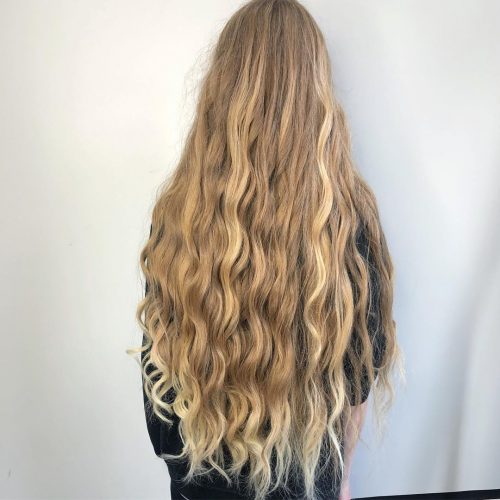 @anissa.at.iss
Your long locks have just received an update! Get an image with soft
Modern Perm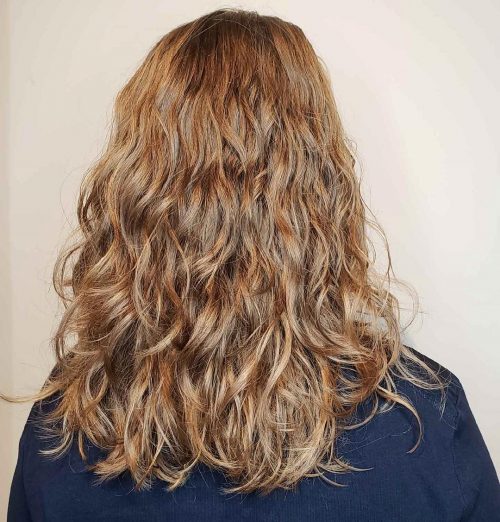 @theparlourflatirons
A modern take on tightly curled curls, this option is more inclined to give your hair that much-desired beach wave look. Achieve maximum texture and density, ideal for everyday outing.
For long thin hair
@amandxxxxxx
The ultimate way to achieve maximum texture is to keep your thin hair in a bun. You can already do so many hairstyles with this perm, which is also easy to manage and maintain.
For long thick hair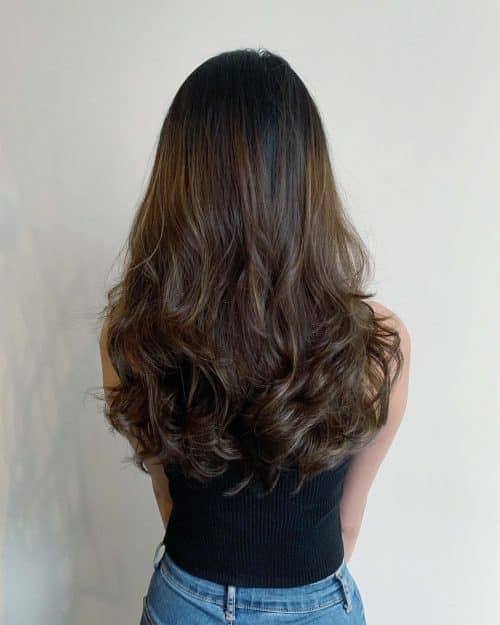 @picasso_mavischaw
The best canvas for those curls? Long blanket of thick hair! Tie off these strands for gorgeous wavy texture and highlights that show off your femininity.
For long thin hair
@maxeyhair
Fine hair definitely needs a little revitalization with texture. The curls help give those strands a more lively look, and these long strands are the perfect base for your curls.
Perm with loose curls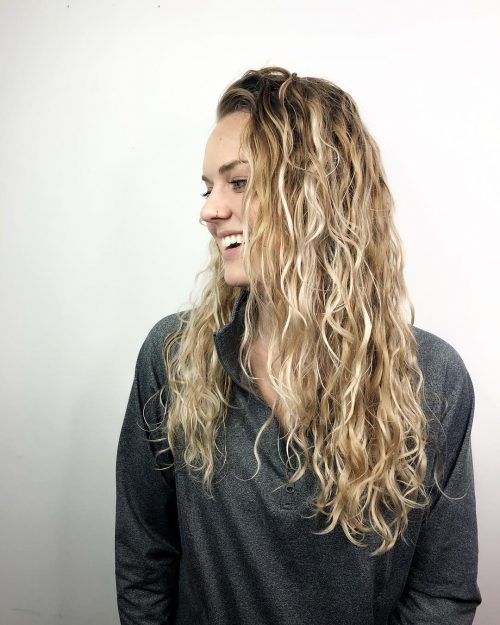 @malloryonhair
Q&A with style creator Mallory Granrath
Hairstylist at Pure Nashville Organic Salon in Nashville, Tennessee
How would you describe this look?
This look is the result of spiral perming long hair using my favorite perming solution, Organic Color Systems ammonia free solution from the UK. For styling, we used Innersense Sweet Spirit Leave-In Spray Conditioner and Innersense Volumizing Lotion, then sprayed them.
Any advice for those considering this?
Know that this end result did not come easy! First, it took a lot of prep work to get her long, bleached hair ready for the perm. We did a hair detox with Malibu Vitamin C Crystal Gel 2 weeks before we removed any growths from her hair that might prevent the gentle perming solution from penetrating her hair. After we washed it off, we continued the protein treatment to increase the power of Organic Color Systems. My client then continued her preparation at home by doing the Power Building protein treatment 4 more times (2 times a week) before her perm. If she didn't, she wouldn't have enough protein/strength in her ends and the lighter parts would simply not take on the new shape.
I rarely agree to perm clients with bleached hair because it just isn't strong enough. This client was already my client and I bleached her hair. I knew what I was working with and I knew she was willing to put in the effort and invest in pre-perm work, so that's the only reason I agreed to do this service on my bleached hair.
Clients often tell me that they need a perm so their hair needs less maintenance, but this is far from the case. If your hair is color-treated, you should go through weekly protein treatments to keep your permed hair strong by applying the right perm products correctly on wash days and drying properly. Be sure to sleep on a silk or satin pillowcase so as not to injure the cuticle after a perm. It is equally important to continue proper home care!
If you're a client who's thinking about a perm, you'll be a much better candidate if you don't have bleach on your hair. If you wash your hair every day, you are also not a candidate for a perm. Once you get your curls/waves, you don't want to break the curl pattern or dry your hair by washing it too often. Powdered dry shampoo like Oway Plant and Mineral Refresh is now my favorite for those no-wash days.
I always request a personal consultation before ordering a perm from me. This way we can see if you are a permanent waving candidate and discuss and book any pre-treatments and service times and costs.
Beach Wave Perm
@minjoohair
Q&A with style creator Katayama Minju
Hairdresser @ Sola Salon Studios in Tustin, California
---
How would you describe this look?
This hairstyle expresses her natural curls and feminine feel, different from the usual unnatural curls. The part that I see as the most feminine after the digital perm is the part that I'm most happy with.
Any advice for those considering this?
People who cannot manage their hair or have to go to work in the morning need to learn how to style their hair. Bleached hair should be avoided. Healthy hair is the best condition for a perm.
Spiral Perm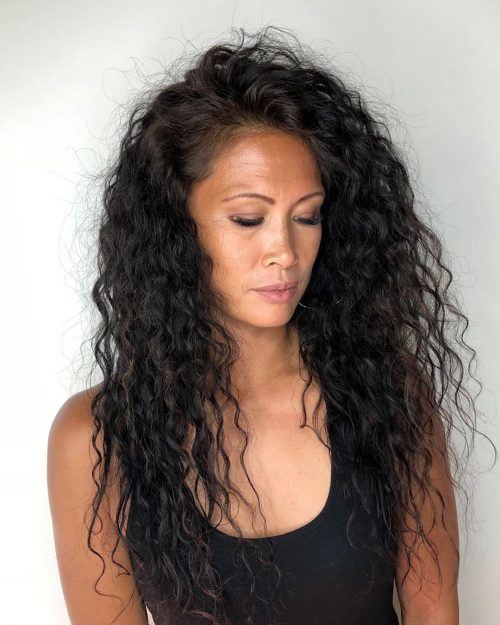 @susanleestylist
Q&A with style creator Susan Lee
Hairdresser @ Pomp and Proper in Vancouver, British Columbia
---
How would you describe this look?
Return of the 90s! I love that the spiral perm can add texture and volume to natural straight hair or enhance natural wavy or curly hair. It's big, sexy, fun and definitely an eye-catcher! Another great thing Marianne has noticed since getting a perm is that the added root lift made her hair feel less greasy, allowing her to shampoo her hair once a week!
Any advice for those considering this?
A spiral perm can take several hours at the salon – the more hair you have, the longer it will take, the more expensive it will cost. Haircuts are best done in layers to avoid triangles, which is why I like to cut before and after a perm. On Marianne's hair, Jessie used two sizes of rods at the back, and I decided to use 4 different sizes of rods at the crown and front to create the effect of more layers and make the hairstyle more natural.
Permanent waving does not require much maintenance, but you need to put in a little effort to style your curls. I would recommend taking as long of a break as possible between washes, using a special shampoo and conditioner for curls or a sulfate-free moisturizing shampoo. Pureology Curl Complete or R&Co's Cassette are excellent choices. To freshen up your curls between shampoos, you can dampen your hair in the shower, or spritz with a water bottle and spray on Pureology's Color Fanatic Leave-In. One of my favorite perm styling products is Pureology's Curl Complete Style Infusion, which is a 2-in-1 cream and gel combo. using a diffuser on medium settings. Try not to touch your hair during the day – this will eliminate frizz and make your curls look amazing!
Multitextured
@mspauline212
Questions and answers with style creator Polina Messina
Hairdresser @ Beautique Day Spa & Salon in Houston, TX
---
How would you describe this look?
I achieved this result by winding the hair in a certain way when perming this client's hair.
Her hair is quite thick, so the curls came out voluminous and soft. We were going to create a beach look that required a bit of styling. She is a first-time mom and works full-time, so she has very little time for her hair, which requires meticulous care.
What I liked the most was how natural and easy it was. Doesn't that make you want to curl your hair?
Any advice for those considering this?
Your hair must be thick, which means that you must have enough hair. Fine hair can be permed, but it won't be as bouncy and bouncy as this client's in the photo.
After a perm, you must follow a few rules. No Shampoo for 2 Days – Shampooing for up to 2 days will cause frizz to fall out. No rubber bands or ponytails – pulling the hair back hard will pull the curl out and can cause breakage. No conditioner for one week – using a conditioner before then can stretch the curl, but will definitely loosen it up.
Good products are a must. Products that increase volume are the best. Products with too many moisturizers can remove frizz faster than you'd like.
I would totally recommend this to anyone who wants to look classy, ​​with beach waves, to a new mom. This is such a great look for those who want to have a trendy look without the hassle and damage that blow drying and hot tools can cause!