Black cherry + eggplant hair dye

@fabfabiana_
Add a deep raisin touch to a black cherry and you have a gorgeous deep eggplant black cherry color.
Dark hair with bright cherry tips

@aliteiseen
Dark hair with bright cherry tips is for women who want a hint of warm tones on their curls. To get this color, ask your colorist to do a balayage with cherry ends.
Dark purple cherry hair

@beautybymd
A deep purple cherry hair color is perfect for women with a darker base color to spice up those curls. Make a bold statement while looking healthy and luxurious.
Makeup from light brown to black cherry

@coryscissorhands
Do you have light brown hair? Check out this stunning black-cherry-brown hairstyle by stylist Corey. You will achieve the desired color by combining dark purple and burgundy.
Ruby red + black cherry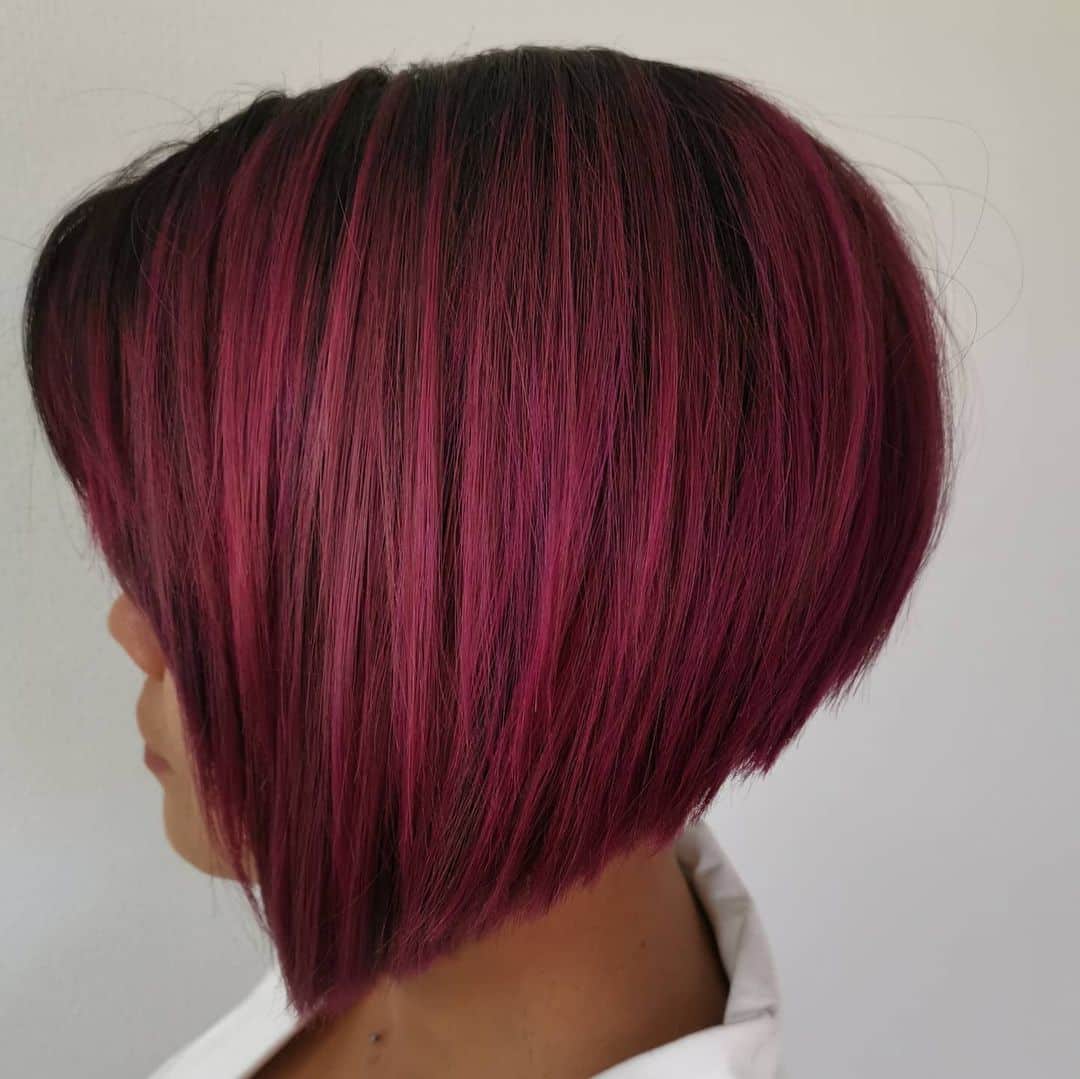 @sarahbesthair
Get a brighter cherry hue by mixing ruby ​​red. Keeping dark roots will allow the color to require only minimal maintenance. This sleek black cherry hairstyle looks perfect on girls with straight hair.
Black Cherry Cola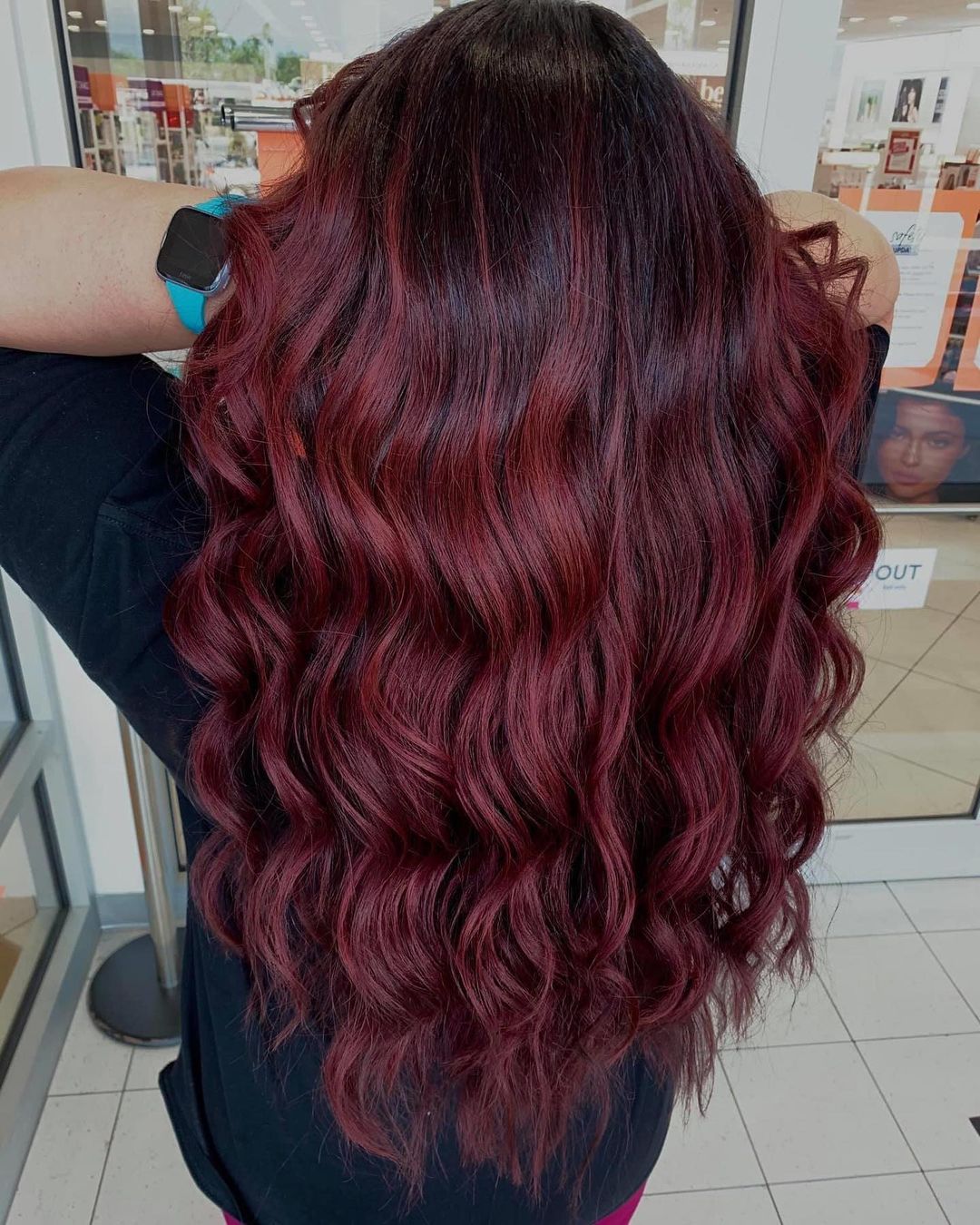 @_tink22
If you have long wavy hair, consider getting black cherry cola balayage. The length and waves will add amazing depth and volume to your cherry hair.
Grab a semi-permanent hair dye if you just want to explore this shade for a few weeks.
Bright shades of black cherry

@kelseyddew.hair
Stylist Kelsey can have magical powers, creating dazzling black cherry accents! You just need the right combination of black and plum.
The shade will bring out your natural hair color while complementing some beachy waves.
Balayazh light black cherry

@keera_nuovosalon
Confused about a bold color change? Stylist Kira shows how a delicate shade of reddish-black cherry can drastically change the image of dark-haired ladies.
On a wavy, curly or straight texture, this color is sure to look amazing!
Black Cherry and Brown on medium strands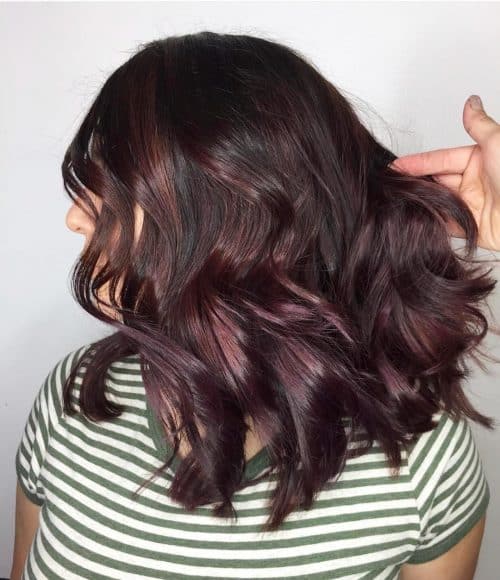 @g.thehairaddict
You may not notice the cherry undertone and color combination at first, but with the texture and shape given to this medium black cherry cut, you will be able to appreciate such a lovely style.
Black cherry highlights on dark brown hair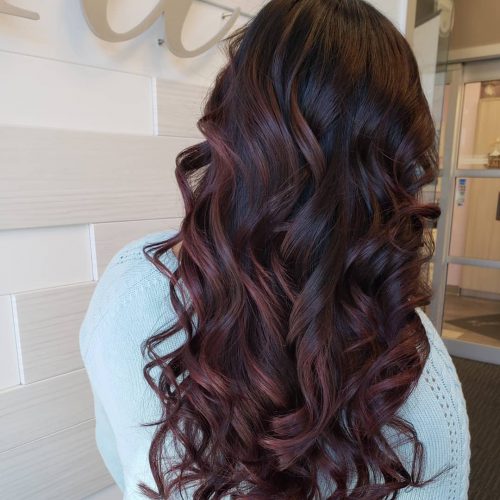 @destineeeverhart
Coffee-colored hair dripping with Dr. Pepper. Stylist Destiny masters the art of dark on dark highlights with this black cherry hair dye.
Dark cherry pixie

@aveda_mindilyn
Ooooh, the red queen must be jealous of that dark cherry red hair! Nape-length hair with a side part is superior to any other haircut for this sensual color.
Pairing black cherry hair with a short pixie cut gives a lot of color as well as a natural skin tone.
Black Cherry Balayage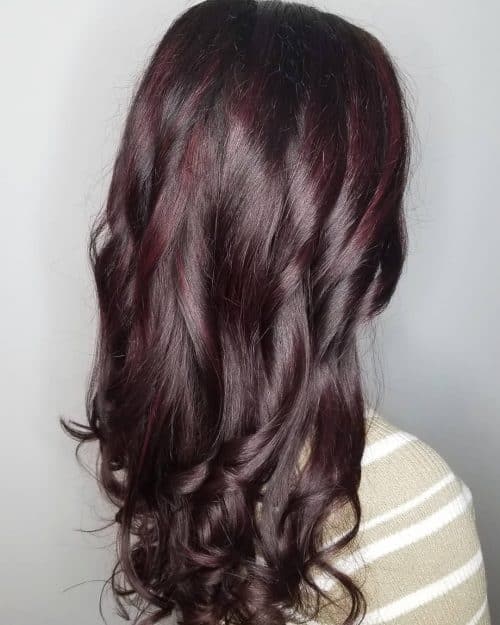 @ashlithompsonhair
Mesmerizing long strands of black cherries, aged like a fine dark plum wine.
Deep burgundy cherry on curls to the shoulders

@rachelsmaneinterest
When the sun hits your hair, the black cherry red color instantly shines through the dark locks. Medium length hair adds allure to your already edgy dark cherry hair color.
Wild black cherry with subtle purple-red hues

@hairbylinzb
These wild shades of black cherry are similar to Kool-Aid cherry. To keep the black cherry work from looking flat, use two different colors of purple-red (the base color bleached into a slightly lighter shade of black cherry ends) to keep a lot of dimension.
This shade is perfect for women who want something a little more edgy. Even though it is on the dark cherry spectrum, you should still maintain this conservative color.
Cherry ombre from dark to light

@_jayybeautyy_
In hairdressing jargon, this black cherry hair color is considered balayage ombre, the gradual blending of one shade of color into another. It is perfect for women with virgin medium brown hair. Do a balayage ombre to lighten your hair to a medium blonde, then apply a black cherry.
Add dark plum at the roots and black cherry at the ends, then blend them together. If you're considering black cherry tones done with balayage or ombre balayage, in general, just go for it!
The black cherry ombre is perfect for the perfect woman who wants something super easy to maintain and can be adjusted to suit your color schemes, face shape and personality. The great thing about this particular dark cherry trend is that it grows so beautifully and shows no demarcation lines.
However, if you are considering this shade, it will eventually fade after a few washes. But all you have to do is book a coloring service for your next visit instead of a chemical service.
Chocolate Cherry Red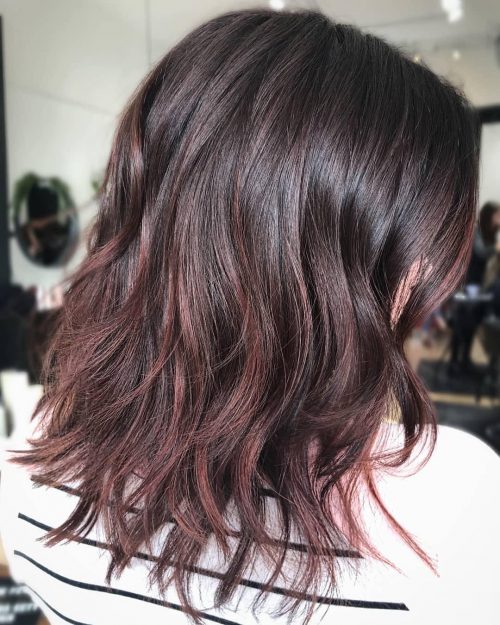 @midwestmelt
This chocolate cherry balayage is perfect for women who work in a professional environment but want to shake things up a bit. This is a subtle cherry shade on dark hair that is great when you want to explore the world of trendy colors without constantly maintaining bright tones.
The layers in the cut frame the chocolate cherry color of the hair, and curling it with a large flat iron really shows off all the dimensions of the hand painting. This shade of black cherry goes very well with layering and is very noticeable at the ends.
This hair idea is perfect for women who want to change up their look while maintaining a sophisticated look. The color suits most skin tones making it really versatile! Use a color-safe shampoo + conditioner like Kevin Murphy's.
Black Cherry Coke

@hairstylesbyamandaj
This look is a black cherry cola hair color! A rich black cherry blend of natural and trendy hues, perfect for work-life balance!
Ask for lived-in or custom highlights (like balayage) so you have time to "grow in" to your natural color. This way you won't have to touch up the dark cherry highlights too often. Apply red glitter to everything to extend the life of the red and add sparkle.
From now on, it will be easy for you to go back to your usual 10-12 week haircut and add another quick red gloss (I think 15 minutes) to refresh the red and bring back the shine! The secret to keeping black cherries rich and vibrant is to keep them in good condition.
It is very important to use a color-safe shampoo and conditioner. You will also want to invest in thermal protection! This can be a blow-dry cream such as Biolage blow-dry lotion (which provides thermal protection up to 450 def for 4 days) or a spray such as Matrix style link heat buffer.
Faux red color fades quickly when exposed to heat tools, hot showers, and the wrong shampoo, so it's important to remember that cherry cola hair color must remain intact.