Straight bangs with long hair
@learetotylist
Curly waves dominate this long layered hairstyle with bangs as your long hair becomes her canvas. To even things out, straight bangs contribute to a more angular shape of long hair with layers and bangs and make everything look good on the eyes.
Long hair with feathers and fringe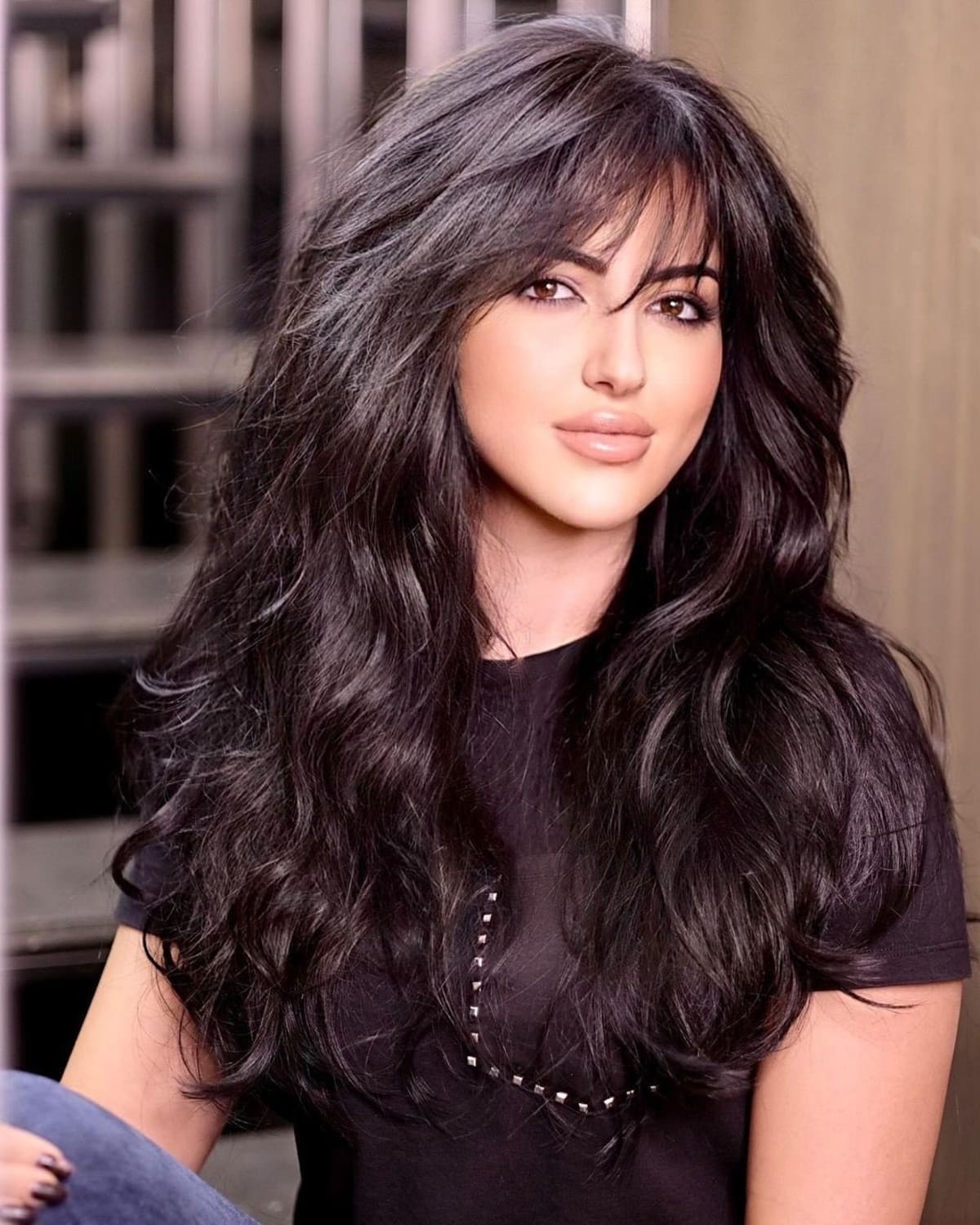 @victorkeyrouz
Long hair with feathers and fringe is great for girls who want their long hair to be long but still need texture and volume. Adding fringe can even change the look. Bangs on long, thick hair need movement, so it's best to have the stylist texture them to create a wispy look. Add some waves with a large curling iron and complete the look with Evo's She-Bang-A-Bang.
Long hair with side parting and bangs
@stylesbyriles
Try long hair with side parting and bangs to give your style a touch of chic. For control and movement, curtain bangs are the perfect way to maintain style. It also helps create a more elegant growth phase. Finish off with IGK Beach Club texturizing spray during styling.
Long hair with curved bangs
@aleksandrmaslovsky
Long hair with swept bangs is the perfect way to complement the look of women with long hair to add flair to their style. It helps draw attention and frames the face perfectly. Ask for textured fringe for more movement and style. Tip: Try RCO Death Valley Dry Shampoo after styling your bangs on wash day. This will prevent your bangs from becoming oily the next day.
Heavy bangs for long hair
@hairbynadja
Heavy bangs for long hair are a great option for women who want to change their look without losing the length of their long wavy hair. In addition, long layered haircuts with bangs require minimal grooming at the barbershop.
Long hairstyle with swoop bangs
@thebabyglitch
Long layers on long hairstyles with bangs create a hair blanket that is gorgeous for any lady who wears it. A very thin curl that goes to the side makes this long bang very unusual.
Long layered hair with ragged bangs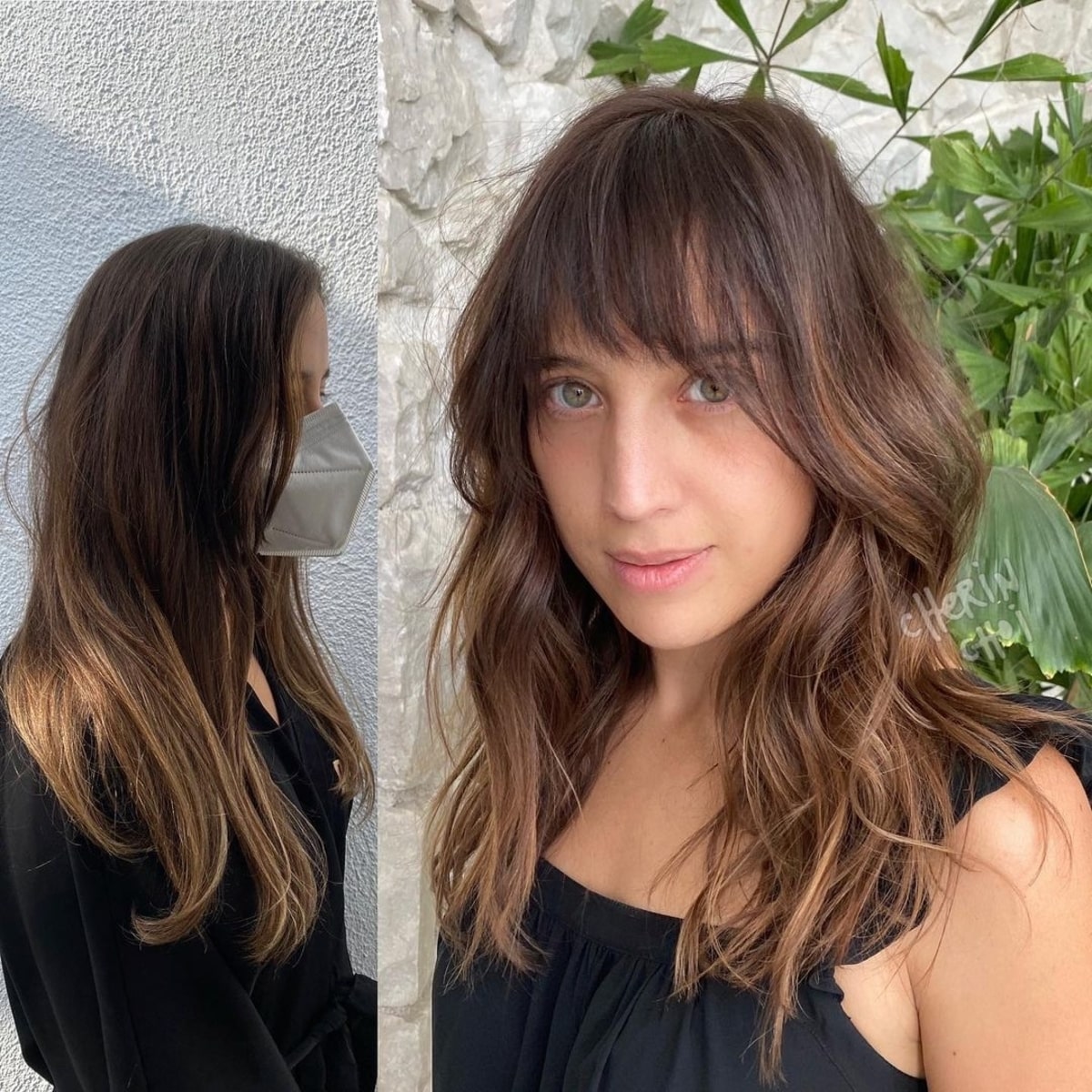 @mizzchoi
Long layered hair with ragged bangs is a low maintenance inspiration. California stylist Sherin Choi says it's for women who want movement in their hair.
To create this haircut with long bangs, "I recommend taking a smaller section to start the bangs. That way you can slowly expand as needed," says Choi. "Continue to layer short and long strands from front to back."
Long layered hair with long bangs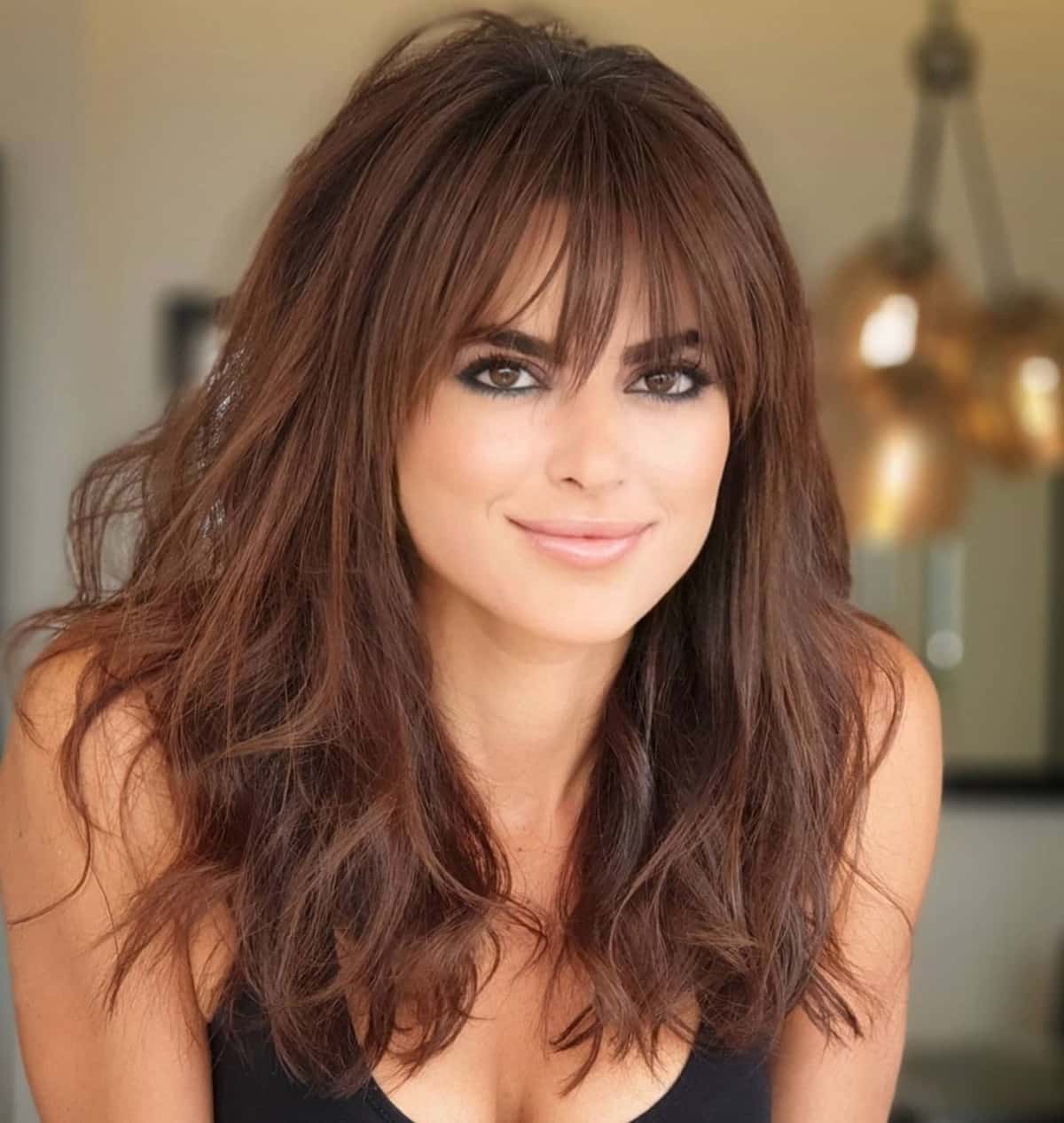 @renzizgheib
Try long layered hair with long bangs if you have thin hair and want to give the impression of fullness. Blow dry your hair with a round brush for styling and more volume.
Long layered hair with bangs
@hairbymrsdocloc
The bangs in the middle, which reveal your face but not completely, are both mysterious and elegant. With jet black hair, the enigmatic vibe is present thanks to the long layered cut with bangs and waves that makes you look like a fairy tale character.
"There's this long, dark, modern shaggy look," says hairstylist Celeste Docherty of Asbury Park, New Jersey. "The haircut was made similar to the classic shag but with the bangs left on the longer side for a more covered look and keeping the layers further each time to keep the length. To finish, try curling thick strands, focusing on the face," she explains.
It's harder to find a longer haircut with longer bangs when searching the internet for inspirational photos! It's nice to know there's something in between, and these long haircuts with layered bangs are the way to go!
There are a few things to keep in mind when creating this layered long hair with bangs, adds Docherty. "One of them is the texture of the hair. If someone has naturally wavy or curly hair, they will have to work hard to style it this way. Shags look bombshell on wavy and curly hair textures, but for this particular long bang, long hair won't look the same unless you put some effort into it."
The great thing about shaggy haircuts is that you don't have to over-style them, unless you're trying to change the texture. The only thing you might want to invest in is no pleated/curved hairpins for bangs. They are great because you can dry your bangs and then hold them in place to keep the curtain looking perfect! Overall, these layered curtain bangs should look amazing without putting in much effort.
Short bangs on long layered hair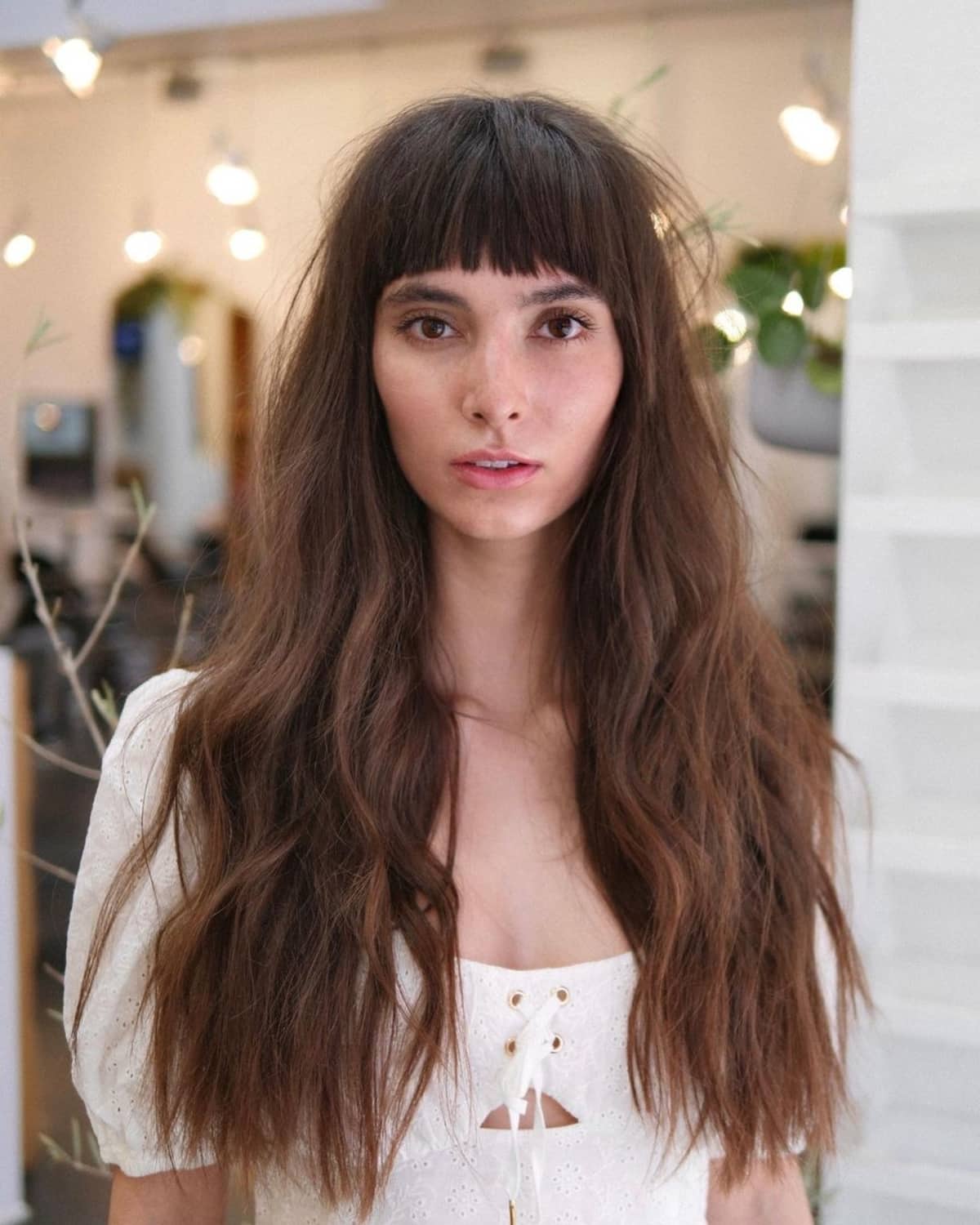 @yukistylist
Try short bangs on long layered hair for more lightness and focus on the eyes. Long hair with bangs and layers accentuate the eyes and create a sophisticated look.
Layered long haircut with split bangs
@lazygirlcuts
This long layered hair with bangs was created by hairdresser Agnieszka Kahler from Brooklyn, New York. Having bangs with a parting in the center is what you need. You can also elongate your face by shaping it as long hair falls on both sides of your forehead.
This is a soft long layered haircut with curtain bangs and lots of movement. If you have a lot of hair, make sure your stylist takes care of removing the weight so that the layers stand out.
Haircuts for long hair with bangs are universal. Kahler explains: "With a seamless blend of layers, it looks great whether you choose to air dry or blow dry and all you need in terms of product is extra hydration and a soft air drying cream. Soft bangs can be easily tucked behind the ears or pushed forward with a quick hair dryer."
"Layers and face-framing bangs can be lifted higher if you want them to appear shaggy, and more weight can also be removed if you prefer your ends to be more textured while keeping everything blended and soft," she adds. .
These "beginner bangs" are great for women who want to try long bangs but want to grow them out easily if they decide it's not for them. They are also great if someone has a stubborn curl and hasn't yet learned how to blow dry it. Long layered haircuts look best at a length just below the shoulders. This gives more room for layers and they become more visible, especially if the layered bangs are long.
Layered long side bangs
@hairbyxio
This is a long haircut with long layered bangs followed by multiple layers to break up and take away some of her weight since she has so much hair! It was created by hairdresser Xiomara Muniz from Randolph, New Jersey. "Some products for volume and smoothing allow you to achieve smoothness and fall-off of layers. In general, blow-drying/styling is what attracts most women when they bring photos of long layered haircuts with long bangs. This hair color is a subtle dimensional balayage that leans more towards a chocolate shade!"
Consultation and realistic expectations from both the hairdresser and you are the most important. Lightening hair is a very complex process, so the more patience you have, the better.
Baby steps keep the hair intact, as seen in this shiny long hair with side bangs.
"The haircut is honestly done for any woman who wants to take care of her hair. Heavy hair needs layers to keep the weight down, while finer hair can benefit from multiple layers to give it volume," she adds.
Side swept bangs for long hair are perfect for most face shapes. It is not too short to make a round face look even rounder, and not too long to elongate an already elongated face shape.
Light bangs for long hair
@miguelized_and_hairshaft
Light bangs for long hair are ideal for women with straighter face angles. A long layered haircut with bangs can balance out the look of a long face shape while creating lightness.
Long layers with bangs framing the face
@marissa.canaria
Long layers with bangs framing the face is a haircut that offers a chic finish and a feminine vibe. The cut is not as layered as shaggy, but is inspired by modest or tailored shaggy pile. It frames the face and emphasizes the cheekbones. Whether your mane is straight or finely textured, this wavy hairstyle requires little maintenance. This gem is great for women with thick hair who want to lose some weight but don't want to lose length.
"Long layers with face-framing bangs are easy," explains hairstylist Marissa Canaria of New York, NY. "Bangs on the curtains are just the icing on the cake! When the hair frames the face, it gives you plenty of styling options."
Women considering layered hairstyles for long hair should check with their stylist first. How often you style your hair and how much you want to style it plays a role. "Especially if you're a girl who likes to wake up and go," she adds.
Children's bangs on a long shaggy haircut
@celladiggshair
Cute baby bangs on a long shaggy haircut completes the stunning style and classic look. a long layered haircut with bangs looks natural together. This kind of bangs can offer a dramatic update that pairs well with wavy locks.
Fine bangs on long textured hair
@hirohair
Thin bangs on long textured hair are a chic option to make any long hairstyle look great on any face shape. Thin bangs combined with layers that frame the face can accentuate facial features. Give yourself a makeover and try on this stylish wavy long hair with bangs to the eyebrows. You will not regret it!
Long layered hair with blunt bangs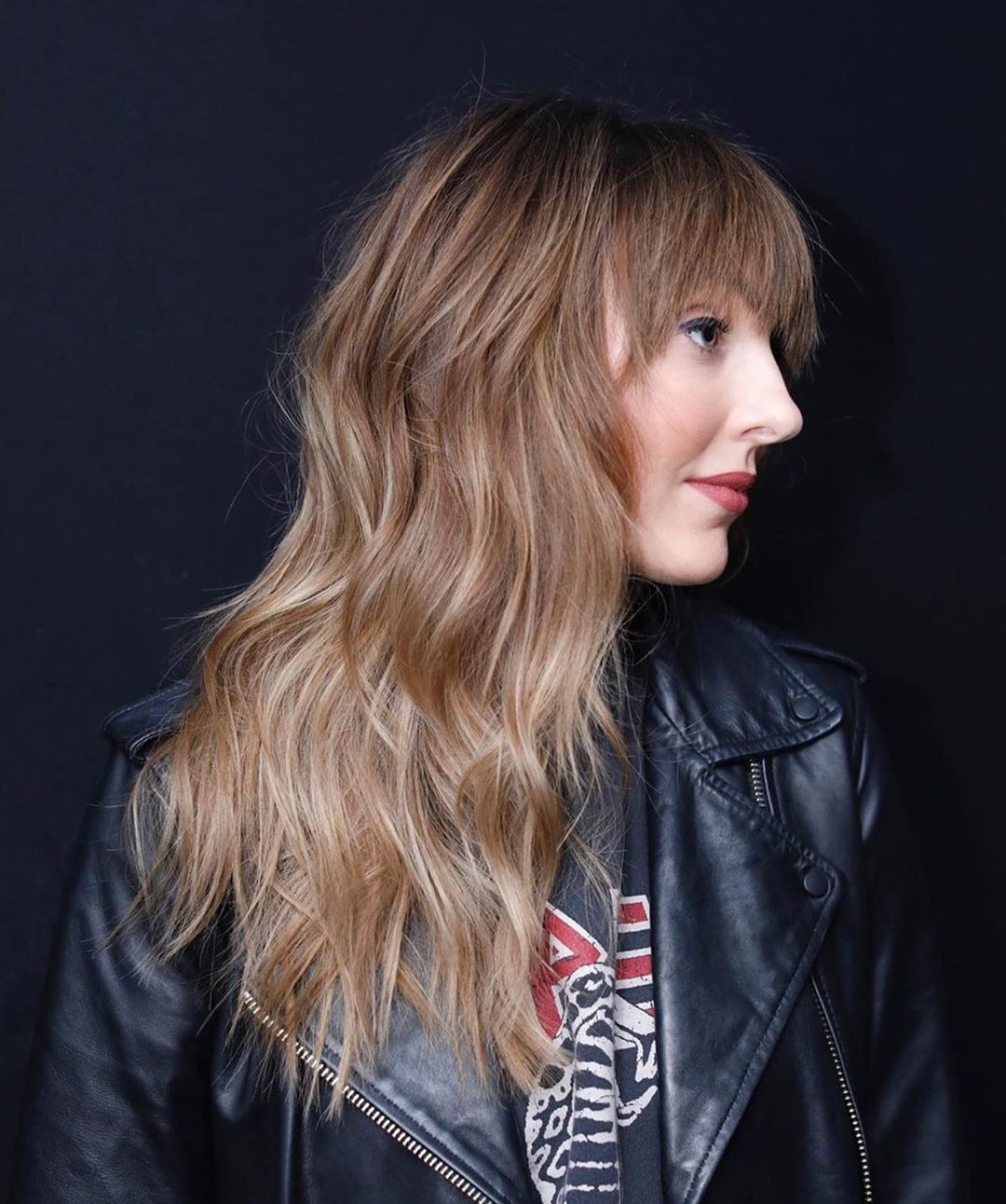 @livedinhair
Pair a clean bang with a long layered haircut for a cooler, more lively result! This stunning wavy hair idea is a combination of femininity and modern style. To give the ends a textured surface, use a razor to do this. Bangs are perfect for layered hair, so don't let your curls have an uninteresting straight line or dimension.