Long side bangs on short hair
@reds.hair.and.co
What an awesome bob for wavy hair! This is a layered haircut that complements the movement of the mane. This layered short bob is also perfect for dark curls with light highlights. Waves can give light strands more emphasis, as well as a voluminous effect.
Stylish short styled bob with layers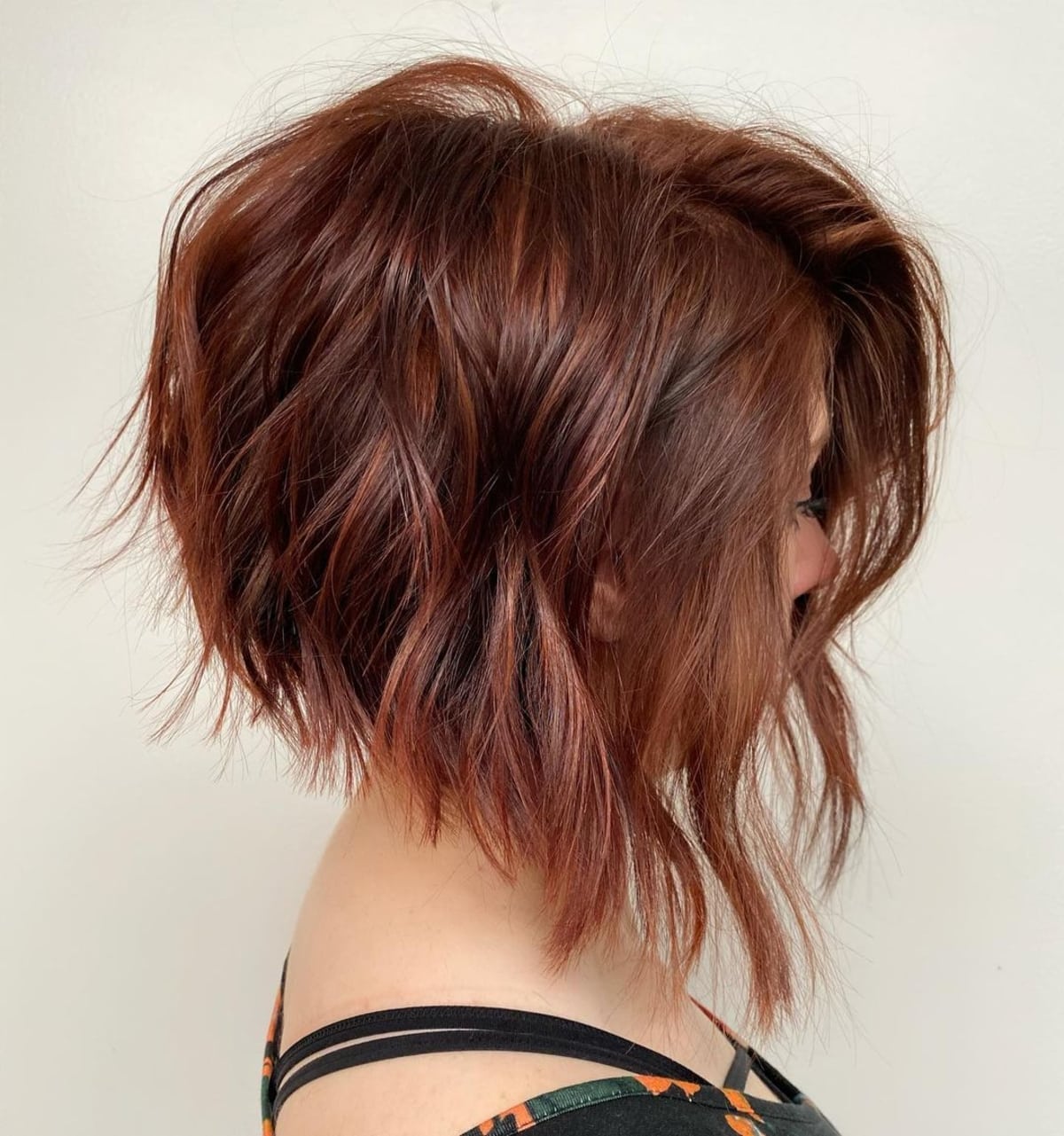 @shmoakin_hair
Stylish short bob with layers is perfect for women with thick hair. The internal layering in the short layered bob helps to get rid of the volume and texture while giving a little more shape. For a voluminous effect, add highlighted waves to the pixie bob in layers.
Trendy layered bob with bangs
@rockjess
The trendy layered bob with bangs is a short haircut that can be worn straight, wavy or curly. Australia-based stylist Jess Sutherland says: "It's easy to care for but gives strong style."
This short layered bob with bangs is a one-length straight cut with a slightly beveled edge. Sutherland uses an internal layering technique to remove volume from thick hair. She adds, "This ensures that we maintain the integrity of the hair and its natural wave."
Check out more layered bobs with bangs here for inspiration!
The perfect layered bob for thick hair
@acutshair
This perfectly layered bob for thick hair takes away the bulk. Layers also add more volume and shape, so straight strands won't look uninteresting. If you want an edgier style, opt for a short inverted bob with waves. To achieve this, ask for a short bob haircut with multiple layers.
Fresh layered bob to the neck
@studiobassani
A fresh, layered neck-length bob is the perfect summer look. The layered short bob is a type of short cut with different lengths that creates volume, texture and can add or take away volume depending on the texture of your short hair.
Gorgeous short bob with layers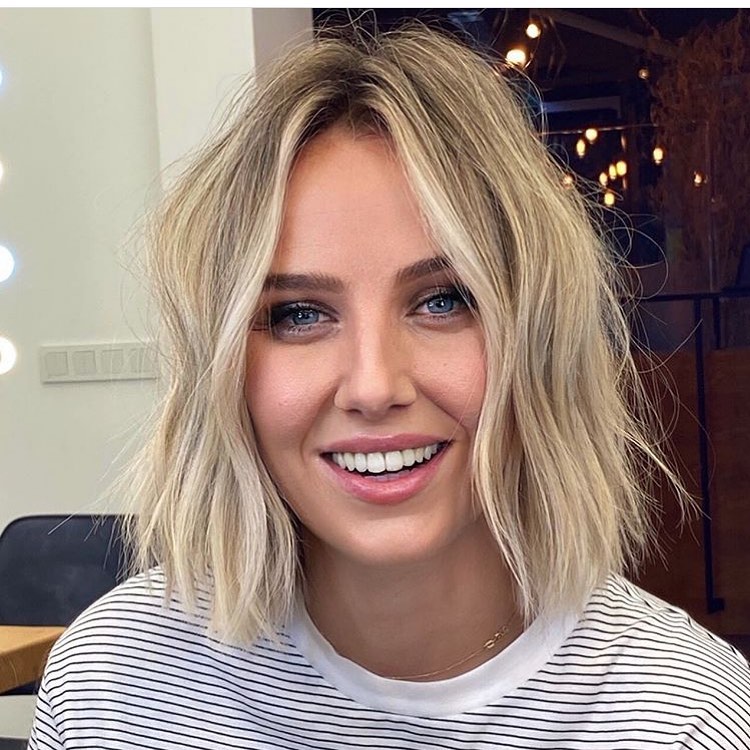 @mesutgunes91
A gorgeous layered short bob is perfect for women with naturally wavy hair textures. It sure screams sophistication! Regardless of the thickness of the curls, this short layered bob will look good. Layers can give thin hair a rich look. In addition, they can remove volume from thick strands.
Sizzling long layers on a short bob
@hairmeroar
This is one of the most popular short layered hairstyles you will ever see! A tousled neck-length bob with heavy layers is the easiest yet most gorgeous look you can get if you want to drop the length a bit. Inward wave styling for a sexy finish adds volume to the hair, making it great for fine hair.
Stylish layered bob for women over 40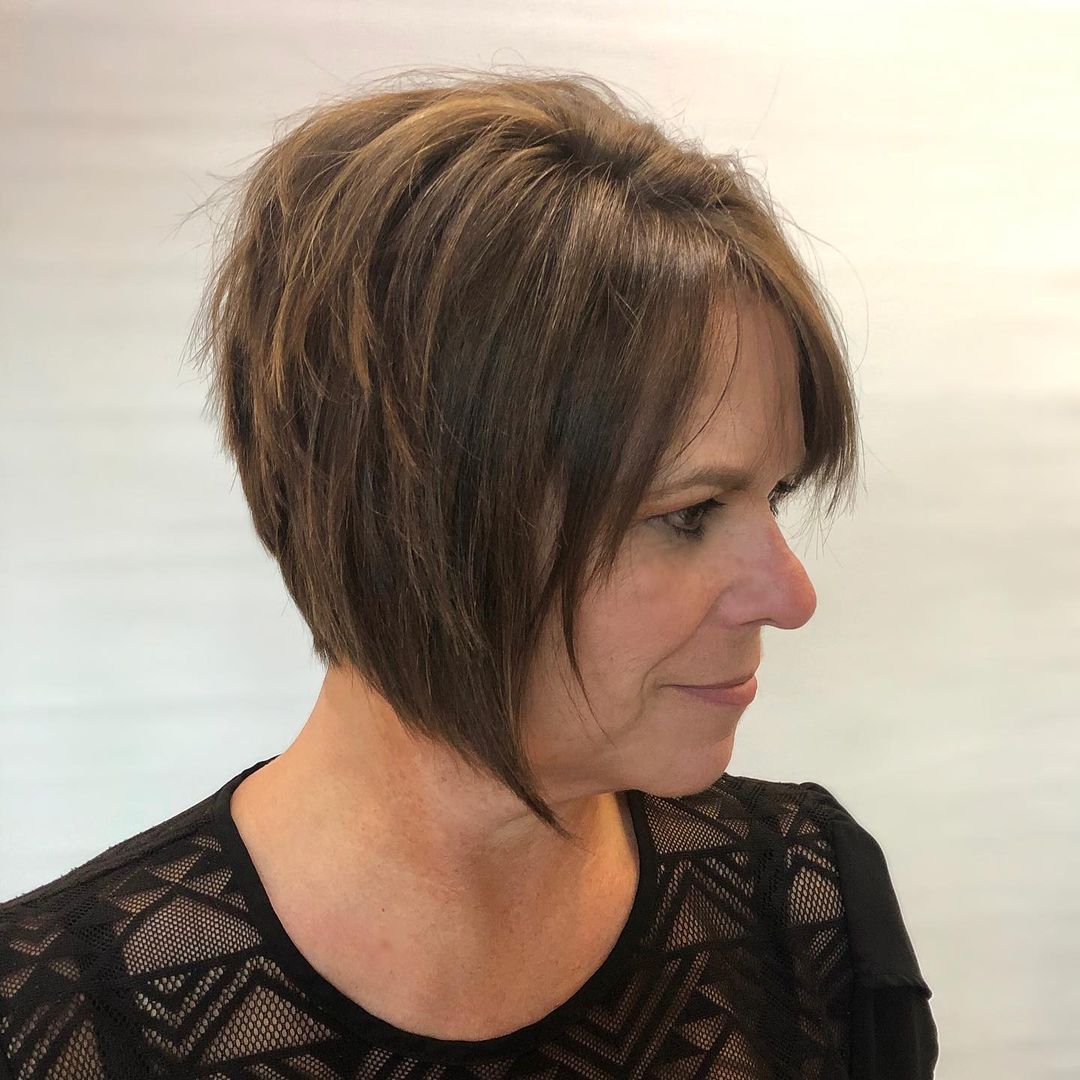 @lalaschoolhouse
Here is a stylish layered bob for women over 40. This is a short bob with layers that is perfect for those who love fox hairstyles. Short layered haircuts are easy to maintain and style. Of course, this makes for a layered bob that women over 40 will love!
Cute angular bob with wavy layers
@shannonbucarohair
A cute angular bob with wavy layers is perfect for girls with a more rounded face shape. Short layered bob haircuts are cut in different lengths. This creates the illusion of more texture and volume to your hair. It can either help increase volume or remove it. Short hair with layers suits all textures. Layered bobs are low maintenance and go with a variety of hairstyles.
Sleek upside down bob
@headrushdesigns
A sleek inverted bob like this makes for a lovely everyday style. This is a bob with layers on shorter hair to give it a voluminous look. The result shows a lot of confidence and elegance. Apply oil from mid-lengths to ends when prepping hair for extra shine.
Layered bob for fine hair
@marikaraiter_hair
A short layered bob for fine hair is a great haircut for women who need help with movement and texture. Style the layered bob on short hair with a medium-sized curling iron and a texturizing spray like Salty Dog by Evo.
Stunning bob for wavy hair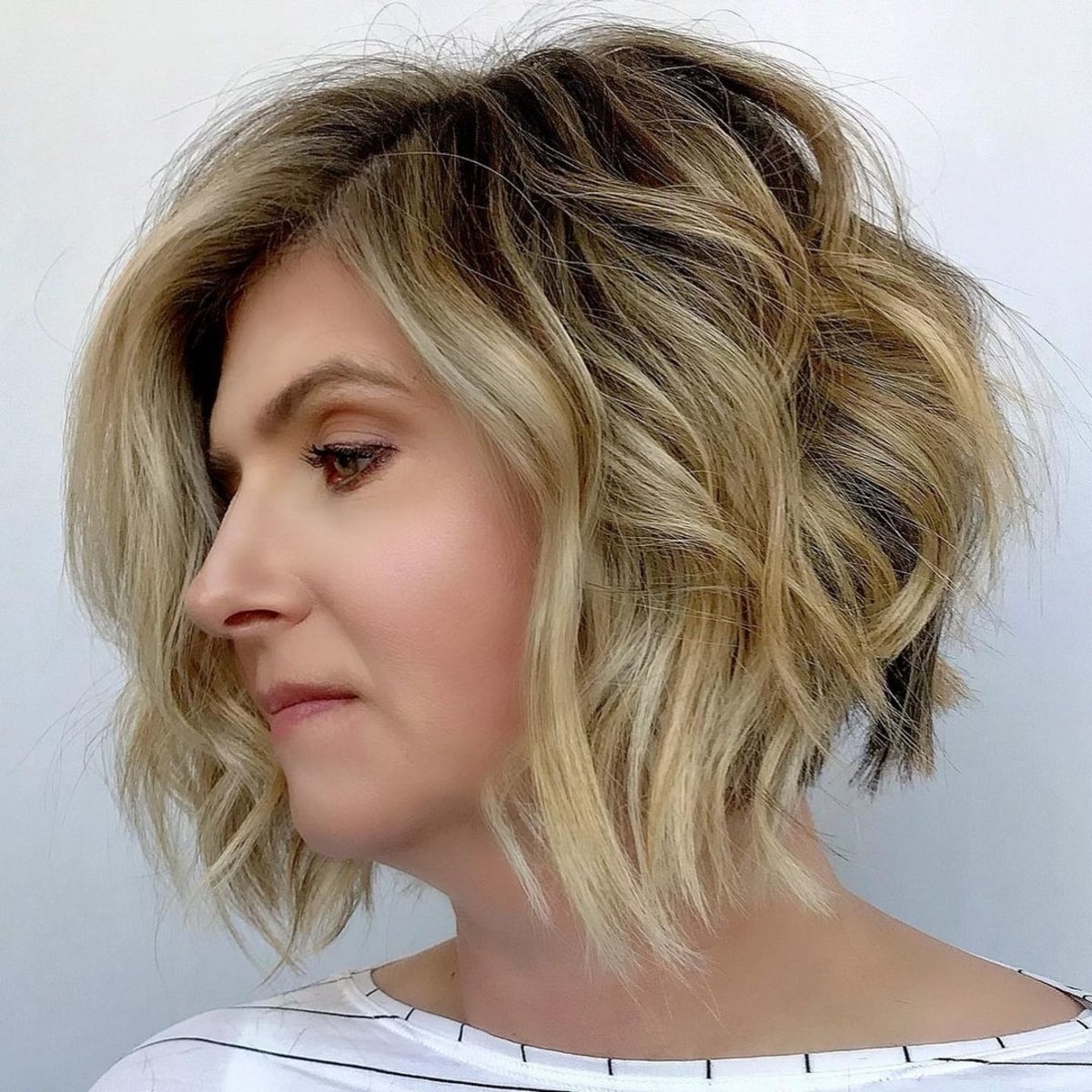 @heckagoodhair
An amazing bob for wavy hair looks great with an undercut and a little length in front. With a layered bob, using the point cutting technique will give your hair some voluminous texture throughout the length and layers. The side part really shows volume and curls. Wear natural waves, or if you're naturally straight, add some curls with a styling wand.
Daring short choppy layers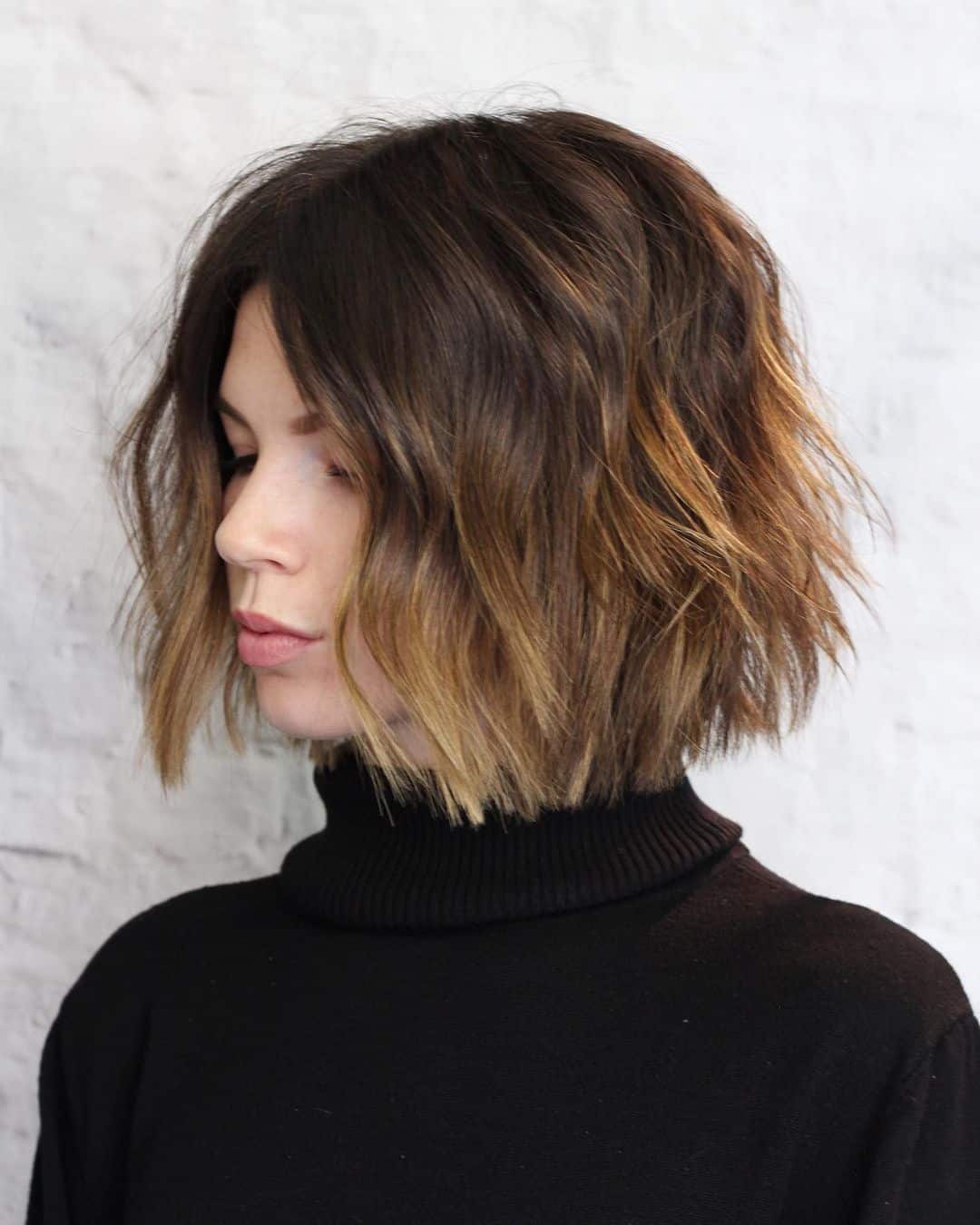 @teddibickers
These daring short ripped layers create a glamorous wavy bob! This short textured bob has thin layers that are easy to grow out. This is the perfect haircut if you plan on keeping your hair long. For thicker strands, broken ends can make them look weightless.
Dirty Shaggy Bob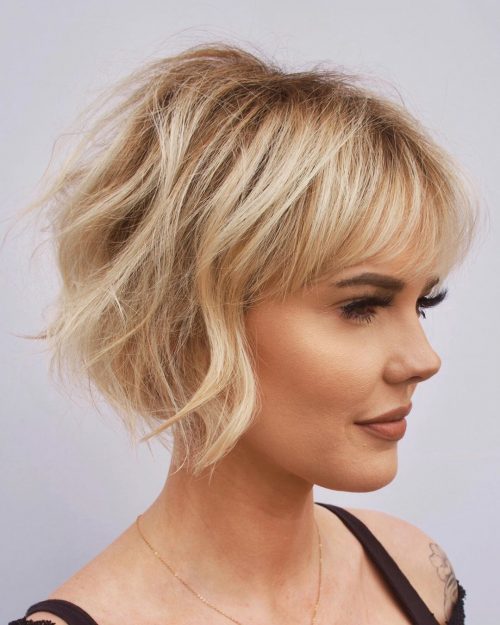 @chrisjones_hair
This messy shaggy bob looks cute and elegant at the same time! A short layered bob with a tousled updo recreates a modern shag. And if you like a messy textured vibe, this shag is perfect for you. It's easy to style, low maintenance and looks chic when super textured.
daring asymmetrical bob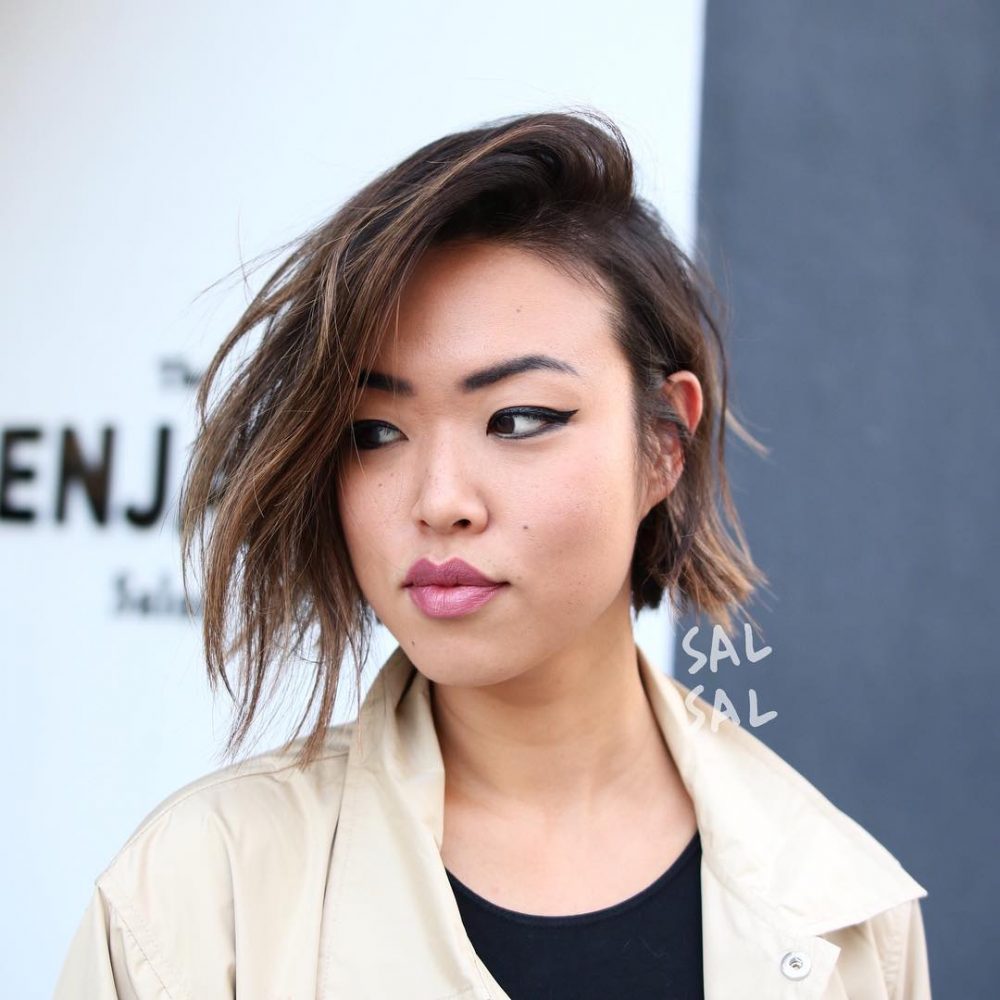 @salsalhair
Here is an edgy asymmetrical bob that suits a strong, flawless personality. This is a short haircut with a parting on one side for extra volume and height at the roots. Straight curls don't always have to feel lifeless, so wavy them to create movement. A few shades of blond are sure to add some spice there.
Short layered bob for thin hair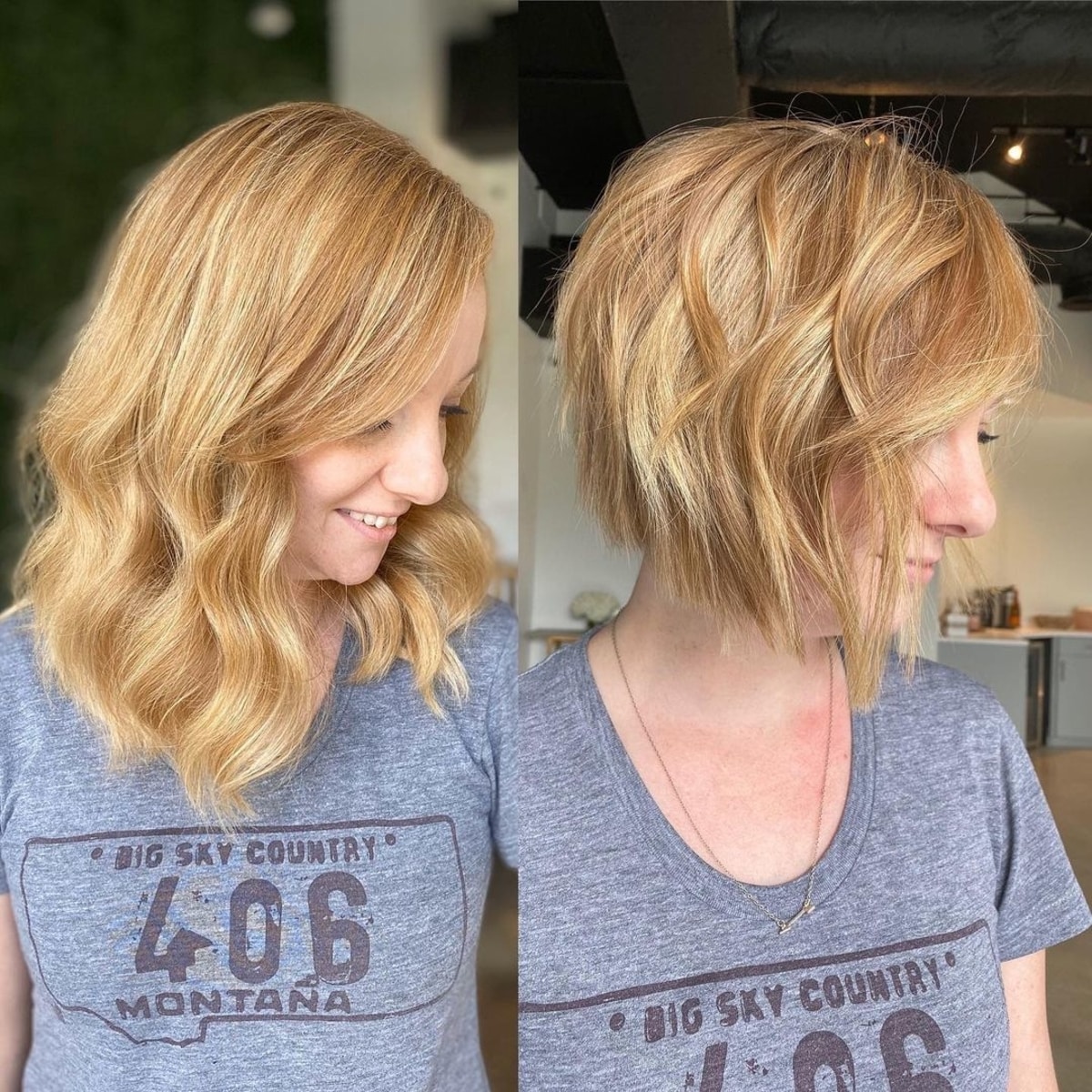 @lenina_yin
A short layered bob for fine hair is perfect for a daring look. Broken layers add texture and interest. Ask your stylist about the texture of your hair.
Very short bob with layers
@cabelosfhabioribeiro
A very short bob with layers makes the hairstyle more bold and elegant. What's great about this haircut is that it can be worn by a woman with thin or thick curls. And one more thing – a woman, no matter how old she is, can wear this haircut as her everyday style.
Light short layered trapezoid bob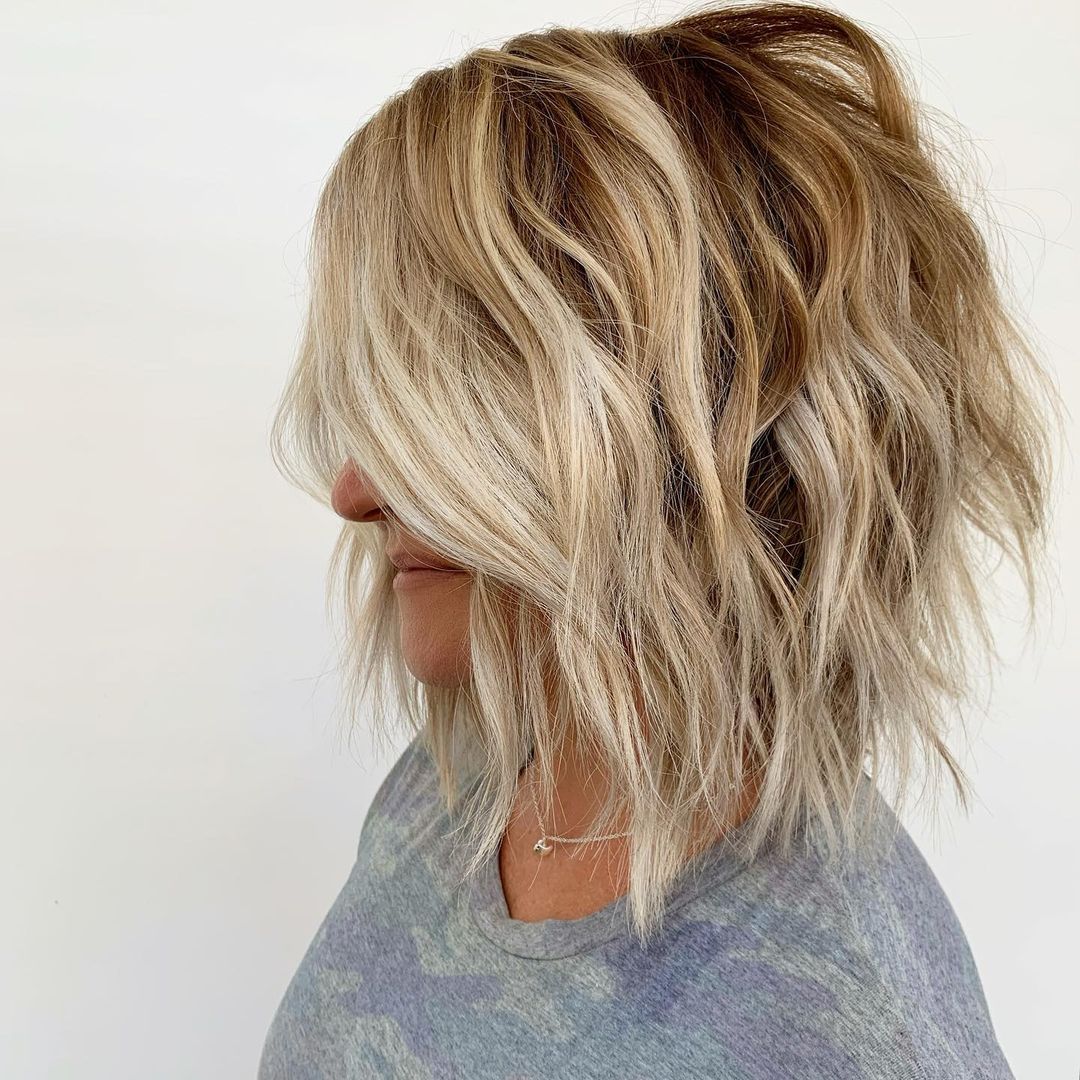 @styled_by_carolynn
The lightweight short layered A-line bob is a firm favorite for women who love hair that is easy to maintain and style! This short layered bob can look amazing when straight, but wait until it gets wavy! Hair looks more textured and bouncy when styled in wavy waves. Interested? See more short A-line bob haircuts here.