Cute 4c bob with bangs for dark brown hair
@_ruthelena_
A 4c bob with bangs creates a natural look that looks cute for dark brown kinks. Moisturizing curly hair keeps it looking healthy and bouncy. And, what is most interesting, is its versatility, which allows you to part on any side of the head.
Curly bob with bangs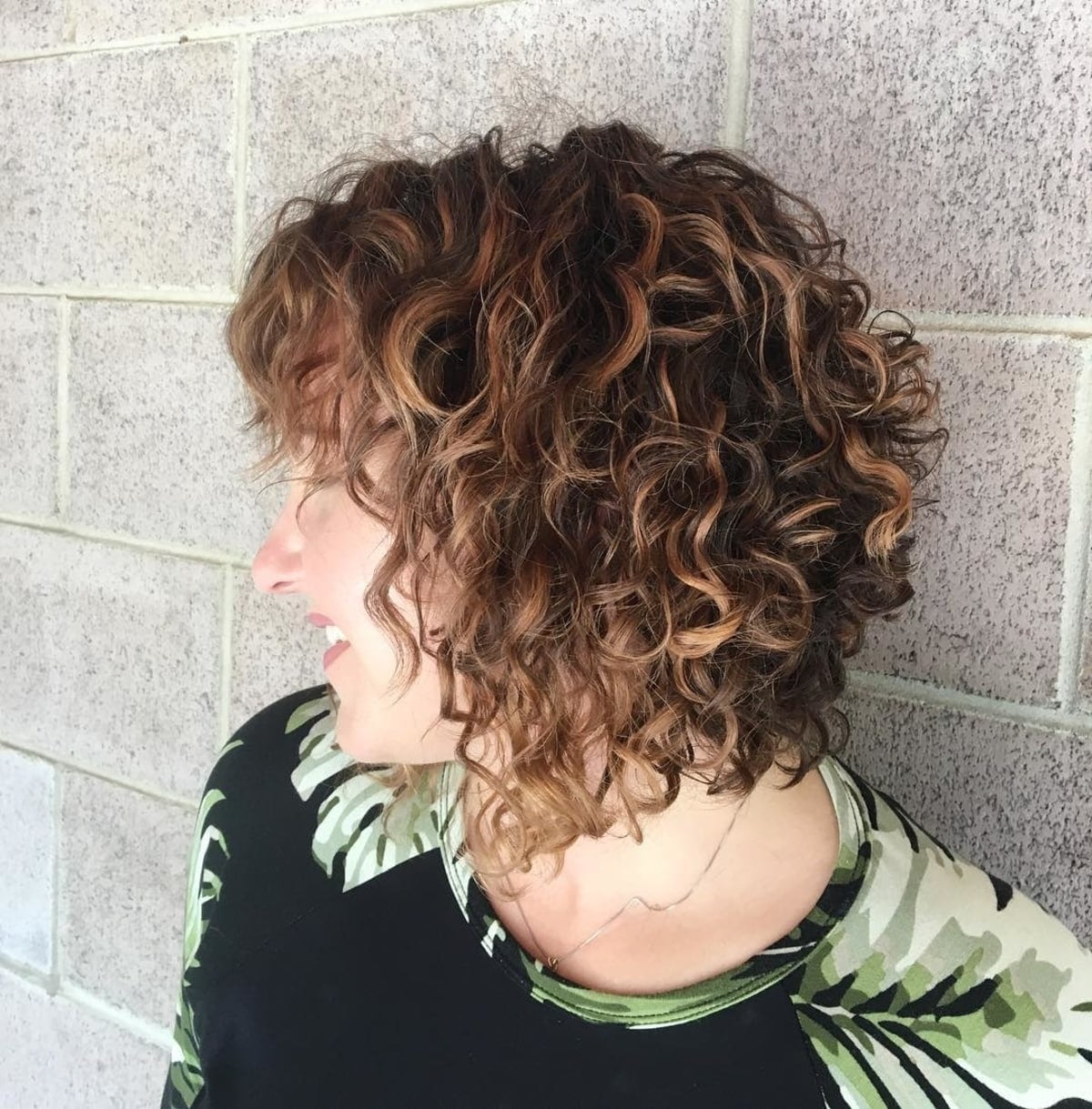 @curlyonq
A curly styled bob with bangs can turn anyone from zero to disco diva very quickly. The styled bangs and back of the head give curly hair even more volume, creating an incredible shape. This particular haircut requires minimal maintenance. You will only need to prune every 6 weeks. When styling this haircut, just apply some curl booster, let it dry, and you're done.
Curly inverted bob with bangs
@ivanisshy
The curly fringed inverted bob is perfect for women with fine hair who want their hair to look thicker. The inverted shape expands the look and adds volume to all aspects of the hair.
Choppy Bob with blunt bangs
@lolasworldxxx
An uneven bob with straight bangs for curly hair usually has slightly rounded sides. This gradation is important for determining the best haircut shape, balanced volume distribution and improving the definition of curls.
Angled bob for curly wavy hair
@hair.by.chynna
An angled bob for curly wavy hair adds volume and texture. Canadian stylist Chynna Lachambre created this look for women who don't want to spend hours styling their hair.
This is a beautiful diagonal curly layered bob. "Add a couple of curls and dry shampoo at the roots to give you amazing volume," she advises. "Apply a very light oil to the ends to hydrate them without weighing them down."
Curly bob with bangs for fine hair over 50
@clairereyenga
This curly bob with bangs for over 50 with thin hair proves that beauty has no age limit. You just have to have gorgeous hair! Achieve style with a shoulder-length haircut and wavy bangs. Ditch straight hair and go for big, textured, natural curls for a modern and younger look.
Curly bob hairstyle with bangs for older women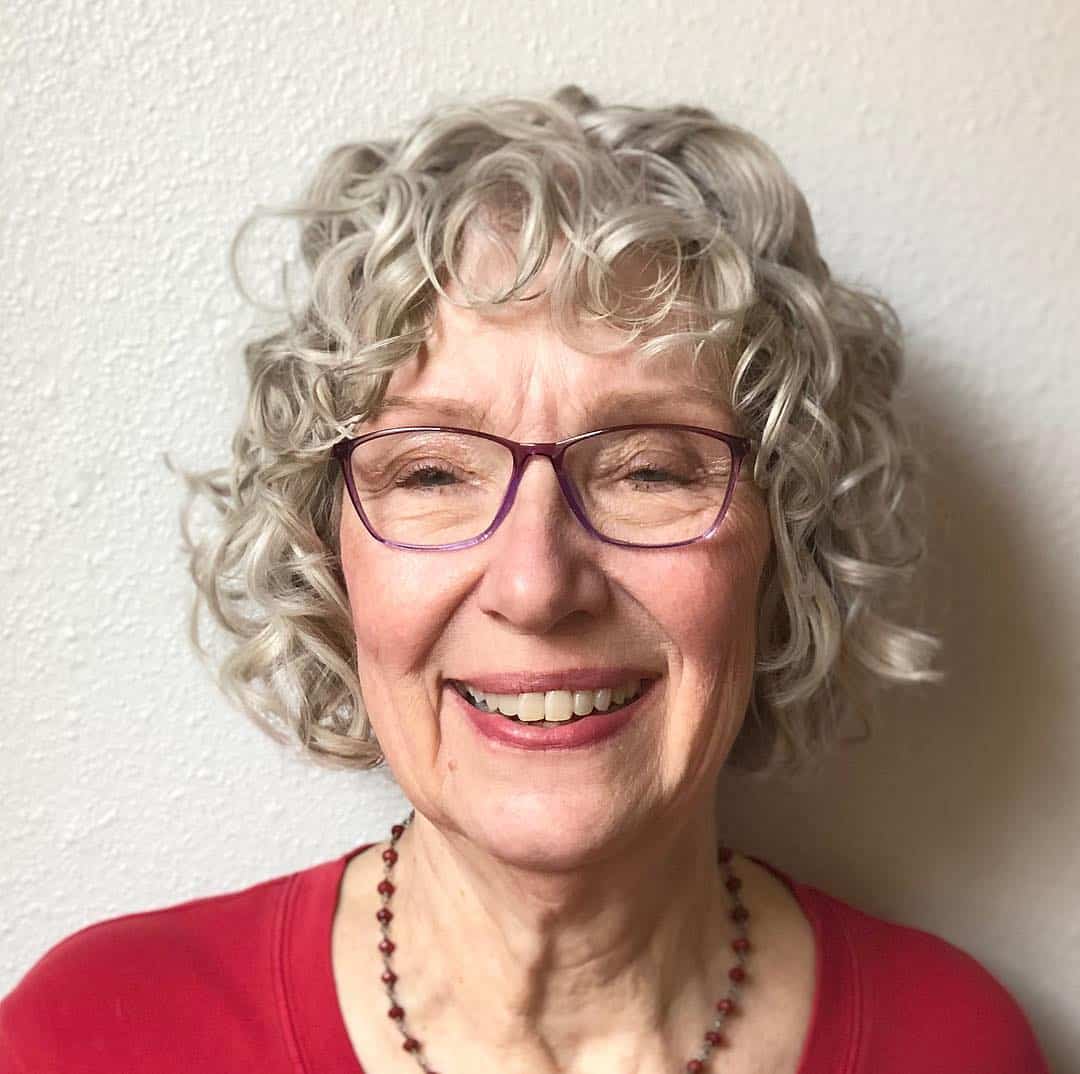 @andrea_gildedfox
This is a curly bob with bangs for older women and it looks fantastic! The loose curl style brings dull hair back to life. It gives elasticity and can make thin curls more lush. The best part about it? A natural gray color will look great with this haircut.
Weird bob with bangs
@shalisaelizabeth_
Get a beautiful curly bob haircut with bangs and make every day a "good hairstyle!" His bouncy style makes him funny. Layers are the key to making black coils as complete as possible. With such hair, always choose a product with a good hold to protect it from frizz.
3a Long curly bob with bangs
@rivekaivelisse
The 3A long bob with bangs features big, tight curls that create volume on your natural hair. This haircut frames the face and suits any face shape. A sufficient amount of cream or curling gel will certainly help to increase the definition of curls.
Bob with tight curls and bangs
@leysahairandmakeup
Bob with tight curls and bangs needs a lot of love. Regular trimming is essential to keep fit and improve your figure. Curls can become dry and frizzy, so be sure to use a conditioner.
Shaggy bob with bangs for curly hair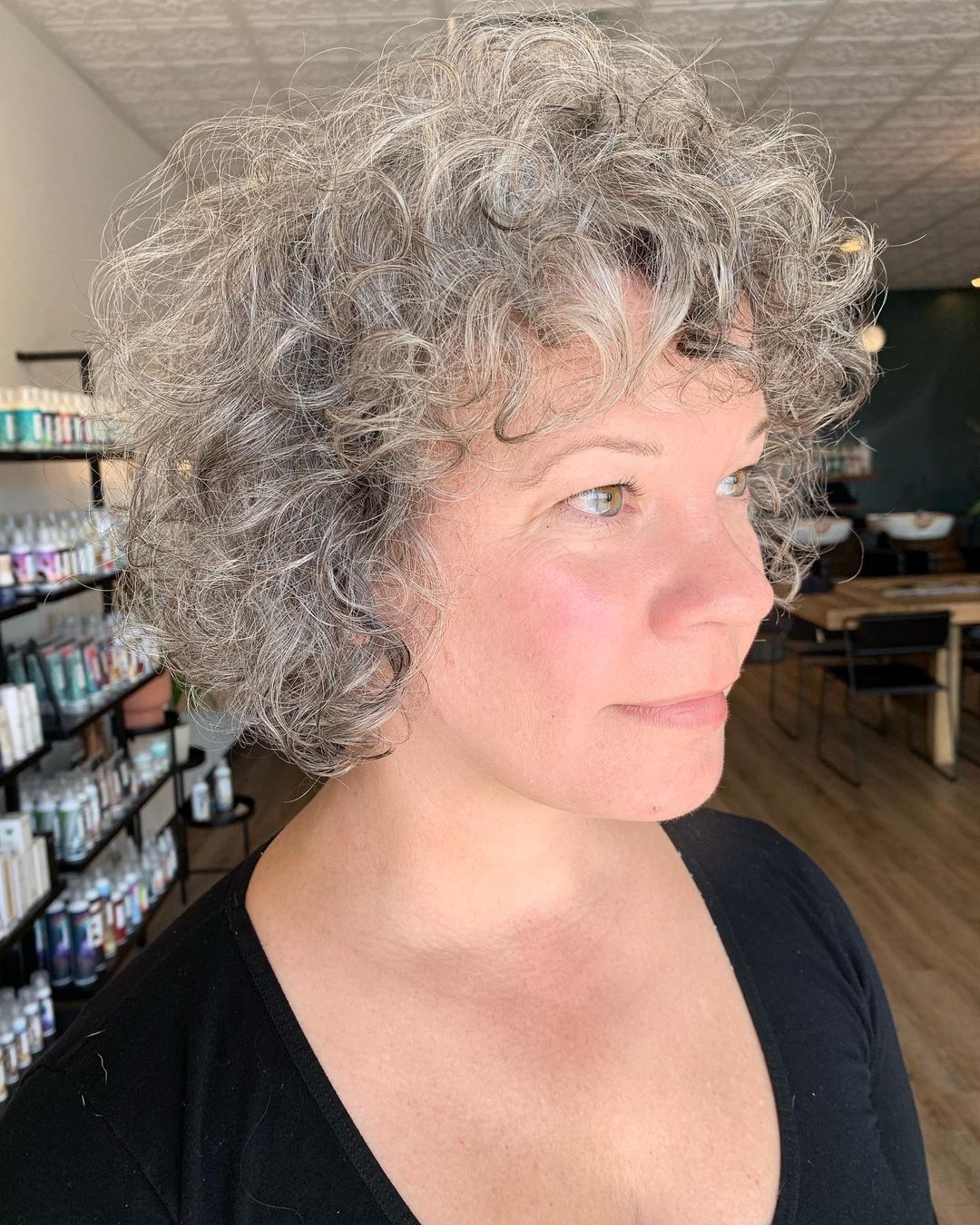 @rubyjayhair
Of course, the timeless shaggy bob with bangs for curly hair suits older ladies well. The tousled style looks casual and is very easy to achieve. When styling your curls, apply a combination of curl moisturizer and control gel. These things can override the texture.
Blonde Bob with curls and bangs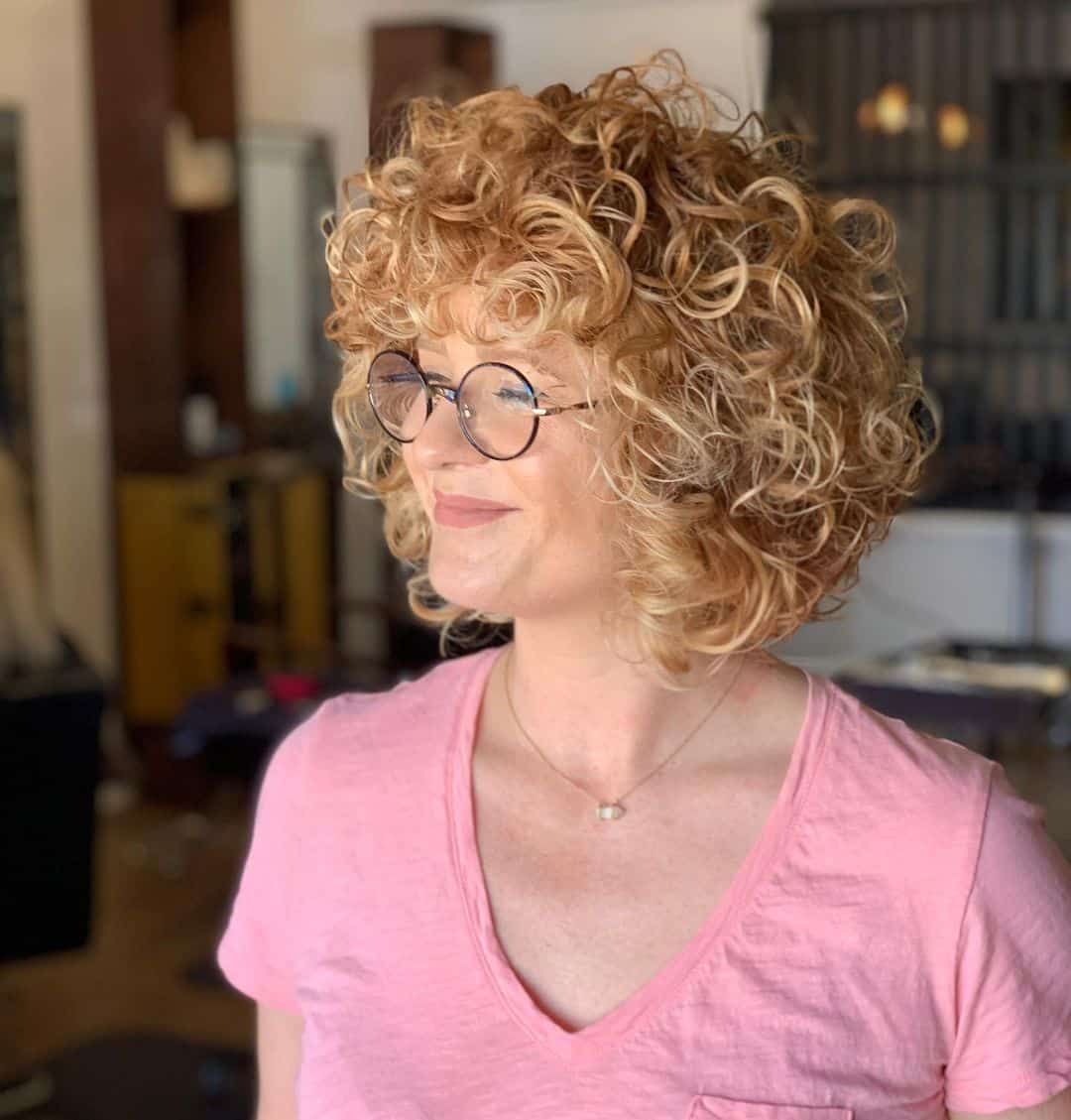 @justindillaha_hair
Isn't this curly blonde bob with curls and bangs adorable? What makes it fun is the voluminous and bouncy finish it offers. When looking for the best hair product, look for one that hydrates your hair without weighing it down.
Curly bob with bangs for thick hair
@maduda.hair
Bold and chic, this curly bob with bangs for thick hair is perfect for any girl with sleek hair who wants a change. Such hair requires less manipulation. All you have to do is take good care of the locks. Keep them moisturized and use a diffuser when drying. If necessary, refine the texture with a curling iron.
Messy curly french bob with bangs
@dianasar
I love this messy curly french bob with bangs. Maybe it's a wake up call to take your style to the next level. Imagine you are wearing such a fashion statement. The curly texture draws attention and can make the hair look fuller. To achieve perfect definition, you can use a fibrous paste or texturizing spray.
Red curly bob with bangs
@attackangelisli
Of course, this red curly bob with bangs is such a cutie! This hair idea has bangs that ruins the shape of a large forehead. This haircut also requires hairspray styling. This can prevent frizz while maintaining the length and shape of the curls.
Curly bob with short bangs
@celladiggshair
Make a curly bob with bangs and look cute and attractive! This curly short haircut is perfect for showing off natural texture. Layering and shaping is required to get this hair gem.
Bob with bangs for curly girls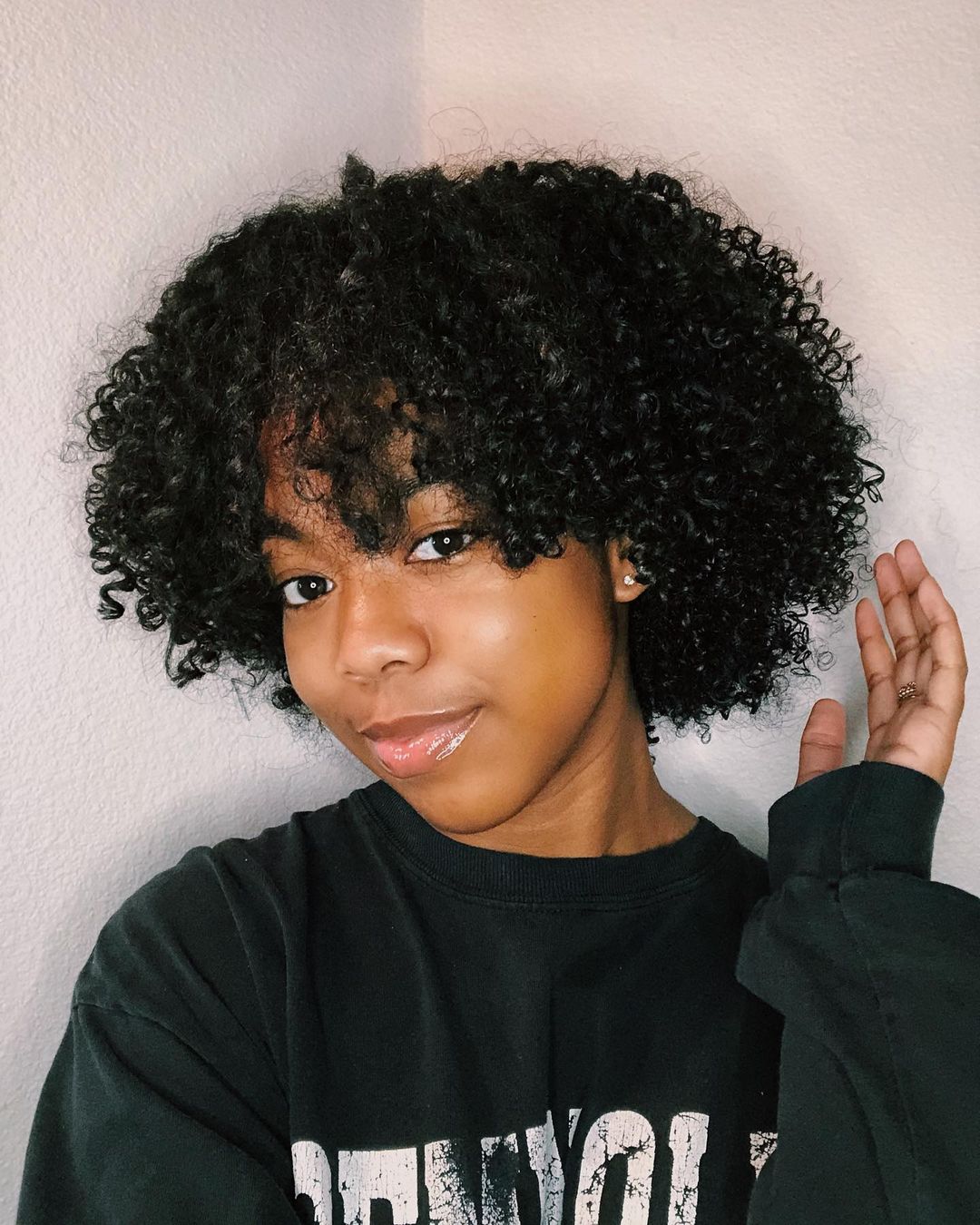 @tiannabattles
This bob with bangs for curly girls was created by freelance hairdresser Tyanna Battles from Orlando, Florida. "It's chic, fun and authentic. Most importantly, this bob is authentic because it brings out natural curls," Battles says.
"Find products that work well for your hair," she adds. "Try Miss Jessie Curly Pudding and Photogenic Styling Gel Conditioner. They work well on all hair types. Finally, have some fun with this short curly bob with bangs. Color it, style it, braid it, twist it, damn it, even cut it again if you like it!"
Layered natural curly bob with bangs
@910beautymark
This naturally curly bob with bangs is a rounded layered bob with bangs blended in layers. It was handcrafted by hairstylist Christina Perrigo of Fayetteville, North Carolina.
"This curly bob is for women who wear curly hair most of the time. The bob cut is done when the bobbin is in its natural state so that it lays properly. This is the difference between a curly haircut and a regular one, "Perrigo explains.
Perrigo invites you to use all Amika products from shampoo to styling. "Start with a good cleansing cream conditioner, then curl cream and gel. Curly hair style starts with shampoo. It's important to have a good quality shampoo for curly hair so your products don't have to do the double job of moisturizing." 😉
Bob with curly chin length hair and curly bangs
@stonerstyles_
"This curly chin-length bob with curly bangs is trendy with a touch of edginess! It's more like a very funny shaggy bob," says hairdresser Jordan Stoner from Portland, Oregon.
"In terms of cut, it has a square perimeter," says Stoner. "Razor-cut layers have been added in vertical sections around the head. Styling is super easy, just add your favorite curly hair product and spray!
This curly bob is perfect for curly girls who want to add volume and spice up their curls! This is great for girls who want to get up and go too. You can air dry with your favorite product or spray and both give super cute results! It's so fun and trendy and suits every face shape.