A cheeky asymmetrical pixie cut for little girls
@laurenatcmss
One of the best short haircuts for little girls is the asymmetrical pixie cut. The cutest thing about this haircut is that you have options with style," says hairstylist Lauren Cozart of Tallmadge, Ohio.
This is one of the simplest and easiest short hairstyles for girls. Cozart used the KMS game texture. "It gives the hair just the right amount of volume without feeling too much product on the hair. With this haircut, you must be committed to keeping up with the trimmed side of the head. This haircut is very framing of the face and is great for little girls with a round face. To anyone who loves short hair, I highly recommend this," she explains.
Toddler Short Top Knot Style
@krza.krystledown
Try short haircuts for your baby using a small scrunchie, some product, and a comb. Secure with bobby pins and spritz with dry shampoo to add texture. Get an accessory to highlight your style.
Short mohawk with shaved sides for emo girls
@ladybarber402
Explore the fun short mohawk with shaved sides for emo girls to discover and express their style. Playing with shaved sides and keeping the length of the short mohawk can give strength. This is an appropriate style for curly or curly hair due to the fact that the curls stay styled on top.
Cute short razor haircut for red hair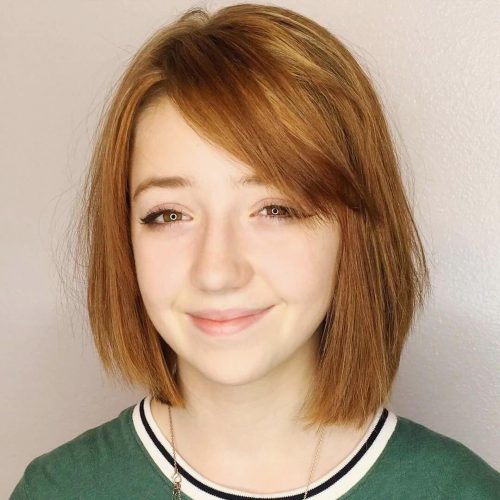 @hercoloranddesign
Hailey's stylist gave this precious redhead princess these natural sun-kissed locks and a bob with side bangs! Don't you feel like crying knowing your little girl is growing up? The cute side-swept bangs and ragged texture make this short hairstyle popular among girls this year.
The cutest haircut for curly hair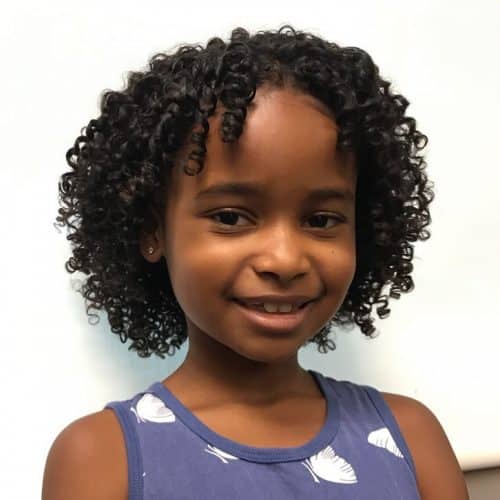 @stylebyjennebetty
This super natural rounded hairstyle for girls looks so adorable on any textured hair, especially black girl's unique curly hair! Leave a few short strands above your face for a cute finish.
Very short hairstyle for girls with fashion
@sabrina.at.salon.ablaze
A simple but stylish haircut for girls with short hair. Cute hairstyles and haircuts for girls like this look great on both straight and textured hair. Side-swept bangs also make it look even better, just keep an eye on its length and keep it above your eyes.
Short haircut to the neck for thin hair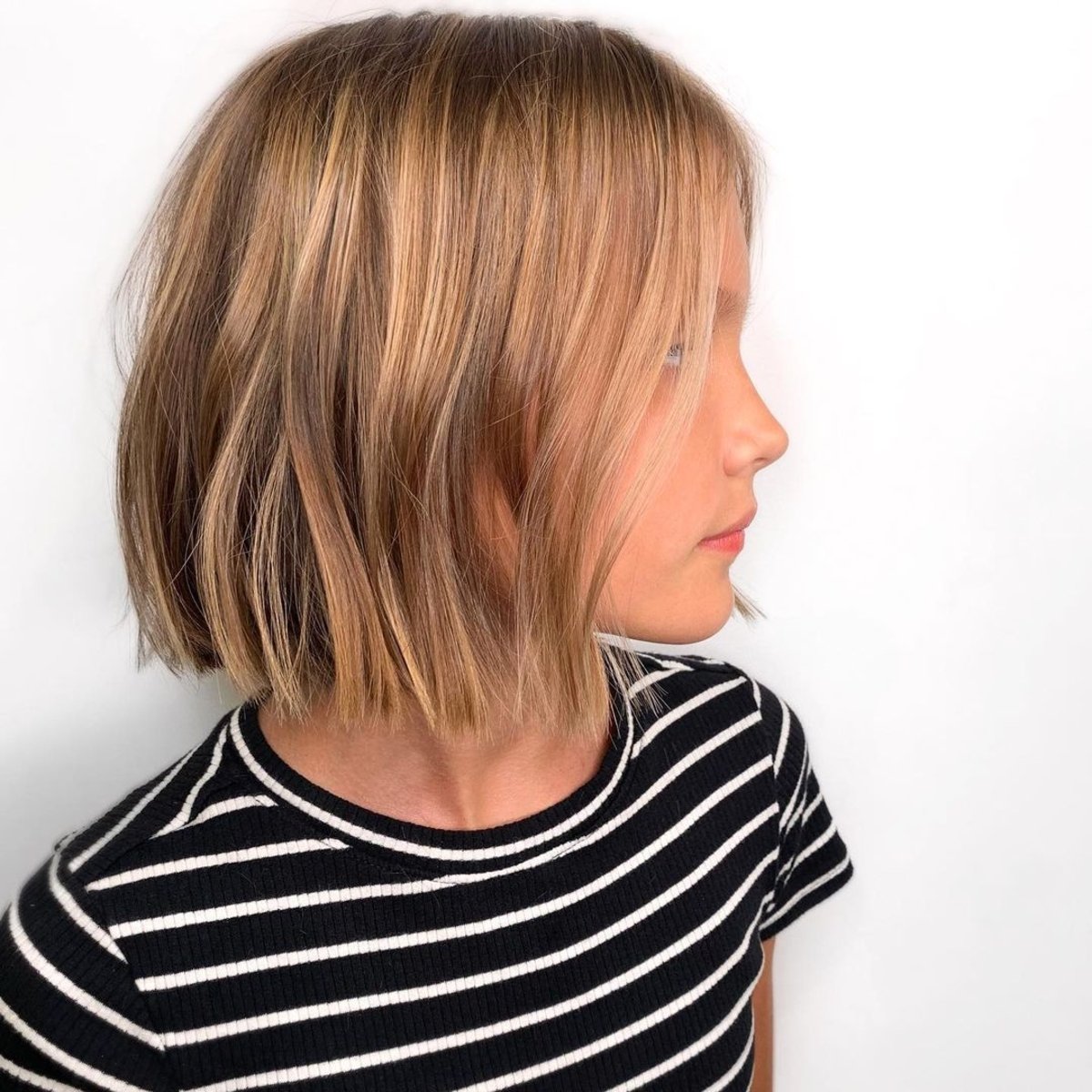 @christinagarciasalon
This bright blonde haircut can be worn all year round and is most likely the best choice for young girls with short hair as it is easy to maintain and manage.
Stunning ear length haircut with side part
@caitlincutshair
It's whimsical neon green and blue highlights paired with a fun short bob. They were created by hairdresser and colorist Caitlin Schmidt of Woodbridge, Virginia.
Trendy hair color in highlights on dark hair is a great way to introduce fun colors without completely obsessing over short haircuts and hairstyles for girls.
"The haircut is the result of growing a short pixie," explains Schmidt. "In between steps, keep the back of your head clean and add some texture to ease styling and reduce mullet."
The style was achieved with a 1″ flat iron. Lightly smooth the hair, then on the second pass, slightly bend the iron in the middle part and pull through. Let stand and run your fingers at the end. This will create a tousled look for your little girl. Finish with a light hairspray or texturizing spray (works great on fiber hair!).
Short layered haircut for girls with thin hair
@hairbymyriha
This short haircut for fine hair was created by lead stylist Miriha Warman of Orange Country, California. "I did a blunt brow around the face with textured ends and long layers at the back to give it a little more volume," she explains.
This short haircut for girls is perfect for an active lifestyle. You can pull the front half up and tie a knot. If you're looking for a more sophisticated look, you can add some beachy waves to it, or it also looks amazing for a simple "get up and go" style.
For those looking for a shorter haircut, Warman would say this is the perfect option. "If you have long hair and you just wear it in a ponytail every day, this is a great hairstyle for a little girl. When you get a really nice bob or forehead haircut, the haircut itself is the style. You'll find yourself wearing it out more."
Depending on the shape of your face, you have to decide if you want a bob or a super short haircut. "I always remind my clients that they can customize a longer haircut, add a fun flirtatious face-framing detail, or leave it blunt by texturing the ends. There are no rules here, and we can be as creative as we want," Warman says.
The perfect layered bob for short straight hair
@beautybyashmari
This layered forehead is short, sweet, young and fresh! It was created by future professional Ashley Martinez from Concord, California. "The best thing about this short layered haircut is that it accentuates the shape of the face and is low maintenance for both young girls and women," Martinez says.
Every girl with short hair should be aware of her hair density and type. For example, if you have very thick hair, adding long layers will help balance the weight along the length rather than weighing it down.
"In addition, the type of hair can affect the result of the hairstyle. Just keep in mind that such a straight bob may not look the same for every little girl," she adds.
Graduated bob with bangs for short hair for girls
@bymaggiekime
A graduated bob on short hair allows you to make your hairstyle more bold and voluminous. Fine and thin curls benefit the most from this short bob. This is a short layered bob haircut that requires minimal maintenance at home. The longer layers on the front accentuate his daring style. Use a balm when styling a layered bob to create that kind of texture and separation. When wearing this trend, remember that short hair needs to be cut earlier, as it loses its shape faster.
Cropped bob for blondes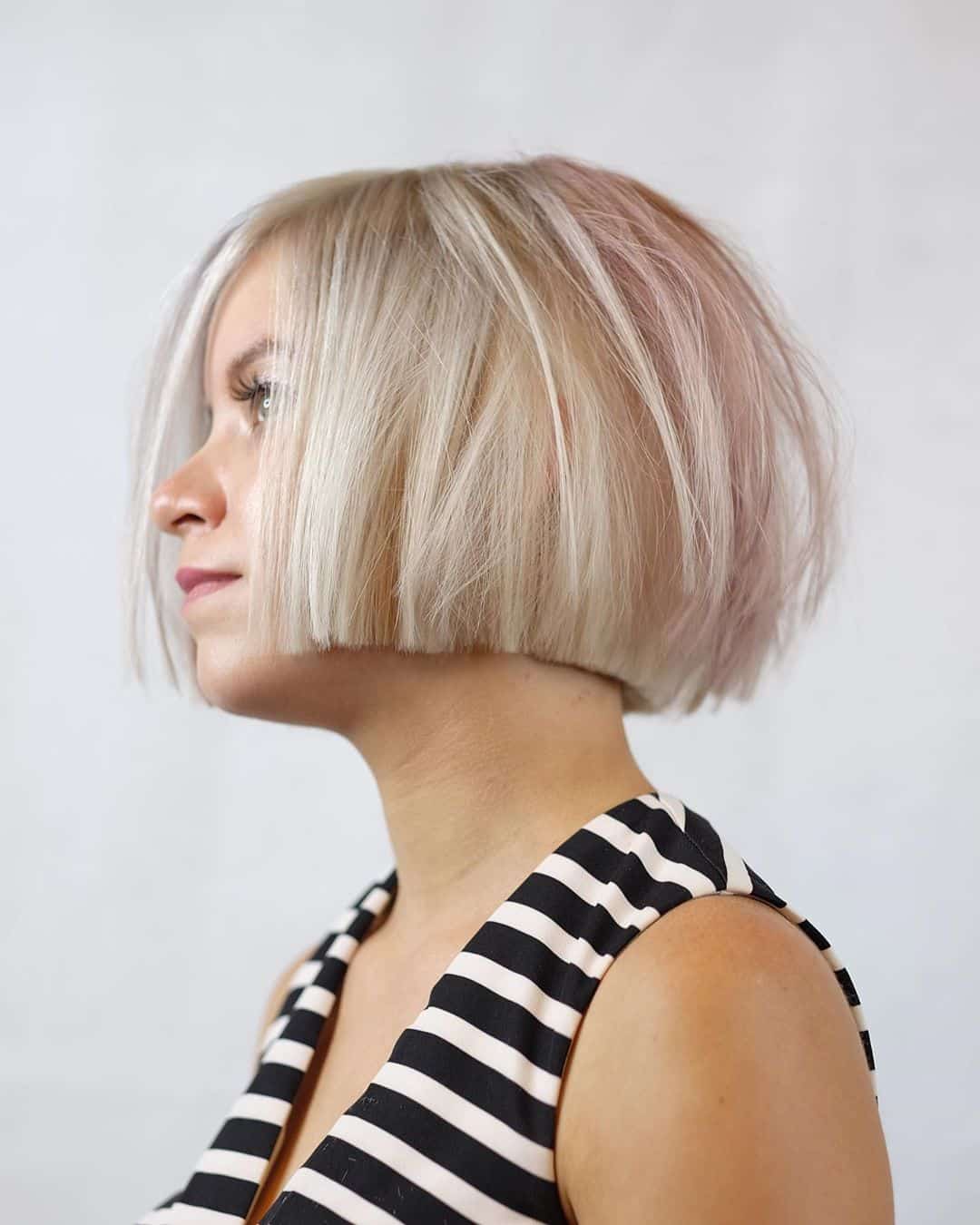 @fernthebarber
Want a shorter bob haircut? Little girls who prefer youth classic style should definitely try this bob. This is a jaw-length bob cut enlivened by a little texture and a brilliant blonde.
Cool pixie with a fade for girls with thick hair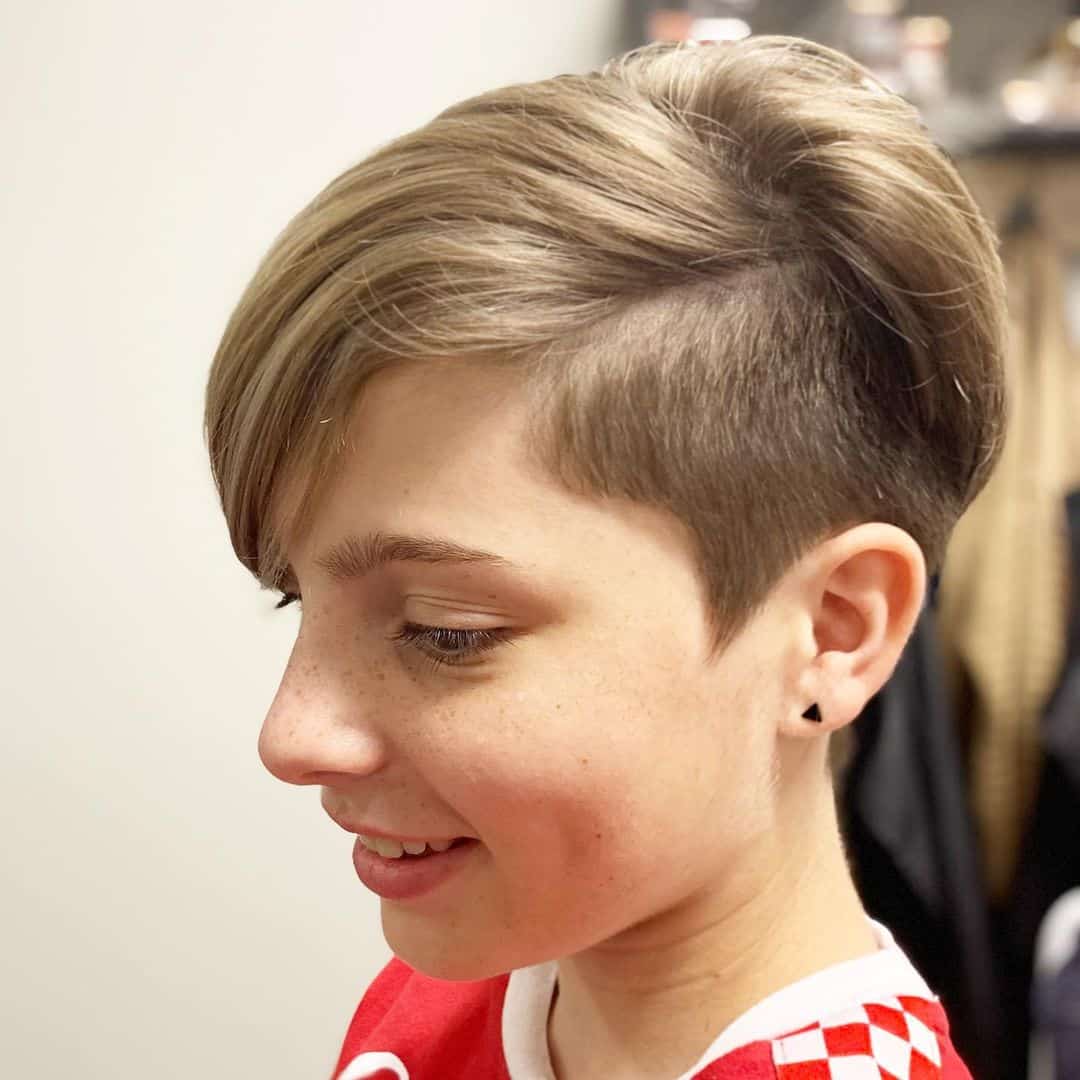 @lovely_chach
This cool faded pixie cut will make girls look edgy and confident. Straight or loose wavy hair looks best in this hairstyle with a short bob on one side. Short hair for young girls can be simple and cute. Much better if their short hair does not require minimal styling.
Haircut to the jaw with bangs
@claudiahairstory
A blunt jaw-length haircut is much prettier when paired with full bangs. This straight cut looks very pretty with bangs and makes it easy to style your hair. This short haircut for girls looks natural and is easy to take off and grow out!
This short blunt haircut is a styled bob cut that has been layered for volume. It was created by stylist Claudia Castillo from Victorville, California. "The short bangs were added in a thin line to give it shape," she explains.
This haircut is perfect for girls with thin textured hair. It adds fullness and you can straighten it or curl it and it will look just as cute.
Short haircut bob-trapezoid
@keithsfhair
A short a-line bob is a great choice to enhance a girl's straight blonde hair. This is one of the kids short haircuts that can make younger girls look older. Line it up with a touch of asymmetry to create an interesting look. This is one way to style the classic haircut for little ladies.
Charming pixie bob with curls for black girls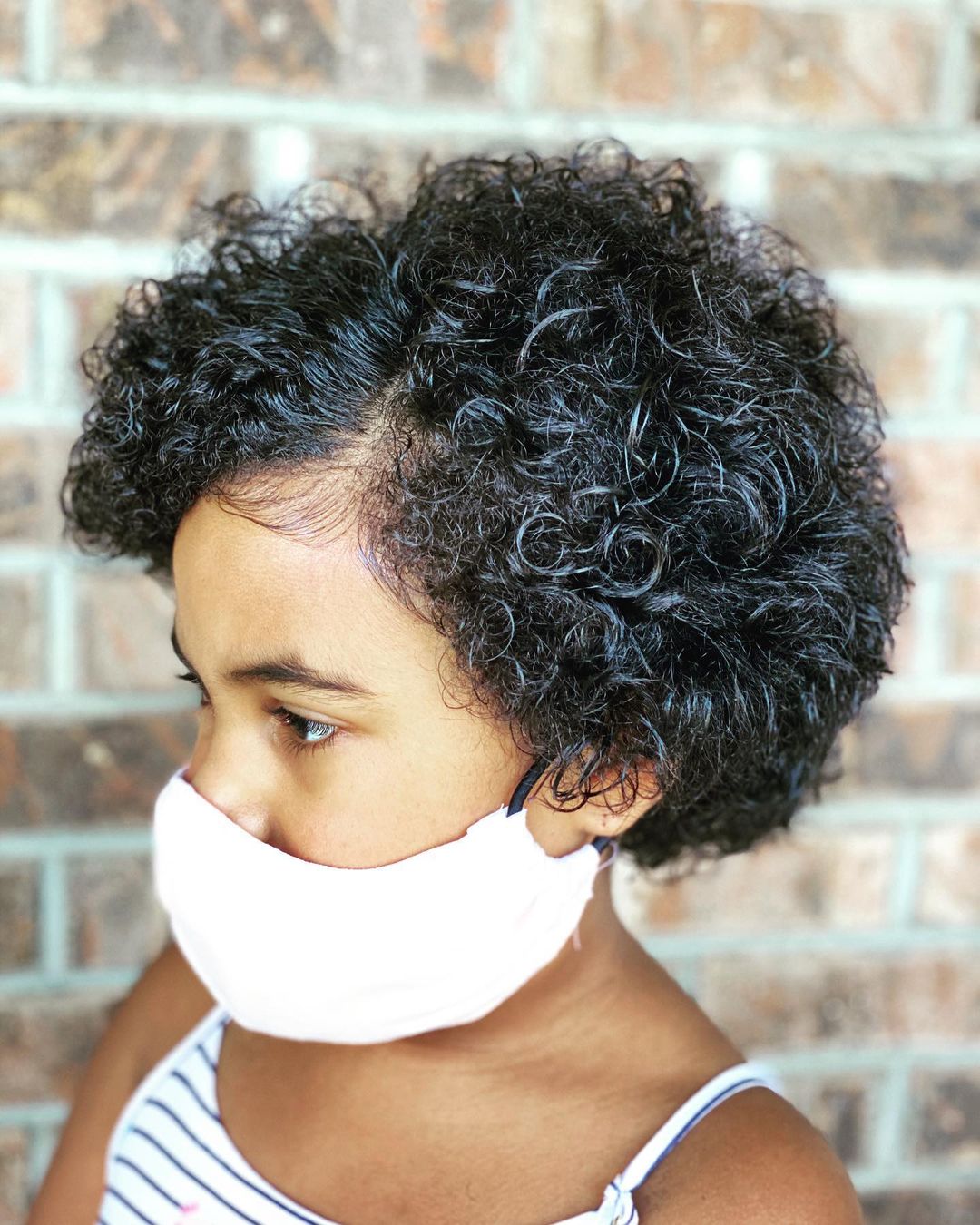 @hair_by_kianna
Adorable pixie bob with curls for black girls! This is a classic bob cut with lots of texture. This is one of the great haircuts for curly girls when they want to cut short curls. Put on this adorable short hairstyle and learn how to show off your natural African American hair texture – loud and proud!
Daring haircut on short hair for young girls
@guyannesscissorhands
Try a edgy undercut on short hair to make a statement. This style is a very cool option for young girls. Leave long strands above the hairline for side bangs to choose from.
Messy short bob
@akasasilva
An angled bob is the perfect haircut if you are looking for something cute and elegant. It's divine when paired with soft texture and stylish side parting. This kind of whimsical haircut will never go out of style for young ladies who want a classic blunt cut that is easy to maintain.
Short messy haircut for girls
@salsalhair
Get a messy short haircut with bangs to look younger. The added texture makes fine hair more voluminous. Another thing that I love about this cute short haircut for girls is that it requires little maintenance.