Caramel brown with a rich light tint

@jasvbeauty
For the red-haired girl who is looking for a truly stand-out trend, this deserves a big yes! A shade of caramel brown with rich light highlights is a great way to complement your style. Embrace your natural wavy texture as it can spice up your long tresses even more.
Caramel silver blonde hair

@hairbyjayymeow
This caramel silver hair adds a unique touch to your glamorous style. Rest assured that you will get this look when you have sleek long strands for such a lustrous result.
Caramel balayazh on beige blond hair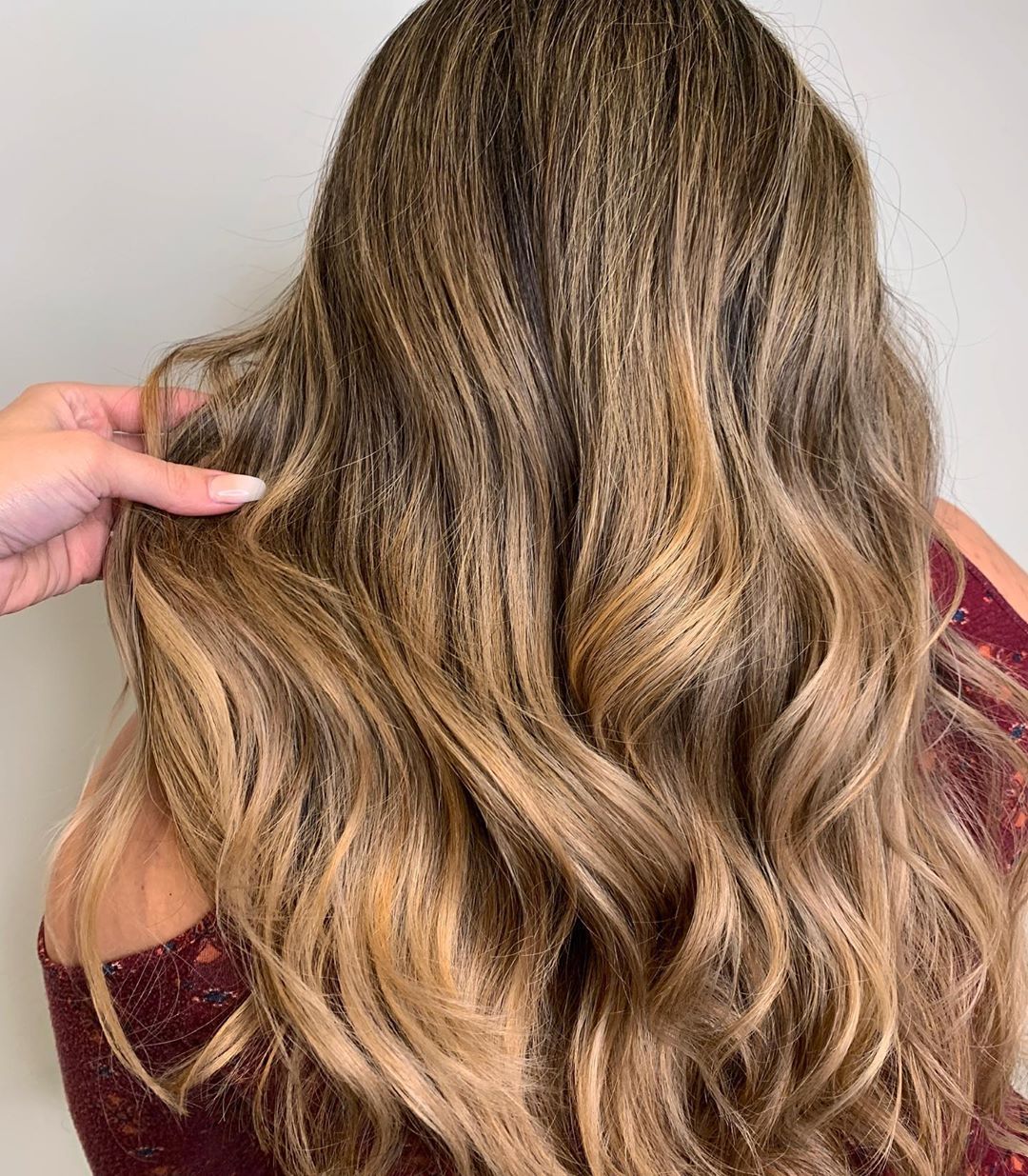 @kels.hair
Dreaming of a sultry new style for your long hair? Switching to balayazh is a great step. Caramel balayage on beige blonde hair looks flawless with lush waves added to it.
Caramel Warm Blonde Ombre

@kawaiihimehair
Feel the rich rich hair color and go for an ombre with caramel and warm blonde undertones. Fine waves on long strands and face-framing elements add softness to the look.
Caramel Strawberry Ombre Blonde

@paige_color_cut
This shade of caramel blonde is the epitome of good taste! Choose this caramel strawberry ombre if you're in the mood for a chic balayage effect. The shades blend so naturally that your long locks look luxurious and sophisticated.
Caramel shades on white blonde hair

@hairbycarolelynn
If your love for your current blonde hair is slowly fading away, all you need is a shake up. These caramel highlights on light blonde hair look amazing and you should definitely try them. With loose waves and curls, your new long hairstyle and color will be so exciting.
Dark caramel and sandy blonde hair

@hairbymichelleee
A shoulder-length wavy forehead plus a caramel blonde balayazh is a real work of art! Sunlight highlights add warmth to the look you're after. This is a gorgeous dark caramel and sandy blonde hair with darker roots and lighter tips.
Caramel highlights on dirty blond hair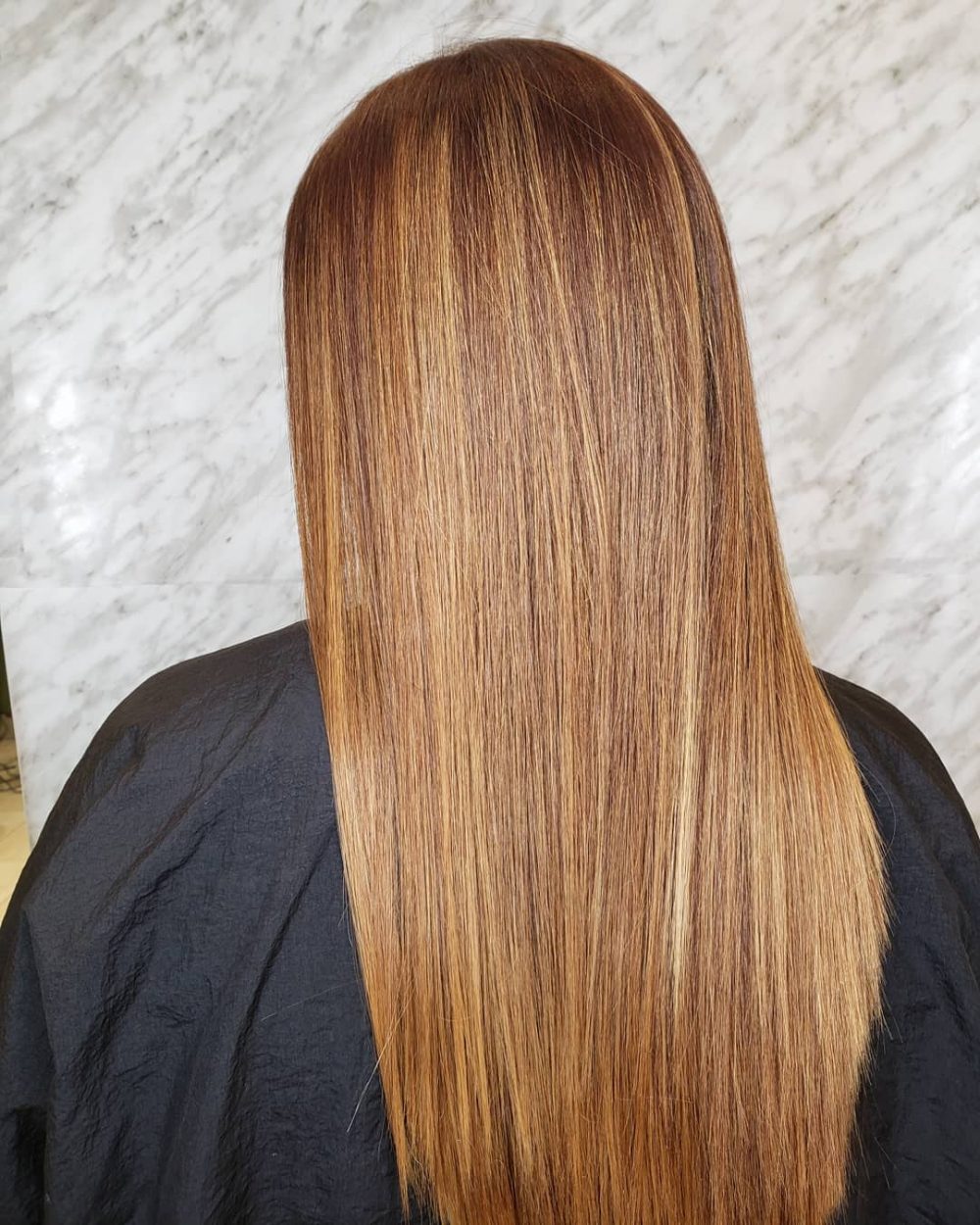 @hairbynivein
Smoothen your long, straight hair with a warm and natural caramel blonde shade. Of course, you won't regret putting some caramel highlights on your dirty blonde hair for some new glamour.
Short caramel light blonde balayage

@hairbackstageonair
How else can you improve your appearance? This short caramel light blonde balayage shows a sign of volume. The sheer texture and movement in the neck cut deserves some extra styling time.
Caramel Butter Blonde

@razzohaircare
How divine it turns out, it's everything you hope for and even more! Caramel and buttery blonde make for a vibrant hair color that pairs very well with long, thick strands. The transition of the two shades is so flawless that you flaunt big body waves.
Caramel brown blonde hair

@hair_sophia_selene_zanosalons
Two shades in one mane! Here is a caramel brown blonde hair perfect for a shoulder length cut. Both waves and colors work hand in hand to make your curls thicker and more voluminous.
Caramel bright blonde

@diogoguerrahairstylist
This caramel bright blonde is the brightest and most beautiful thing you will ever see in your life! Its beautiful color melting effect works wonders on your long wavelengths.
Caramel and cold blonde hair

@theo_le_coiffeur
Who can stop you when you have naturally sleek long locks? Elegant waves play a vital role in adding shine to this caramel and cool blonde hair.
Caramel with highlights "ice blond"

@hair_by_alexisr
The size is staggering, you can't stop going crazy with it! The goal of this look is to use a warm caramel shade with icy blonde highlights to balance things out. With this color on your soft and long hair you will be golden!
Caramel platinum blonde hair

@bdroombeda
Brighten up your long locks with a new shade of caramel blonde. This caramel platinum blonde hair is as dazzling as your beauty, enlivened by loose curls at the ends.
Caramel ash blonde on dark brown hair

@kingdivinefive
Wear it to impress! Once you've achieved a long mane, don't miss your chance to show off the sweet ashy ombre shade. Beach waves are sure to love playing with this caramel ash blonde with dark brown hair!
Brown hair with caramel and golden brown highlights

@kittyh.hairstylist
Money is always worth a try for a great face framing with caramel blonde strands. But make sure you choose the right hair color for it to be effective. If you have an olive skin tone, brown hair with caramel and golden blonde highlights should be your first bet. This is definitely suitable for your thin medium length haircut.
Caramel Toffee Honey Blonde

@wellahair
If you want flawless waves on your long mane, do it with caramel honey toffee. The volume seems satisfying, giving good shape to your curls. Be confident enough to flaunt it outside as this balayage shines best in sunlight.
Caramel cream blonde balayage on dark hair

@suesy.k
Caramel cream blonde on dark hair makes a long, straight mane the best! The blended power of hand-painted highlights and root shadows creates a multi-dimensional look. What else could you say? It's downright genius!
Caramel highlights on dark brown hair

@hairstylistrosie
Try some caramel blonde on your natural dark hair. Please note that when it comes to highlights, care is required to maintain color.
According to colorist Rosie Alexander of Ogden, Utah, you need to make sure you're using professional hair products that are color-safe. "I personally love the Lanza, Pau Shau and Neuma brands. Get regular haircuts every 8-10 weeks, touching them up as needed," says Alexander.