voluminous curly pixie
@lisaharrishairred
The voluminous curly pixies are perfect for women over 40 who want to look younger. Consider leaving long bangs to look younger.
When styling a curly short pixie cut, use a sea salt spray to enhance the texture.
Long pixie cut for older women
@curlyonq
The long pixie cut is perfect for older women with curly hair looking for a simple yet stylish haircut. To get this haircut, ask your stylist for a soft pixie cut where it is shorter at the bottom and longer at the top.
Long wavy pixie haircut with curls
@jenniferbradleyactress
A long wavy pixie cut with curls gives a soft look to curly hair. An interesting asymmetric cut with a longer side that hugs the cheekbones. It is great for heart and diamond face shape. This haircut is in the middle of maintenance, about 6-10 weeks for the style to look good. Curly hair can be a little more forgiving.
The perfect pixie for curly thick hair
@audieshadesofhair
The best curly pixie cuts for thick hair include a lot of texture. This saves a lot of weight and bulkiness.
Consult a stylist who specializes in DevaCuts or the Curly Girl Method as they know the best way to shape your thick curls.
Curly Pixie Bob Perm
@jessyjinstylist
The curly pixie bob is great for very thick and straight hair with a natural texture. This haircut was created by hairdresser Jesse Jean from Vancouver, British Columbia.
"It's a short, curly haircut that's not as short as the typical pixie, but it's also not exactly mid-length," Jean says.
Jean says if you're considering a pixie perm, make sure you have a proper consultation before booking a full appointment. "Collect a few photos to really show how big your curls are and how natural you want them to look, and bring along your hair history. This is very important because the integrity of your hair matters," she notes.
Jean loves to prep short permed hair or naturally curly hair with Pureology's fanatical hair dye. "This is one of my favorite lightweight hydrating leave-in conditioners that is also color safe. Plus, you can use it wet or dry, so you can spritz them on the second or third day to hydrate their tresses."
Curly long pixie
@hairbyannriordan
If you're afraid of going too short, consider a pixie cut with long curly hair. This is a great middle ground and will suit a long face shape if you have one.
Ask your stylist to leave longer curly bangs.
With this short haircut, you can easily style your hair at home by applying a simple pomade and styling your hair with your fingers.
If you want more ideas for short hairstyles for curly hair, check out these other long pixie cuts.
Pretty pixie for naturally curly hair
@hairmagicbypatricia
This cute naturally curly pixie hair is best for women with tight curls and long faces.
Adding bangs to the forehead puts emphasis on your eyes.
Wear this crisp natural 3C pixie cut and say "no more frizzy hair!"
Curly layered pixie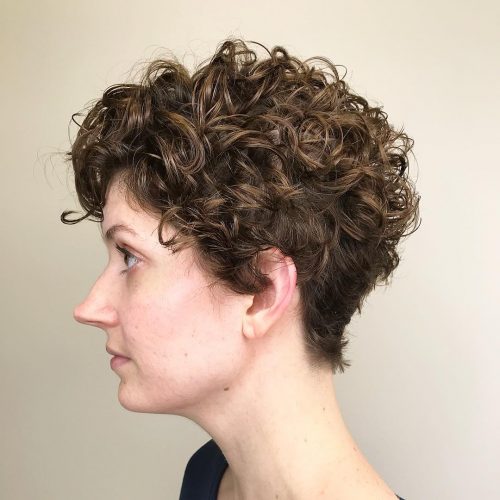 @wenzelsalon
The layered curly pixie does a great job of either removing volume for thick hair or adding volume for fine hair.
These curls are the perfect style for short curly haircuts.
Curly pixie for a round face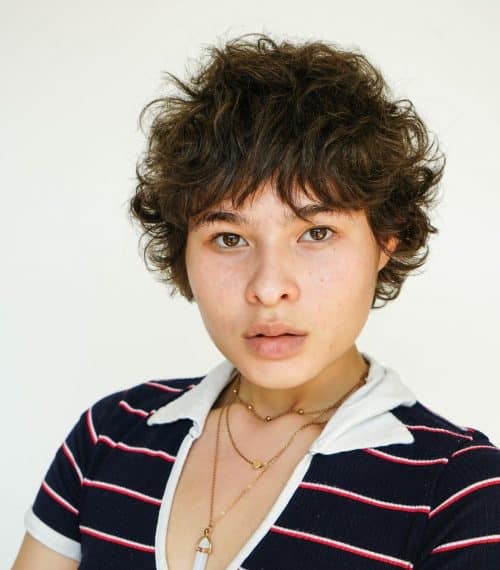 @beauballlinger
For curly pixie hair, it is best to cut it just above and around the ear area so that it looks to frame the face.
Layering the strands gives short, curly pixie cuts an edgier look.
Pixie for fine curly hair
@andy_doesyourhair
A very short curly pixie with tapered sides is great for women with fine hair because it creates more volume for your curly locks.
After that, make your Liza Minnelli-style curly look blonde!
How to style a curly pixie hairstyle:
1. Air dry or stray dry hair
2. Comb your hair with your fingers
3. Apply spray mist for a more textured look.
asymmetrical pixie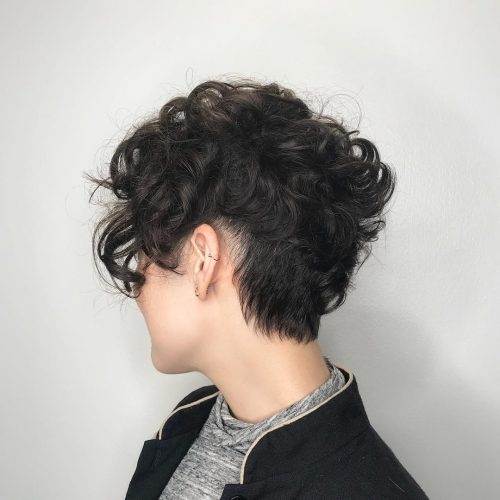 @val.vincent_
A curly asymmetrical pixie will give a softer look because it balances the facial features.
Loose curls add extra volume and texture, making the perfect pixie cut for thick curly hair.
blonde pixie
@violetta_cosmos
Fashionable light pixie is ideally combined with curly thin hair. Ask your stylist to add layers to create loose curls and more volume.
This is a modern way to show off a wavy pixie cut with curly bangs.
Wavy pixie with side parting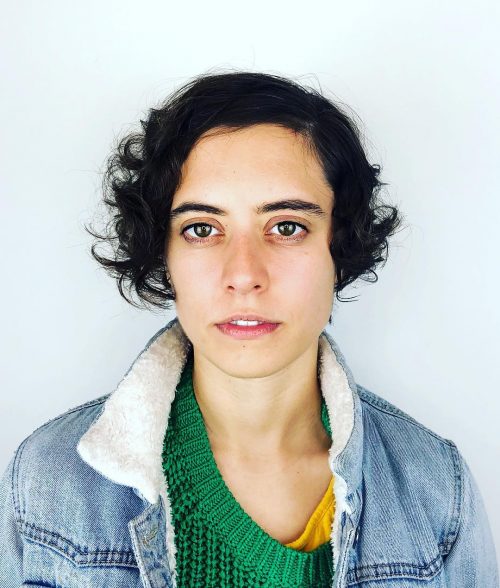 @ashleytuckerstyling
A simple pixie cut with a side part for wavy hair is best for women with light curls and waves who have an oval face.
Consider leaving short, wavy hair near your ears to frame your face more.
If you have straight hair, consider getting a permed pixie cut.
Curly pixie with bangs
@kkuyt_stylist
The key to a cute curly pixie cut with bangs is to ask your stylist for an asymmetrical haircut. This will allow your bangs to fall over your face.
To style, apply mousse to damp hair, squeeze tight curls and let dry.
See also pixie haircut with bangs.
Textured pixie for fine hair
@paytoncharleshair_
When choosing a pixie cut for curly hair that works, choose layers and styles to mimic pomp. They will make you look feminine.
Wearing such cute curly hair is also a natural blessing with short curls.
Super short and curly pixie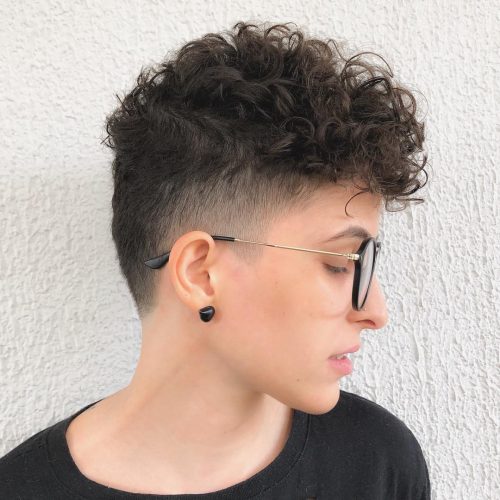 @silva.hairdresser
A very short pixie haircut with a slight undercut will add volume to the crown. Also, it looks androgynous but edgy!
If you're looking for short curly hairstyles with a daring low maintenance look, then this curly pixie cut with curls is for you.
very curly pixie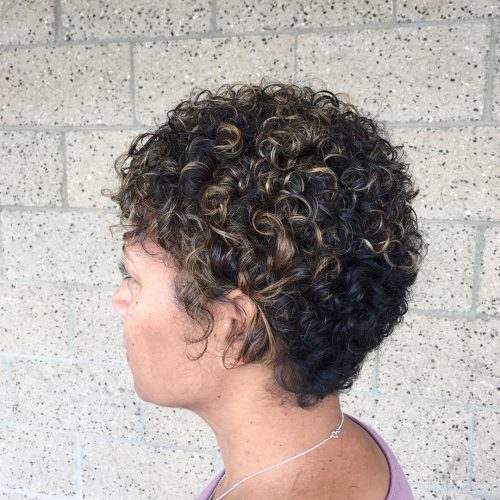 @carolynbeckwith
This curly 3B pixie cut is adorned with a playful caramel ribbon all the way down. It was created by hairstylist and colorist Carolyn Beckwith of Poway, California.
If you're in the process of growing this haircut out, Beckwith says adding caramel flowers as highlights is a great way to spice it up.
"I really like the curly short hair with tight natural curls, and the color gives the style even more character," she notes.
This is a great style for a girl with curls who likes .
Accessories for short hairstyles like this can include bandanas, jeweled headbands and don't forget earrings – simple hairpins with a stunning hair clip or statement headbands can really make those short curls stand out!
Curly pixie with undercut
@pennylanestudios
"This is a great undercut for curly pixies because it cuts the sides incredibly but blends the top in a way that keeps the silhouette soft," explains hairdresser Coral Gable from Chicago, Illinois.
"Sometimes there can be a problem with how long to keep the curls at the top so that they stay tight enough to keep their shape, but long enough to have the freedom to style a curly pixie cut," says Gable. "You have to cut your hair much more often than when your hair is longer, so factor that into your budget and time. If your hair is less frizzy at the crown, you will need to reshape much more often."
"The shape of the face plays an important role in styling these short haircuts," says Gable. "For example, if you have a round face, styling to increase height is helpful, unless your goal is to accentuate that round shape."
Curly Dirty Pixie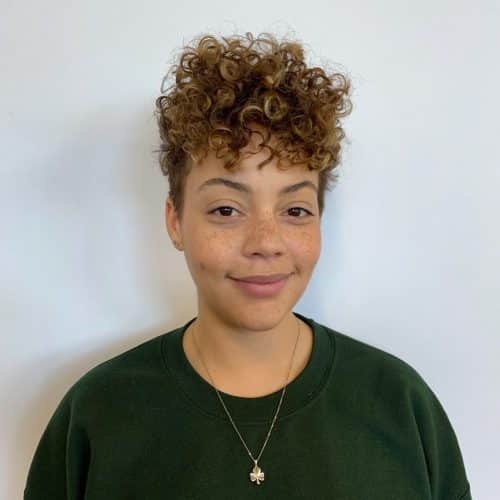 @jendoesyourhair
This curly mohawk-inspired messy pixie benefits from a full voluminous crown. It was cut and styled by curler and salon owner Jen Cortez of Minneapolis, Minnesota.
"This haircut can emphasize your eyes and cheekbones. And with golden brown hair color, this haircut can be worn by any lady with a warm skin tone, "says Cortez.
She adds: "Any woman with naturally curly hair can get this messy pixie cut. It's all about confidence in your stylist and their ability to work with your texture."
Naturally curly short pixie redhead
@curls_i_am
With this gorgeous short pixie cut, you can have the "big chop" you've always dreamed of. "To create this look, I used my own technique called curl. Keep the top longer for a more edgy look," says curly hair specialist Jasmine Levy of Boca Raton, Florida.
You don't have to have previously damaged hair to get this short hairstyle. Levi loves pixies on curly girls as the hair is already textured.
"Any curl pattern from 2a to 4c can create a natural wavy pixie cut. Just be sure to look for photos of girls with your type of curls to get an idea of ​​​​what it will turn out, "she notes.
Keeping the hair slightly longer and rounded at the top suits round, square and oval faces.
Like all curly girls, they use a lot of hair products, so this short haircut will save you a lot of time and money!
Always moisturize your curls, especially if you color them. Levy recommends Deva Curl conditioners as they provide the best hydration. "The only downside is that you will see your stylist more often."
Natural pixie for black hair
@teddy.baker.beauty
Pixie cuts for black curly hair like this one are all about shortening the sides and growing out the crown. "Of course, African-American women will look stunning with this haircut," says master stylist Teddy Baker from Los Angeles, California.
"This haircut can be adjusted for any type of curl," Baker notes. "Also, it's great because you can wear your hair in front of your ears for a softer '70s vibe, or slick it behind your ear for a more sophisticated and trendy look."
With any pixie cut, curly hair needs a cream to smooth/smooth it and a spray or gel to keep the curls in place.
Baker says this natural hair pixie is best for women with strong facial features like high cheekbones, big eyes, or a strong chin.