Wavy bangs
@orangesalonatx
Wavy bangs go well with a short curly haircut. This bangs are curled and merges beautifully with the rest of the strands. The whole hairstyle gives thicker cascading bangs, giving the curls more volume and volume. To get those beachy waves, either use a round brush while blow-drying or curl your hair with a flat iron.
Wide bangs for women with curly hair
@epikasalonandboutique
Try thick bangs for women with curly hair to give your curls extra volume and height. Longer, tousled bangs blend into layers, giving the curls more bounce. They also create a more rounded shape, which has a softening effect on the face.
Black hair with feathers
@aleksandrmaslovsky
Side-swept feathered black hair has the advantage of adding movement to the top of the face. Darker hair colors are lucky in that they have tons of sheen. However, they may need a little lift and movement to keep the hair from falling too flat. Aim for a long, layered shape to enhance and highlight your shiny curls.
Side cut for thick bangs
@nellkarmo
Try thick bangs with side-swept hair if you're one of those ladies with lots of hair. Sometimes thicker hair can make you feel overwhelmed, and adding bangs can heighten that feeling. So, make a choice in favor of styling with a braid that will visually lighten your hair. This creates movement in the area where your hair is weighed down.
Flowing bangs for thin hair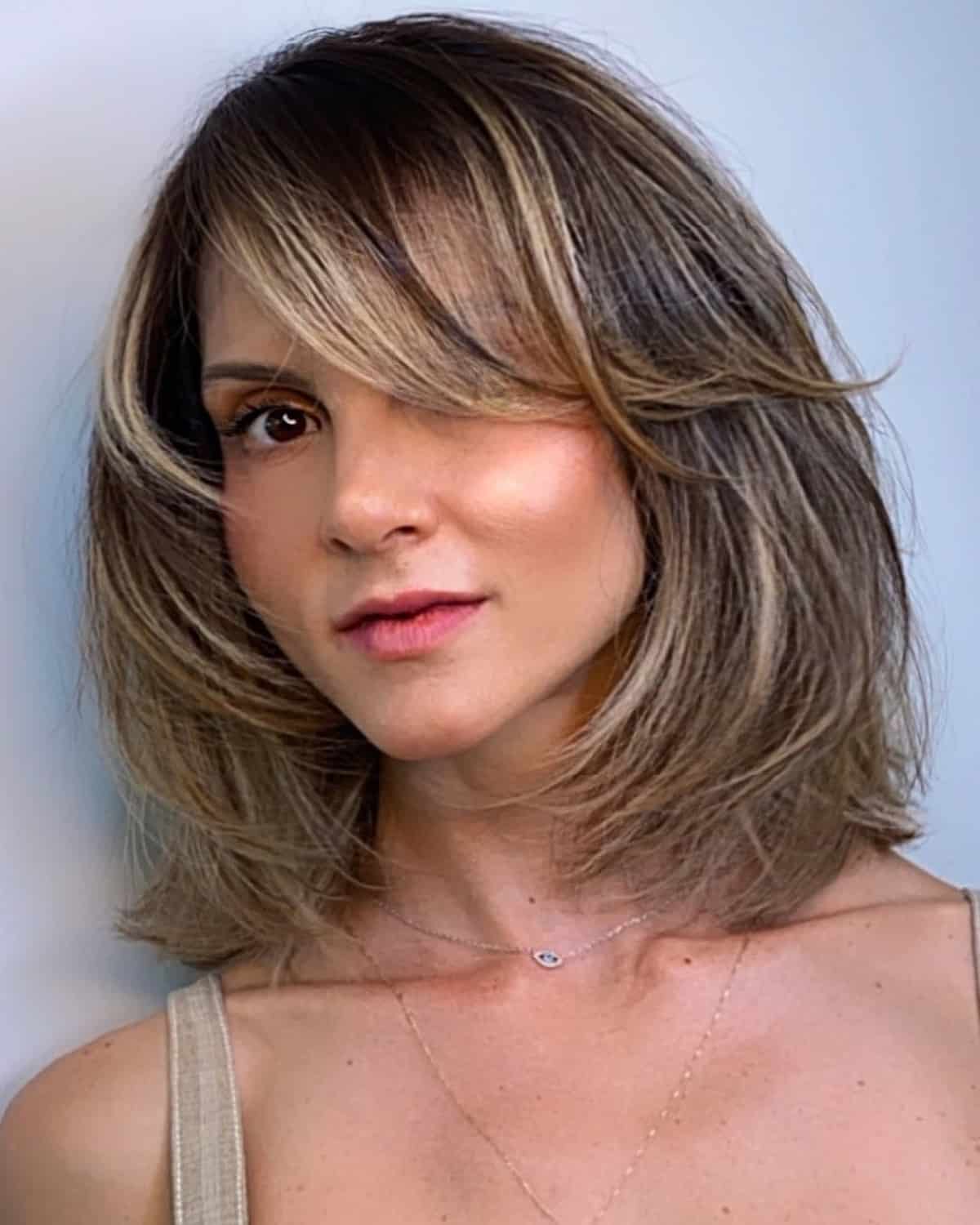 @ricardomaiabsb
Flowy bangs for fine hair are more desirable as less hair can be used without taking too much hair compared to full heavy bangs. Whatever the length of your hair, long flowing bangs beautifully outline your face. Creates volume by adding width to the facial area. It's also a great option if your hair is thinning in recession areas, as it allows the hair to sit forward and cover areas that you may be aware of.
Deep side part with fringes
@ssilvaniasil
Deep side bangs go with any haircut, and one of them is the forehead. The great thing about sideways bangs is that they add that extra edge to your hairstyle without drastic changes. Hairstyles with combed bangs are best for girls with straight hair who need extra volume.
Elegant side bangs for long hair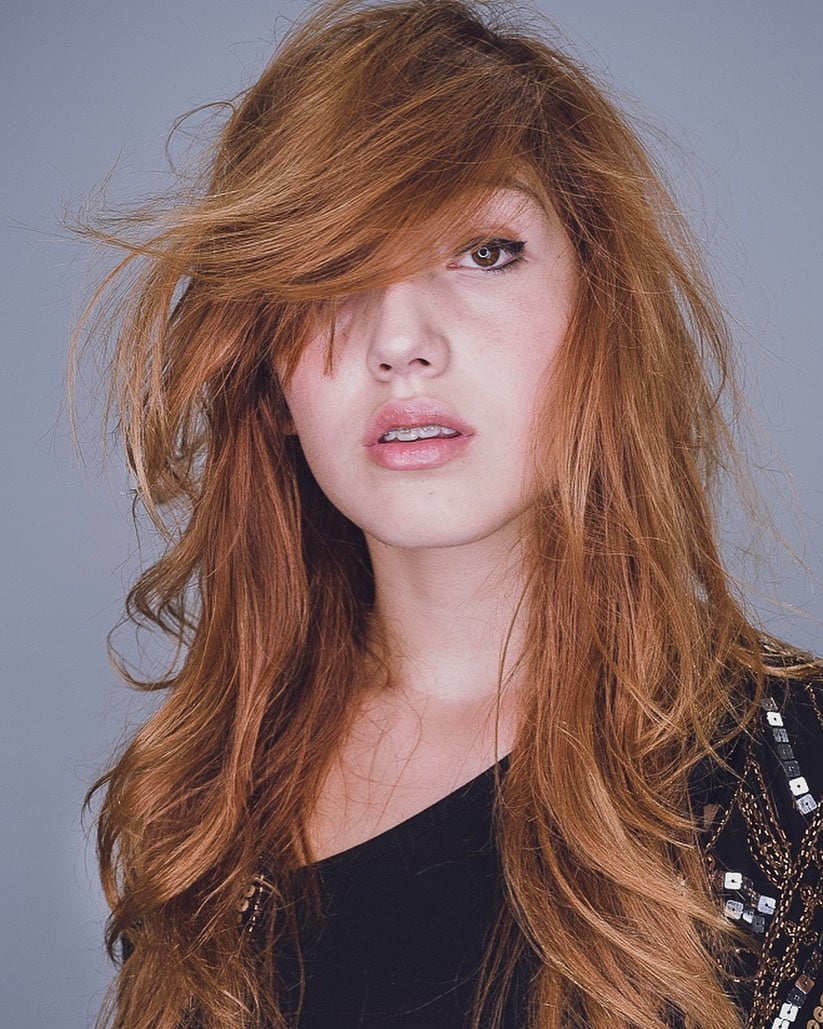 @joeltorresstyle
Elegant oblique bangs for long hair look great on a wavy texture. The combination creates movement that adds life to the curls. Side swept bangs can change your look without shortening the length. They don't look as dramatic as straight long bangs. This trend is for ladies who don't want a dramatic makeover.
Bob with side bangs and dark brown waves
@hairarchitech_by_georgepopescu
With side-swept bangs and dark brown waves, this forehead has a versatile length. It is not too short for the hair to be tied up. It is not too long, so the hair retains its density. This forehead is also excellent with or without waves! Ladies with any face shape will surely like this haircut.
Long pixie with long wide bangs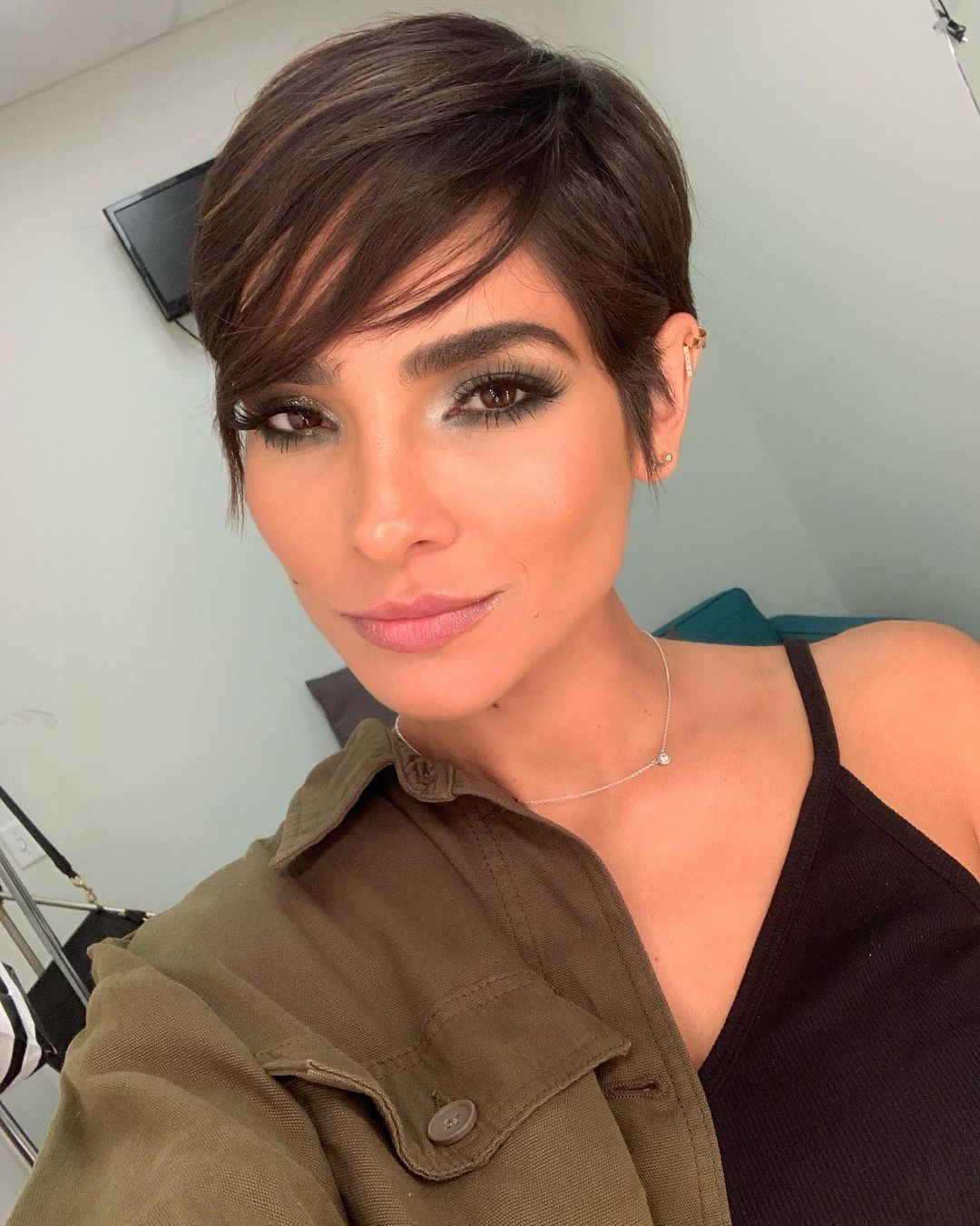 @alejandraespinosa
Wear a long pixie cut with long side bangs for a edgy and fierce look! This short haircut looks much better if the hair is straight or slightly wavy. With short hair and long side bangs, you can make styling easier. All you need is a light matte putty to add some grain and texture.
Medium length hairstyle with combed bangs
@hs.miguelized
This is a medium length hairstyle with combed bangs that is suitable for any occasion. The ends touch the collarbone, which gives the cut the perfect length. This is ideal if you cannot decide whether to go short or long. This style of bangs is also great for women with small foreheads. This whole style proves that medium hair and side bangs are a great combination.
Inverted bangs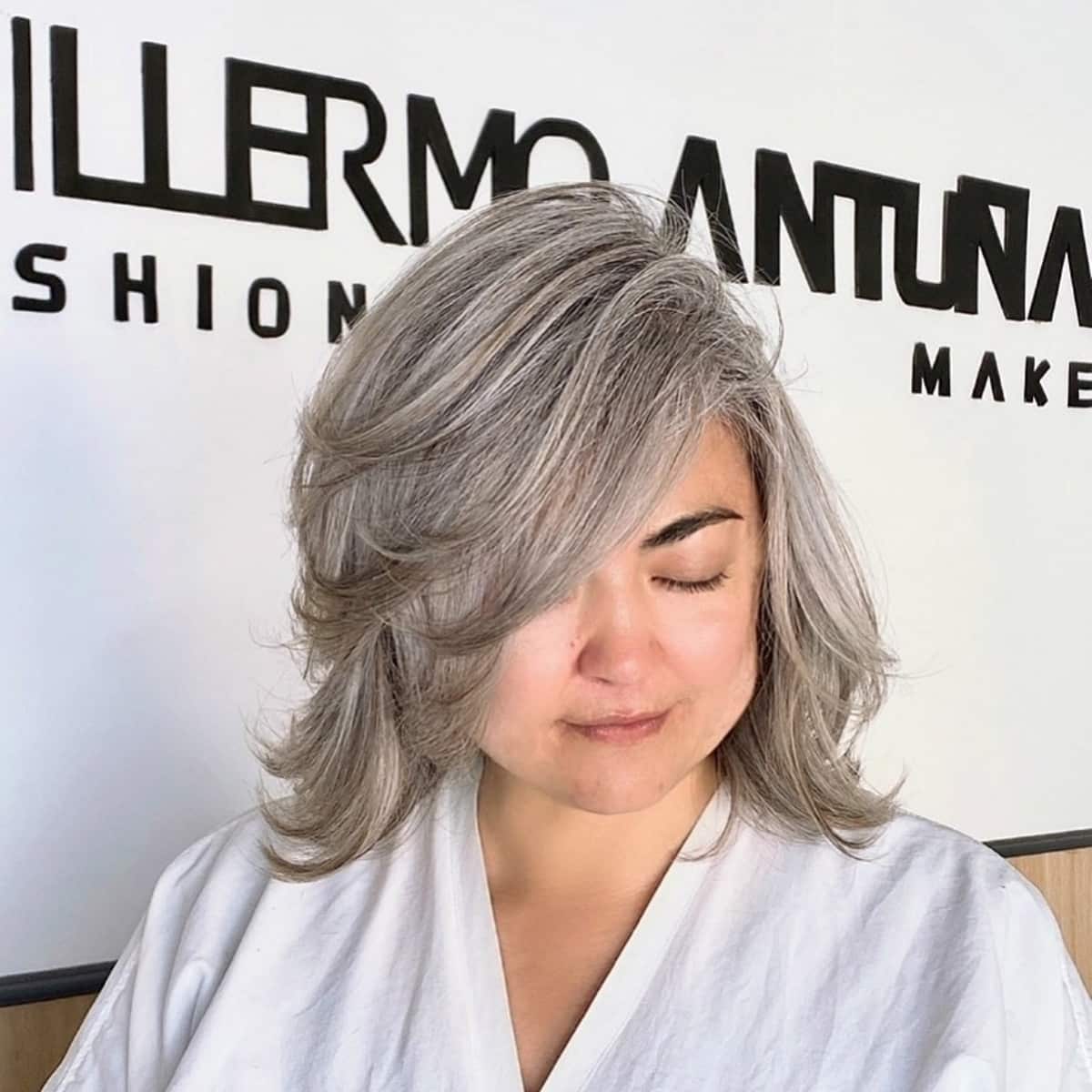 @guillermoantunano
The inverted straight bangs blend seamlessly with the layered hair, making it suitable for women who love a lot of movement in their hair. Hairstyles with side bangs are slightly longer, touching the cheekbones, giving the hair a very soft feminine look. Try blow-drying your bangs with a large round brush on top of your head and letting it flip to the side for a full blown finish.
Sleek straight hair with side bangs
@martafeschuk
Sleek, straight hair with side-swept bangs frame the face beautifully. It is classified as a beige-blonde shade that suits neutral skin tones. Long hair like this offers versatility as it can be worn with ponies or waves for truly unique red carpet styles.
Blunt bob with side bangs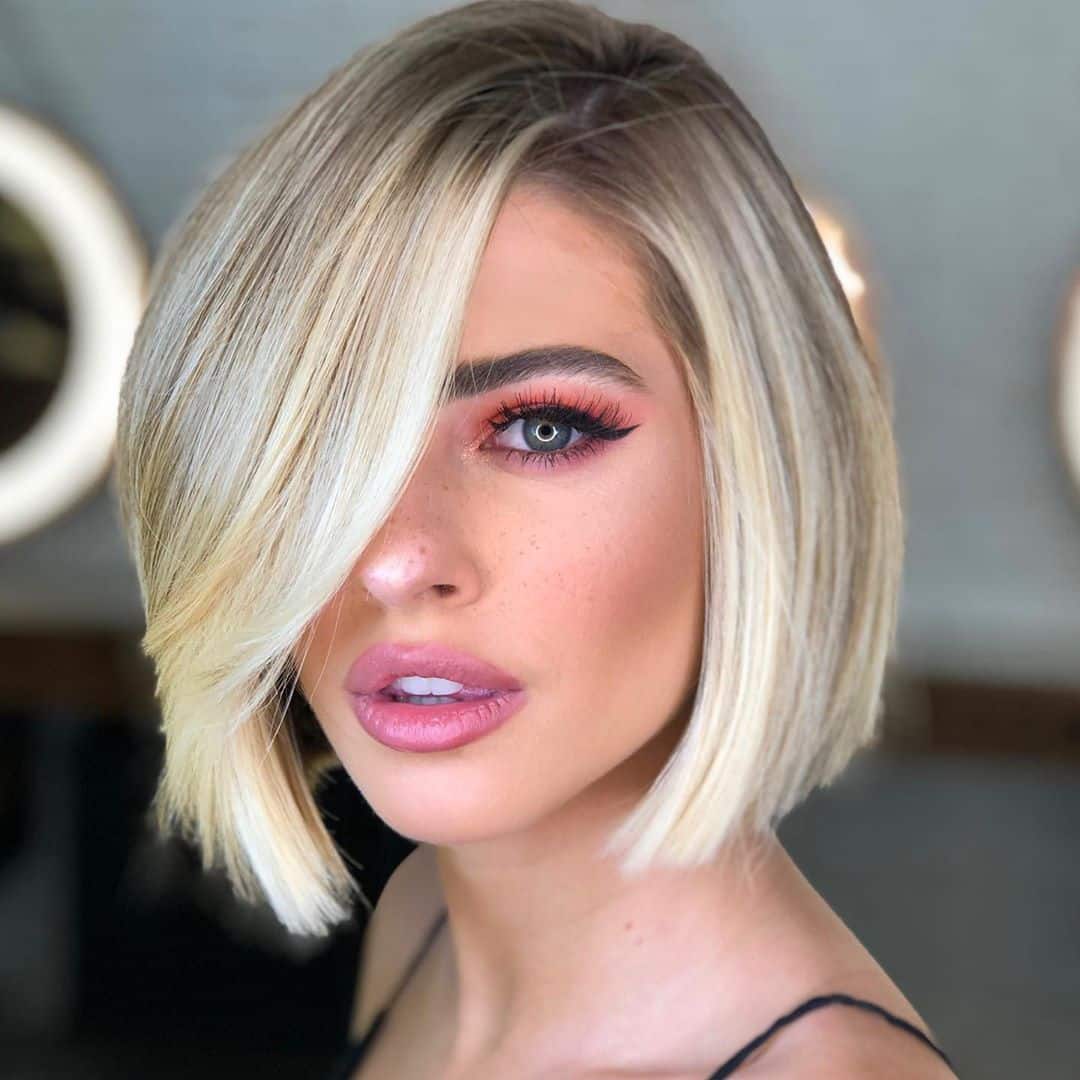 @brunalippo
A straight blunt bob with side bangs looks more glamorous with a lighter shade. It's so modern and easy to fit. A straight, slightly slanted bob with side bangs can also be worn with tousled waves! A longer side swept hairstyle is ideal if you want your bangs to touch your cheekbones, but you can't opt ​​for straight bangs.
Short side bangs
@jennifer.bstyling
Short bangs, combed to the side, over-direct the bangs to the opposite side from where you part the hair. Colorado-based stylist Jennifer Bomez used a combination of point and slide cut for this haircut. "I even textured the ends to give them movement," she says.
"For women suffering from hair loss around the face, bangs are a great option," notes Bomes. "They help hair grow healthy, stylish and beautiful!"
Cheeky bob with side bangs
@jojo.moxiepark
This cheeky forehead with side bangs is versatile and easy to spice up. Bangs add volume and volume to the hair, especially when the whole hairstyle is wavy. A long bob with such bangs can seem even softer if it is dyed in a bright beige shade of blonde.
Long side bangs on shoulder length hair
@markgarrisonsalon
Long side-swept bangs on shoulder-length hair look chic and soft around the face. Just ask for a haircut with side bangs and parting to one side. It works on straight, blonde curls the most. A more horizontal layer is suitable for a longer face with medium texture and density hair. A more vertical layer is suitable for a wider face shape with hair of medium texture and density.
Thin wide side bangs
@renoir_e_ricardomaia
Thin, wide side bangs are so softening that they can benefit most face shapes, especially longer face shapes. The thin side bangs cut across the forehead to shorten the length of the face, focusing on your eyes.
Side bangs with long layers
@melanie.s.stylist
Try sideways bangs with long layers for a very chic and feminine look. This long layered haircut gives the curls more volume and life. Such a great way to frame your face without an excessive layer of hair. The result is flawless when a woman with long hair wears it in a knot with a few strands falling over her face.
Freshly styled side swept bangs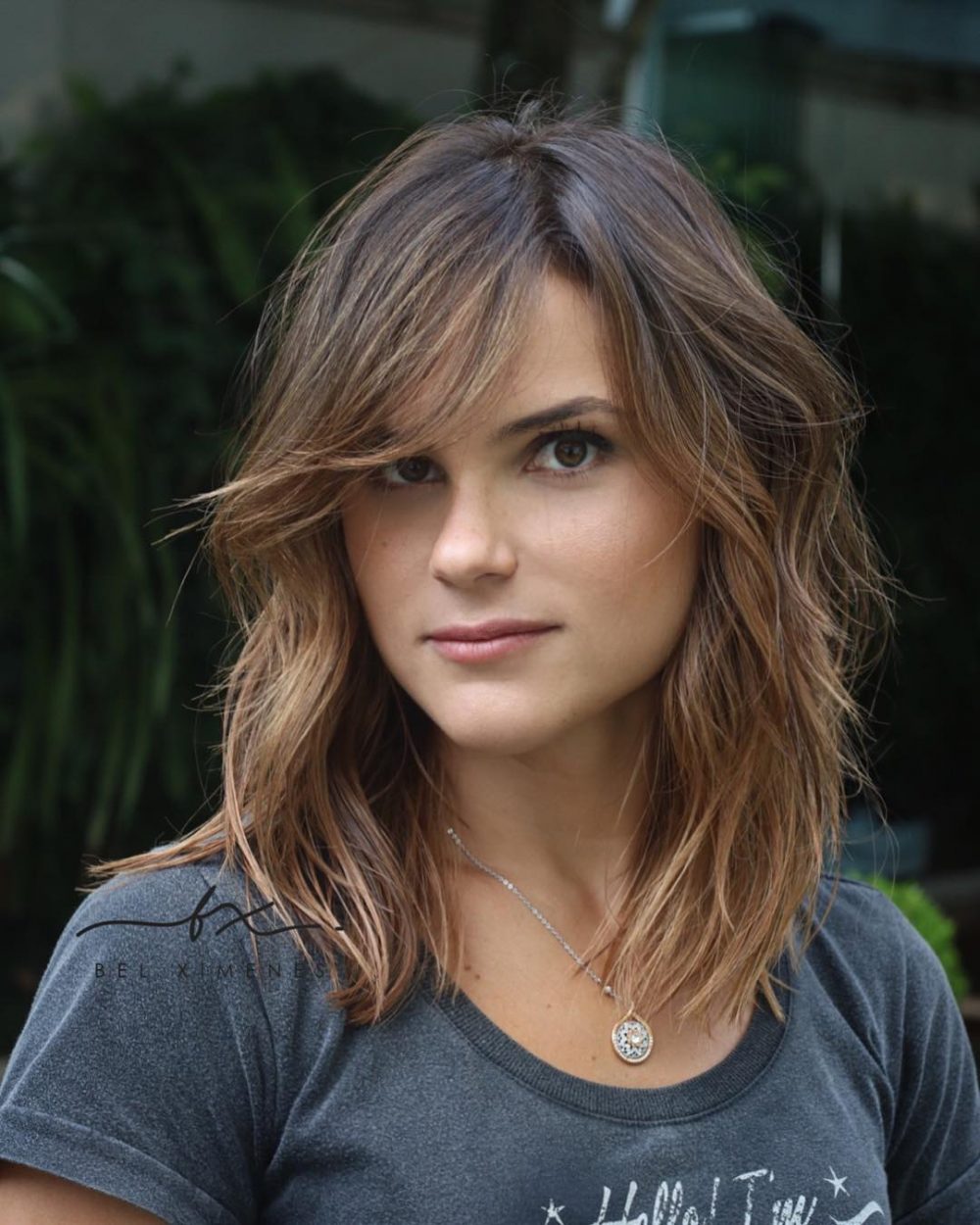 @belximenes
Try fresh layered bangs swept to the side to flatten a mid-length haircut. Bangs help add movement to wavy hair. Add multiple layers to your hair and enjoy a more textured and chic finish.
Textured layered bob with ripped bangs
@marisam.hair.makeup
Wear a textured layered bob with side-swept bangs for a more modern, lively look. The fringe is what sets the look of the bob haircut. Keep in mind that the forehead is the most important factor to consider when choosing the best bang length. If the bangs are longer, it becomes universal for fashion styling.
Long side bangs with ombre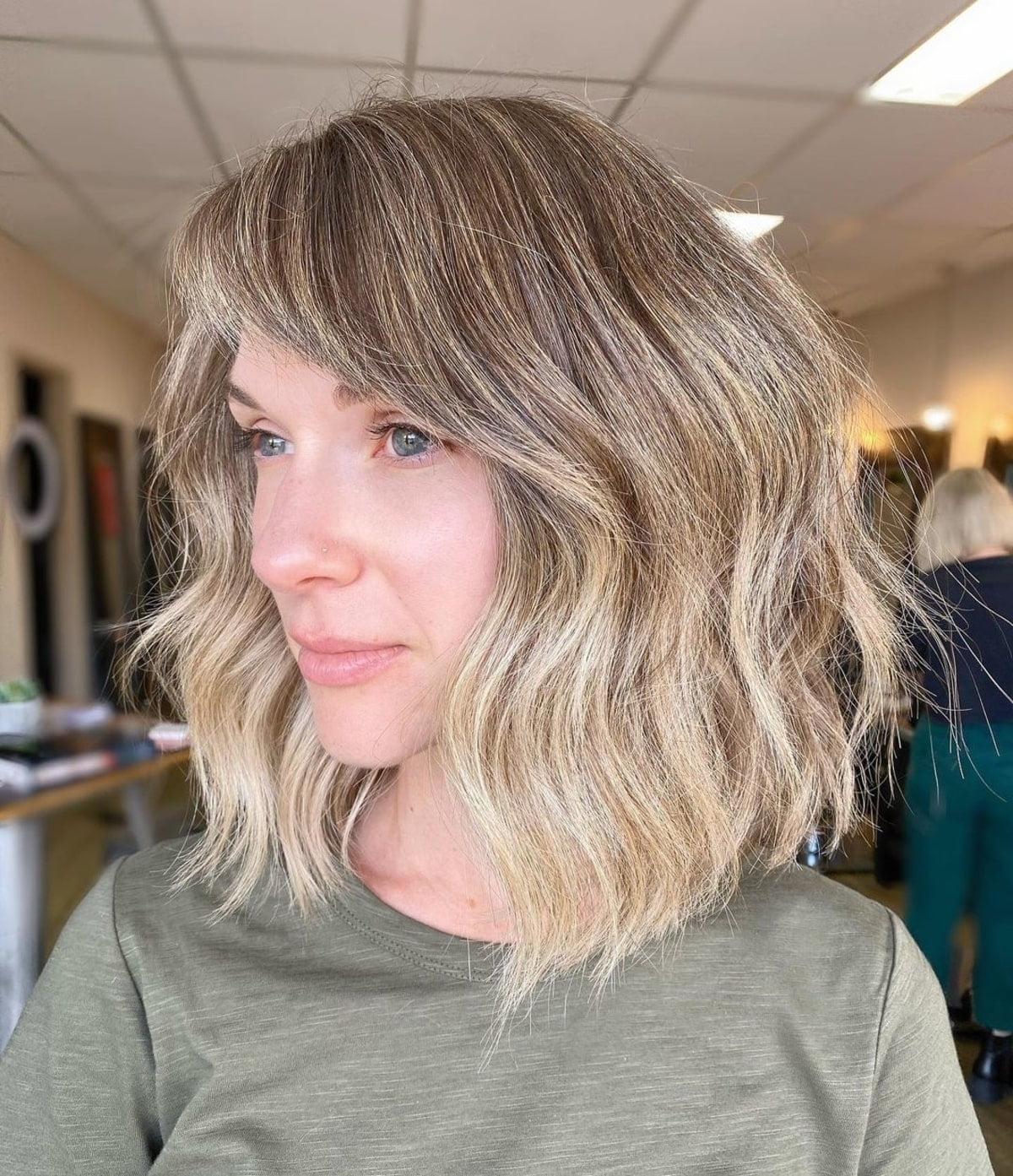 @timpascoe_hair
Long ombre side bangs are the perfect choice for women who can't get long bangs. Australian stylist Tim Pasco created this side-swept haircut with height and angle in mind.
"It suits most face shapes, but is especially good for narrow foreheads," suggests Pascow. "It's also perfect for a more angular face shape, as the soft curve of the bangs creates the illusion of an oval shape."