Short styled bob for thick hair
@hairondisplay
Liven up your thick bob with a warm amber color. If you're adventurous, you can go for wavy curls at the ends to add more texture to your layered hairstyles.
Styled bob for older women with short hair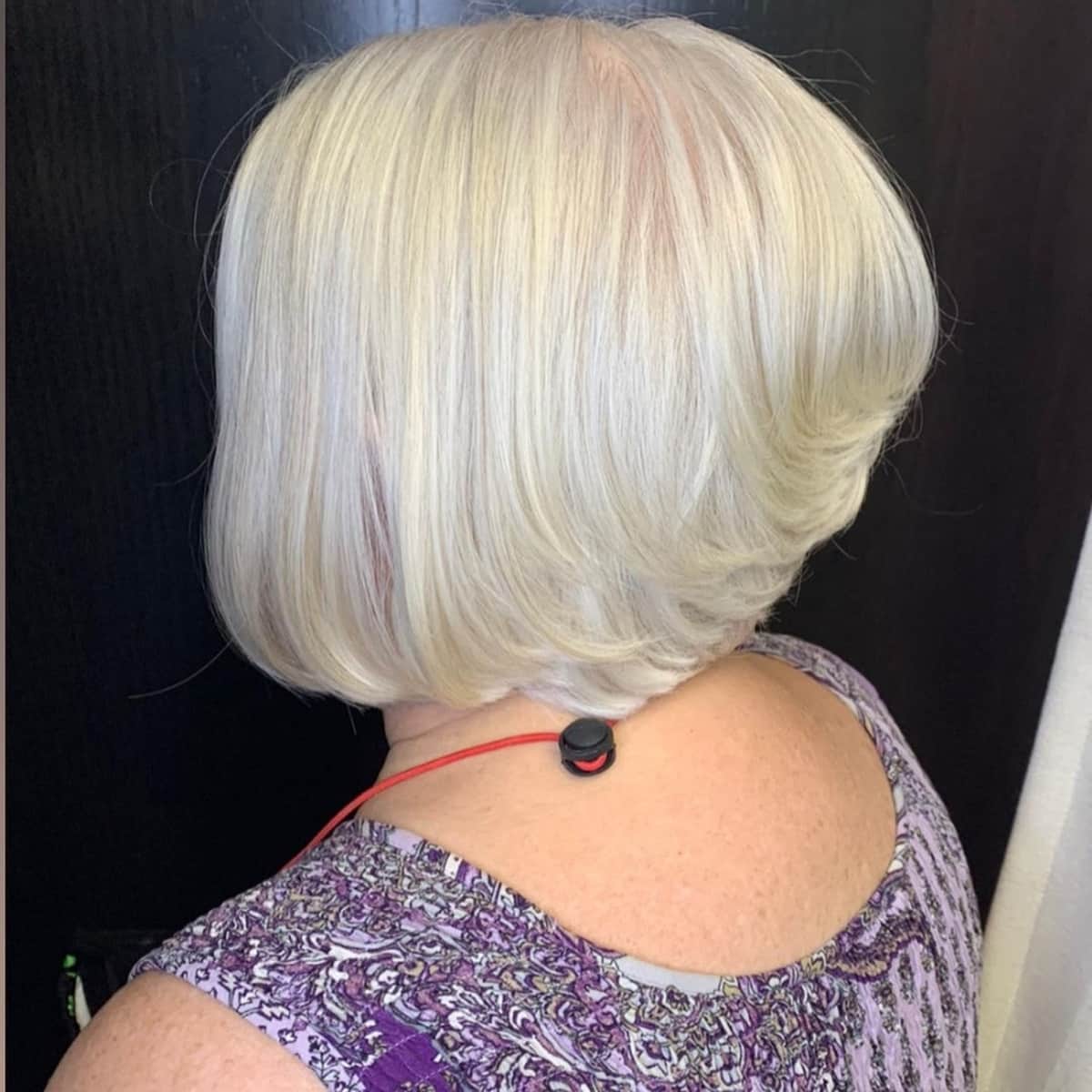 @fearlessbeautybyidalesse
A styled bob for older women with short hair is a great option for women who are experiencing some thinning hair. Add soft layers and texture for extra volume. When styling, add Aveda Smooth Infusion to a boar bristle brush while blow-drying for smoothness and smoothness.
Wedge bob for women over 70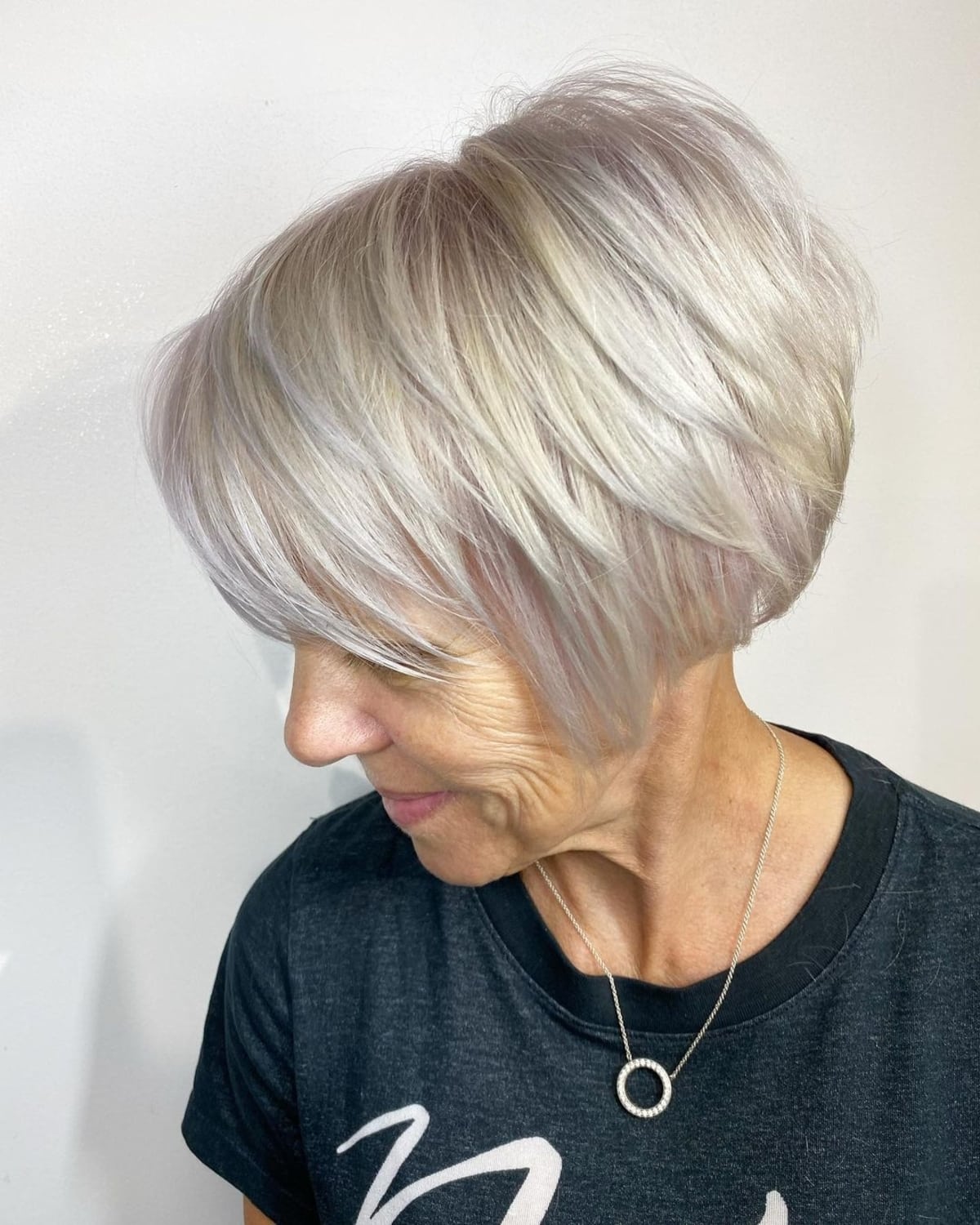 @brits_elizabeth
The wedge bob for women over 70 is perfect for creating full volume on fine hair. If you want to be bold, adding a touch of lilac will make it even more fun!
Silver stacked bob for women over 60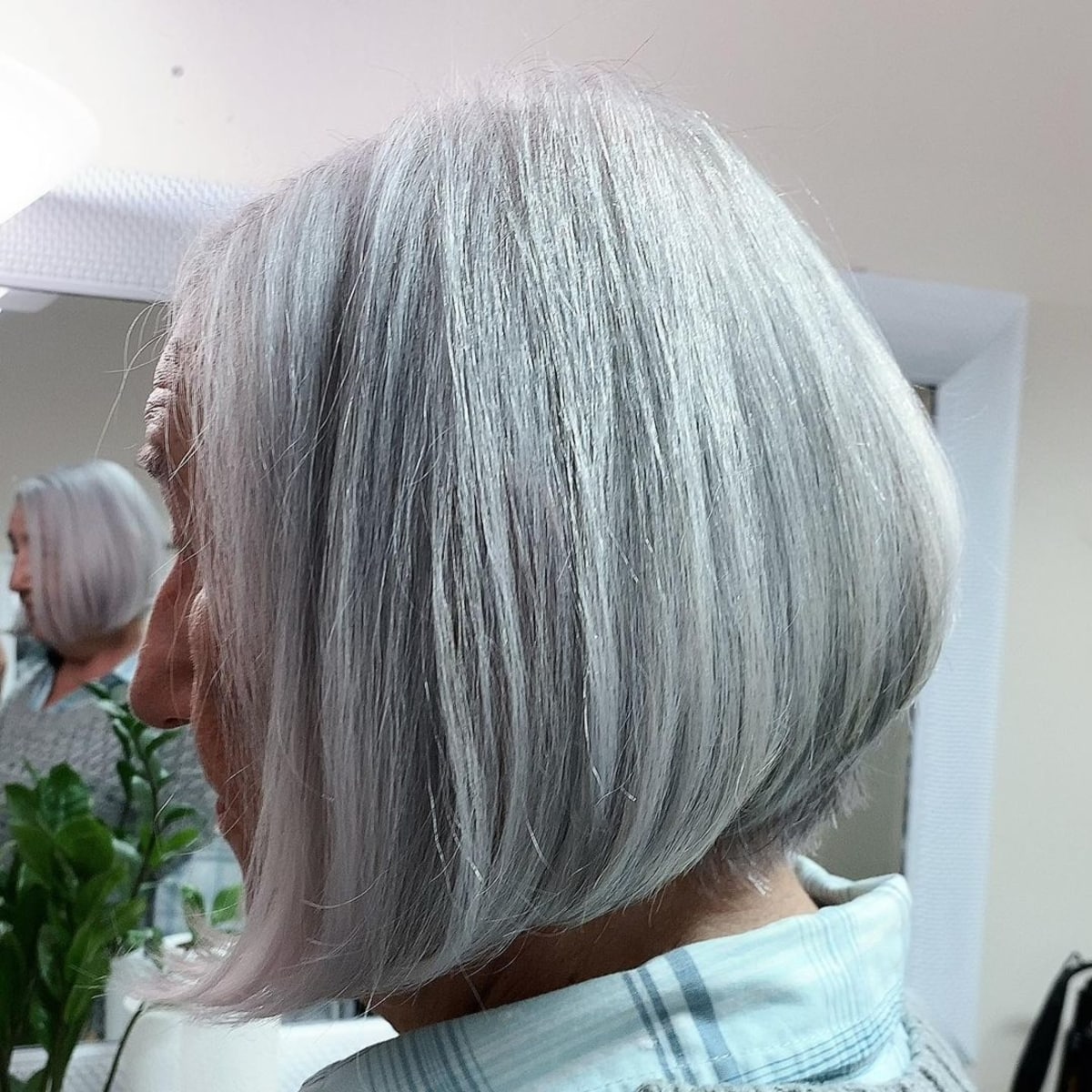 @ninis_hairstudio
The silver styled bob for women over 60 is absolutely perfect. Long layers and a short cut make it easy to style and care for your hair.
Stacked bob with feathers and frequent layers
@aheadhairmedia
The styled feathered bob has graduations at the back of the head and multiple layers throughout. This haircut needs some maintenance. A five or six week haircut should help.
Folded bob with nice back view
@beautyparadesalon
Sophisticated short bob haircut, attractive from both the back and front, is something worth trying! To achieve the desired effect, straighten the hair and comb it inside to give the hair a rounded look.
Upside Down Bob for Fine Hair
@vanessa_hooks_13
The short layered bob is more interesting as you explore several short hair styles that are sure to add volume to your hair. Longer front hair adds a flattering effect to this short bob for fine hair that is sure to complement your hair style and color.
Styled bob for fine hair
@chrisashleighhairdesign
A thin and neat styled bob on short hair that allows owners of fine hair to achieve a lot of volume and shape for their everyday hairstyles! Short hairstyles for women over 60 with thin hair include bob and pixie.
Spectacular high-cut bob for women over 50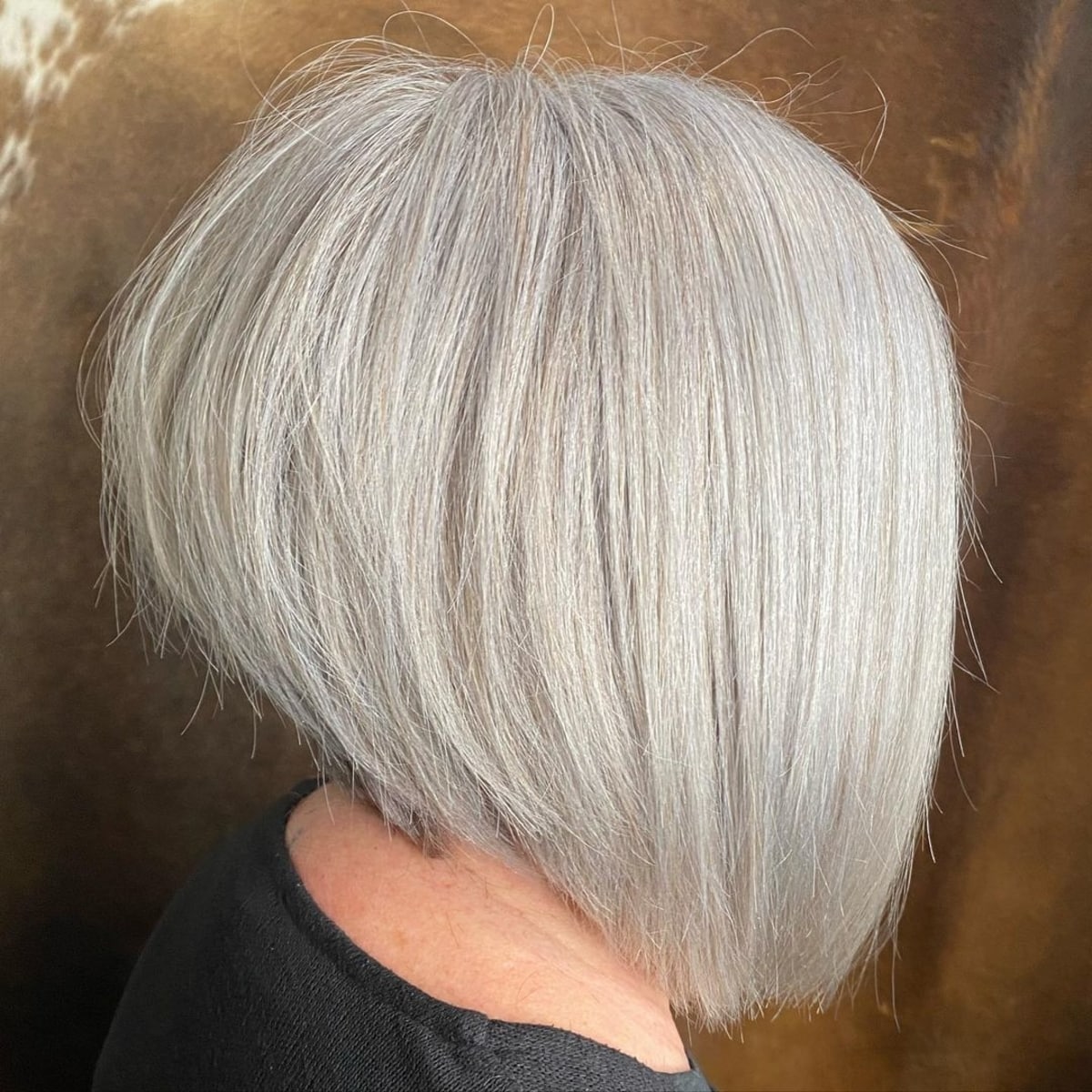 @emily_kaoshair
The dramatic high-cut bob for women over 50 is a great haircut that will add volume to flat, soft hair. Salon owner Emily Horsfield from the UK has created one that looks beautiful even with highlights all over her head!
Horsfield says: "A graduated cut makes it easy to add volume to your hair. No need to spend hours blow-drying, styling and applying products."
Super short stack
@shmoakin_hair
This short haircut is a stacked slightly short inverted bob. It was created by hairdresser Sheridan Holyoak of Ogden, Utah. "Cut at the back of your head to keep the frizz out. You can wear them choppy, wavy, rock straight or curly, and the texture will still be visible," Holyoke says.
When considering short haircuts like this, make sure you find a stylist who is confident in cutting short hair as it can make or break this hairstyle. Also, make sure you have time to style this haircut. This is not a wash and care style.
For short hair, Holyoake advises making sure you have the right styling products, volumizer, heat protectant, dry texture spray, and maybe a light pomade.
Short bob with side bangs
@design_danette
A short bob with side bangs is a beautiful classic haircut. A styled bob means it has shorter layers at the back that lengthen at the front to the desired length. This is a short haircut for women with any hair texture and face shape you can't go wrong with.
Bob with a very short stack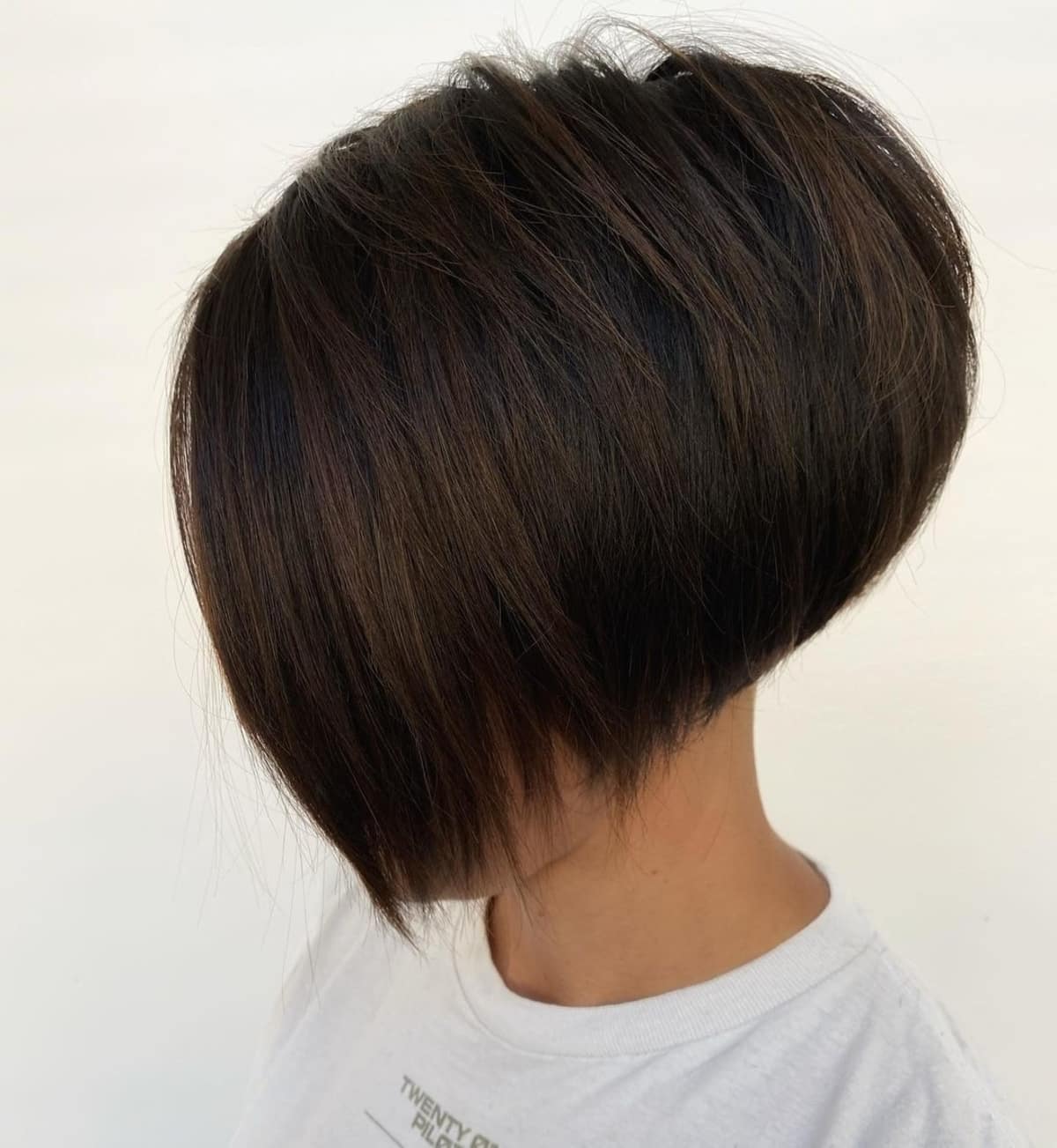 @shmoakin_hair
If you are looking for a cute short haircut, check out the very short bob. Short but still very feminine, the layered bob is very versatile. It can be worn straight, curled or even tucked behind the ears. If you have fine hair, ask for a very short styled bob to add volume to your limp strands.
Short wavy bob that is styled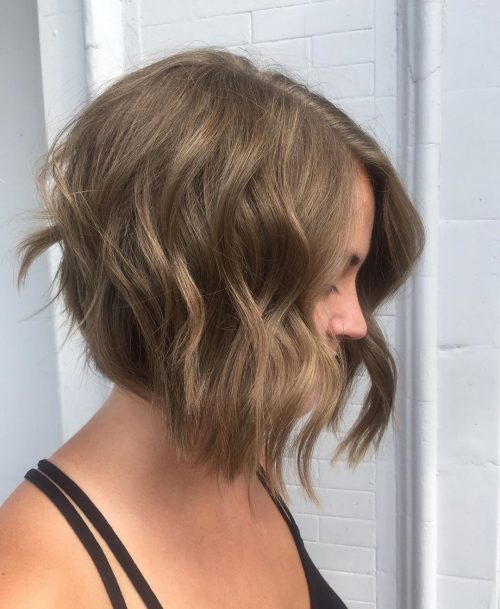 @yotovayuliya
"This is a very textured, layered short bob," describes stylist Julia Yotova from London. "If you have a lot of hair and absolutely no time to style it every day, opt for a short wavy haircut that is effortless. At the same time, it is very versatile, so it can be suitable for any occasion if it is styled in a certain way."
When it comes to layered haircuts, Yotova advises doing it! "It's trendy now and it suits almost every face shape."
This high-cut bob is so versatile and easy to wear and style. It is ideal for ladies with thick hair as well as medium to fine hair because it takes off most of the weight while adding texture (thick), creating volume, body and movement (medium to fine).
"It can be smoothed with a blow dryer and a round brush, fluffed with brushes, straps or a straightener, and even left to air dry," Yotova says. "When using any hot tools, ladies, always use a good thermal protector – like Nectar or Extentioniste Thermique by Kerastase."
With a bang
@lara_stelmashuk
A short styled bob with bangs is definitely stylish. For women who want a bob haircut, this will always be in style. To get the straight look created here, blow dry with smoothing lotion and a round brush.
Short Stack Angled Bob
@shmoakin_hair
The angled short bob is absolutely stunning for all ages, especially those with thick hair. A short, slanted bob styled at the back has longer, face-framing parts with multiple layers at the back to create a neat, rounded cut. There are no restrictions for short hairstyles.
Stacked pixie bob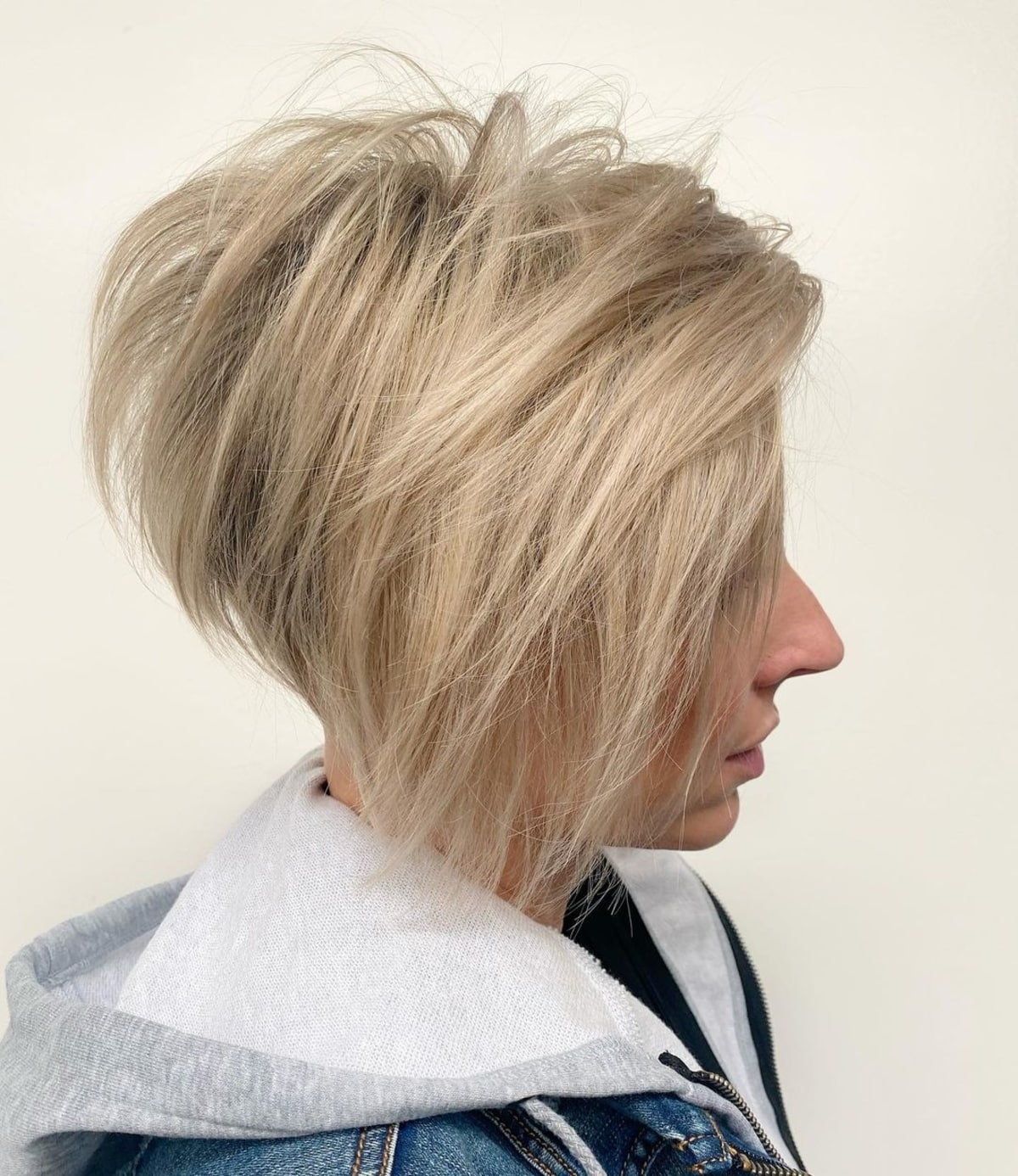 @shmoakin_hair
A gorgeously styled pixie bob haircut needs a lot of texture. The extra texture with multiple layers and shaggy ends makes the hairstyle more voluminous.
Short trapezoid bob
@aveda_melissalove1012
This is a very chic A-line short bob by Master Stylist Melissa Schmidt of Riverview, Florida.
"Take a photo with your stylist to discuss this type of layered haircut," Schmidt suggests. "The short A-line bob should be where you are discussing, as well as the degree of gradation for the back. Always discuss the maintenance of this bob haircut.
Layered short stack bob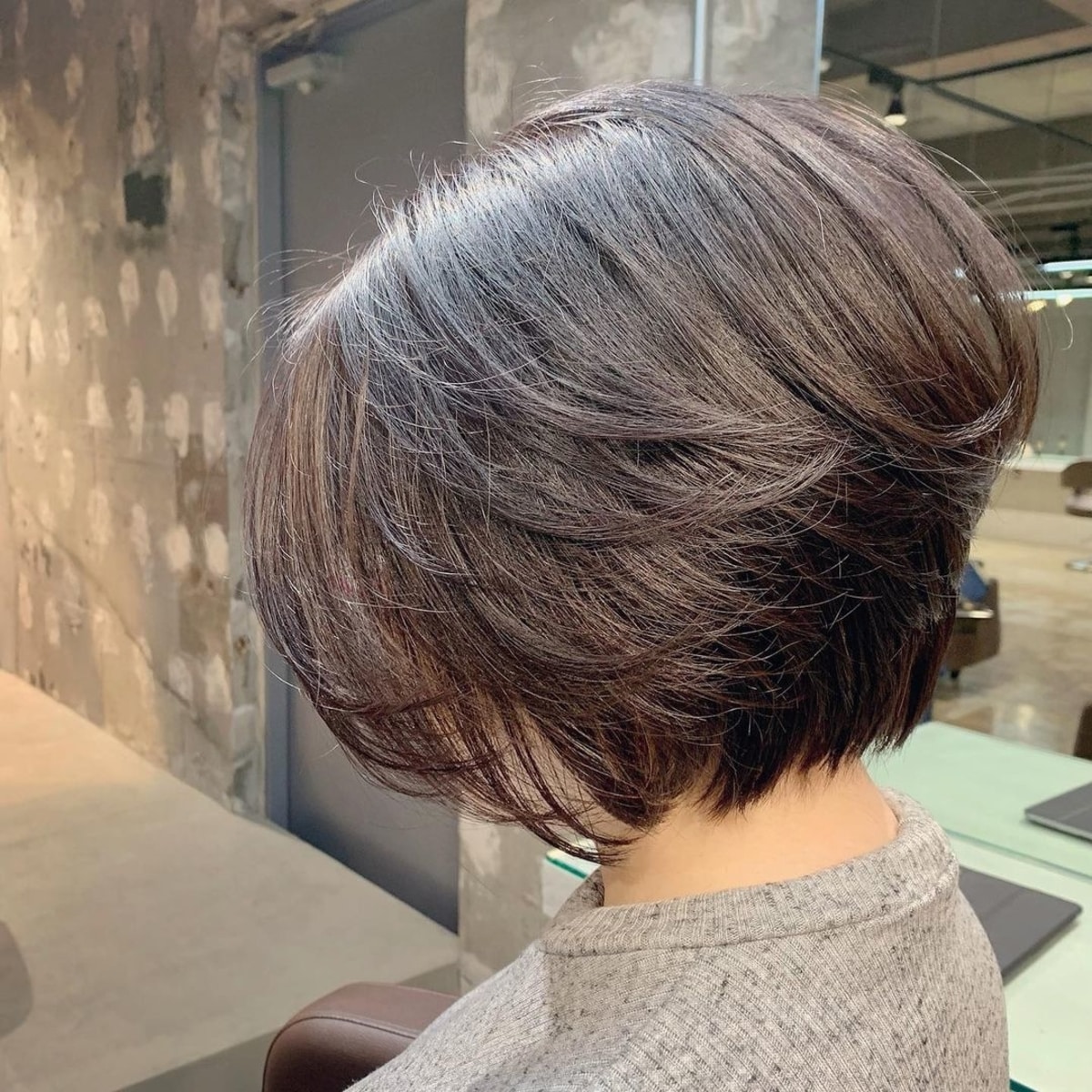 @hair_by_kanami
The short layered bob is a precise haircut that creates a beautiful rounded shape. The short bob haircut looks great straight or curly and looks great with thicker hair. Short hair is a beautiful, timeless trend.
Styled bob for curly hair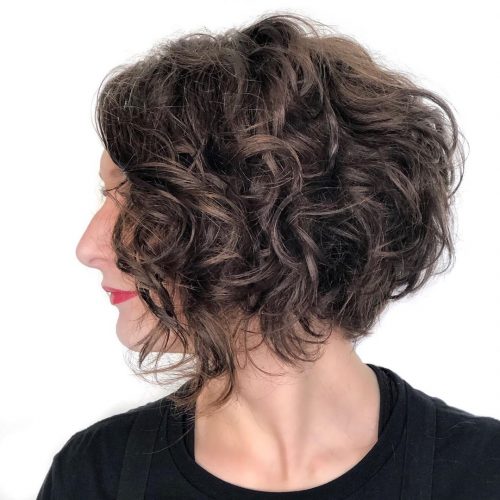 @huntandgatherhairco_mandy
This is a short bob haircut with an asymmetrical shape. "Wet and dry haircutting techniques were used to create this short hairstyle," says salon owner and stylist Mandy Rogers of British Columbia, California.
"When working with natural curls, it's very important to create a solid base for the cut while it's damp, with a little bit of tension," Rogers explains. "Use texturing and freehand cutting techniques to enhance the natural shape of the curl. This was achieved with straight and curved shears for cutting. Curved scissors can do wonders for trying to change the direction of a curl."
The clean lines of the inverted bob combined with loose curls create a beautiful shape. The asymmetry is very flattering and this cut looks great from all angles and can suit women of all ages.
"When it comes to face shape, this bob hairstyle suits most. The only exception is the heart-shaped face. In this case, the forehead is the best choice," she adds.
Gels, sea salt sprays, waxes and wax sprays are more suitable for this style. In short, this is a haircut for the woman who has time to style her hair for 30 minutes a day. If you take the time, this can be a very fun, sassy, ​​and sophisticated style.
Short stacked Bob with an undercut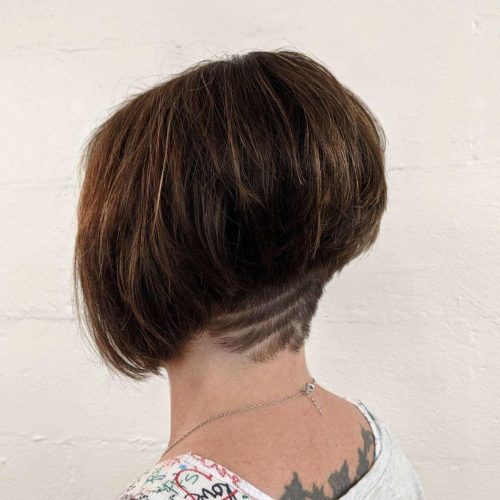 @Lorenzmmmm
This short haircut is a styled bob that looks fun, edgy, yet classy and professional at the same time. It was created by hairdresser and stylist Lorenzo DiBiase from Ohio.
"Our goal with this hairstyle was to gradually shorten it, move to a shorter full length bob, and possibly a full undercut bob in the future," explains DiBiase. "We opted for an asymmetrical short bob with an undercut at the back and on the right."
A lot of texture has been put into this layered cut to create a feeling of weightlessness. Starting with the traditional triangular shape, a sharper angle was created to keep the front length.
DiBiase states: "For a short haircut, the right amount of hair is crucial. This will not work for women with very thin or very fine hair. But on the other hand, too much hair or a natural texture can make this very difficult to achieve, which can also require a lot of styling work."
For women with a round face shape, a very short bob haircut is not recommended. This is because it will only create more roundness for them.