Purple highlights on dark hair

@selvsmakeawish
These purple highlights on dark hair are very versatile. They were created by hair stylist Selvaggia Forcherio from Italy.
"Purple is a vibrant reddish color for women who want to get away from their usual colors without going overboard," says Forcherio.
With these hot pink and purple hues, you will always be on top!
Purple Babylights

@beyondwaxstudio
Purple babylights with a brown base are finely woven for beautiful color blending. The magenta color suits everyone as it can be customized to match your complexion and natural hair color.
Magenta with highlights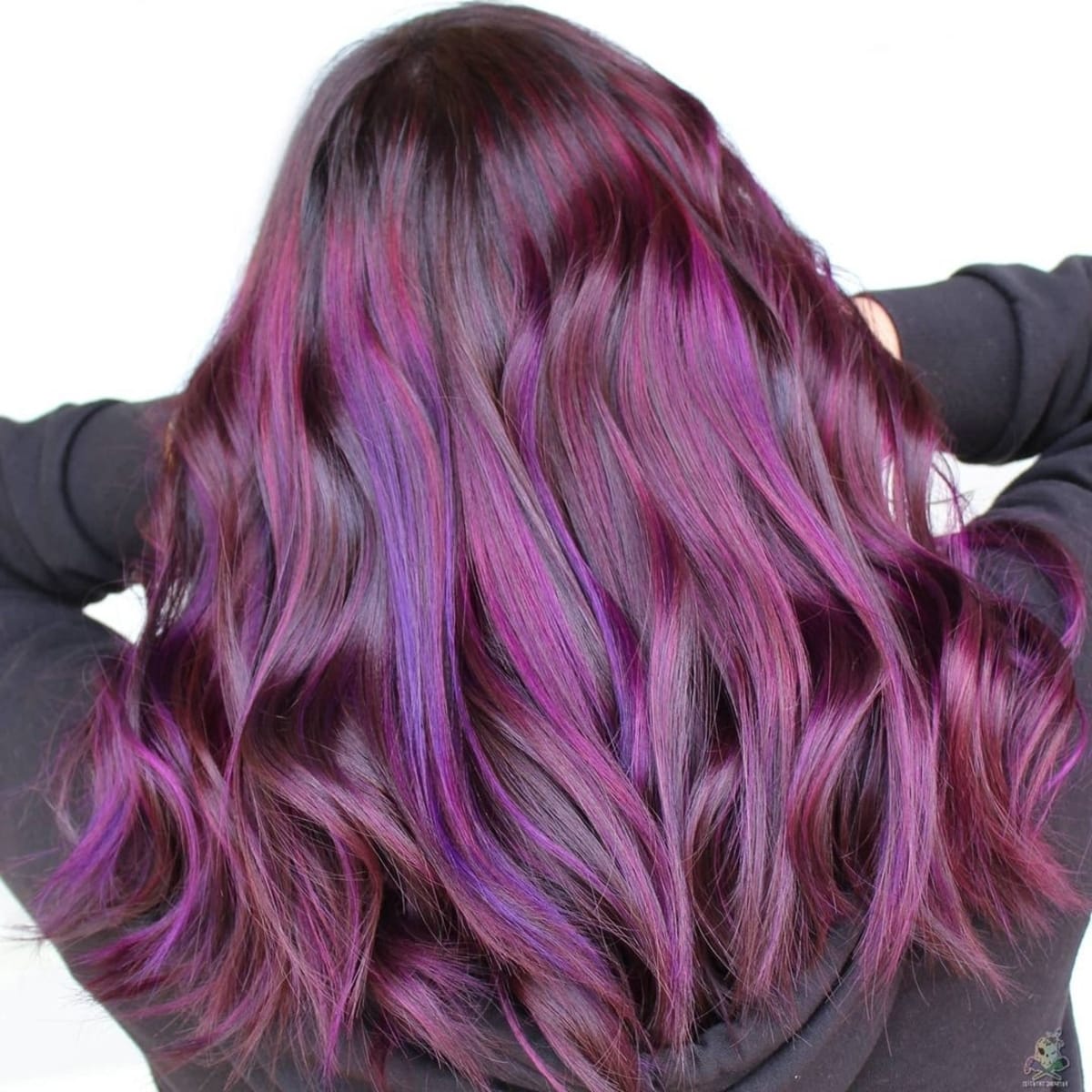 @michel.zapanta
Try a low light purple if you're looking for a bold color change. Various shades of color will impress your friends! Various shades of color will give you the dimension you are looking for.
purple hair peekaboo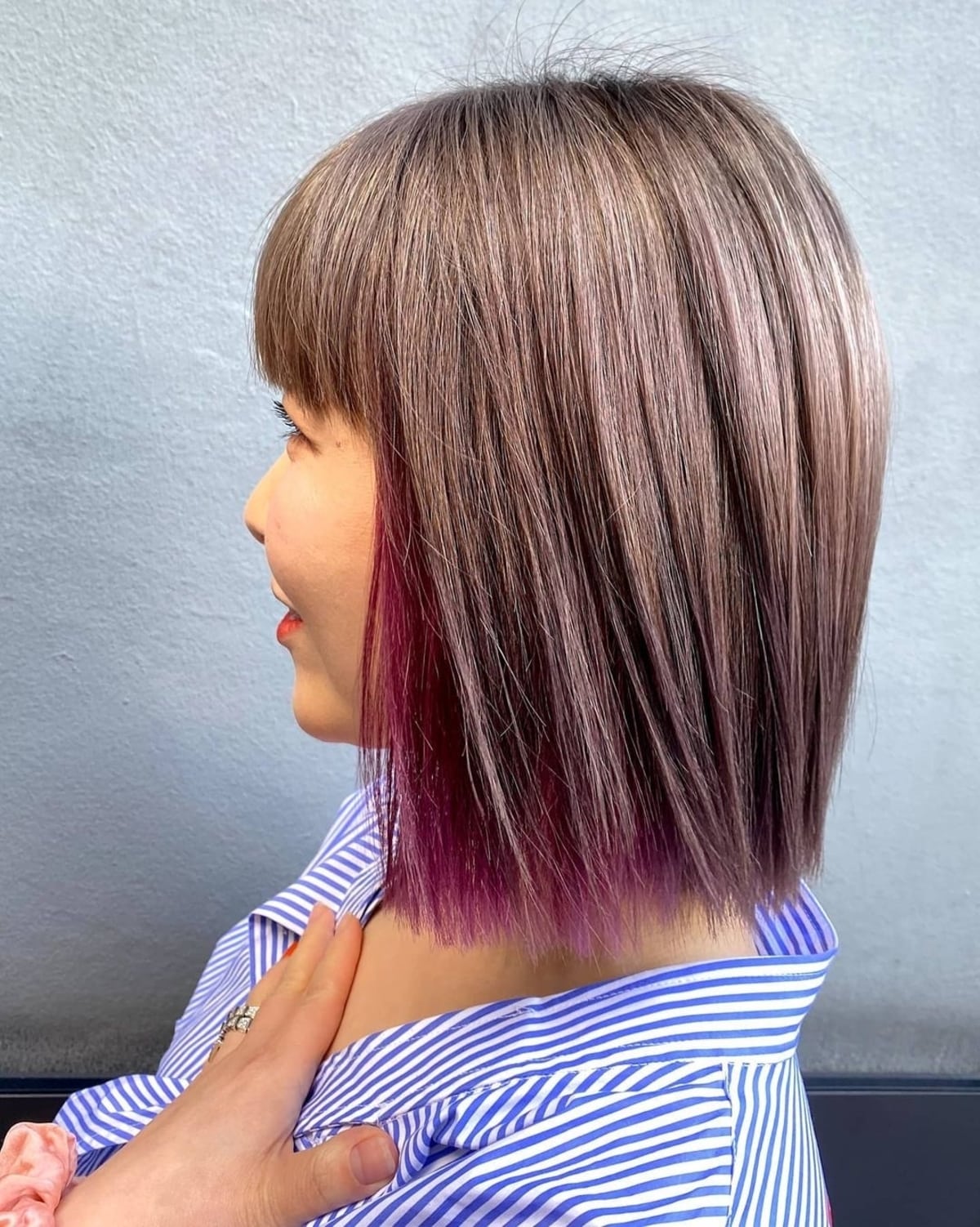 @raymondleee
Purple peek-a-boo hair is a different yet beautiful way for brunettes to have fun and play along with their hair. Adding peekaboo color to the bottom half of the hair still gives the impression of naturally dark hair, but when the sun is shining or the hair is styled, the magenta can show through and give a cool look.
Pale purple on blonde hair

@karlienicolebeauty
Pale magenta on blonde hair is the perfect way to add some fun to natural blonde hair. Adding subtle bits of magenta throughout your hair is an easy way to create deep measurements. The pale purple also fades beautifully.
Purple lavender balayage

@saramahaffeyhair
Purplish lavender balayage is a great choice for a cool trendy color. Keep in mind that in order to achieve a light lavender shade, the hair needs to be lightened to a pale yellow. Get ready to spend all day at the hairdresser. Moisturizing masks are necessary to maintain the health of hair after intense coloring.
Wild Orchid Purple Shade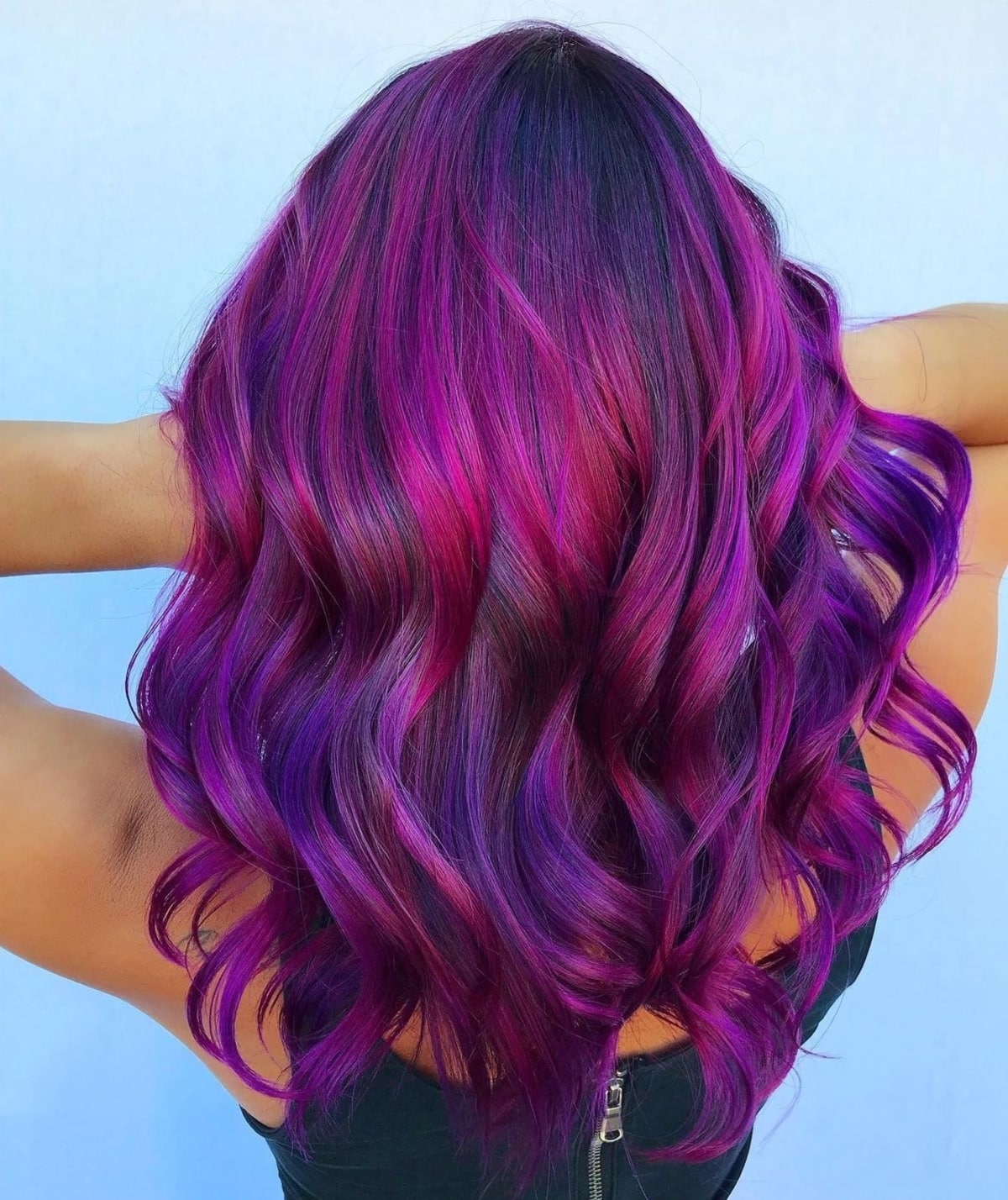 @robindeltoro
The purple wild orchid shade is a must try if you love experimenting with bold and fun hair colors. Purple is a vibrant, unique and fully customizable hair color that suits your personality and personal style. Ask your stylist to color your hair, alternating between vibrant purplish pinks, deeper blue-violet hues, and any purple hues you desire.
Purple and rose gold hair

@hairby_bdavis
Purple and rose gold hair is such a fun and bold shade to try on. Purple roots help support growth if you have dark hair. Rose gold hair will require color maintenance to keep the color vibrant.
Electric Magenta

@_heyhelena
Electric purple hair is a bold and fun hair color to try out, especially for women who want to make a statement with their hair shade. To get the right color, ask your colorist to balayage with electric magenta all over.
Raspberry purple for curly hair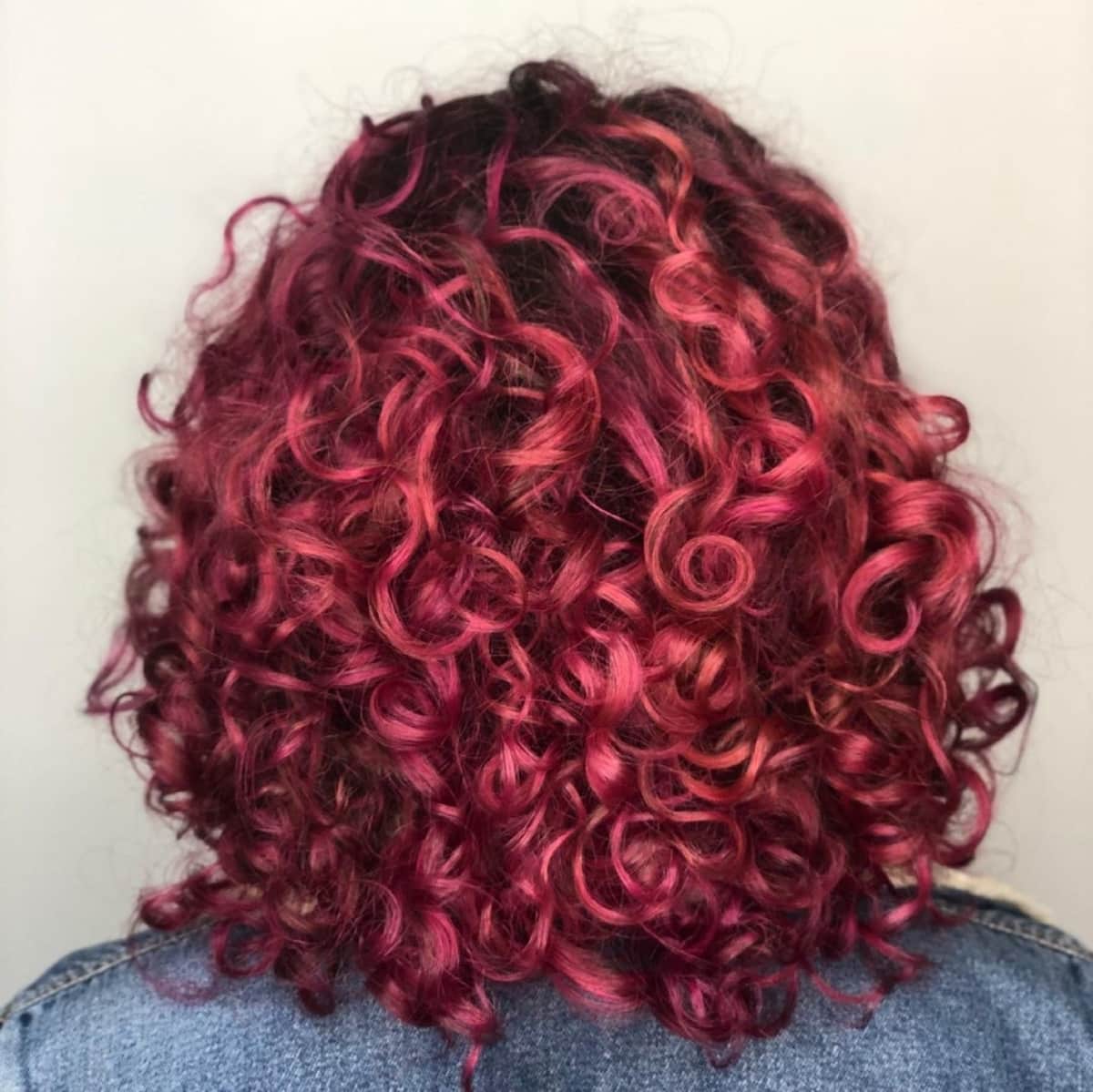 @juzisoldi
Try dark purple for curly hair if you want to make a statement. Adding a mixture of red and purple will help you recreate that beautiful crimson hair color. Using a sulfate-free shampoo and conditioner can help prevent premature color fading.
hot pink purple

@melmattison
Get drunk with such bright purple-red hair! Violet-red magenta hair color, carefully styled in thin strands, will definitely attract you.
Feeling confident to try these tones on your natural hair? Use Loreal semi-permanent hair color for that feminine and chic look.
pastel purple

@goldenrosehair
The straight cut, wavy ends and magenta fuchsia curls all speak of this millennial energy. Pastel purple hair is best suited for women with fair or light skin tones.
Bright red purple with dark roots

@goldenhairfetish
If you are a daring woman, then this shade of purplish pink hair color is for you! Make those pink hues pop and this light velvet magenta hair will give you a bronzed sheen.
Dark purple and magenta

@lets.rock.co
The combination of dark purple and magenta is a fun hair trend that dark-haired beauties should try. As long as the roots are deeper than the middle of the length, it does not require much care.
Balayazh also offers a dazzling melting effect. Style them in soft waves and see how the purple hair color will become brighter.
Brown and purple balayage

@hairbythehatter
This hair color is a brown and purple balayage created by hairstylist and colorist Gillian Lee Meehan of Hauppoge, New York.
"High fashion colors (bright, bold hues), even on brown hair as a base, definitely require more maintenance," notes Meehan. "Such vibrant colors require lightening of the hair to achieve this effect. So, if you don't want to bleach your hair, then magenta might not be for you. High fashion colors need to fade, so you need to renew your color every 4-6 weeks."
Also, Meehan says goodbye to a warm shower kiss. "When using these bold shades, it is recommended to wash your hair with cold water. Any type of heat will speed up the fading process, be it the temperature of water or a curling iron."
Dark purple red hair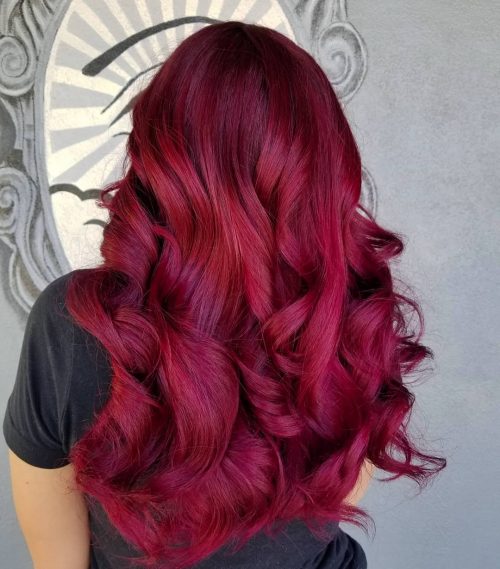 @look_within_studios_msubia1
Now this purple hair color is a juicy cranberry done right! Colorist Melissa didn't miss a beat and created this intense purplish red on thick, full hair.
Dark purple balayage on black hair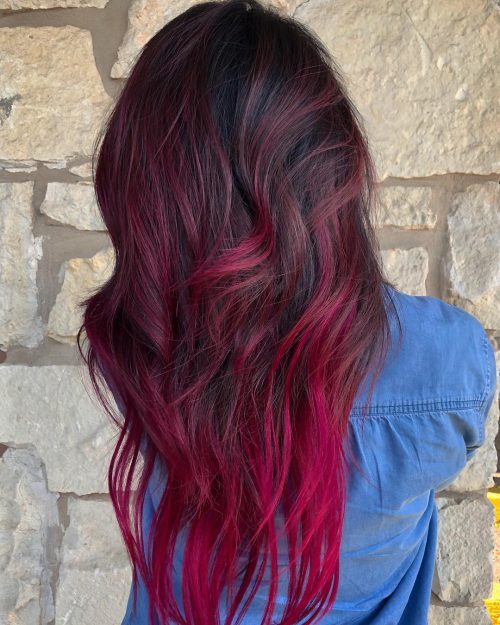 @_iamronnie
The dark purple balayage did wonders for this fantastic long hair! Stripes are guaranteed to add volume to black hair. These thin purple hair ends balance out the daring look and add a sophisticated feminine touch.
Intense purple and burgundy hues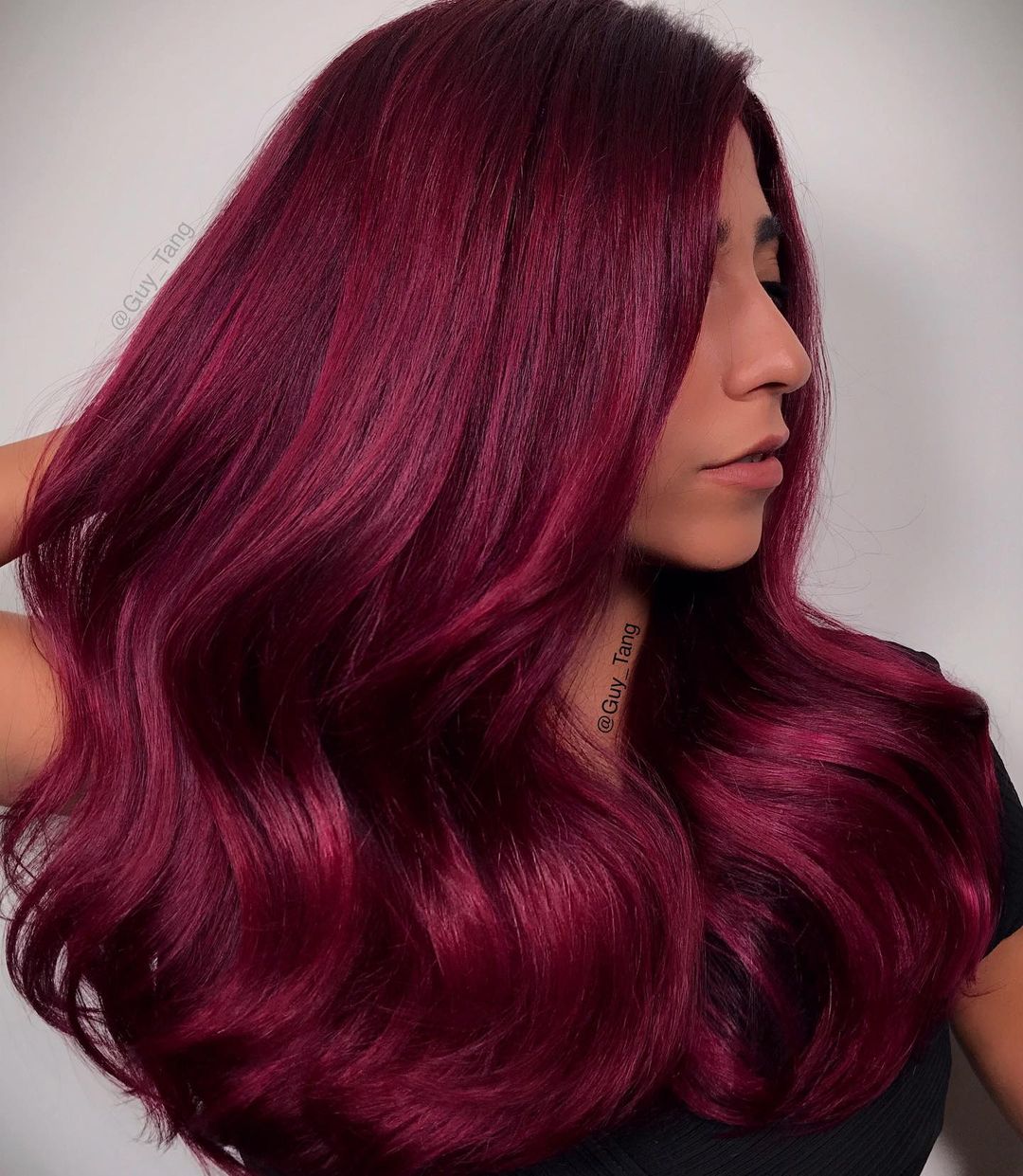 @guy_tang
The fusion of dark purple and burgundy enhances brilliance, saturation and volume. Shades make long, thick hair look full of life. Dye your hair purple to make it look edgy and girly at the same time.
Dark to Light Purple Ombre

@hairbykaseyoh
Dark purple to light purple ombre is sure to create a vibrant and eye-catching hair color! It offers a bright combination of shades.
Those beauties with fair and pale skin tone can benefit from it. The magenta color on this medium length hair is dainty. Style your curls with texture and waves for extra flair.
light purple hair color

@khhair_nottingham
Light purple hair color is so radiant. Any babe with shadow roots and purple hair can shine brighter than the others. If the roots are a darker shade, the reddish color will be even better.
Bright purple with purple roots

@alondra.castaneda.180
Bright purple is guaranteed to look interesting with long beach waves. With darker roots, they create a more brilliant shade of purple.
To keep the shine, use a shampoo and conditioner to fix the color. Vibrant Sexy Hair products are one of the best options. Also purchase hair color fresheners. Try Celeb Luxury Viral Magenta to add pigment to your hair.
"This hair color is a bright purple with purple roots using the melting technique. If you want vibrant color, wash your hair with celebrity purple shampoo," says stylist Alondra Castaneda of Pasco, Washington.
She adds: "Your hair type is important too. If you have oily hair, you need dry shampoo or wash your hair more often. In this case, the color rises faster, so you will need a shampoo with a color additive. If you have dry hair, you need more moisturizing conditioner."
Fuchsia Purple

@allyka_hair_color
Who's obsessed with this fuchsia and purple hair? This color has a cool tone that flatters fair or pale skin.
To make purple hair color last longer, use a quality hair mask. Such a product moisturizes purple curls.
Purple and blue balayage

@hairbykaseyoh
This magenta and blue balayage with purple dyed ends is the perfect way to wear vibrant colors.
These bright shades are best for medium to long hair. Waves are a great addition to show off the magnificence of this magenta hair color. This whole purple hairstyle is a must try!