Short blonde asymmetrical bob haircuts for women
@nikitenko_elen_
What's best about the short blonde asymmetrical bob cut is that it looks edgy and classy. The uneven cut around the perimeter makes it suitable for women with thin hair. This haircut, combined with a shade of blond, is ideal for adding volume and fluffiness to curls.
@shmoakin_hair
A daring and fiery red bob with sharp corners will suit any woman. This asymmetric cut looks lived-in and at the same time very bright and fashionable. Ask your stylist about thin layers. Add soft waves to emphasize the dimension of the color. Apply Davines OI Oil to add shine.
Short asymmetrical bob haircuts for women
@copenhagen_hairacademy
Choose a short asymmetrical bob if you want to style your hair easily. A sleek style is achievable if the hair is straight with fine density.
Short asymmetrical pixie bob haircuts for women
@nikitenko_elen_
This short asymmetrical pixie bob is such a chic hair idea! He is sure to show the confident and bold side of any woman. This haircut also pairs well with side bangs for a very girly look.
Short asymmetrical haircuts for curly hair for women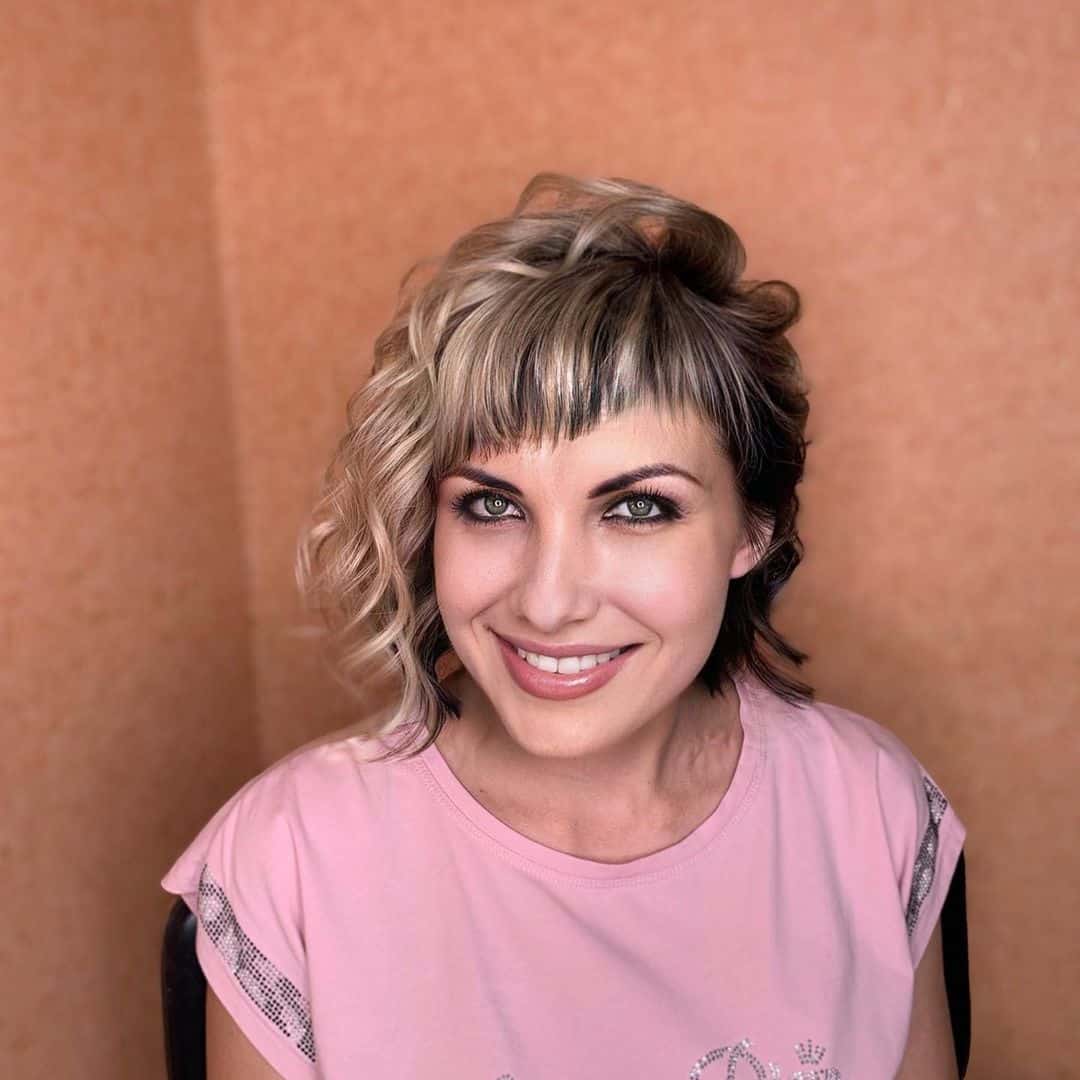 @nikitenko_elen_
This is a short asymmetrical curly bob and it's an even better version of the regular bob! Most of the curly hair is combed to one side, creating an unconventional style. It has a beige blond shade with a natural black undertone.
Asymmetrical layered bob for older women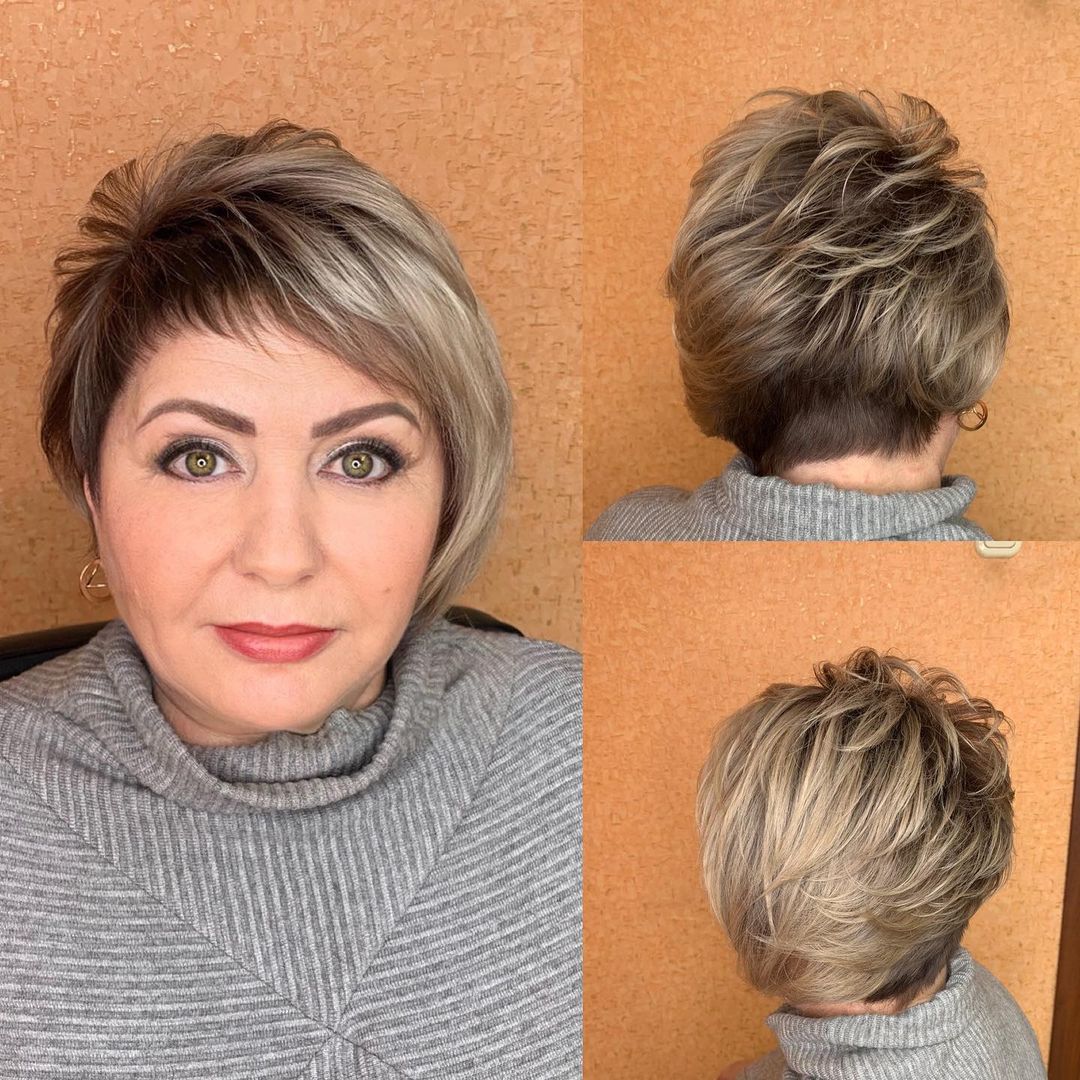 @nikitenko_elen_
Try an asymmetrical layered bob for older women for an abundance of volume and texture. The flow of layers on the shorter side is lifted up and mixed with the longer side. It instantly adds volume to your bob and adds youthfulness to your style.
Silver asymmetrical short bob with layers
@daisydidthat
When an asymmetrical layered short bob is paired with silver, the result is amazing! Notice how this hair idea looks so glamorous. The shade of gray seems more dense with such a short haircut on thick hair. This bob is a great option for girls with a round face shape.
Asymmetrical short bob with bangs
@estro_di_cristina
This asymmetrical short bob with bangs proves that edgy haircuts aren't just for thin curls. Of course, this option is great for medium to thick hair, but it also offers a volumizing shape. This asymmetrical cut also features short, thin bangs, giving the hairstyle a youthful look.
Short asymmetrical inverted bob haircuts for women
@mainpointsalon
The key to a polished short asymmetrical inverted bob lies in the texture and thickness of the hair. This haircut looks great on straight thin curls. This allows the mane to look sharper and fuller.
Short asymmetrical layered bob haircuts for women
@anellaasimonevolos
A short asymmetrical layered bob makes the hairstyle cute and flattering. This results in a fresher look for most women. Easy to manipulate and maintain – anyone can wear this haircut any day.
Short asymmetrical bob haircuts for women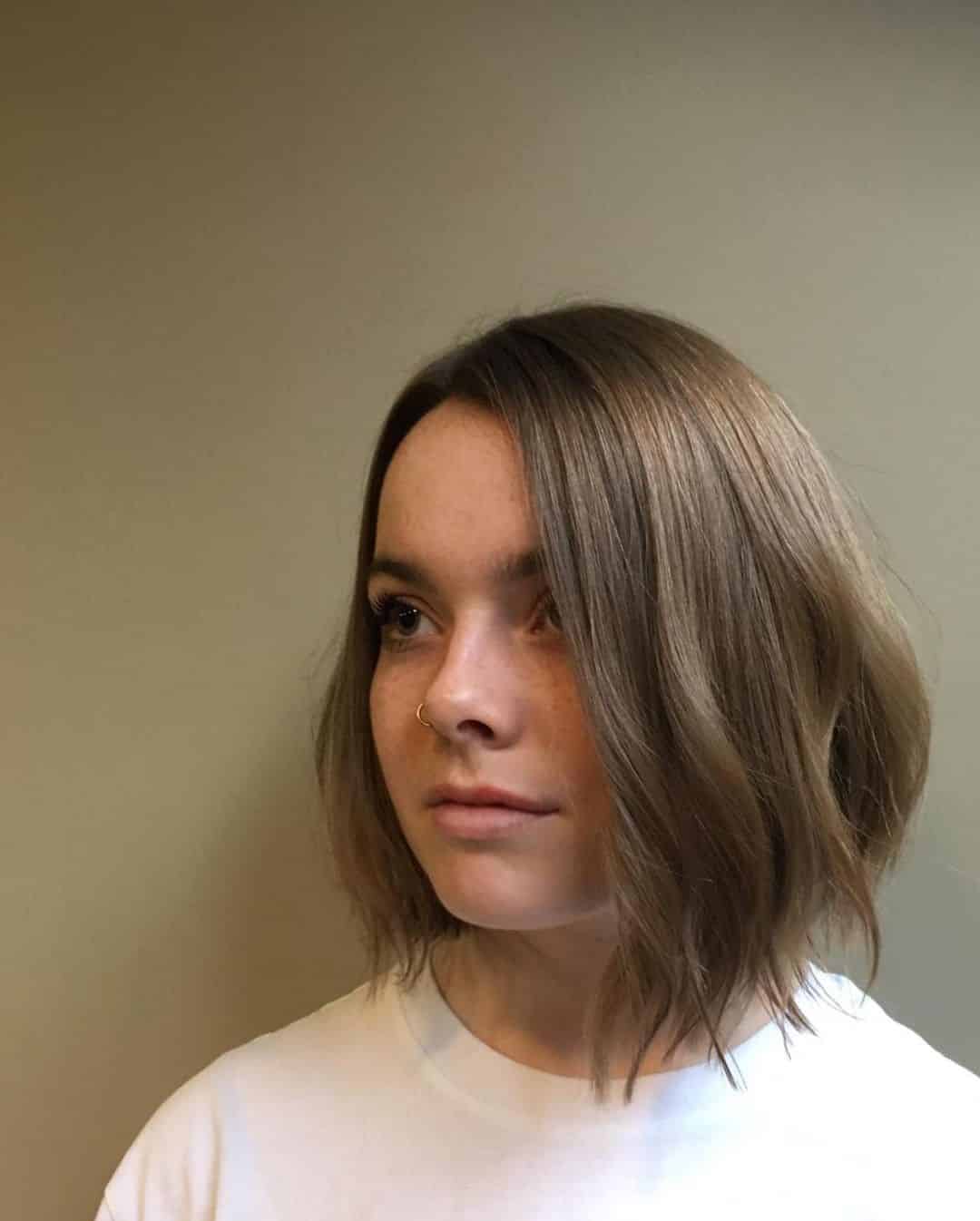 @cuttlefishhair
This short, asymmetrical styled bob shows off a sophisticated edge. This is a haircut that will appeal to a brave young girl. Those who have a fine density look better with soft waves.
Asymmetrical short bob with layers
@hairbyafox
An asymmetrical short bob with layers looks best with beach waves. This texture allows you to focus on discontinuous layers. The trendy style is guaranteed to add movement to the curls. The short style also goes great with balayage!
Messy short asymmetrical bob with bangs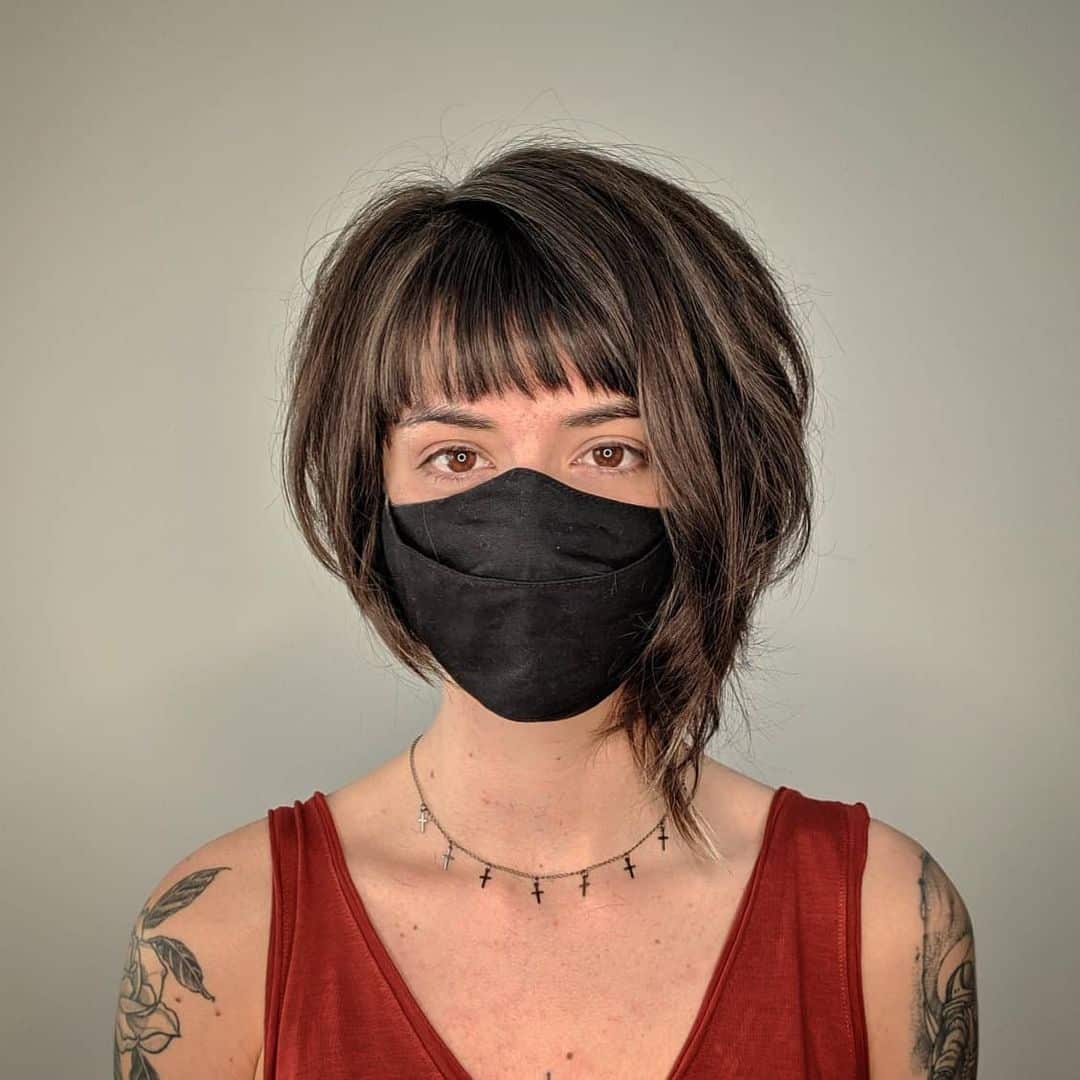 @kenyohoffman
Look cool with this short asymmetrical bob with bangs! Enhanced with texture and subtle waves, this haircut creates a laid-back casual style. This allows the hair to appear weightless. It's fun to wear, especially when pairing dark brown hair with blonde babylights.
Short choppy asymmetrical bob haircuts for women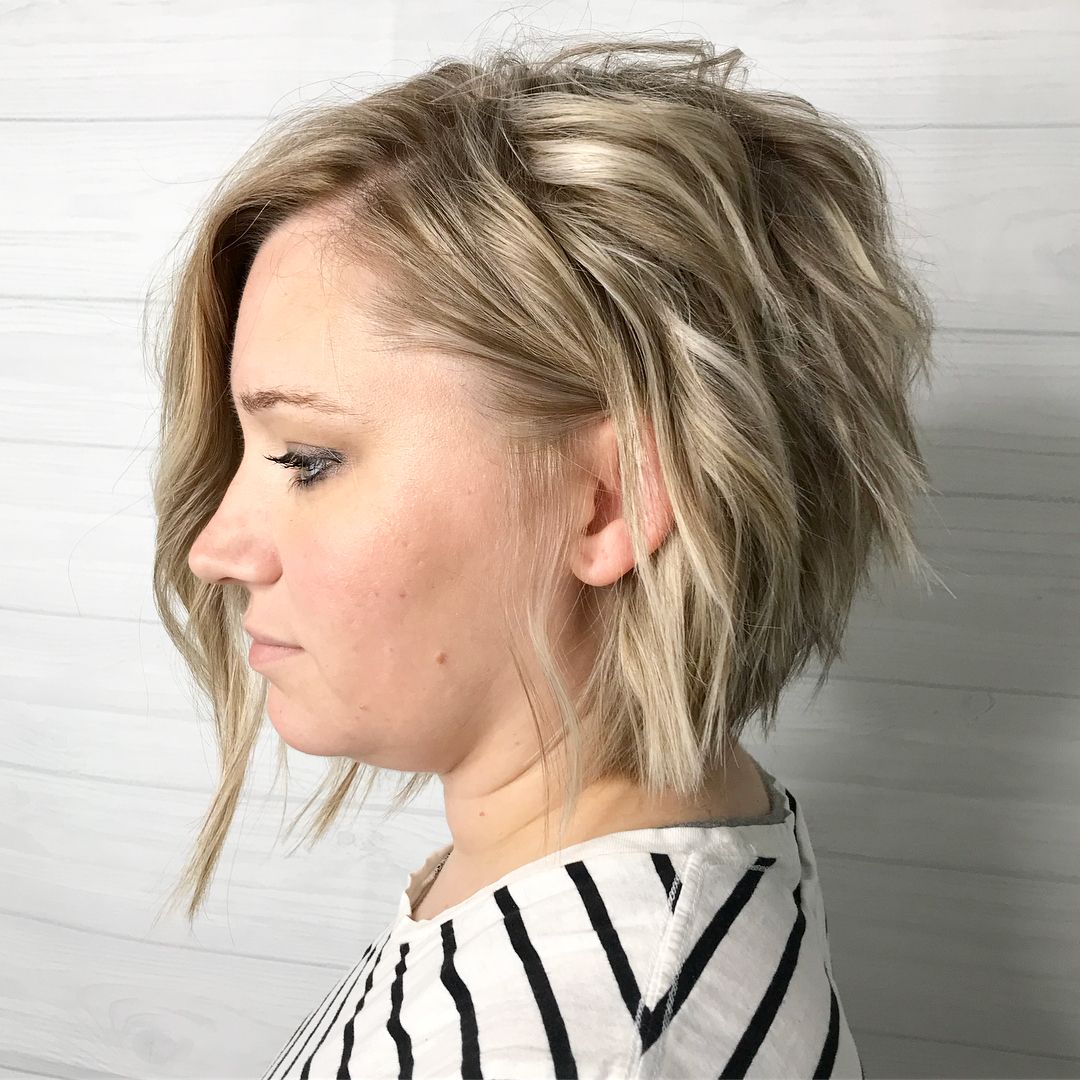 @kimkilla99
An uneven asymmetrical bob on short hair looks better with texture and waves. Winning creates a tousled style, giving the illusion of more volume and thickness. Finish off with a sea salt spray to enhance texture.
Super short asymmetrical bob haircuts for women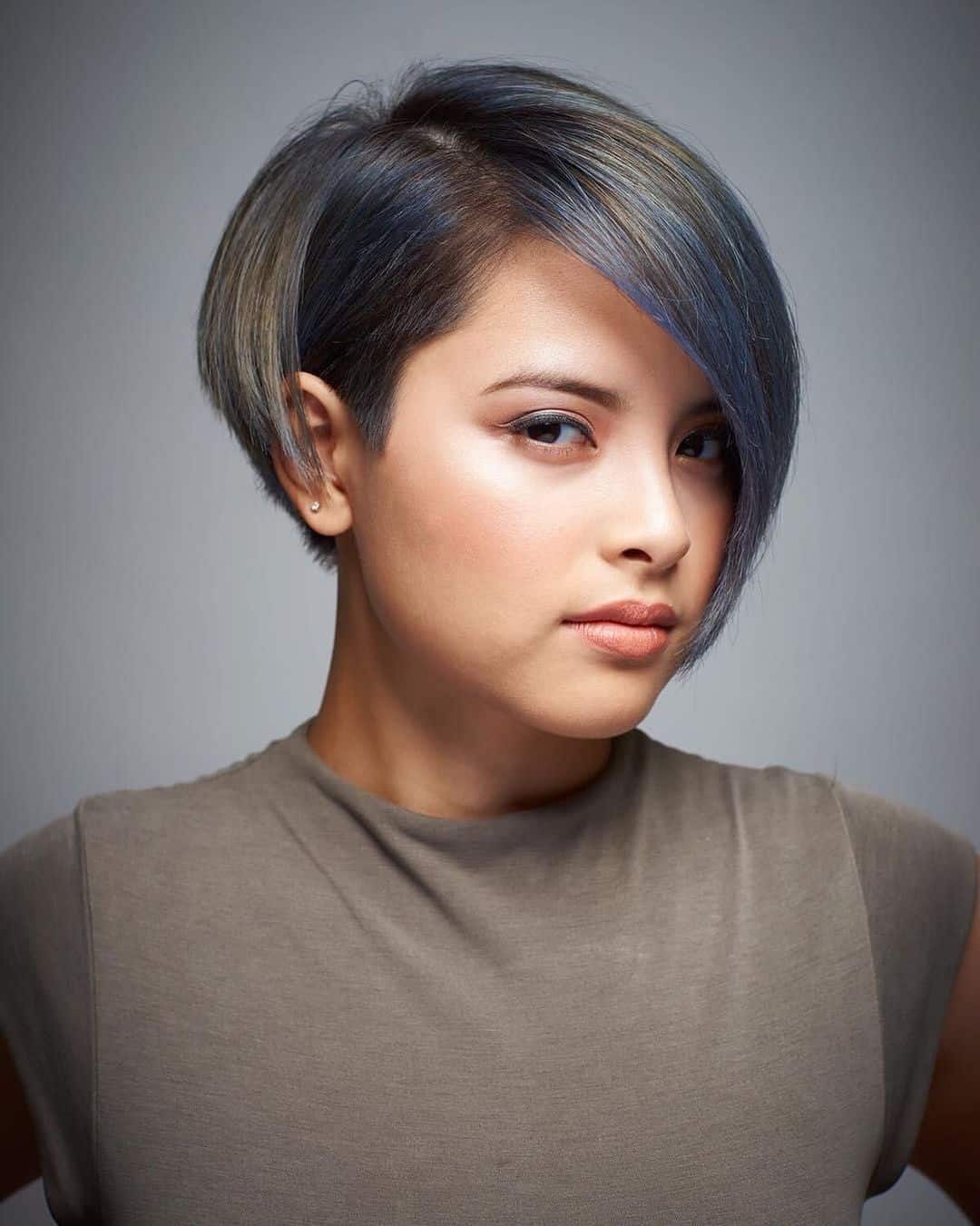 @amadoamadosalon
This super short asymmetrical bob makes fine thin hair look fuller. The chop results in a stunning rounded shape that balances out a square face. Apart from the attractive cut, the shades of blue are wonderful. The added color accentuates the cut even better.
Layered asymmetrical bob for short hair
@jinafirepo
Layered asymmetrical bob for short hair! This is great for ladies who want that sweet, stunning hair transformation. This haircut can give a round face shape a subtle angle. This somehow dilutes the roundness of the shape of the face.
Asymmetrical chin length bob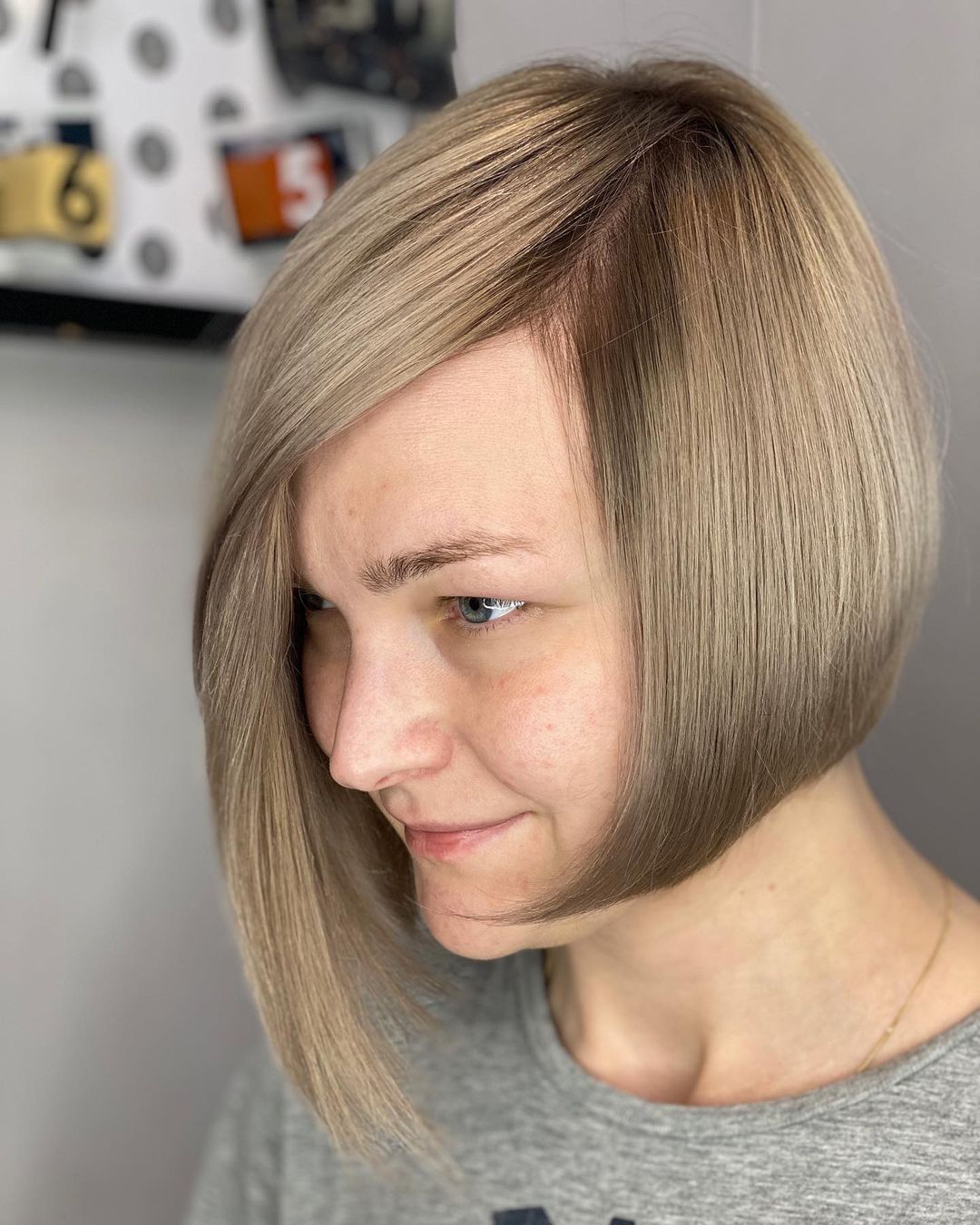 @timurbegichevstudio
This asymmetrical chin length bob creates a very sophisticated hairstyle if the curls have a fine density and a straight texture. This bob cut has a deep side part for instant volume. Women with thin, thin hair should try this bob.
asymmetrical ear-length bob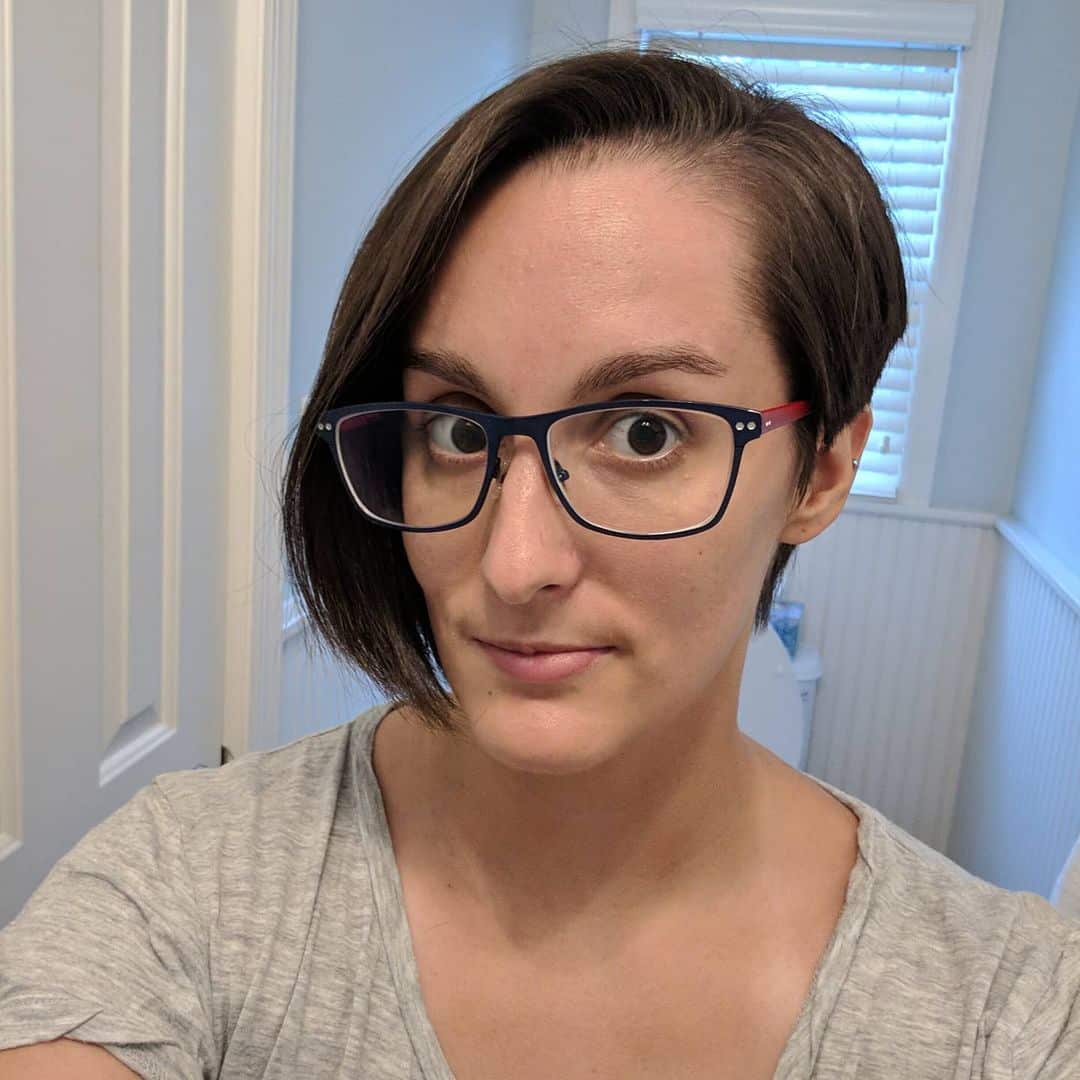 @mtrmeow3
An asymmetrical bob to the ears always looks spectacular and bold. Finishing gives women confidence and courage. Lovely and easy to handle, this haircut is perfect for an oval face.
Cheeky asymmetrical bob with shaved sides for thick hair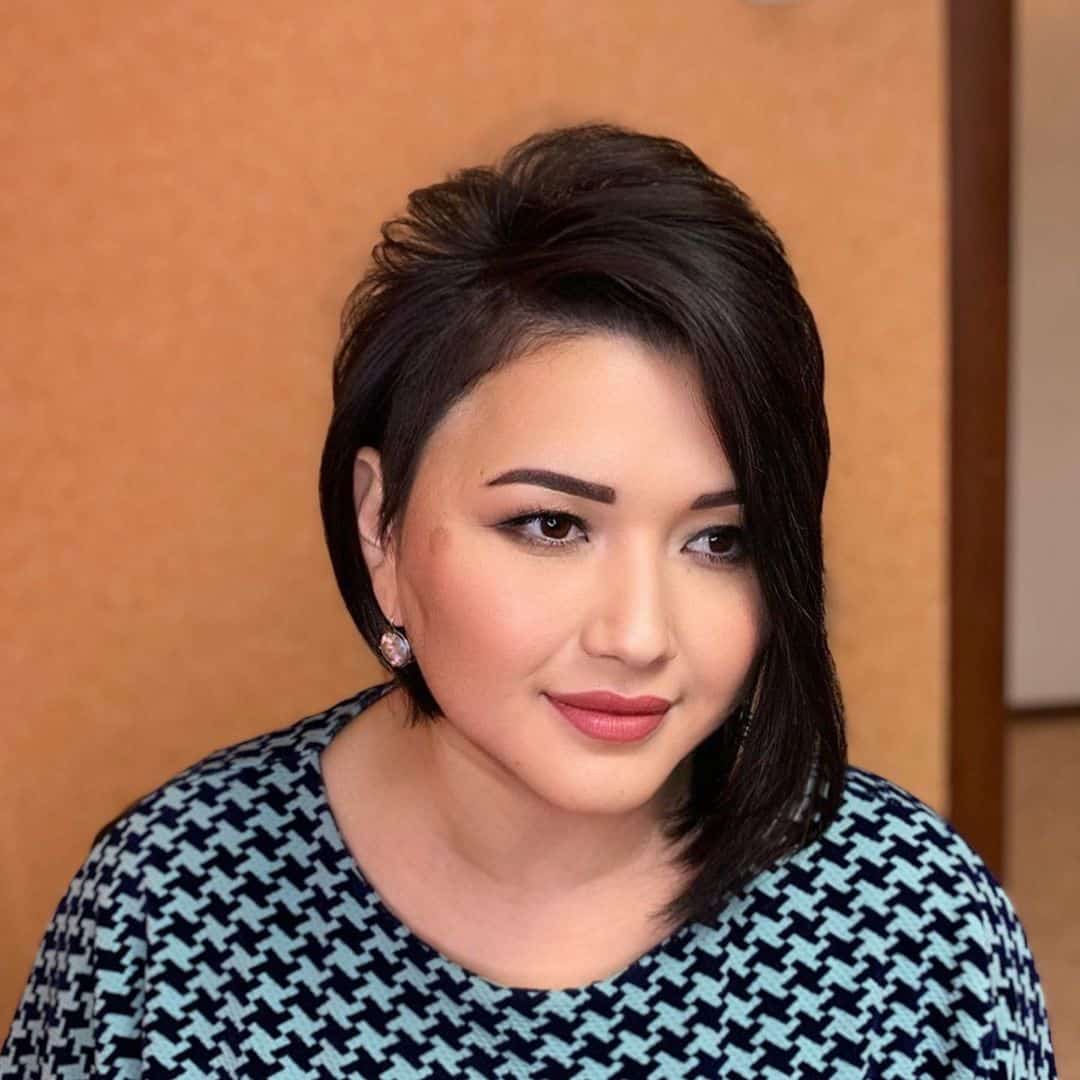 @nikitenko_elen_
Choose an asymmetrical bob with shaved sides if you have a round face shape. It features a side parting style that gives the face a flattering angle. It's also a great option if you have a thick mane and want to try a short haircut.
Short asymmetrical bob with a light haircut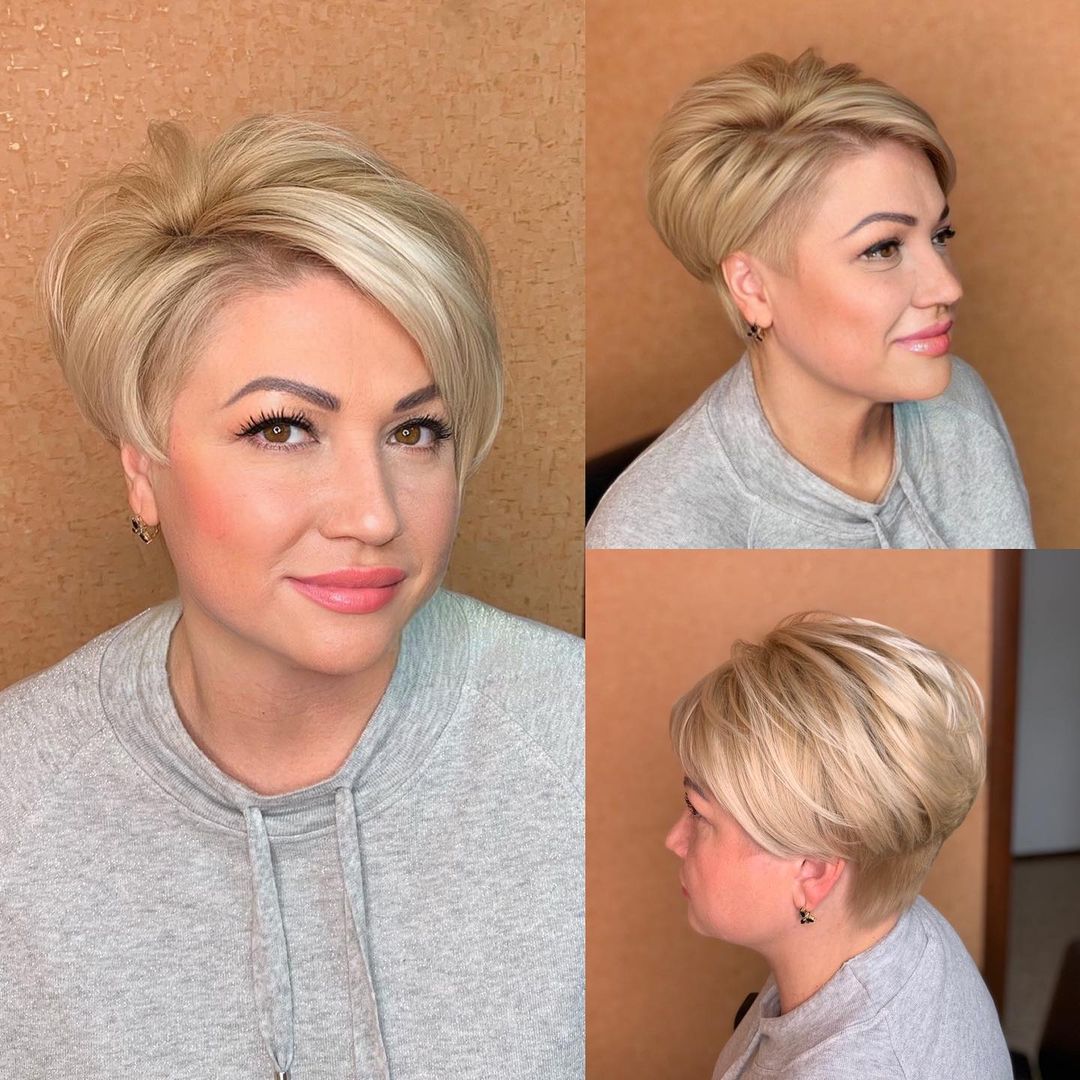 @nikitenko_elen_
A cropped asymmetrical bob is perfect for a bolder hairstyle. This haircut gives the hair volume, which is beneficial to the owners of thin curls. It also has a thin undercut so any woman with thick hair can wear it.
Black short asymmetrical bob with undercut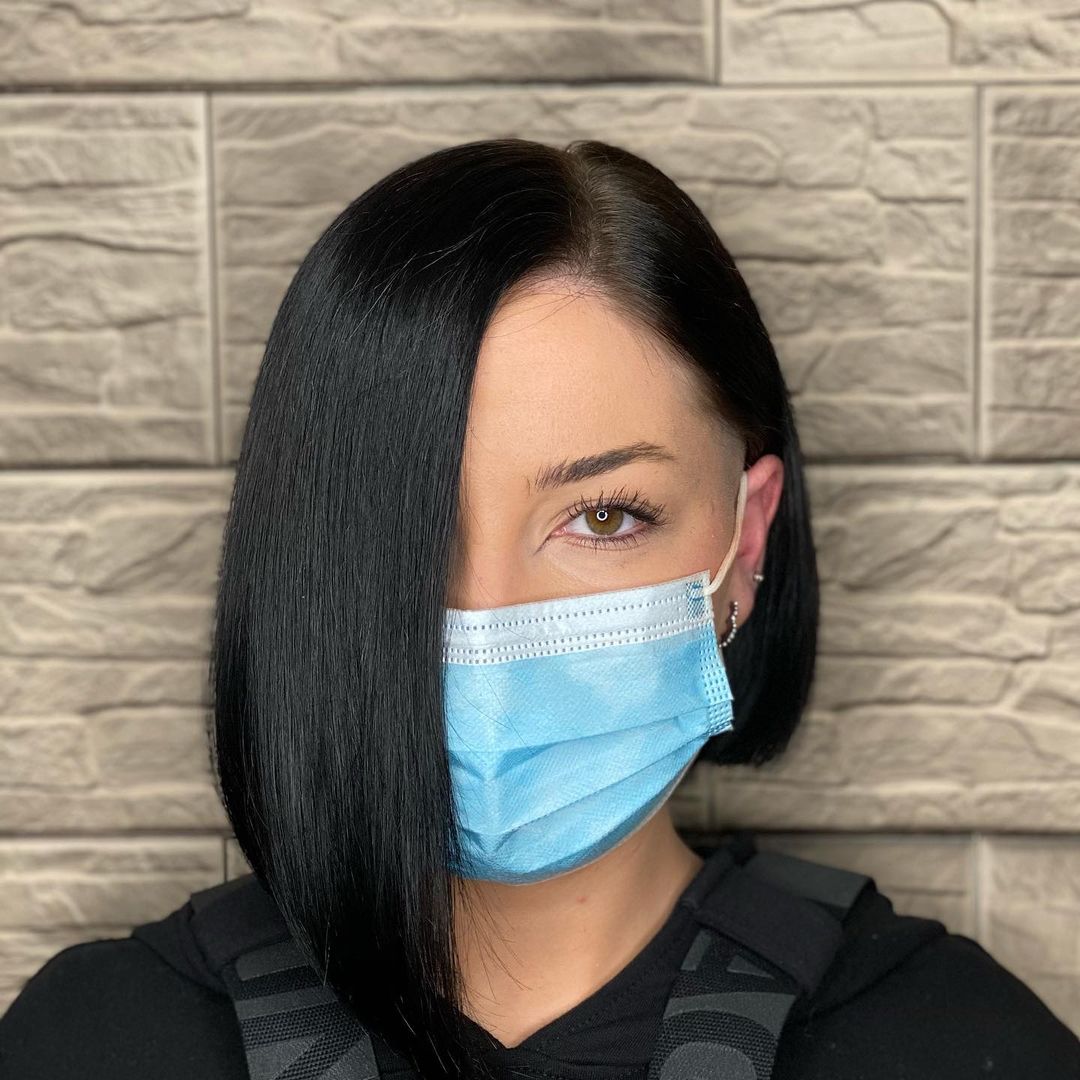 @vali_marin_hairstylist
This black short asymmetrical undercut bob was cut and styled by hairdresser Vali Marin from Brasov, RO. "This bob is great for all social situations, even business," he states.
To style the asymmetrical bob, Marin suggests using a flat brush to blow-dry and straighten your hair with an iron. "This will give it a very precise and crisp outline."
"Styling products and products can vary greatly and should be used as they fit and meet the needs of your hair. Imagine this look with straight hair on the short side and natural curls on the long side. The thickness of the hair will create a very beautiful and bold look," he adds.
Short asymmetrical wavy bob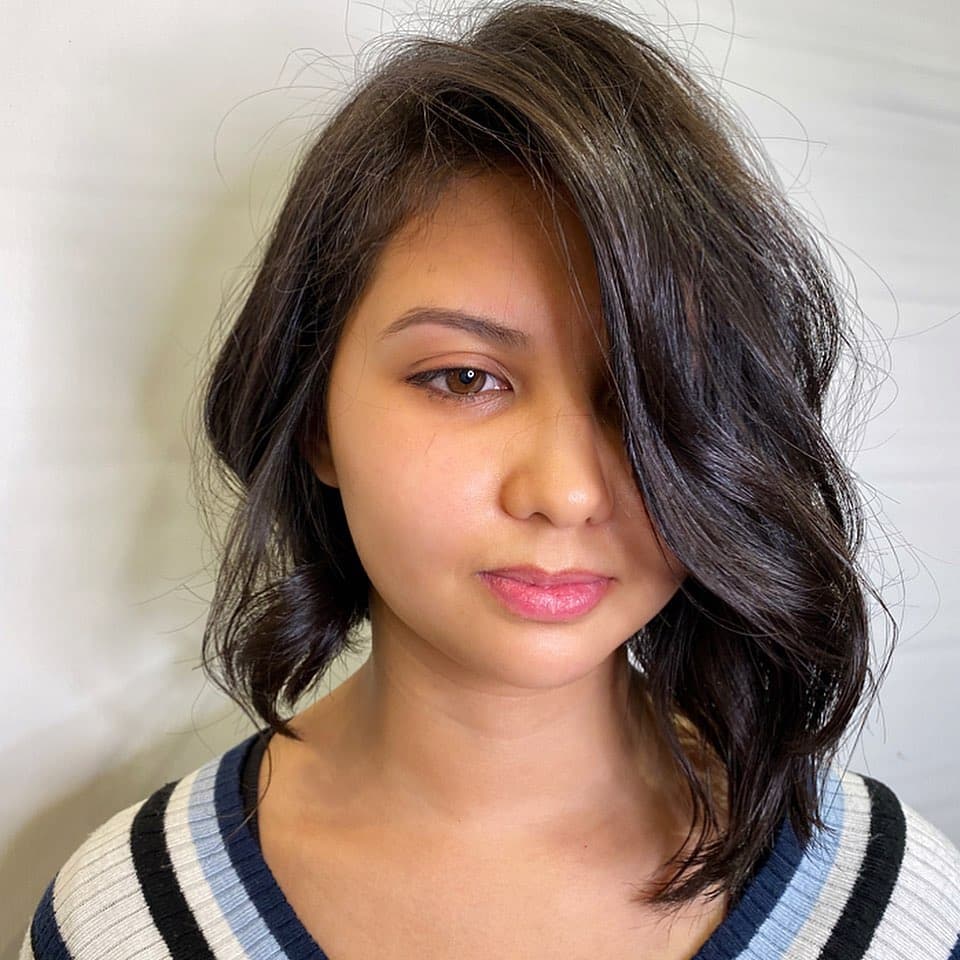 @taichisuzuki
This short, asymmetrical wavy hairstyle was handcrafted by hairstylist Taichi Suzuki from Tokyo, Japan. "Use a large curling iron to create a big bouncy curl and give it softness. An asymmetrical bob looks great with wavy or straight hair," says Suzuki.
Suzuki continues, "The asymmetrical wavy bob goes great with most face shapes except long ones. If you have a long face, ask your stylist to cut out more layers."
Sleek short asymmetrical bob for fine hair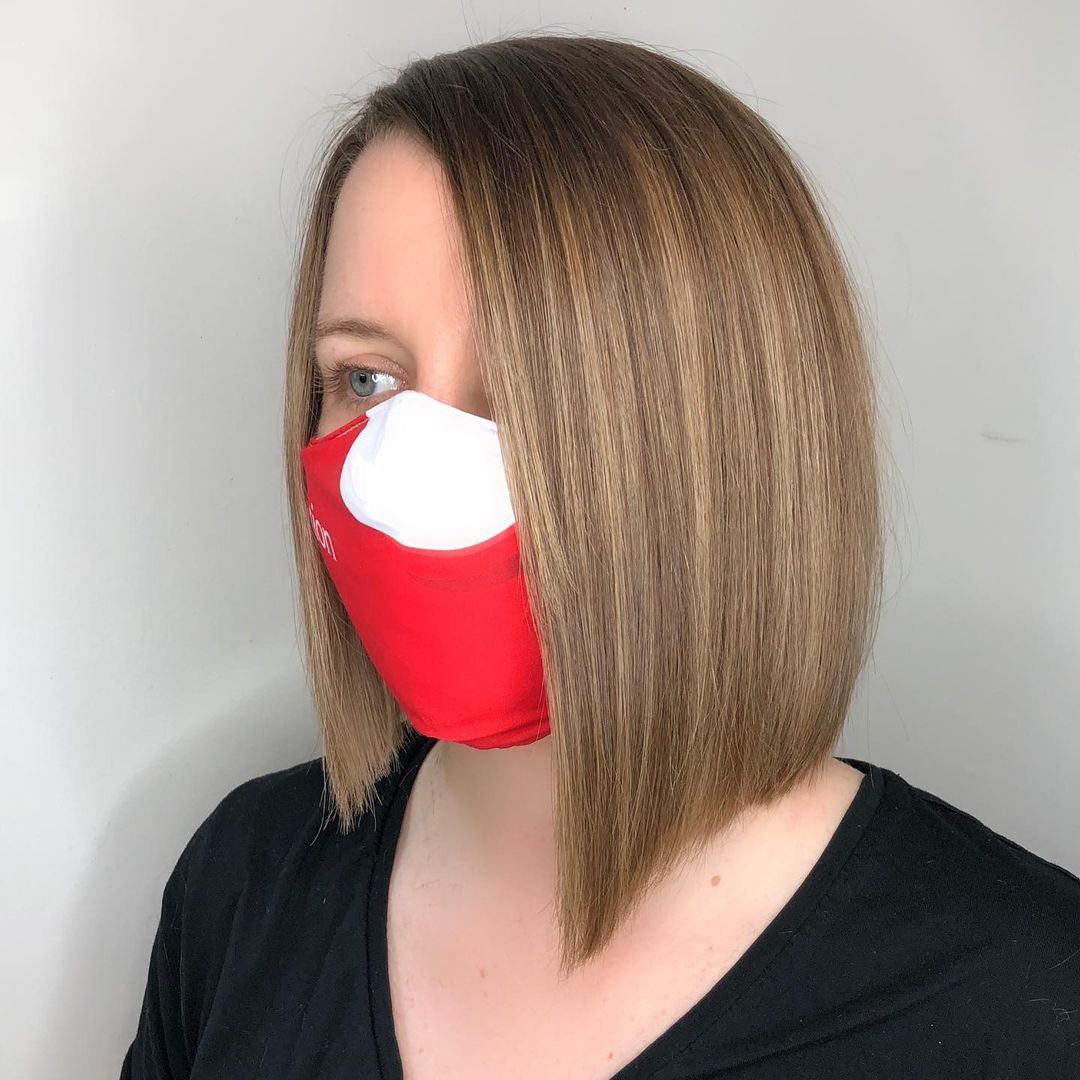 @lifesizebarber
This short, asymmetrical bob for fine hair was created by hairstylist Brittany Britton of Dallas, Texas. "The asymmetrical cut is perfect for women who want something a little more edgy. It's a classy bob for fine hair that's funky enough," says Britton.
"Your stylist can take your idea and craft it to best suit you and your lifestyle," she adds. "You can get a little asymmetrical bob or shave the entire side. It's very versatile depending on how dramatic you want to get!"
Short asymmetrical blunt bob for straight hair
@hannahrodgi
This short asymmetrical blunt bob is slightly upside down. Short asymmetrical haircut is very easy to style and maintain. Short, blunt attributes look great on almost all women.