Spiral Galaxy Lavender Purple
@guy_tang
There is no better combination in the galaxy than lavender and purple, and this color fusion proves it.
These two colors were made to blend so smoothly it's hard to tell where they meet!
Hidden Galaxy Color Features
@dyedyemydarling_abq
Hidden highlights of a galactic hue are achieved by bleaching the hair and then applying blue, pink and purple for a more vibrant color scheme. For a hide-and-seek effect, ask your stylist to place them on the middle and bottom of the back of your head.
Aqua in space
@one10beauty
The skillfully dyed galaxy colors in this stylish hair prove that with enough imagination, miracles can be done!
This wild mix of shades of aquamarine and purple gives this cosmic balayage lots of movement and texture.
Space color melt
@caroline.anythingbutbasic
This strong and deep balayazh galaxy hair really grabs attention with its vibrant colors that go well with fair skin tones.
The color of the sea wave starts at the roots and ends with bright turquoise with purple as a transitional shade.
Deep Dark Galaxy Hair
@uggoff
These multicolor galaxy hues look beautiful, with each deep hue flowing seamlessly into each other.
The result is enhanced by big waves and is suitable for all hair types with the right care. This is perfect for women with natural brown hair.
Interstellar indigo hair
@jeni_does_ham
We love the creative combination of rich blue and purple in this galactic hairstyle.
Colorist and stylist Janie added buns and star accessories to add a magical and unique touch to the look, creating a stunning galaxy-inspired look.
This is definitely the latest hair color trend that ladies should go for!
Starry blue hair with black roots
@adlydesign
This two-tone galaxy blue balayage is a gorgeous blend of cool aquamarine tones that suit most skin tones.
Keeping the dark roots saves you the hassle of visiting the stylist, while the waves create a laid-back look.
Milky Way Pastel Bob
@salondebear
This wonderful galactic gradient starts with a bright purple color and gradually fades into a light pastel blue.
This is a great galaxy hair dye for people with fair and neutral skin tones and for medium to long hair.
Stratospheric turquoise and magenta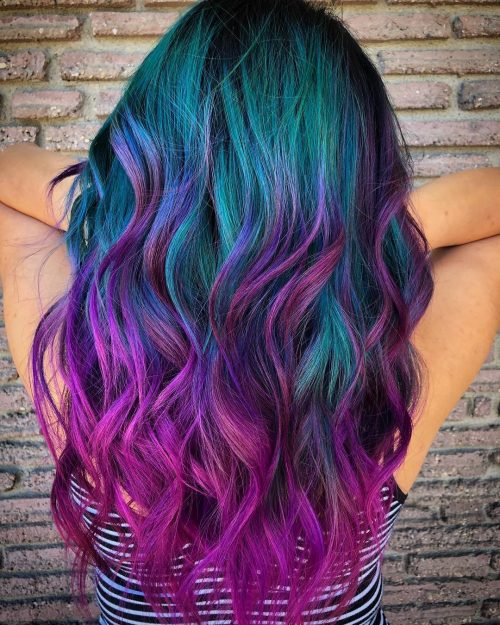 @giannadoll13
These galactic colors are so rich and blend perfectly with each other that make the hairstyle unique and versatile.
By starting with natural dark roots, you can cut down on salon visits, so you can keep that galactic shade of teal and purple for a long time to come.
Universal Layers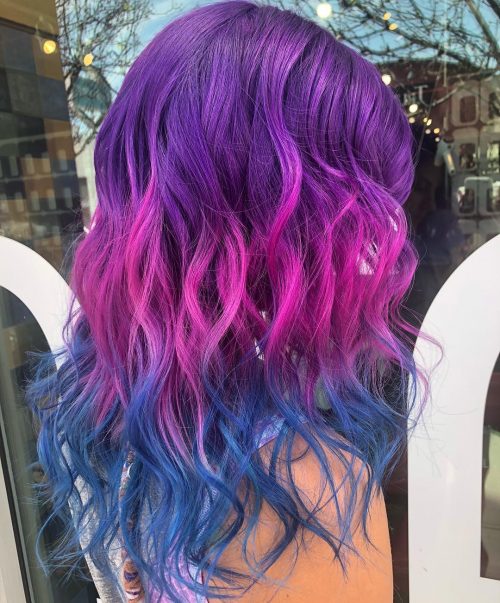 @hannahdisconnected
This beautiful 3-layer galaxy ombre defines movement, starting with deep purple roots that fade to vibrant magenta and then to cool blue.
If your hair lacks life and volume, you can't go wrong with a wavy hairstyle that matches these gemstone shades.
Galaxy Ombre Future
@xostylistxo
This dreamy galaxy ombre hairstyle starts in a cool and rich purple with dark roots and transitions into blue streaks.
The gradient is so subtle that you won't even notice it without the lightening effect of those white highlights.
Galactic purple hair for a short layered bob
@elyserox00
This is by far the smoothest galaxy purple layered bob you've ever seen.
Taking a cool purple base that fades to bright blue and then to a beautiful purple overall, creating movement and dimension in this gorgeous galaxy hair.
Unicorn in space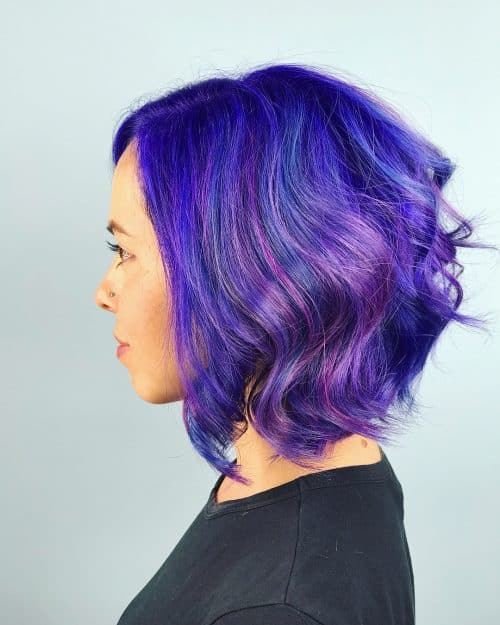 @thehairsphinx
You will definitely fall in love with these short colorful galaxy curls!
Filled with purple streaks on a rich blue base, this hair has taken on a lot of texture with a messy wave.
Braids of Andromeda
@niclynnhair
Brilliant proof that braids and galaxy dyed hair look great together.
This look features perfectly placed shades of purple and blue, accentuated with a thick center braid and two cute loose braids on either side.
Brunettes will love this update on their curls for sure!
Braided Peacock Galaxy Hair
@colored.in.chaos
This vibrant peacock and galaxy hair color is sure to stand out with its mix of aqua and purple.
Half of the hair has been braided into a wide loose braid which is a very light and messy half updo that enhances the whole look.
Hair dye Cosmic Bow Galaxy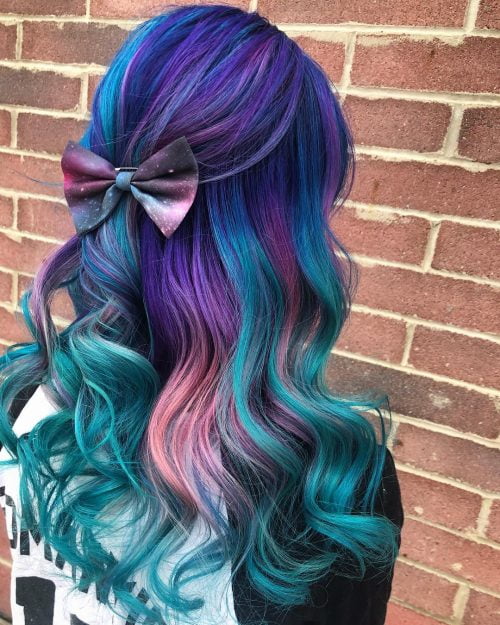 @autumnlei_
This truly magical galaxy hair is a unique blend of trendy colors from root to tip!
It takes on alternating blue tones and a purple to lavender ombre that unravels with this matching bow.
Photosphere Pastel Galaxy Shadow
@makimakhair
Stylist Maki Mak decided to have some fun with these whimsical waves by painting the strands in pastel galaxy hues.
One side is pinker and the other is bluer, and it turned out bewitching!
You can never go wrong with these pastel hair colors if you have a good imagination and of course a professional stylist!
Short galactic waves
@kimberlytayhair
It is quite possible for hair of any length to have this magical color of the galaxy that combines purple, teal and magenta.
This hair inspiration includes electric, multi-tone hair colors that require careful and regular maintenance.
Northern Lights and Galaxy Shades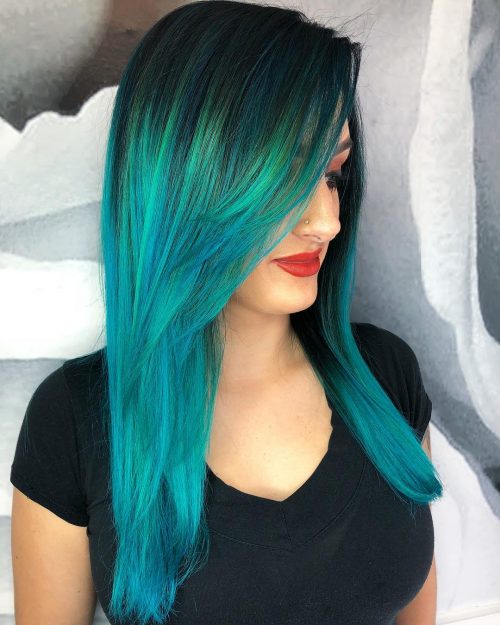 @caseygustinhair
This gradient turquoise color is perfect for girls with dark hair who want to experiment with galactic hues.
It starts with a dark base and progresses to a bright light shade electrified by bits of neon green.
muted milky way
@chiaramonteleone_
Spice up your shoulder length straight hair with a super edgy purple lavender galaxy color like this one.
One way to make it easier to take care of your hair at home is to leave the roots dark so you don't have problems growing back.
Out of This World look with purple highlights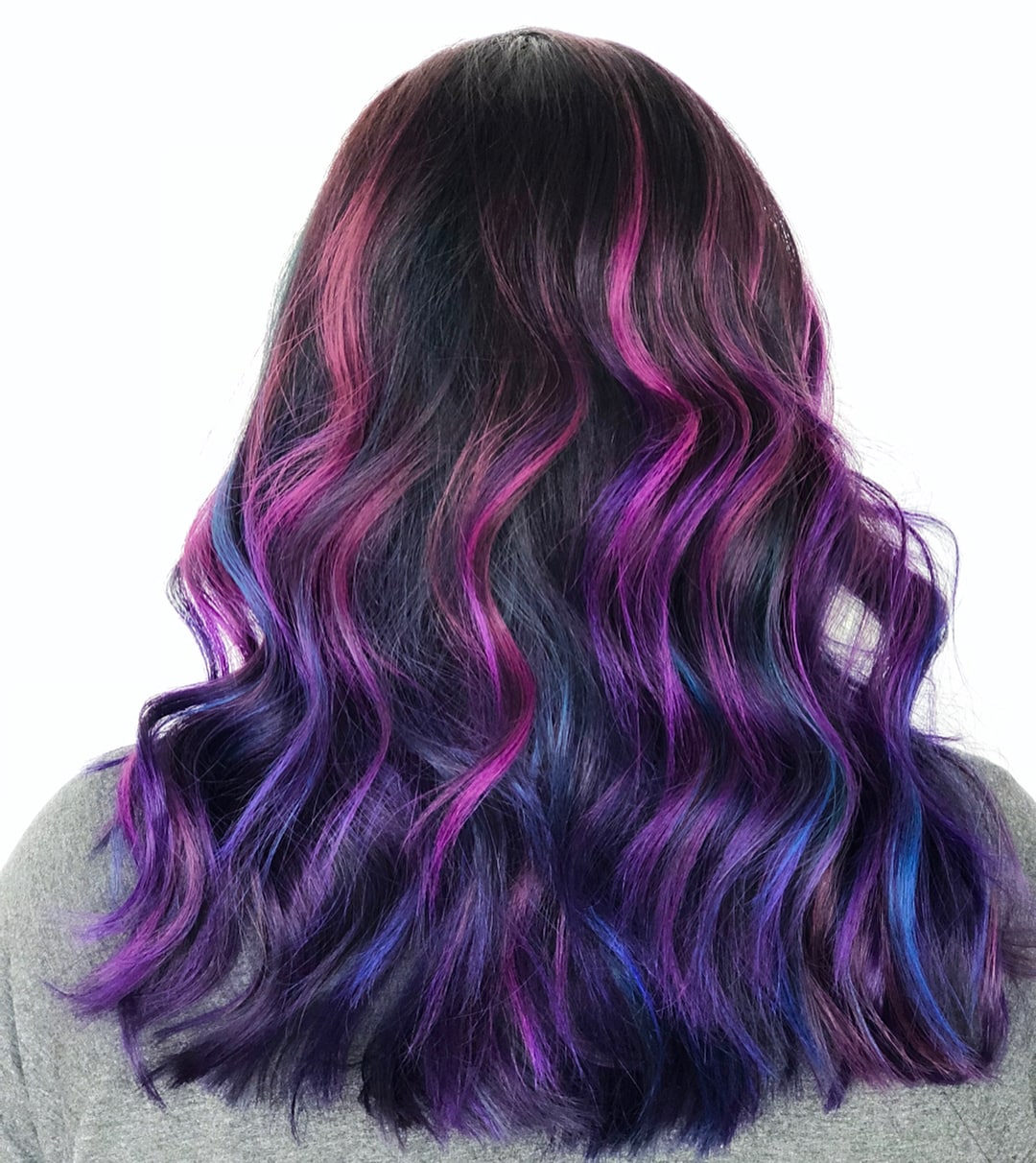 @hairbylyslord
Paint and color your hair in these whimsical galactic vibrant shades of purple, blue and hot pink if you're tired of your plain black hair.
Wearing these trendy hair colors is a great way to be unique in your galactic style.
Nebula Nebula Hair
@stephjannerie.beauty
Stun people with this galaxy-inspired look and you'll feel like a mermaid too!
You don't have to wear super stylish outfits, this hairstyle is perfect on its own.
Intergalactic Bob
@makimakhair
Feel the vastness of the trendy colors of the galaxy right in your hair with this top-notch hair color!
It doesn't matter if you have a short haircut. It only matters if you are brave enough for such a galactic hair color that requires special care!
Galaxy hair color for men
@manesbymichelle
This galaxy hair shade is a vibrant hairstyle for guys who want to spice up their boring old haircut.
Work with a deep purple blend while keeping the cool icy blue of the top for a truly voluminous result.