Dark berry burgundy balayage

@iamerictsering
Burgundy balayazh makes everything transcendent, but this dark purple makes everything so ethereal, and this dark berry burgundy shade is a fun gloss for natural dark curls.
Layered maroon hair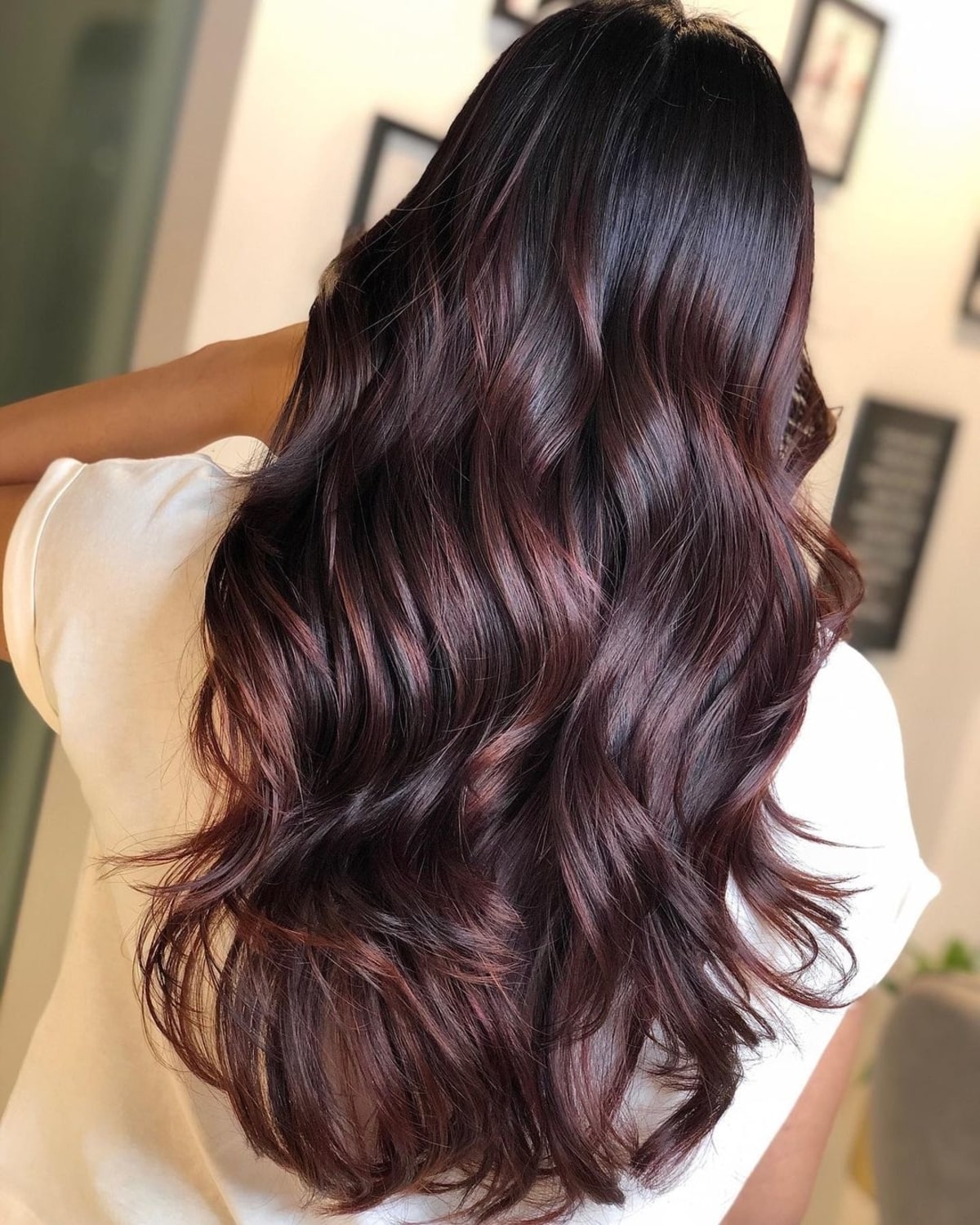 @noopurchokshi_amichokshi
Layered maroon hair adds pomp, shine and daring to any dark haired girl. Burgundy tones blend naturally with brunette, making it the perfect shade if a woman prefers a bold change without the addition of a brightener. Rich warm tones usually work best with warmer, darker skin tones.
Bright burgundy highlights on very dark hair

@thegoodhairwitch
Bright burgundy highlights on very dark hair are beautiful when mixed evenly with a few short, brighter strands, especially around the face. For better growth support, blend the color into the root using the balayage technique.
Red velvet and deep burgundy

@crystalxhair
Combine red velvet and a deep burgundy shade for vibrant curls that will delight anyone who sees them. Add a subtle base offset for a smooth balayage effect.
A mix of tan and burgundy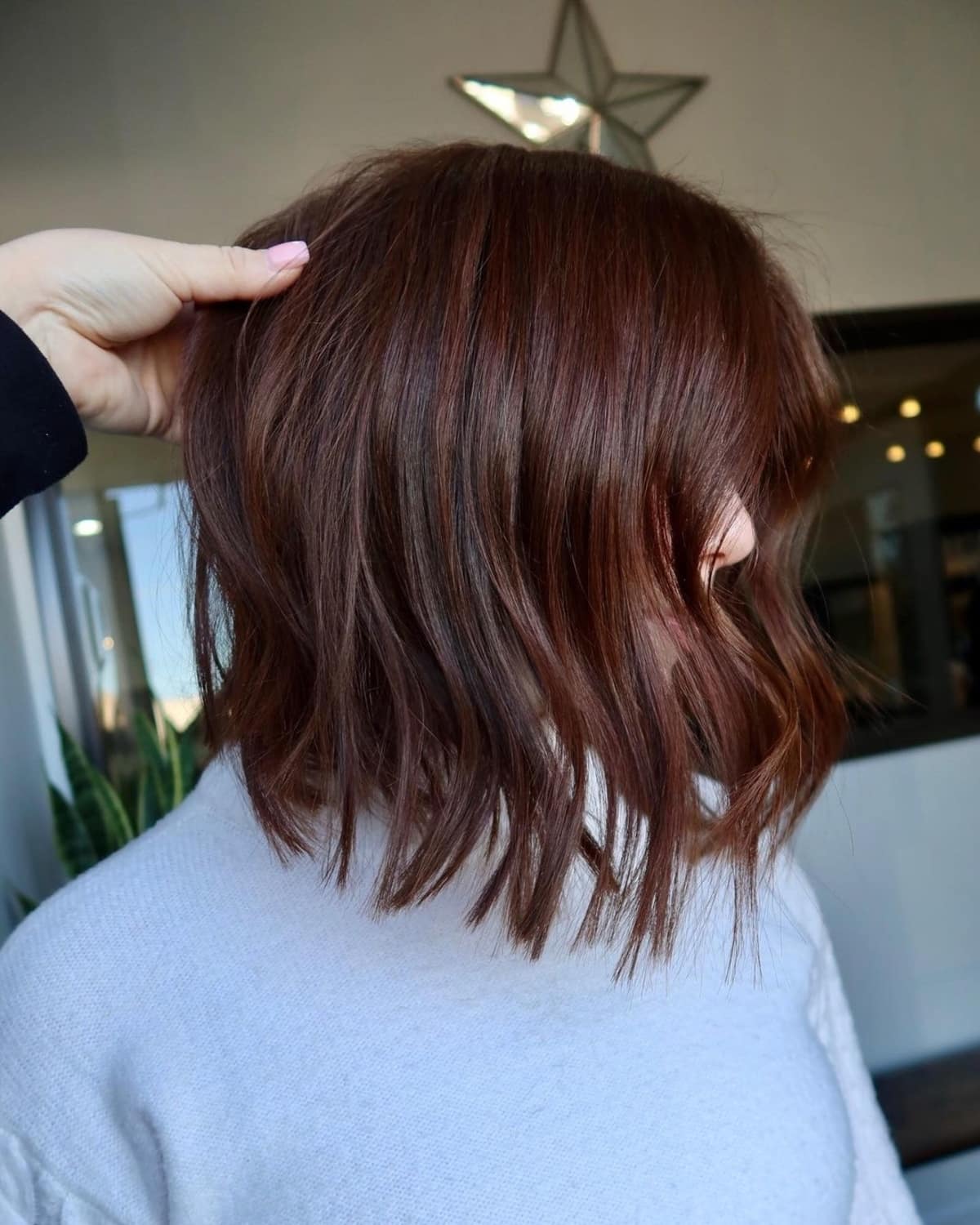 @bora_kalaj
Try a combination of tan and burgundy for a subtle yet rich shape that will look great with straight or wavy hair. Adding tan to the formula will still help keep the color vibrant and achieve a more natural look.
Deep burgundy and raspberry balayage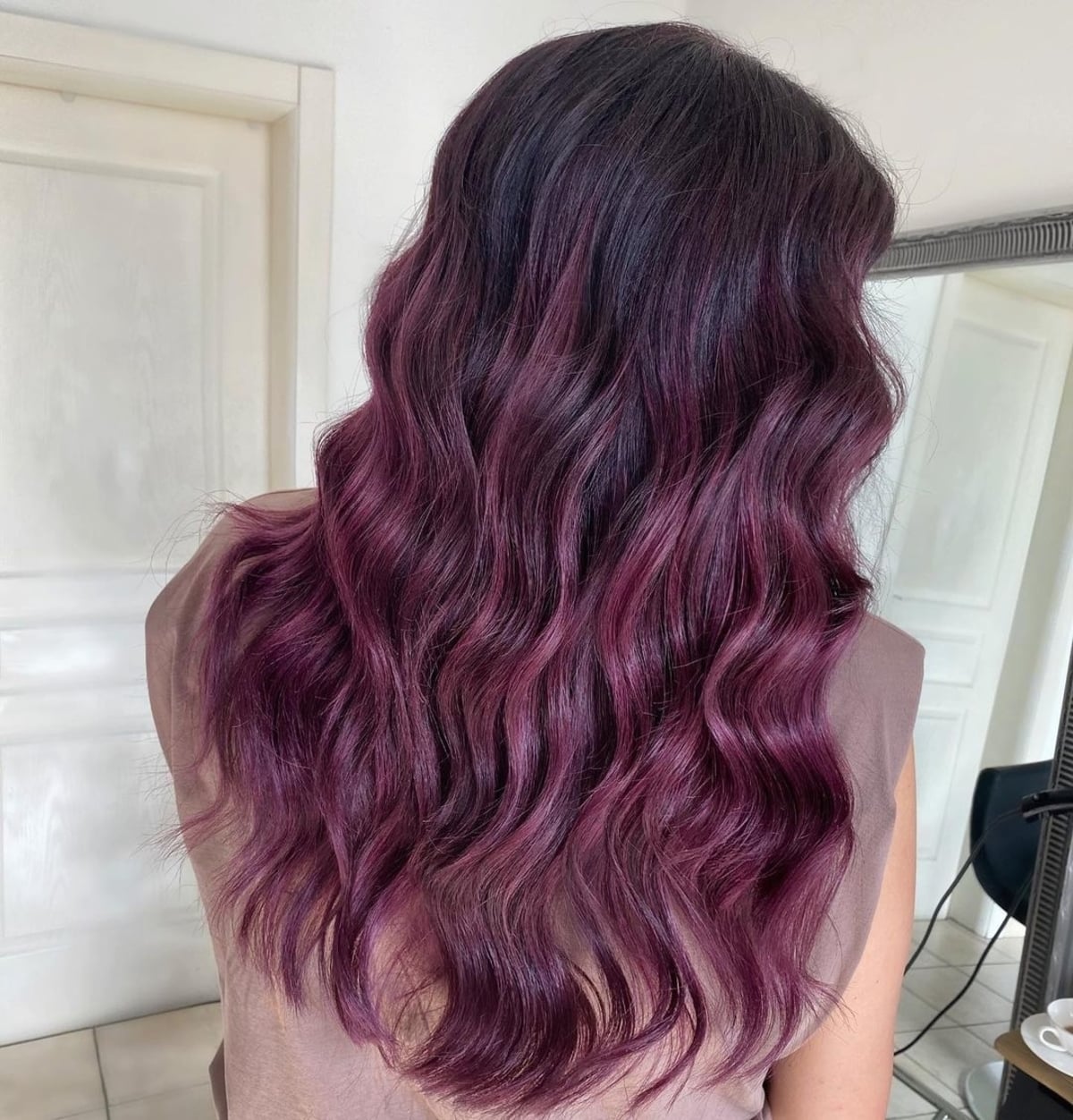 @silver_studio_by_dragan
Consider a deep burgundy and crimson balayage that will shine and stand out when light hits a dark base. Let the color speak for itself by adding smooth waves and a sheen booster like Evo's Love Touch.
Medium maroon balayage hair color

@beautybybethanyanne
Red-brown hair with loose barrel-shaped curls creates an interesting three-dimensional burgundy hairstyle. Whether you have medium or long hair, this wavy burgundy red hair is a must!
Maroon red burgundy hair

@keanna.washhousesalonsllc
This burgundy and maroon balayage is the next hair trend to try! Add this cellophane glitter over dark red hair color to create a maroon hue and a nice glow.
Dark red burgundy hair color

@bettina.jnzn
Achieve shady roots to show the deep wine color transitions in your deep burgundy curls. This maroon hair with loose curls is perfect for casual or formal occasions.
Dark hair with burgundy highlights

@tejahcreativestyles
Bringing dark hair to life with burgundy highlights doesn't just mean pairing two colors from opposite ends. Sometimes it can be as strong as a rich plum color with your jet black hair.
Dark Merlot Wine Burgundy with highlights for wavy hair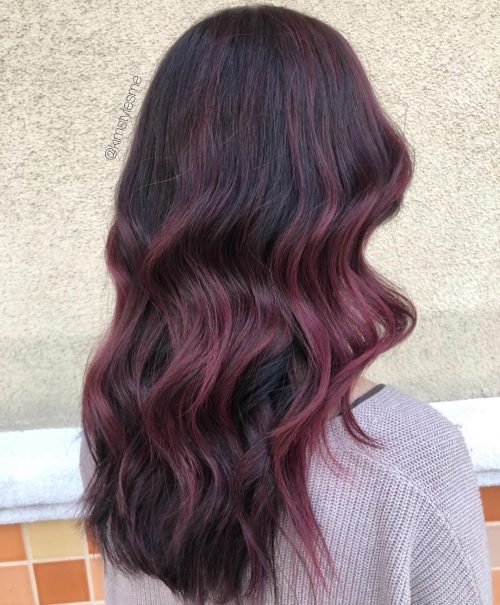 @kimstylesme
Enjoy this maroon hair with highlights! A glass of real plum wine for hair is of great importance for an influential lady.
Purple burgundy hair

@lzhouseofhair
Careful hand-painting has made this deep purple and burgundy blend beautiful. Shades of this burgundy purple hair color are perfect for adding fun dimension to straight locks.
Brown hair with burgundy highlights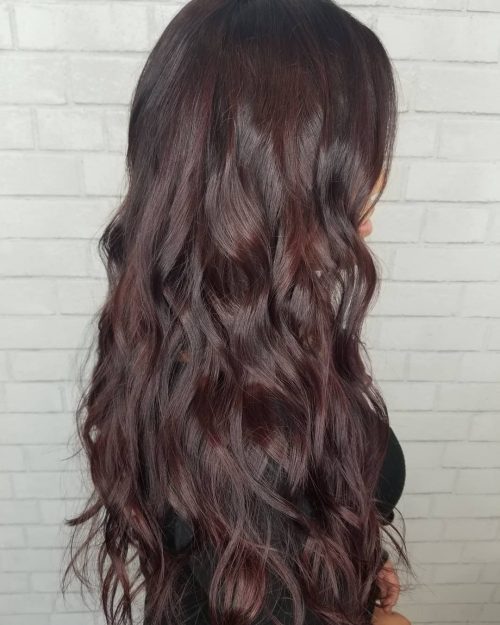 @live.love.create47
Don't hate, check out this burgundy brown balayage created by beautiful colorist Rebecca! The combination of subtle burgundy red highlights and shades of brunette creates a mahogany color that suits women with olive skin tones.
Rich maroon hair

@beautyby_brittanyjean
A rich purple-burgundy shade for your long, flowing curls. Pass with this red-purple glow and stand out from the crowd!
Maroon with light highlights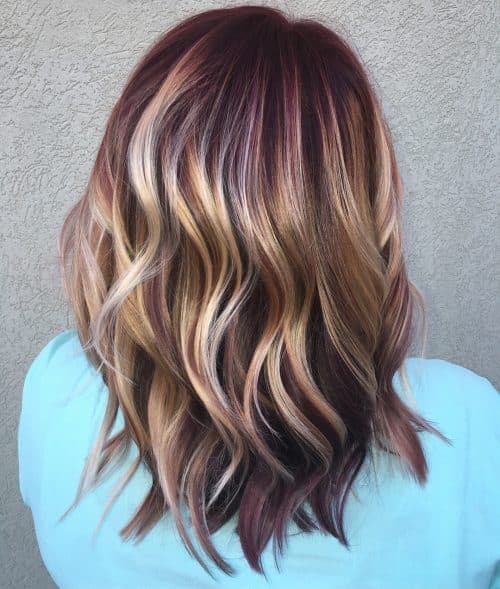 @jlucywoods
A ripe burgundy plum can be an exciting color in itself. Champagne blonde adds warmer undertones and difference between both colors.
Maroon and scarlet highlights

@hairart_byhoule
Maroon and scarlet highlights give the hair bright colors and smooth growth. New Hampshire stylist Megan Hole describes it as the perfect color choice for women with darker/damaged hair because it can be applied to yellow or even slightly orange hair so you don't have to go above 8/9.
To achieve the desired color, Howl started with a voluminous root balayage to lighten the hair. She explains, "I mixed some pinks with all the Pulp Riot colors and applied them to the triangular panels. I also used Olaplex thickener during the process to ensure the integrity of the hair."
Dark chestnut burgundy

@blassomhair
Dark chestnut burgundy offers natural color and fun! It is great for ladies who want to try new tones that are not too bright and bold.
California stylist Courtney Blas used several techniques to achieve this hair color.
"I painted over all the sections and used a natural base for the main color. I added some red-brown highlights, leaving some natural color. Finally, I gave the stained areas a nice cherry cola color," explains Blas.
Dark reddish burgundy brown with mahogany undertones

@caley_at_clhnb
This deep reddish burgundy shade with mahogany veins was created by senior stylist Kaylee Farrer of Albany, Alaska. This is a stain of burnt plum root that has grown into a dark mahogany.
For at-home care and styling, Farrer suggests purchasing "a good range of color-care shampoos and beach styling sprays that are great for showing off the texture of color and creating a casual shabby chic look."
She adds, "This color would work great for any woman with a medium to olive complexion, and the color can be tweaked a bit to enhance facial features and tan in the summer."
Ombre from dark brown to maroon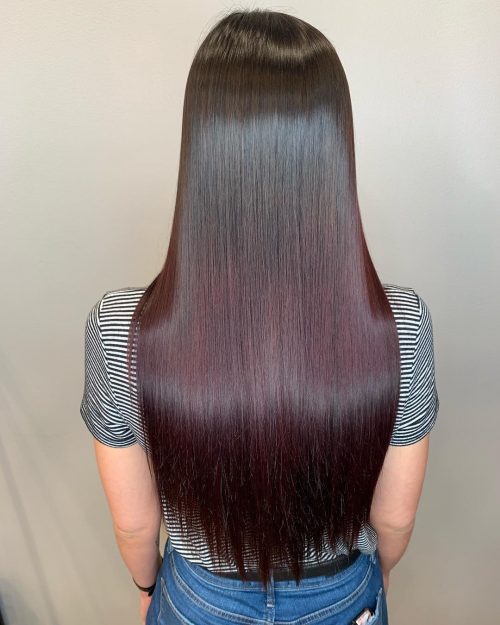 @ctoyyy
This dark brown to maroon ombre was created by color specialist Cindy of Canton, Ohio. "I called it 'raspberry truffle'. We loved the shine that the color gels and Redken shades gave her hair, so we decided to use a smooth glass finish!"
"Maroon hair dye is great for women with lighter colors (ombre in balayage) who want a big change! This look can be low maintenance with the right products. She took Viral Wash home in purple to keep her tones at home in between until she needed a root retouch with a shine update," she adds.
Curly burgundy hair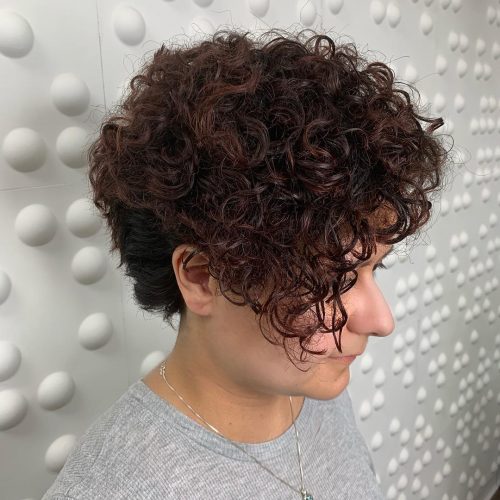 @hairbyhannarella
This curly burgundy hair was created by hairstylist Hanna Leithy of Lee's Summit, Missouri.
"As for color, I did balayage, a highlighting technique that allows for softer and more natural regrowth. Then I went with a permanent red-violet because she wanted something more vibrant."
When asked why she chose this color, Laity replied, "Because the lady wanted a burgundy style and this color is low maintenance. I would recommend this color for women with neutral to warm skin tones."
Dark purple plum and burgundy

@exquisitebeautysalon_alma
This truly maroon plum hair color was created by stylist Alma Castro from Madera, California. "I pre-lightened it by applying hand paint balayage. After drying, I applied violet and added a purple enhancer."
With this burgundy shade on long hair, Castro recommends using a good shampoo and conditioner. "I love Bedhead and Joico brands. No pharmaceutical products. I saw severe hair thinning and color that didn't last that long," she says.
Dark brown burgundy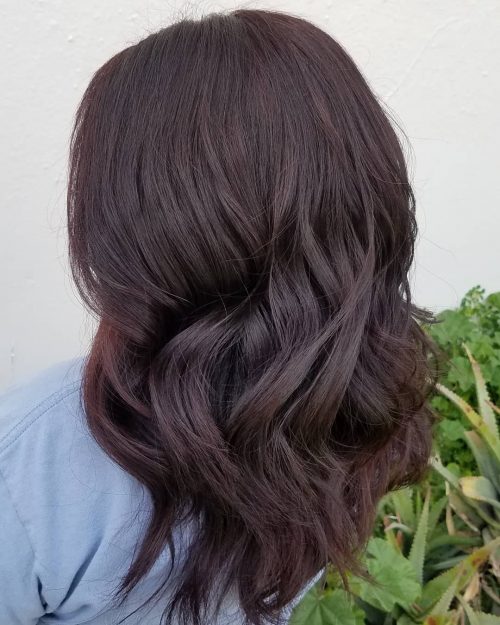 @juanita_lopzbeauty
This dark brown burgundy is juicy in color and voluminous in the thickness of the curls/hair. It was created by stylist Juanita Lopez from San Diego, California.
Lopez says: "You have to keep in mind that this dark brown hair belongs to the red family. Red tends to fade a little faster than most colors. This means it's harder to maintain, but if you want to stand out, this color is for you!"
Dark red burgundy highlights on black hair

@karamizuhair
These maroon highlights on a black base were created by apprentice hairdresser Kara Mizu from Honolulu, Hawaii.
Mizu says, "Because colors fade and fade over time, I explained during the consultation that black and burgundy hair like this requires a new hair care regimen. Maintaining this appearance includes care at home, as well as regular toning in the salon.
To manage your black burgundy hair at home, Mizu recommends limiting washing to once every two days, switching to a dark-colored towel and pillowcase, and blow-drying your hair right away.
She adds: "The longer the hair is left damp, the more color is released from the hair and drips onto the clothes/pillowcase. After two weeks of wear, using a red shampoo or conditioner once or twice a week will help keep the color vibrant."
Very dark and short burgundy hair

@lauraschafferhair
This very dark and short burgundy hair was created by colorist Laura Schaeffer of Doylestown, Pennsylvania. "The best thing about this style is the plum color that I was able to achieve with L'Oreal's oil-based, ammonia-free line, Inoa," she says.
To maintain this very dark burgundy color, Schaeffer says, "the color needs to be maintained every 3-4 weeks, and a salon-quality shampoo is essential for minimal fading."