Ash brown hair + ash blonde balayage
@sukana1
We are in awe of this beautifully crafted lob with babylights and ash bronze. This smoky brown ombre is one of the chic ways to update your classic brunette look! Homemade hair dye can give you that amazing color, but the colorist will do the magic. The combination of a smoky shade with a blond will definitely be cool.
Silver ash brown for women over 70
@the_wildwood_collective
Consider silver ash brown for women over 70 if you want to blend in your natural gray instead of hiding it. This low maintenance hair shade can be achieved by adding ash brown shades. Keep your silver nice and cool by using purple shampoo between visits.
Ash brown hair with soft purple tones
@ln_hair
Ash blonde hair color with soft purple tones is a great way for brunettes to play with icy cool shades. Brunettes can experiment with their color by adding some cool ash highlights with a soft purple undertone. Ask your stylist to use a teasing highlight technique when adding these ashy highlights to your hair to make it grow smoothly.
Lilac ash brown hair color
@likuang
Lilac-ash-blond hair color is an elegant, soft hair color. Warm lilac tones combined with cool ashy tones give the hair versatility. Pastel lilac tones on brunettes' hair reflect light and give brunettes a vibrant color. Ask your stylist to do a balayage with lavender, pink and ash tones to add dimension and softness to your brown hair. Make your color pop by trying out a classic layered bob cut to define your new hair color.
Ash blonde hair for women over 50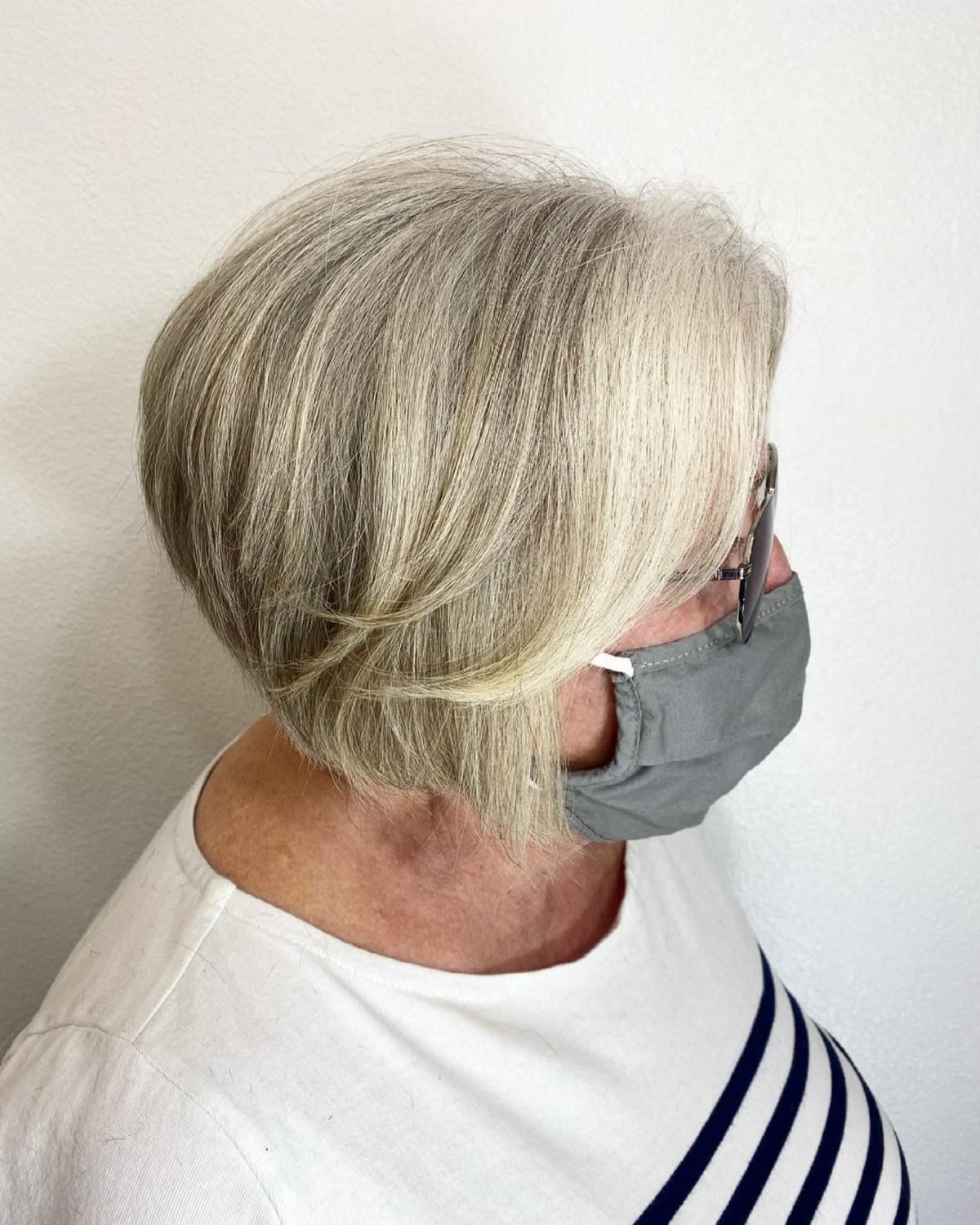 @hair.by.stephanie__
Ash blonde hair for women over 50 is perfect for women who are already gray. If you have more pepper in your hair, add some highlights to get more blonde and tone with an ash blonde toner.
Ashy Brown-Grey for women over 60
@stephatthehairco
An ash brown gray for women over 50 can be great if you are already graying and have a natural base level of 6 and up. As your natural color begins to grow back, your demarcation line will become less visible. The ash helps cool the heat, which may be undesirable if you're going gray and want it to mix.
Ashy Brown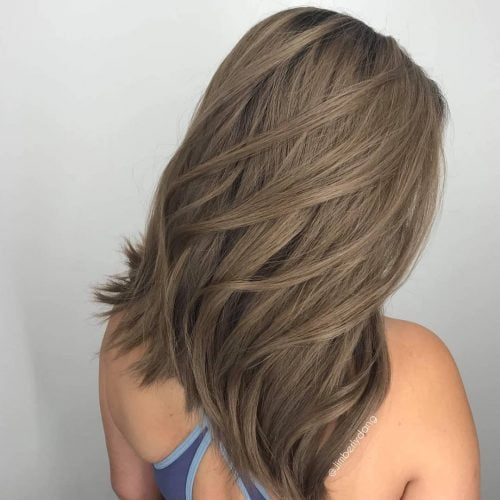 @jimberlydang
This ash brown color is very smoky and very wearable, perfect for women with warm skin tones. First you need to lighten your hair evenly and then dye it to a darker brown shade.
At-home care is important to maintain hair health, such as deep conditioning treatments, proper use of professional shampoos, limiting hair washing to twice a week, and using heat protectant/leave-in products to keep hair looking as healthy as possible.
ash brown ombre
@madebysirly
The dark roots fade into a very light ash brown, and the jagged ends give us goosebumps! Balayazh like this ash brown hair with dark roots is perfect for any type of hair as long as it has some length.
Ash brown hair with highlights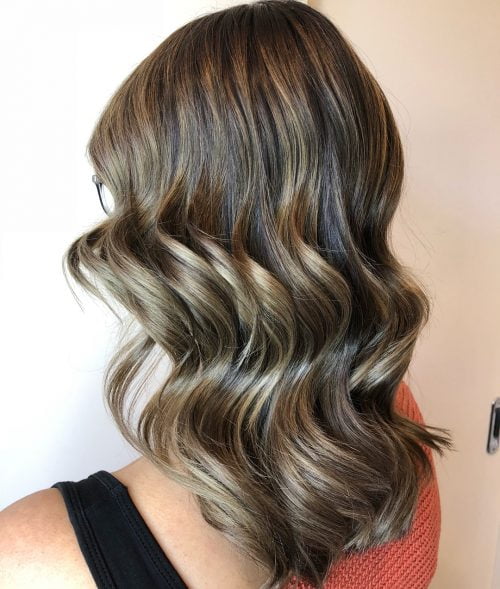 @hair_by_oliviadulev
This wavy style and ash color lets you have the best of both worlds with its deep dark brown base and luscious baby lights! Hairstyles with flawless waves for a more accentuated and voluminous effect of dark ash-brown hair color.
Silver ash brunette
@mystylist_cadence
Here's another great ash brown ombre idea for girls who want a stylish yet low-maintenance hairstyle! Add some beachy waves to take full advantage of the harshness of this shade. Silver brown hair adds a unique touch to any hairstyle, but can look boring if not styled the right way.
Ash Brown Balayage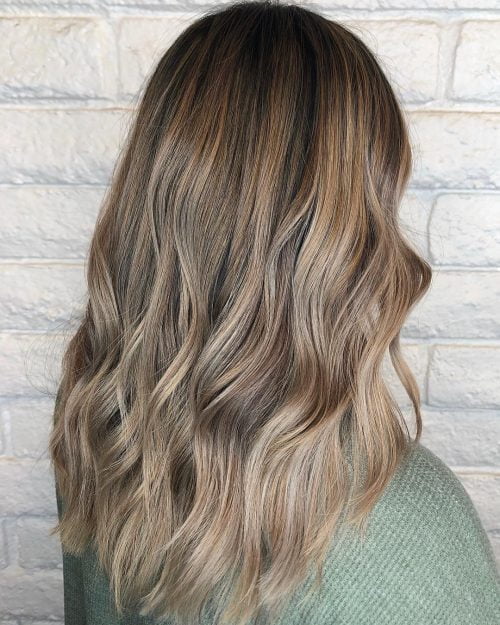 @demirae_theyoungamerican
It's time to kick off the trend with an ash brown balayage or that gorgeous smoky ash brown ombre with babylights! Notice how the colors fade from dark to mocha to subdued brunette. Whether you have straight or curly hair, this is sure to look great on you.
Ash chocolate brown
@hairby_christina04
Spruce up your classic dark brown hair with a brunette like this one. Liven up your brown base and mid-length wavy mane with a vibrant shade of ash chocolate brown. This color is perfect for dark skin tones.
Ash brown short haircut
@aryavarji
While everyone else is opting for long hair, why don't you explore this undercut pixie trend paired with a lovely ashy, smoky shade to create the perfect fox look? This soft color on short hair cut looks beautiful, you should definitely cut your hair! Style this ash brown hair with texture to bring out the layers and subtle ash brown hue.
Taupe balayage
@angelat_hairart
These contrasting and voluminous taupe babylights look great on beach waves! Using this voluminous ash brown shade is one of the simple ideas on how you can freshen up and breathe life into your naturally colored dark mane.
Light ash brown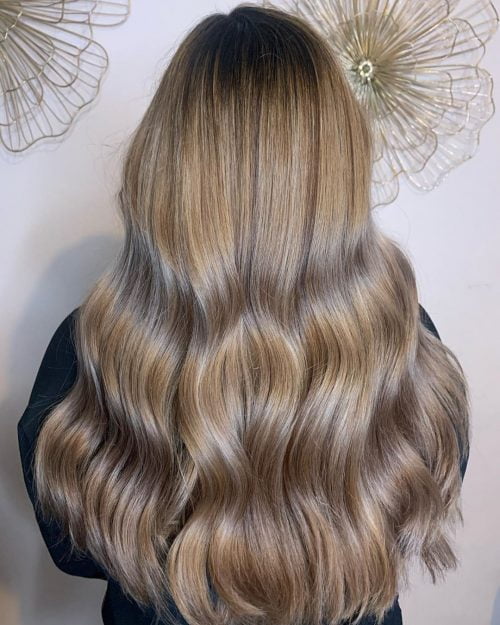 @queenb_hairpdx
Here is a lovely blonde ash brown hair that will show off your glamorous style. The sheen of this shade is sure to spice up your long wavy hair. For a long-lasting, shiny and smoother creamy ash brown shade, work the oil into your strands.
ash taupe
@findmybeau_t
We are very obsessed with this popular silver hair mushroom! The way these soft waves fall perfectly accentuates the size. Try this ash taupe and when you see the before and after photos you will fall in love with your hair even more!
Medium ash brown
@agielzar
Who said that only a black shade can give a fuller effect? This medium ash brown color will make your curls look voluminous. The color provides just the right amount of brightness under the sun. It also works well with soft yet voluminous waves. Ask your stylist to cut your hair above the shoulders so that your curls move as much as possible.
Ash Brown Highlights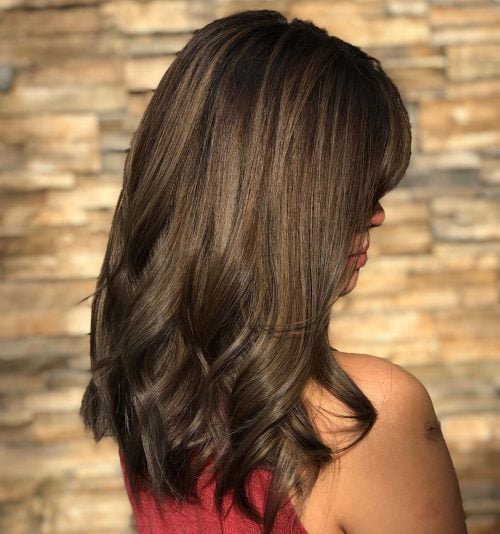 @kimnguyenstudio
Who wouldn't want those stunning ash brown highlights on her mid length haircut? This mocha color offers a low maintenance look and natural finish. Highlights on ash brown hair shine best when exposed to sunlight. With soft and thin waves at the ends, you will look spectacular and ready for an evening out!
Ash Blonde Face Framing Stripes for Older Women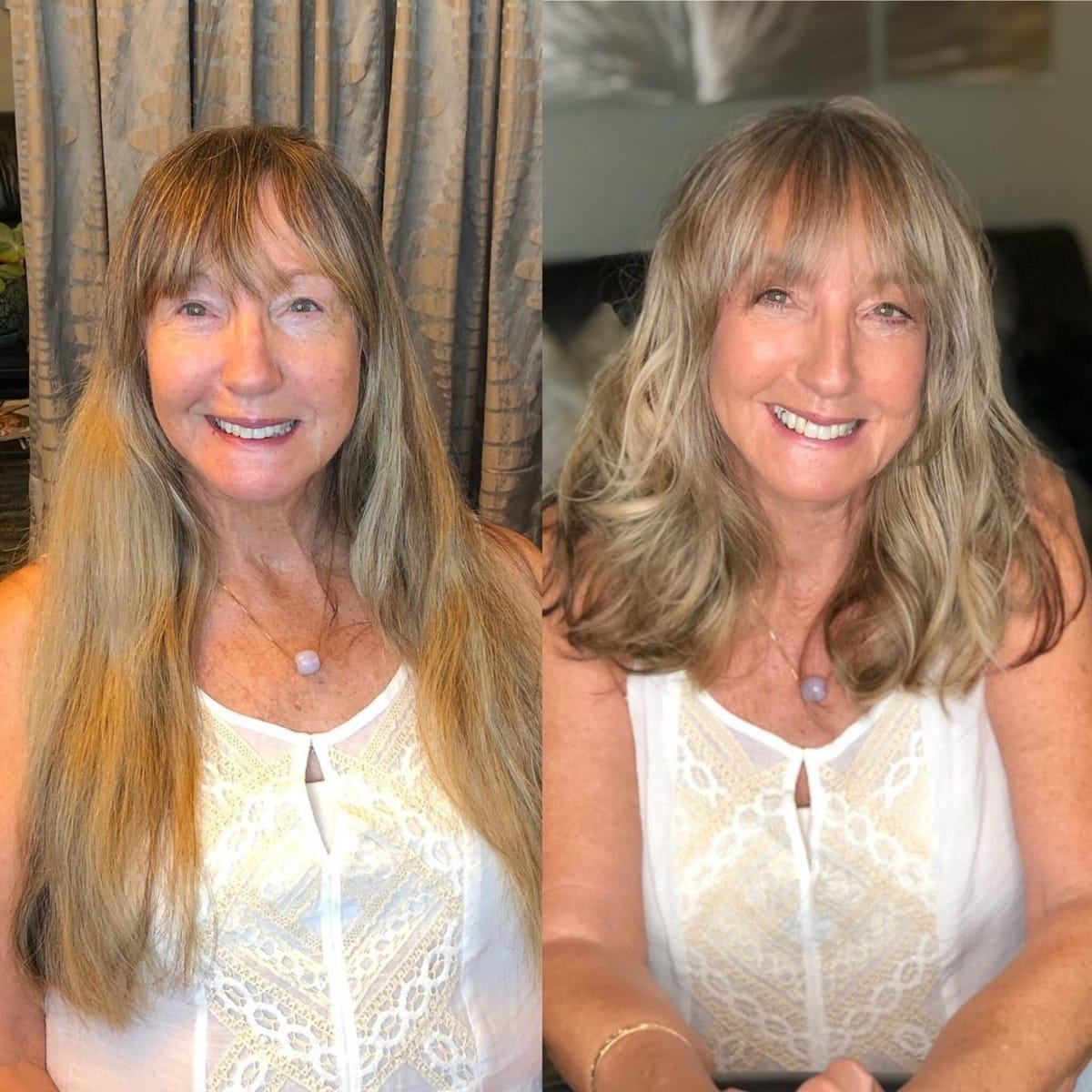 @colorqueensalon
Face-framing ash blonde locks for older women create a modern and bold look. They also emphasize facial features well.
This stunning hair color was created by Hawaiian stylist Ali Nahupi. "This particular style is good for women who want to brighten up previous boring moments," Nahupi says. "This ash shade also needs maintenance every ten weeks."
Cold ashy tones
@hair_bynikki85
This medium ash brown or mushroom brown hair with cool tones was created by stylist Nikki Nga La from Garden Grove, California.
"The best thing about this color is to let the client who loves natural looking, low maintenance hair add a few long layers and freshen up the split ends to smooth out and add more shine to the color," Nga Lah explains.
"If a woman wants to change her natural hair color because it's too warm, too cool, or too plain, this medium taupe is one of the most natural ways to achieve that," she adds.
mushroom brown
@hairbyhannahwatson
This chic mushroom brown is not your typical dark ash brown hair shade. Hair color trends like this one have an ashy undertone that gives your mane a shiny, cooler hue. Pair your mid-length haircut with beachy waves for added texture and movement.