Pastel lavender castles

@hairbylauraalina
Ash pastel hair is a trend of our time. These shades are great for women with pale and fair skin tones. Get on the pastel train and try out this ash lilac hair you won't regret!
Ombre pastel blue hair

@ha1r.by.tay
Pastel blue ombre hair is perfect for women who love blonde mixed with blue. To get this look, ask your colorist for a bright highlight. Tone with silver roots in pastel blue at the ends.
pastel coral

@megmdoeshairs
Pastel coral is the perfect peach gradient. To get this look, ask your colorist to fully lighten your hair with a pastel coral finish.
Hot pink pastel hair

@john.n1115
Hot pink pastel hair is perfect for women who want to change up their blonde look and add some color temporarily. This pastel tone quickly turns into a blonde. To get this look, ask your colorist for a solid blonde with a pastel pink undertone.
Rose gold pastel

@magandahairstudio
Rose gold pastel is a versatile hair shade that complements neutral and warmer skin tones. People with more intense shades of hair color should pre-lighten their hair to see their true shade. To keep this color going, look for a rose gold colored conditioner.
Pastel mermaid hair

@pinupjordan
Pastel indigo ombre recreates a very iridescent mermaid-inspired shade, albeit in a pastel color. Dreamy hashtag for a few days!
pastel pink

@hairbykysa
Cotton candy all day with this carnival pastel pink color. Add a hipster vibe to the wavy chop. These pastel colors are perfect for summer!
Mint pastel hair color

@courtgannhair
Indeed, pastel shades are vibrant and soothing! Live like a pixie in the woods while rocking soft mint green hair dye.
pastel lilac shade

@courtgannhair
Embrace pastel vanilla lavender hair lavishly adorned with purple roots. Just remember to use purple shampoo and visit the salon regularly for touch-ups. Pastel hair colors also require regular maintenance.
Waves of cotton candy on pastel rainbow hair

@peacock_hair_designs
Cotton candy shades of iridescent pastel tones are mixed in just right for that edgy, classy look that doesn't require much attention. Sometimes less is more!
If you don't like regular blonde hair anymore, try this option with a few pastel shades. This hair inspiration looks unique and very pretty!
pastel red hair

@kerhon_timo
The Red Queen has arrived! Waves and V-cut: only the best pastel red hair for Her Highness.
Pastel purple and burgundy mane

@bymaggiekime
Pastel purple really comes in all shades. The styled bob went well with this burgundy shade. Look fashionable and daring by updating your dark hair color and making it pastel.
pastel silver hair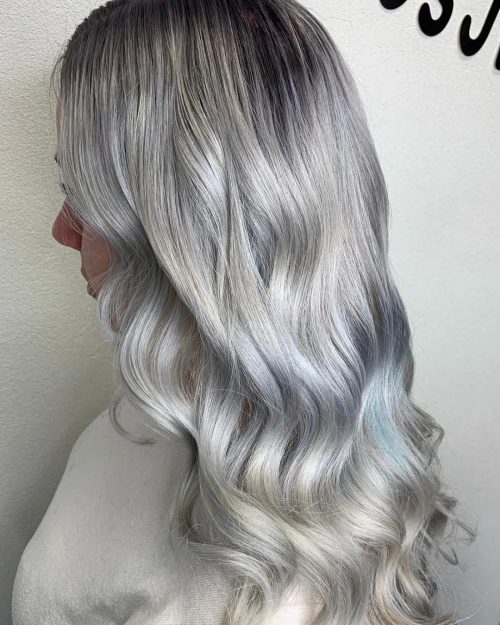 @zusjehaaridee
Pastel silver hair is delicate and an easy way to enhance your style. It is almost monochromatic with a hint of glitter.
pastel green hair

@elissawolfe
Until recently, pastel green hair dye was not a trendy color for your crown. To maintain that hazy lime color, use a hair protectant and wash your hair with cold water.
gray pastel hair color

@kovacidemir
Ash-vanilla pastel shade is what your hair needs! Try this color on your medium tresses for some sensational times.
pastel purple

@hairbychelseaamaarie_
Pastel-colored ube dreams come to you! A light and faded lilac shade in the color of Chelsea's colorist, undoubtedly, lay in the curly pastel-lilac curls of this sweet lady.
Plush light pink pastel hair

@bynatalieobrian
This greyish pastel pink color was a warning: you'll be spotted everywhere with plush light pink hair and pastel highlights. This trend is a great update for any natural hair color.
orange pastel

@sallitimlin
This pastel hair is a drop of peach, apricot and everything sweet you can think of! Muted reds are the next big thing in this industry.
Pastel pink ombre

@mariultbeautyhair
This pastel pink ombre color was created by hairstylist Marisabel Romo from Chandler, Arizona.
"The best thing about this hair color is the sheen and the contrast between the beautiful natural color and the way it fades into a pastel pink," says Romo.
Romo says that in order to get that gorgeous pastel hair, you have to be a level 10 blonde (within a banana peel). "Achieving this on the model in the photo was easy because her natural level is dark blond 7. It's a long process when level 3 hair is dark brown," she explains.
Pro Tip: Keep in mind that you may need to come back in about 2 weeks to re-color.
Short pastel hair

@kamhairandbody
This is an uplifting, fun and playful pastel rainbow hair color created by stylist Shannon Diamond from Scotland.
If you're looking at trendy colors like these, Diamond advises thinking about their maintenance and durability. She explains, "This image was taken four weeks after application, and all of the tones used have beautifully morphed into lighter versions of what they were originally."
Products such as Matrix Biolage RAW Color Care Shampoo and Conditioner or Matrix Total Results Keep Me Vivid Shampoo and Conditioner are the key to keeping this pastel color lasting.
blue pastel colors

@carry__
These light blue pastel shades look very modern and were created by hairdresser Carol Geiger from Switzerland.
She explains: "These hair dyes wash off really well. After 2 weeks, it will become more green, and after 1 month it will become a light pastel mint color.
Geiger advises that these types of hair colors do not last very long. "They wash out faster than natural colors like blondes or browns, so you'll probably need to go to the hairdresser more often. You also have to bleach your hair until it's blonde before you can do it, so your hair needs to be as healthy as possible," she adds.
You must be a woman who takes the time to take care of your hair because after bleaching and adding the best pastel hair dye, your hair needs frequent treatments such as masks, a good conditioner to keep the color, and moisturizing leave-in care and styling. products.
pastel turquoise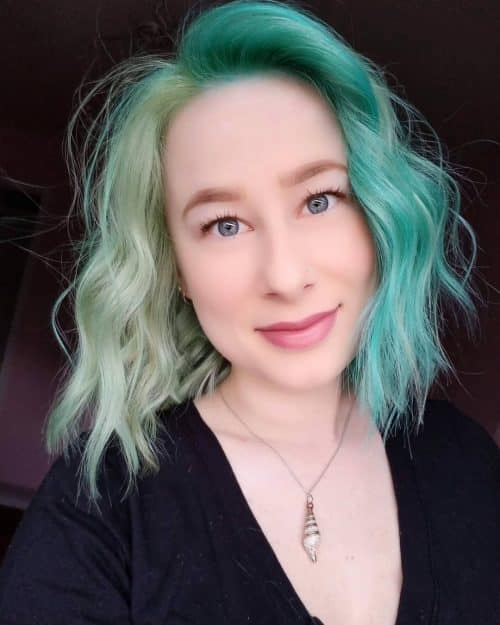 @electric.hair.lounge
This pastel turquoise color has tons of variations and was created by hairdresser Jessica Jones from Brantford, Ontario.
"Ask your colorist to separate the two halves in a zigzag pattern so that depending on how you feel about parting your hair, they can look completely different," Jones says.
She adds: "You have to lighten your hair to a very pale blonde shade to show your true tone. This takes patience and can be costly. Second, pastels tend to fade faster than richer colors."
pastel peach hair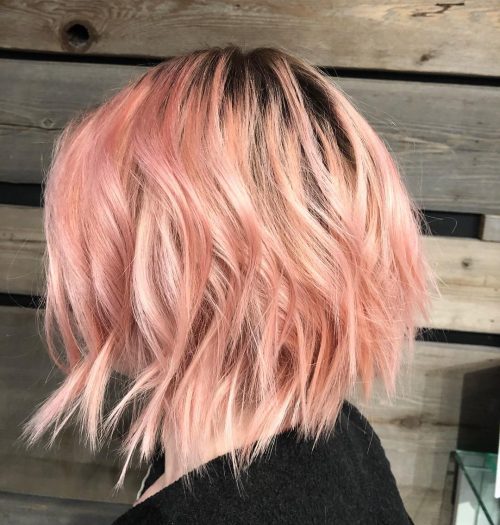 @brushedtorumble
Pastel peach-colored hair looks slightly regrown. It was created by hairdresser Britney Powell from Vernon, British Columbia.
"These pastel hair shades are for women who are always up for trying new things and don't mind pastel hair care," says Powell. "It also complements light or pale skin tones."
pastel unicorn hair

@shertail
This pastel unicorn hair was created with Mydentity hair dye and her helper Olaplex! The colorist for this look is Megan Campbell from Las Vegas, Nevada.
"While this pastel hairstyle can be done with other brands, they became the basis of this look," says Campbell. "Ask your colorist to use the diagonal parting technique because it makes the color look different no matter where you split it. Similarly, if split in the center, you get a ribbon effect. If you choose to part your hair on the side, it actually takes on a more dramatic hide-and-seek effect."
Pastel balayage will require tonics, treatments and glazes or full colors, all before the fun hues are applied. Beginning levels of dark hair will take longer and require more steps to achieve pastel tones than naturally blonde hair. In addition, each visit will take 5 to 7 hours to create the magic of unicorn tears.
Also, pastels are a fragile color in any color scheme. All of them tend to disappear quickly. So, if this is the pastel unicorn hair of your dreams, Campbell wants you to know that it is considered a high maintenance color and will require regular grooming to maintain the pastel shades.
Platinum white pastel hair color

@hairbyjaimie77
This is a platinum white pastel hair color with a hint of a pastel lilac root. It flatters women with warm skin tones and was created by hairdresser Jamie Brown of Marietta, Ohio.
If you have pastel hair color ideas, Brown says you really should have level 7 or higher natural hair. In addition, maintenance must be taken into account. Correction is necessary every 5 weeks.
"Ask your colorist to send you a purple shampoo (Pulp Riot Barcelona) for home care," she notes. "Also, once a week, use a home conditioning treatment and a heat protectant oil."