Cute Halo braid with bangs
@babehairbyb
This hairstyle looks grand, so doing it is intimidating, but it's easy. French braid on both sides for cute double halo braids, leaving plenty of hair for a tousled low bun. Take some loose hair and curls for a wavy effect.
Lightweight Halo style
@violetta_cosmos
The easiest way to braid a halo ray braid is to start on one side and then braid the braid on the other side. Tear off some loose hair for bangs.
Halo style for short hair
@hairgoalsby.taru
Yes, you can create an ethereal braid around your incredibly beautiful short hair! The point is to continuously grab the hair as you go around your head, using your light hands to create those loose, thick braids.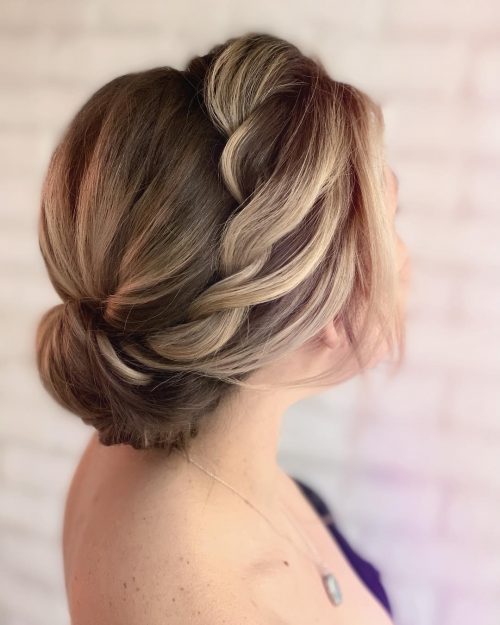 @kasia_fortuna
A versatile style for any formal occasion, this faux halo braid is a relaxed take on your regular halo braid. Braiding strands are collected as you weave, making braids that blend into the hair and have a look.
Halo Styling with Weave
@beautifully definedhair
If you can braid, then you can create a halo braid with braiding! Take your favorite braid and tie it to the starting point of the braid where you can use it when braiding your natural hair. You will have the radiance of a goddess in no time!
butterfly braids
@royal_ebony_hair
This level of weaving technique must be art! The butterfly halo braid boasts short braids that wrap around your head, a bit of a halo for an angel like you!
Halo braid with a bun
@hairstyledbybeth
Loose braids bring out the textured elegance of your strands. In this style, the crown pattern stands out and the low bun adds a nice finished look to the whole princess look.
Braid with floral design
@liisignature
Q&A with style creator Louis Ihuefo
Hairstylist at Liisignature Beauty Salon in Enugu, NG
How would you describe this look?
This is a halo braid, intertwined in a braided or floral pattern in the center. What I love most about this look is the voluminous design that gives it a stunning finished look.
Any advice for those considering this?
All individuals can wear their hair as they wish. I would recommend this hairstyle to those who are brave and love to keep it simple but stylish.
This is suitable for all hair textures, but the type of extension should be considered if necessary. Products are the most interesting part of hairdressing. I love how they do the job so flawlessly. For this style, I used Got2b spray and gel for extra hold and some argan oil for shine.
Loose french braids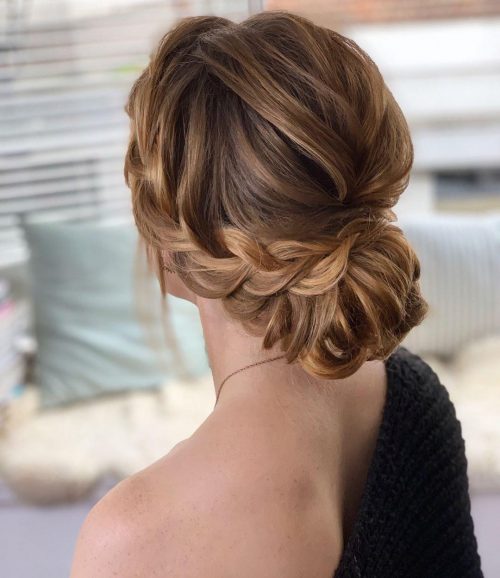 @kasia_fortuna
Q&A with Style Creator Christina Gasperasmois
Hairdresser @ Kasia Fortuna in London, UK
---
How would you describe this look?
This low French braid hairstyle is just perfect if you want an understated yet playful style. It pairs best with floral light dresses and off-the-shoulder tops and is perfect for festivals, weddings or dates.
Simply blow dry your hair using a volumizing mousse such as Moroccan Oil volumizing mousse, curl your hair with a 24mm Babyliss pro curling iron (for extra volume, you can fix the top of your head with Velcro curlers), part your hair, French braid on the side, then finally make a low ponytail at the back of the head.
Place the stuffing underneath and wrap your hair, making sure all the stuffings are well tucked away. Place the French braid over the top of the bun and loosen each strand to create the illusion of a fuller, larger braid. This is a very quick and effective style that you can try yourself at home.
Any advice for those considering this?
This is best achieved on medium to thick hair, but there are a few more options to explore. Even if you have thin hair, you can use clip-in hair extensions to add volume to your hair, such as the 16″ Milk and Blush Deluxe set.
Add depth and texture to your hair with highlights. Most barbers nowadays use mini tongs to add extra volume and texture to their hair. This look is especially effective on braided styles that add tons of volume.
A full preview from start to finish will take you about 45 minutes. Just remember that if the preparation is done well, the actual laying process will be much faster.
Braid with curls
@miacourtneyhair
Q&A with style creator Mia Livesey
Hairdresser at The Hair Shack in Prescott, UK
---
How would you describe this look?
My way of describing this image is simple but effective and very versatile. My favorite thing is the thick braid as it is trendy and adds volume to the style as opposed to a regular hairstyle.
Any advice for those considering this?
Consider where you will go first, as for me it is the bridesmaid/formal style! Other than that, I would 100% recommend it as it suits all hairstyles. My client's hair was very fine (can you guess?)
It took about 30 minutes to create which is very fast because there is no downtime as I didn't use a lot of products other than hairspray and barrettes!
crown braid
@sabrinadijkman
Q&A with style creator Sabrina Deikman
Hair & Makeup Artist @ Sabrina Dijkman Hair & Makeup in Zwaag, The Netherlands
---
How would you describe this look?
This is a romantic holiday look. I also love to wear this when I have a party or wedding. It is suitable for any occasion! There are so many ways to make a crown braid. The easiest way is to make two ponytails low on the neck and braid them into two braids. Then fold/wrap them around your head. This view takes a maximum of 10 minutes! It's very quick and easy, and it looks very cute!
Any advice for those considering this?
In terms of styling, you need a good extension to keep the braids textured and rich enough. My products for this are Alterna Haircare Multiplying Volume Mist, which helps restore natural fullness to hair, and Marine Plumping Complex for instant volume. It also works well on fine hair as it is lightweight.
I also recommend Alterna Haircare Perfect Texture Spray, my go-to product for everything! It is a mixture of dry shampoo and hairspray. It gives the hair a nice dry texture and that's important to me to get a relaxed result.
If you have finer hair, just add maybe two rows of clips to make the braids a little thicker and you're done!
This braid will suit the bohemian bride or bridesmaid who loves something fancy and cute with her hair. For me, this is a classic and one of my favorite braids.
Halo Braid for black hair
@moni_blessit1
Q&A with style creator La Trece Ward
Beautician @ J'adore Hair and Nails Studio in Las Vegas, NV
---
How would you describe this look?
The hairstyle is known as the engineered halo. I named it "Crown". It can be decorated with hair ornaments (accessories) to decorate it like a crown. It's just right for any woman or little girl.
Any advice for those considering this?
It is a simple style with an elegant look. Products of your choice, but you don't need them. For me, if you're wearing braids, I feel like your hair needs to balance moisture with some essential oils.
This hairstyle is suitable for any type of hair. You can wear this halo/crown to work, to work, to a club and, don't forget, to a romantic event. I love this style mostly on my little girls with designer braids down the middle to give the feel of a little princess.
Double braided halo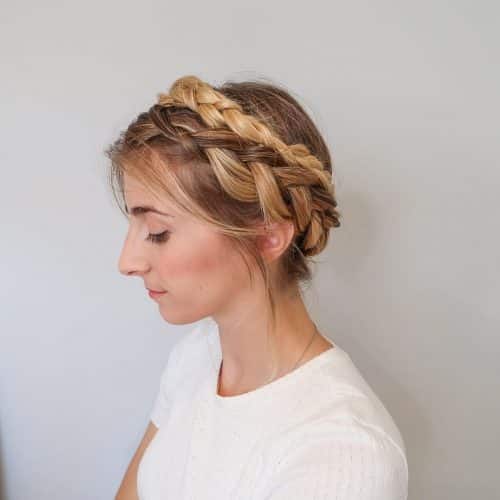 @byana_yt
Q&A with style creator Biana Peynados
Youtuber/stylist @LEO Peluqeuria in Illes Balears, ES
---
How would you describe this look?
This look is elegant and charming. What I love most about this hairstyle is how comfortable it is and how it surprises everyone who looks at it. It seems a bit tricky at first, but once you get your hands trained, you can make the perfect halo braid.
Any advice for those considering this?
I recommend this hairstyle for different hair types, but layered haircuts can make it a little tricky (use bobby pins to keep it in place). Always use quality products: shampoo, conditioner and hair care products. They will help you make your hair more beautiful.
This look is perfect for events like weddings, proms and 15 year old birthdays. It will make you feel special and will suit you best on your big day.
Dutch braid hairstyle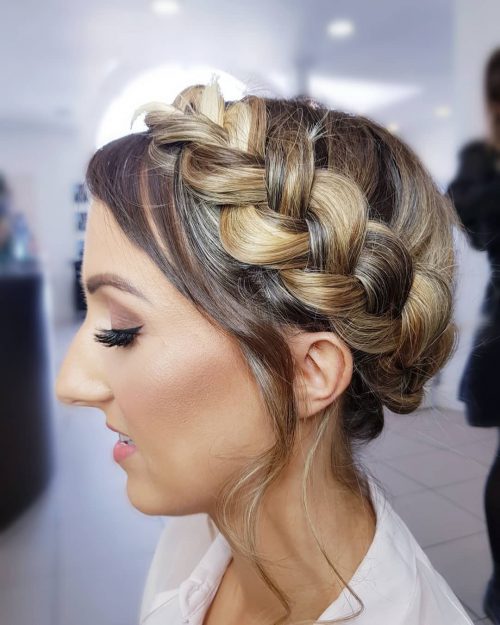 @junebughair
Q&A with style creator June Murtagh
Hairdresser @ Profile Hair Design Mullingar in Westmeath, IRL
---
How would you describe this look?
Modern Romantic was my inspiration for this look. I wanted to create something soft and fun, but with a touch of elegance. What I love the most about this style is that it's so versatile that you can wear one of these braids for a party or spruce it up for special occasions like weddings!
Any advice for those considering this?
For clients wanting to try this look, shoulder length or longer hair without layers or with long layers is ideal, but for my clients with shorter hair it is also achievable but with a different braid approach. The hair should be prepped with a texturizing spray and loosely curled to give the hair texture.
When planning where you want the braid to sit on your head, consider whether your bangs or any hair you want to leave around your face will be there. This braid adds softness to your style. Plucking the braid while it is pinned also adds volume to the braid.
simple hairstyle with halo
@briperry_
Q&A with Bree style creator Anna Perry
Hair Stylist @ 501 Salon & Spa in Bellevue, KY
---
How would you describe this look?
This braid is a beautiful hairstyle for those who want something unique and reliable. A through braid with a halo is a fantastic option because since the braid is made up of quite a lot of elastic bands, it will last all day and possibly into the next. If you leave a few details framing the face, the hairstyle will become softer, which I also prefer.
Any advice for those considering this?
I would say this style is perfect for people with shoulder length hair that doesn't have many layers. Although the elastic bands make it easier to control the shorter pieces sticking out of the layers, it can still be difficult to fully control them.
I think that this hairstyle can suit absolutely everyone! I think it comes with a carefree and fun personality! For styling, I used Aveda products. I used Pure Abundance Style Potion on the braid to tighten it up and give it some stiffness. Then I ended up with Control Force to block everything. This style is very versatile as I believe it can be suitable for a wedding or an active day when you run errands and work out as it is so safe!