Light golden chestnut on natural hair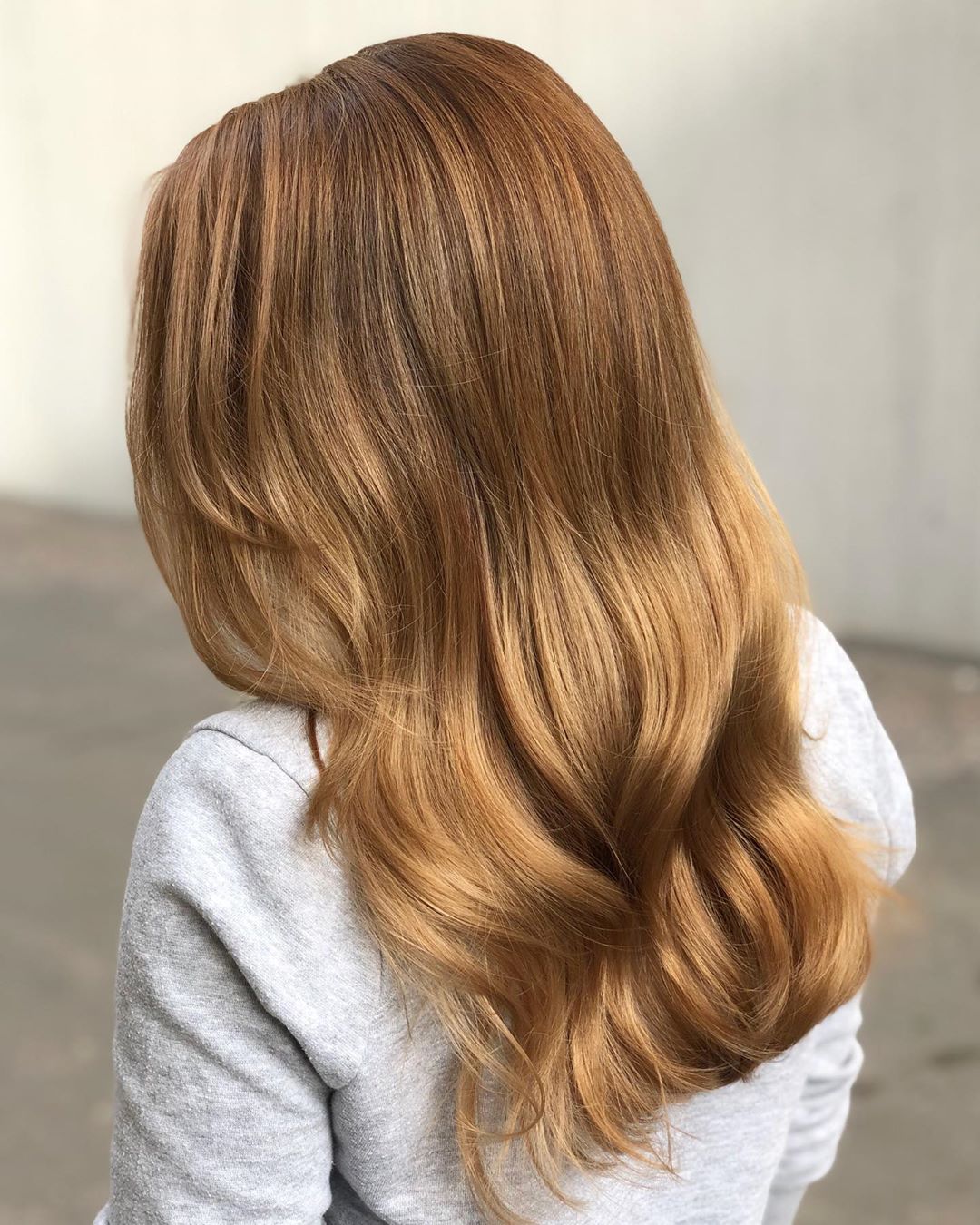 @hairbyminnatervo
The payoff is unbeatable when a rich warm tone is paired with a fuller and longer mane. Not believing? This shade of light golden brown on natural hair is proof of that. With soft waves for flawless movement, this look is an absolute trendsetter.
Light golden brown mahogany hair
@corina_wellaproanz
Light golden mahogany brown hair is a luscious color that pairs surprisingly well with waves and long cuts.
Light golden chestnut on bleached hair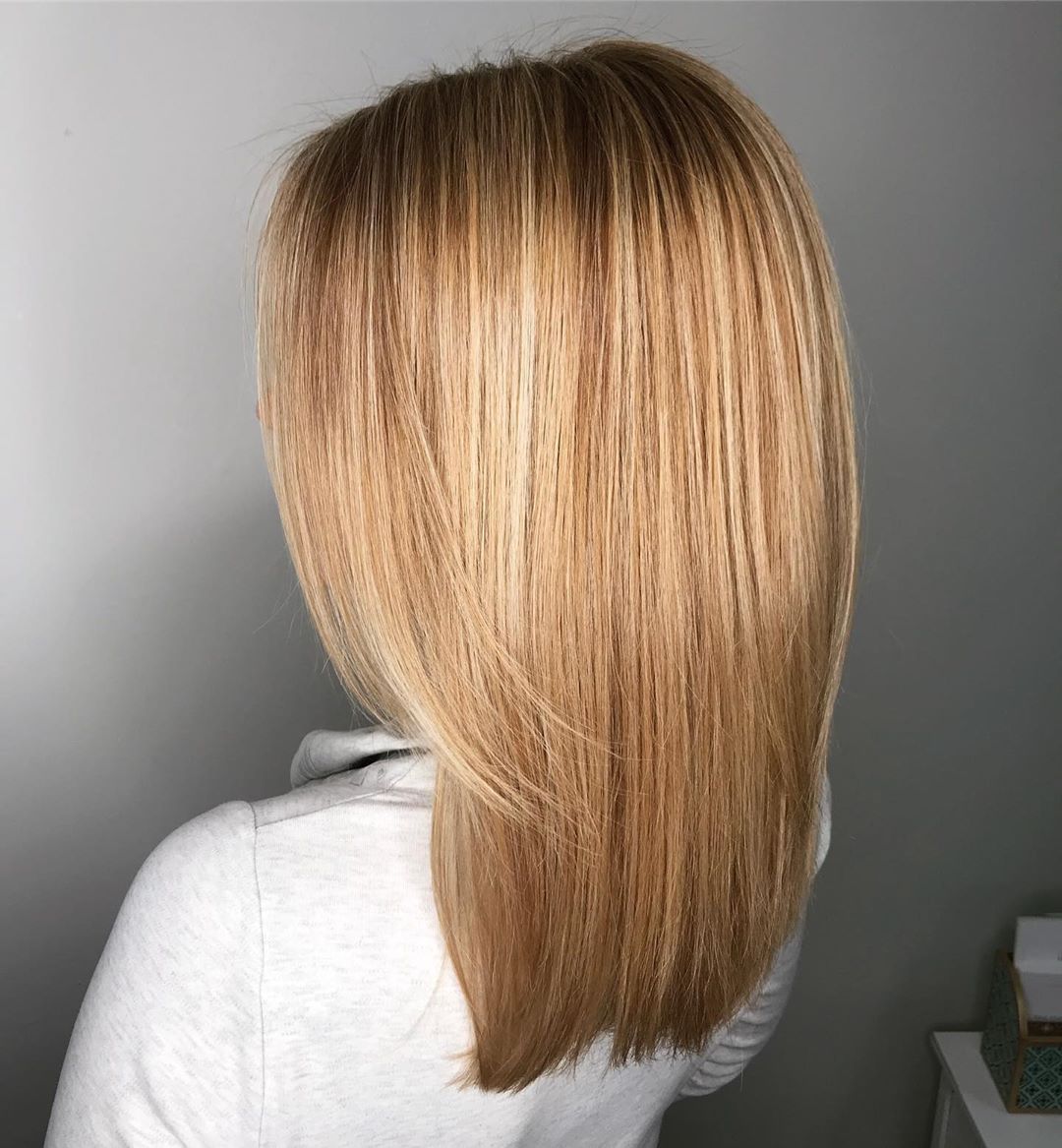 @hairby.kathryn
This shade of light golden brown looks classy on bleached hair. Its warmth forms a dimension perfect for your smooth and straight strands. Meanwhile, the dark root allows you to grow out your natural hair color to transform a medium-length mane into a long mane.
caramel highlights
@studionova_etrithair
Caramel highlights add a sunny touch to neutral brown hair. Big, voluminous waves on long hair create a smooth flow that looks so soft with this hair color.
Curly light golden brown hair
@gab_barroso
Is this gold! Trim your strands and go for a mid-length haircut to show off your texture. With its bright and warm hue, this curly light golden brown hair will give you an invaluable and lively style.
Ombre black to light golden brown
@eccentric_beautysalon
Here is a cute and subtle change that will enhance your thick and long hair! This ombre is black to light gold in color and will complement your casual style. Whether it's school, work, or special events, the waves of this hair color will do something sublime.
Light ash golden brown hair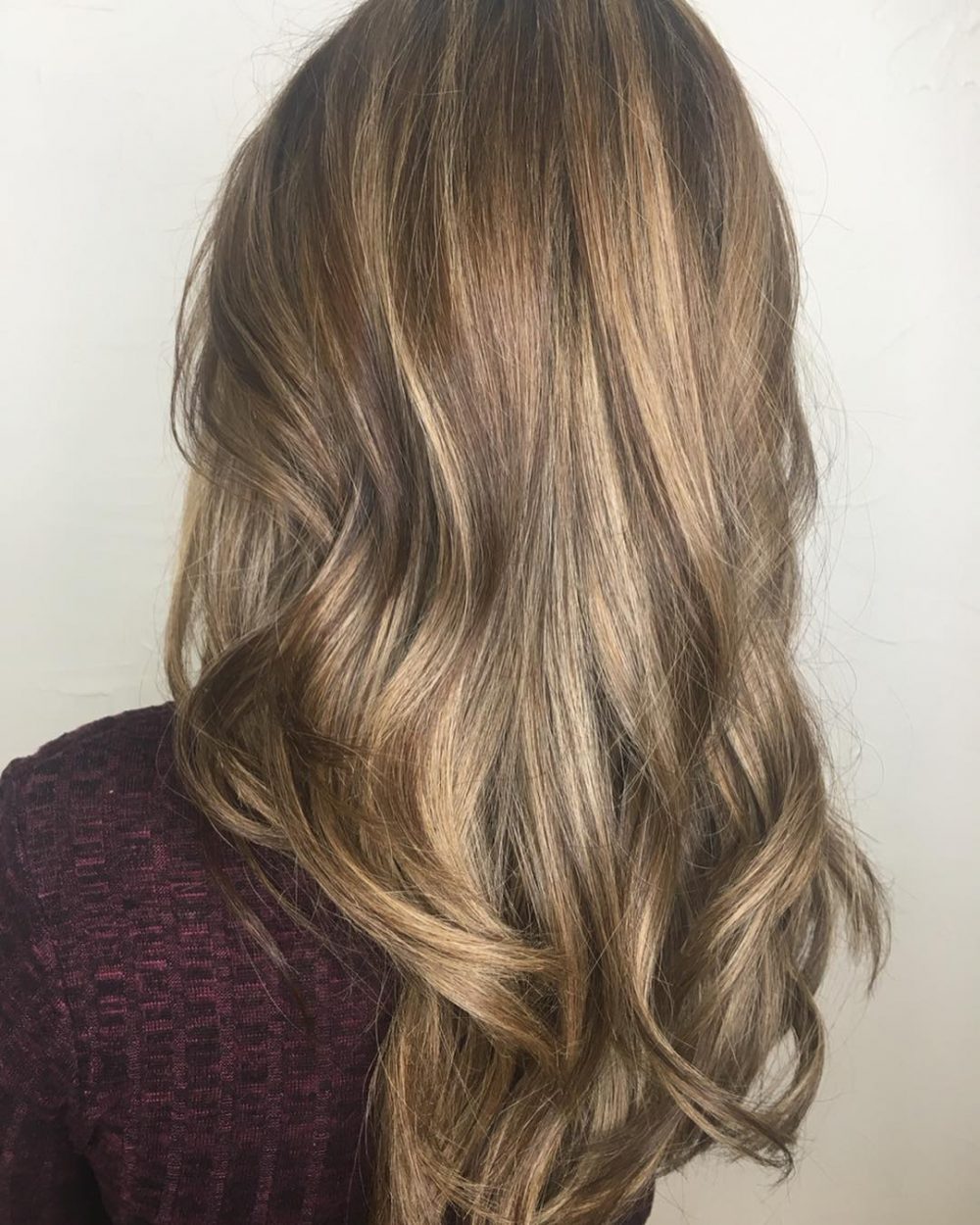 @_unicornhair_
Who wants a shiny and soft look? Teasylights and Babylights add a radiant touch to this light ash golden brown hair. Style it with soft waves as they add movement while highlighting the layers of your long haircut.
Light golden chestnut brown hair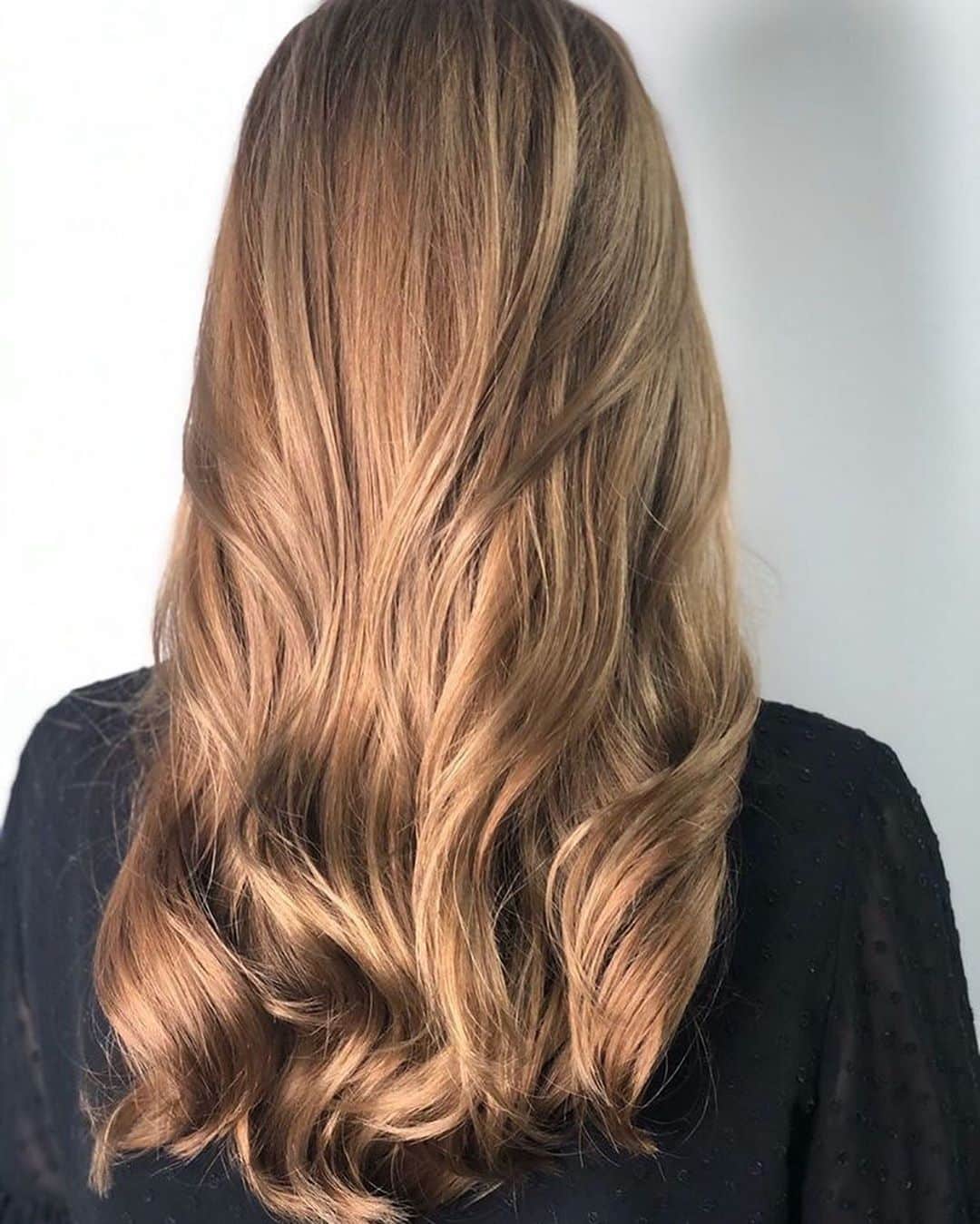 @headspotfalt
Light golden brown hair has a deeper shade and is full of elegance. The volume of a long mane plus soft waves at the ends of the hair will work like a dream with this shade.
Very light golden brown hair
@hairartbyyvonne
Do you like your long curls? You'd better upgrade them so they can shine brighter. Take off the very light golden brown hair as it matches your stylish vibe. Body waves and texture make things better, so use them.
Light golden brown hair
@brittneywinklerhair
If you want an easy change, try light golden copper brown hair. The lighter strands add a natural glow to your long wavy locks that you will love.
Light golden brown balayage
@sarahnicholehair
Light golden brown balayazh gives a great result, adding volume to your hair. Pair it with medium length and waves for the ultimate hair transformation.
Light golden brown with light highlights
@katemontani.hair
Light golden brown with light highlights complements fair skin tones. It brightens facial features, and also gives character to wavy long curls.
Light golden brown highlights on black hair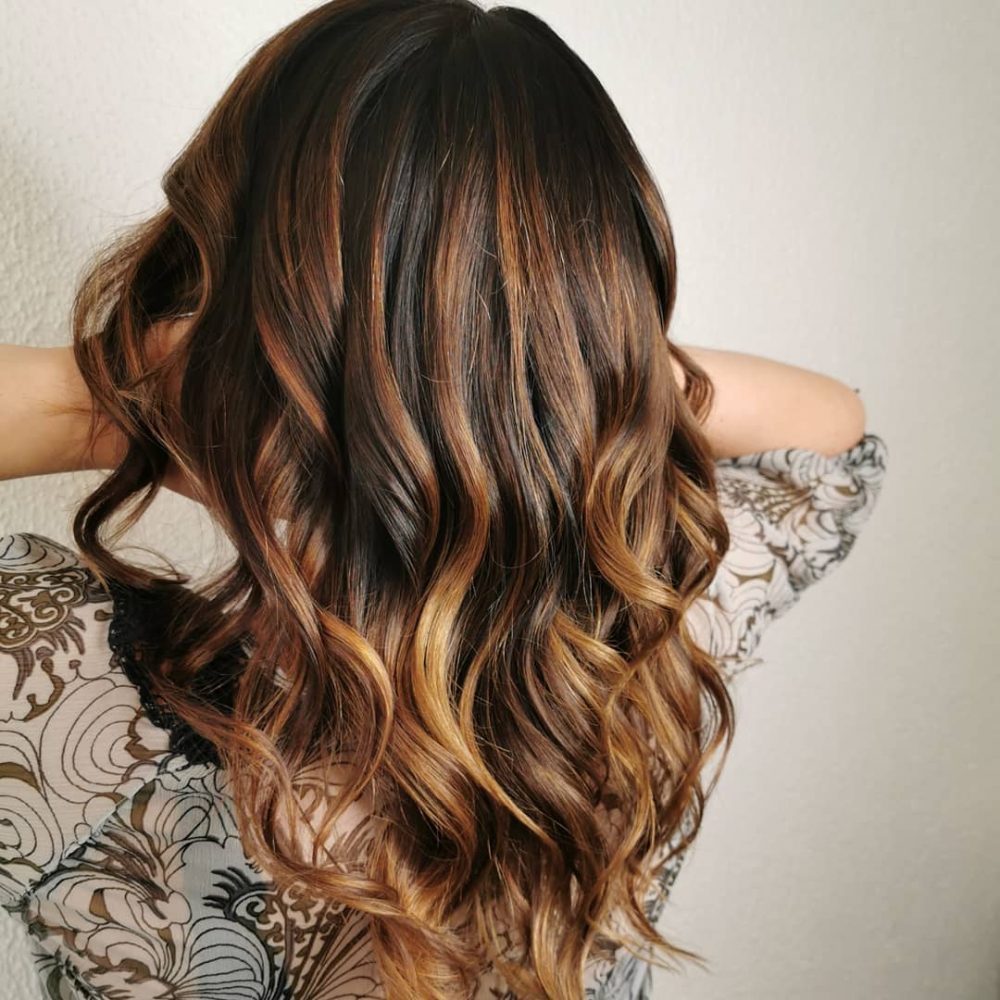 @beautydufva
If you want your dark hair to have more volume, consider adding light golden brown highlights. This is what Tanya Dufva from Helsinki, FI did for her client. "We wanted to get closer to the colors of the earth. The balayage technique was chosen because we wanted to keep the dark color around her face to frame her beautiful features. The warm color of the balayage parts gives warmth, so the skin does not look as pale, "says Dufva.
Another benefit of this amazing color creation? More volume. Dufwa says, "If you want your hair to have more volume, the balayage technique can give you another dimension to make your hair look more voluminous."
Light golden chestnut on dark hair
@alissathesauce
Forget about your lackluster locks, because the sun kissing trend is here! With soft waves, strands of light golden color on dark hair will be more intense. Keep your hair just above your chest to explore different styles.
Hairstylist Alyssa Grossi of Newport Beach, California created this stunning color. "My favorite thing about this look is definitely the size. I like to create depth in my work so that the light reflects in the hair in different ways," says Grossi.
Consider keeping some of your roots to create a shadow root effect. According to Grossi, "Depth at the root allows natural hair to grow gently, making this cut and color minimal to maintain."
Light golden chestnut on dark brown hair
@hair_by_ada_
A medium chocolate brown base combined with a honey blonde creates a stunning light golden brown. Its creator, Ridgewood, New York-based master colorist Mirsada Kuchi, says the color looks great on just about any base hair color. However, check with your colorist first. According to Kuchi, "One thing remains tricky – honey is warm, so you need to check if it suits your skin tone."