midnight blue hair
@hairbybridget_m
This dark navy blue hair on a sleek bob, rounded back and blunt forward, gives you a mysterious and sophisticated vibe.
The darkest color of blue is best for women with very dark hair.
Medium length dark blueberry
@jomarie.artistry
The mid-length navy trend looks incredible if you keep the dark roots. It's almost a deep shade of deep blue darkness.
Curly dark blue hair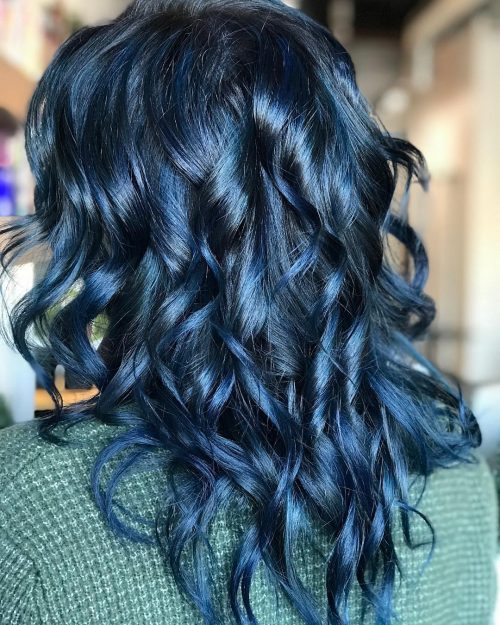 @hairby_zoraima
Ocean-inspired navy hair is a cute way to flaunt amazing hair texture and style. In this way, you will catch the light and showcase the incredible brilliance that reflects the sea.
Dark blue on long hair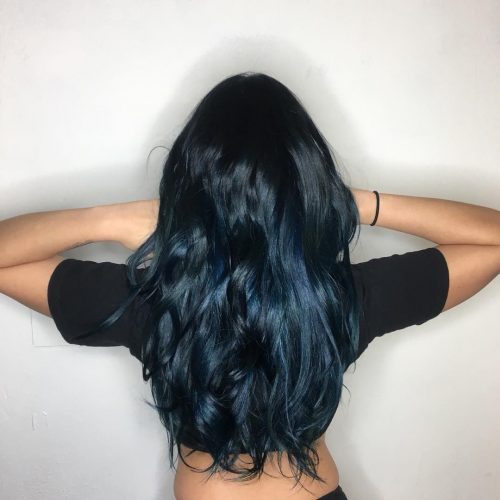 @dream_hair_0913
This shade of navy blue hair looks amazing when mixed with teal! The result is really shiny and defined on long wavy hair.
Ombre brown to dark blue
@vibehairandskin
If you have naturally dark hair, then this brown to navy blue ombre is just for you! This whole look is amazing on her hair.
Dark blue on short hair
@that_hairstylist_melissa
Is this blue color dark or black? It's a combination of both! Dark blue shade on short hair turns into a gorgeous bob! This sleek and fashionable blue-black hair is perfect for women who have the confidence and elegance to wear it.
Dark blue metallic
@hairbytessarah
Deep navy blue metallic is a combination of midnight and navy blue. I am obsessed with these wonderful thick waves. Stylist Tessara advises that patience is the ingredient needed to own this piece of art, as all good things take time!
Dark blue neon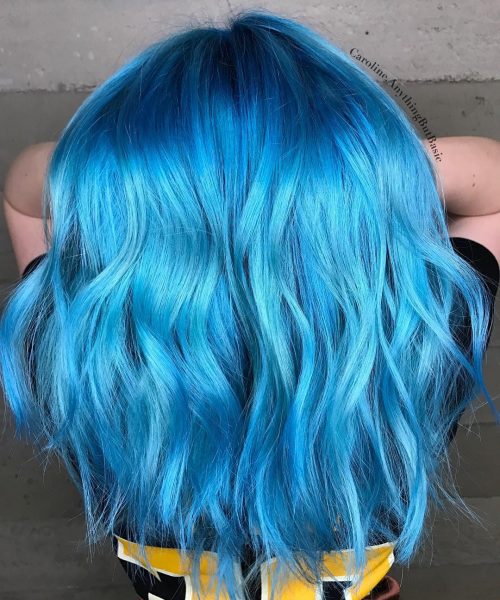 @caroline.anythingbutbasic
This dark blue neon color is a vibrant color that you will love. Get electrified with this cool sea mermaid hair!
Black and dark blue highlights
@lioness3614
Dark blue highlights on black hair give an amazing look.
This shade is cobalt blue and was made using Joico blue sapphire colors.
The beautiful navy blue color really brings out the natural black hair when cut in one length to frame the face.
Wash your hair with a color-safe shampoo with cool water. This will help keep the dark blue hair dye from fading.
Dark blue sapphire
@austin_from_houston
This dark blue shade is perfect for those with very dark hair.
If you want to dye your hair dark blue, then wash your hair as little as possible.
Dark blue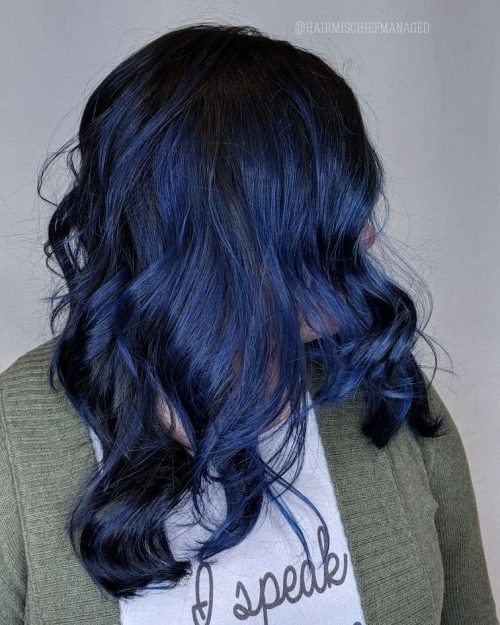 @hairmischiefmanaged
These dark blue strands move so much with the layered haircut.
If you want to do this navy blue hairstyle, use a curling iron to create those beachy waves.
When choosing black dye for this blue-black hair color, choose a high quality dye product such as Joico.
Ombre from black to blue
@hairbykassieee
This stunning blue is an ombre from deep black to deep blue.
The black hair color was applied first, then the blue color was added using the balayage technique to give the dark blue tips.
Dark gray and blue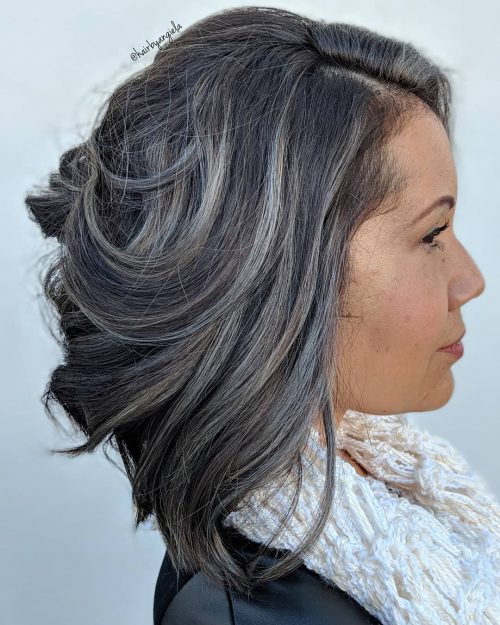 @hairbyangiela
Smoky navy blue balayage can be gorgeous when paired with gray tones.
The coolest thing about this is the size of the natural dark strands that contrast with the navy blue hair.
Dark Royal Blue
@meowspurrfecthair
Dark blue color throughout the hair is a fresh hair dye that not every hairdresser can master.
So choose your colorist wisely by checking their Instagram to see their previous work with bold hair colors like navy blues.