Golden caramel color with long flowing curls

@suzycolorist
These long, flowing curls are made even more juicy with thick caramel blondes with bleached strands. This lighter caramel colored hair is also great for most skin types.
Light mocha caramel shade

@nahee_stylist
Light caramel mocha is a cool brunette shade that is very trendy. Light matte browns are very unique and allow brunettes to play with different shades of mocha and caramel. For hair that looks soft and bouncy, and to flaunt the cool mocha color, use a curling iron to style, then use a wide-toothed comb or flat brush to loosen the waves for an effortlessly luxurious look.
Caramel brown and auburn mix

@hairbyelijahs
A mixture of caramel brown and chestnut is a stunning hair color that reflects warmth and beauty. Dark brown highlights and warm chestnut highlights blend seamlessly together to create this radiant, lustrous, multi-dimensional hair color. Try a warm copper caramel toner on dull, lifeless blonde hair to refresh and bring life and longevity to your hair color.
Deep caramel coffee balayage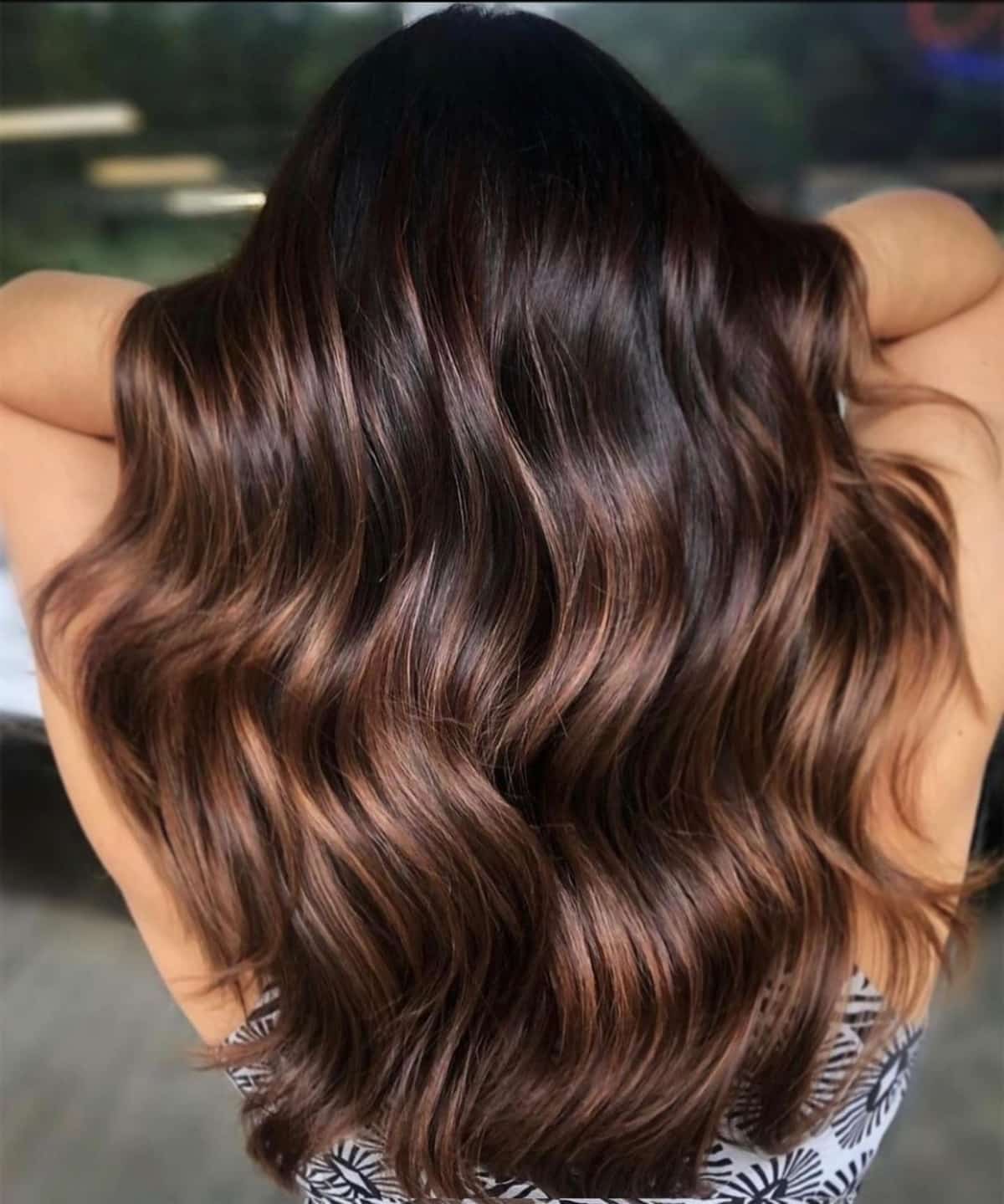 @jessicascotthair
Deep caramel-coffee balayazh shines with warmth and brightness. Copper and deep brown tones add shimmer and brightness, making your hair look soft and shiny. These chocolate and caramel shades look great on women with deep skin tones and brighten up dark locks.
Caramel Beige Blonde

@hairbyamybee
Caramel beige blonde hair is the perfect shade for women with darker hair and tanned skin. The caramel tones are rich and give just the right amount of warmth without looking coppery. Melting into it will help balance both tones as it has just the right mix of coolness and warmth for a natural finish.
pieces of caramel

@hairmeroar
Short caramel highlights add deep pockets of depth, helping to create beautiful dimension on dark hair. Caramel highlights are suitable for any skin tone as they can be easily changed.
Honey caramel color

@samantha_hairdesign
Impress everyone with volume and body with these honey caramel highlights on medium brown hair. Huge, light waves on a medium length haircut give an amazing result when lightened with honey caramel hair dye.
Creamy caramel hair

@hairbyabbyhelms
Spice up your shoulder length hair with a creamy caramel shade and beach waves for a deep and voluminous look! Cool caramel shade is perfect for any skin type at any time of the year.
Caramel + chocolate color

@weird style
Mesmerizing smooth curls with caramel and chocolate shades are suitable for any event, whether it's a local coffee shop or a casual date. Just like candy, the color combination here is great!
Ash caramel balayage

@chiyukihair
A cozy contrast between dark ash and light caramel! This faded version of butterscotch on beach waves has softness and impressive charm!
Caramel hair with blonde highlights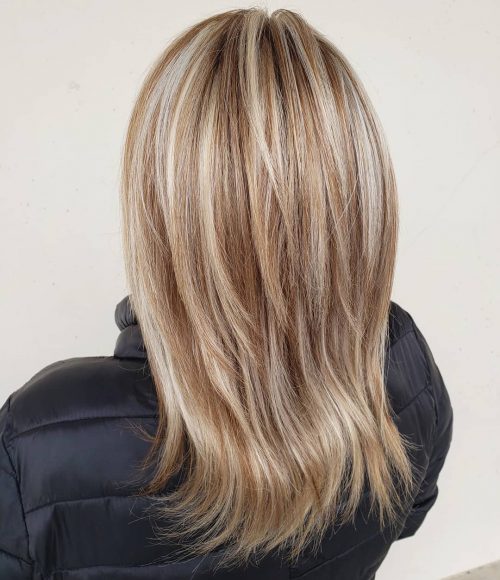 @hairartistrybyjordinh_
At this mid-level, layered hair is a contrast of weaves of platinum blonde and caramel hazel. The combination of tones creates a messy blonde hair color effect that is sure to suit women with fair skin tones.
Warm caramel blonde hair

@hair.by_laurenn
A vibrant soft shade to brighten up your waves, these caramel blonde highlights are a real eye-catcher! Own tanned curls that look charming all year round!
Black hair with light caramel highlights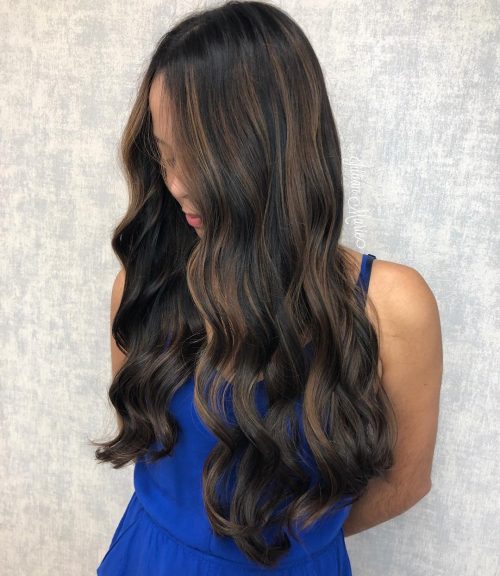 @jillianmariebeauty
Become a voluminous brunette with sweet honey curls and hints of caramel in your curls! This is a completely discreet shade that does not require special care or styling. Adding caramel color to a darker base color creates a new color spectrum. It certainly works on a short bob or long wavy haircut.
Dark brown hair with caramel highlights

@_locksbylexa_
If you want to lighten up your dark chocolate curls and add volume, try these caramel highlights. The combination of base color and highlights creates captivating caramel streaks.
Light golden brown shade of caramel hair

@hairby_prattana
Soft golden brown on caramel hair is the way to unmatched definition and shine. This is a natural warm caramel shade that will make you obsessed with your new you!
Caramel shades of toffee

@n.m_hair
The magic that caramel butterscotch balayage and babylights can do! This multi-colored hair is perfect for the ladies who need versatility when it comes to styling.
Caramel balayazh on a dark brown base

@glenhue
This caramel ombre over natural dark brown hair color was created by hair artist Glen Hugh from Malaysia. This creates a multi-dimensional caramel highlighter effect. The best part about this is that you can keep your natural color while looking trendy and fresh.
Hugh notes: "The caramel color on dark hair is different from others where it lasts longer. And with the balayage ombre technique, you will still look good even after new caramel roots grow in."
This hair color is suitable for natural or colored hair – from black, medium brown to light brown. You can adjust the shade according to your face shape and skin tone. Just use the balayage face framing technique.
It is also suitable for women who want something that lasts longer. "Keep up your warm tones and style with a beach wave spray. Try leave-in conditioner and natural hair oils," Hugh suggests.
Caramel balayazh with color correction

@theladymist
This gorgeous caramel balayage was actually created through color grading. Style creator Teresa Hardy describes her process below.
"To get this look, remove five inches of hair and then do a color extractor to get rid of some of the red hair." The Florida stylist continues, "Ask for a subtle shadow at the root and keep the tone in a warmer, richer caramel family. This will reduce operating costs."
This caramel coloring process took a total of 4 1/2 hours. "Be sure to use Olaplex at every step to maintain the integrity of the hair. This color will last you 4 to 6 months with minimal trimming, gloss and finishing," explains Hardy.
Light brown hair with caramel highlights

@sophsoph_luxe
This light brown hair with caramel highlights adds a soft touch to the color. Look creator Sophie Henderson of Chatswood, New South Wales states: "Balayage is a low maintenance, effortless coloring technique. Once you've made your color, it can be maintained for several months with color toners. And you don't have to worry about going back to the salon every 5-8 weeks to replenish your regrown skin."
According to Henderson, "Caramel tones are popular because they have a wider range of primary or base colors, especially on women with darker hair. The caramel color allows for very nice subtle variations. Warmer tones reflect light more, so hair looks healthy and shiny."
Balayazh is great for women who want color with easy hair care. However, the first meeting is often a big one. Henderson recommends using brands such as Olaplex, Davines, Kerastase. She adds: "They are great for maintaining the condition of the hair and keeping the color for longer. The loss of color intensity can make a big difference in the hairstyle."
Dark to light caramel ombre on natural brunette hair

@hair__
This dark to light caramel ombre for brunettes was designed by Texas-based stylist Riana Cilonko. "This is a nice golden caramel hair color. It turned into a creamy blonde with a slight golden undertone," notes Chelonko.
"The best thing about this salted ombre caramel is how much heat can be present in the hair. Nowadays, colder tones are what many girls want," adds the stylist.
This color is for women who still want to be brunettes but add a bit of blonde to their lives. Melting the natural color of the roots into caramel requires minimal maintenance. While maintaining an overall lightweight look.
Rich Caramel Hair Color Latte

@bbridgetta
This caramel latte color is delicate. It grows beautifully and gives lightness to the boho style! It is also very easy to maintain! This hair gem was created by Bridget Holmgren from Los Angeles.
If you want to lighten your hair, you should always have products that make it healthy and shiny. "Brightener will damage the hair anyway. So a haircut or treatment is a must with this light caramel hair color service," explains Holmgren.
Dark caramel hair

@behindjessiechair
This is a low maintenance but high quality haircut and darker caramel color from hairstylist Jesse Malden of Huntersville, North Carolina.
"This dark caramel hair color is for laid-back girls who don't want to maintain their hair color every 4-6 weeks. This is more for women who don't mind walking every 8-12 weeks," notes Malden.
The most beautiful thing about it is the warmth of the color, as it belongs to the warmer spectrum of caramel.