Highlights messy blonde balayage curly hair

@hairandmakeup_by_jo
Embrace your curls and enhance them with the balayage technique to create that messy blonde hair! Gain volume and character with ease as you release your beautiful natural curls.
Partial balayage with highlights

@colorbymarina
Partial balayage with highlights is perfect for brunettes who want to look tanned. The balayazh is perfectly positioned around the face and parting line, while the highlights are perfect to give the illusion of natural lightening of the hair.
Dark and rich chocolate balayage for women over 50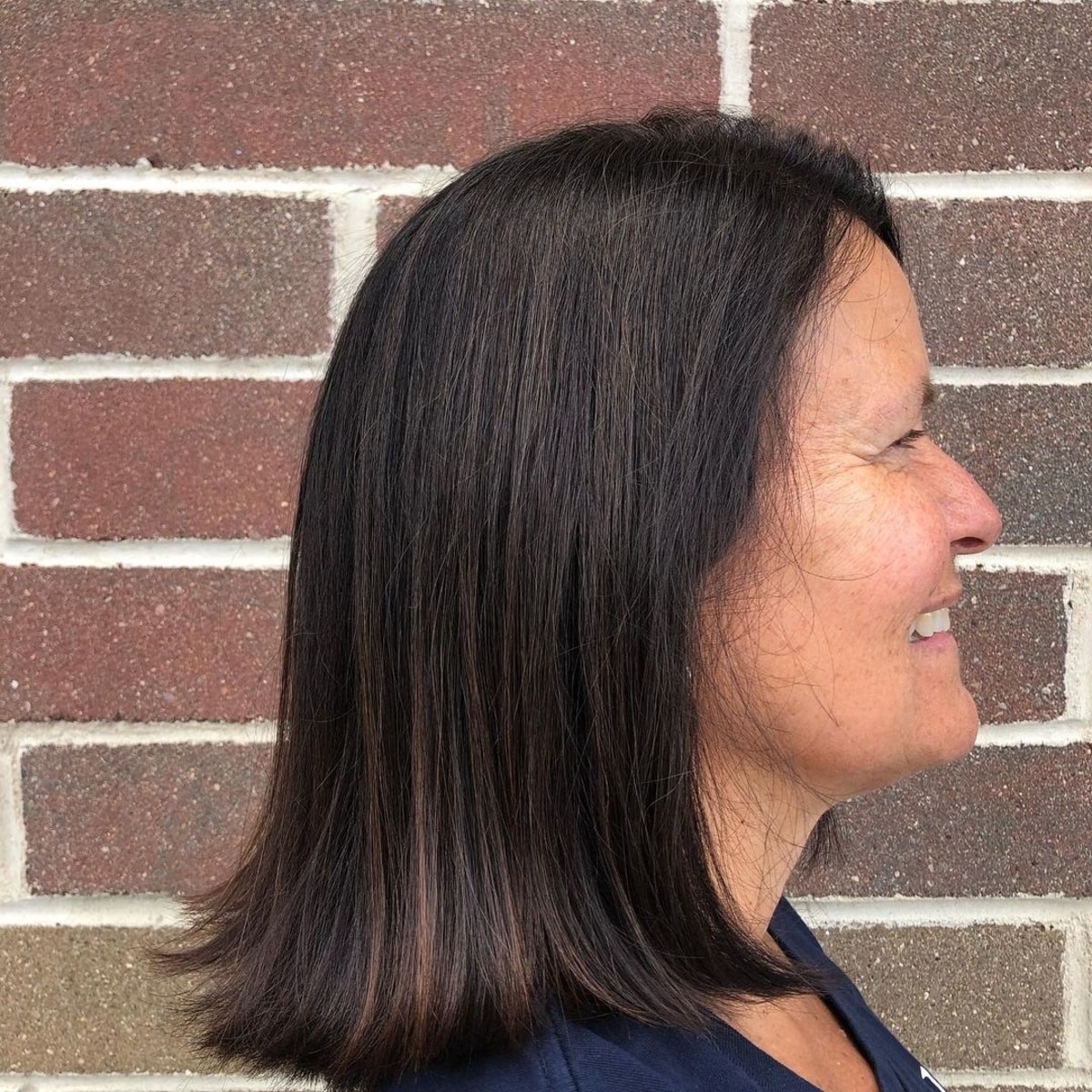 @bonvoybalayage
Dark and rich chocolate balayage for women over 50 is the smart choice when you want more volume. Adding subtle balayage will make the color pop! This is the perfect low maintenance color to try.
Auburn with Amber Highlights for older women

@savannahrbeauty
Auburn with amber highlights for older women brightens skin tone and adds radiance to paler skin tones. As we age, our skin tends to become more sallow, so by bringing back warmth, adding brightening tones like amber and chestnut, they work well with your complexion. The balance of the two dimensions of color also gives the hair more depth, giving it a more voluminous look.
Golden peach balayage for women over 60

@graceparente.hair
Golden peach balayage for women over 60 is a wise choice. It can be very youthful for women with a more golden complexion. Golden blondes can be changed to suit your skin tone. Balayage is a technique that is achieved by skillfully hand-applying color directly onto the hair. This creates a more natural, blended, sunny color.
Rainbow hair balayage

@mermeg.hair
Hair coloring in rainbow balayazh consists of several colors and can vary from pastel to bright. Multiple colors create beautiful dimensions and precise space, so find a balayage specialist.
Light brown balayage on red hair

@desiree_styles
Feel both edgy and dreamy at the same time with splashes of red balayage color on long, thin layers. The balayage is what gives red hair a soft melting effect. This hairstyle looks especially magical when paired with dainty braids!
Bronze balayage on long black hair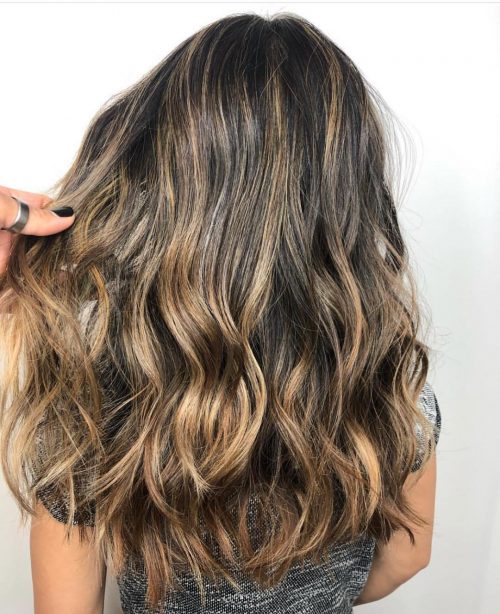 @mizzj_at_play
Hair balayage ideas really grab attention! Long wavy hair with just the right color highlights will make anyone stand out – whether it's a formal event or the beach.
Solar highlights balayage on brown hair

@keziasimoes
These sun-bleached highlights look best on dark hair and are easily achievable with an experienced balayage specialist. Going from dark to light with these lived-in highlights requires a purple shampoo to keep the shade fresh.
Golden balayage on brown hair

@sarabotsfordhair
Skip traditional highlights and ask for golden balayages instead, because dark hair doesn't have to be boring. Add some warm caramel streaks for new dimensions and highlights on the face frame – you are sure to get that glowing effect on your lovely face!
Rose Gold Balayage Highlights

@karasprinkle
Rose gold glitter has become very trendy due to the unique shade created that can complement many base colors. Cotton candy or pastel pink highlights plus textured waves are so cute and fun! With a setting spray and a few swipes of the brush, have fun with this adventurous transition from dark to pastel pink hair.
Light blond and chocolate brown balayage

@hairbyamybee
Light blonde and chocolate brown hair creates a sexy date look that is edgy but cute. These ash-bronze balayage hair highlights look stunning with a parting down the middle and huge loose curls, creating a more casual yet composed style.
Balayage on dark hair with purple highlights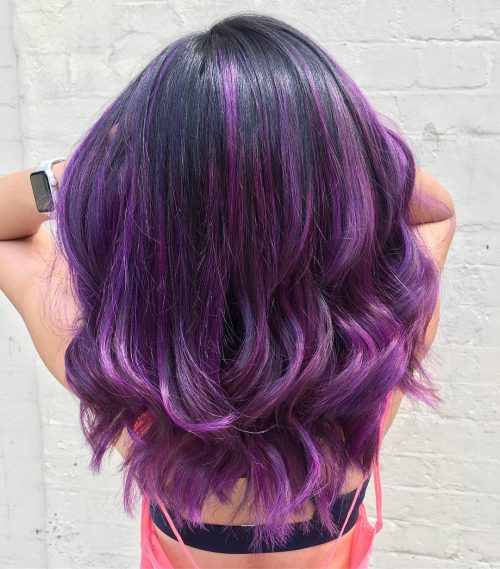 @elissawolfe
Decorate your long mane with purple highlights and soft sexy waves to the tips. This two-tone balayage style is perfect for a casual rocker look!
Caramel balayage on brown hair

@hairmeroar
Show off these stunning beach waves with sweet honey accents and caramel highlights that will add body and volume to your brown hair. These shades look amazing on any hairstyle, whether it's wavy or straight.
Subtle balayage with cool brown highlights

@laurengrummel
If you want your curls to look fuller, go for a light balayage with cool brown highlights. New York-based stylist Lauren Grummel used a light foil appliqué to create the look.
Balayazh works for most women, says Grummel. Her biggest recommendation? "Good shampoo and conditioner. They will help keep your color fresh and longer. And also to nourish your hair," she adds.
Thin balayazh on dark hair, framing the face

@sarabotsfordhair
Face-framing balayage highlights are a low-maintenance way to lighten your hair with minimal time spent in the salon.
This is good for the woman who doesn't like to sit around with foil and/or balayage for hours, but still wants that sweet blonde tan. The great thing about this look is how much more volume it can give you. This is such a good example of "less is more" because a pair of brighter banknotes around your face can really create a nice color contrast.
This hair color is flattering to most women just because you can fine-tune it for each individual. You can adjust the tone, blonde (or brunette) level, and placement.
Copper-strawberry blonde with highlights on dark roots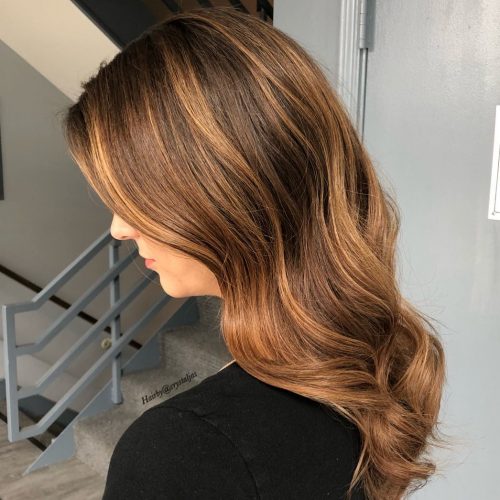 @crystaljasbeauty
This look features subtle, natural, sun-kissed, strawberry-copper highlights. It was created by hairdresser Crystal Jasmine from Chicago, Illinois. "I hand-painted bits of hair that I really wanted to stand out when the light hits them, but still have a natural sun-kissed effect," explains Jasmine.
It does not require much maintenance, yet it gives the hair the necessary subtle dimension. Balayazh is great for low-maintenance girls who want to add dimension to their hair but don't want to grow roots right away.
"All women are candidates for highlights – you just have to find the right shade for your skin tone," she adds. "It's easy to keep up with him or just let him grow, there's no obligation, that's what makes him so fun!"
Ash blonde highlights on light brown hair

@theroomhairbycourtney
These softer highlights were created by hairstylist Courtney Rollo of Windsor, Ontario.
"Because the base color of the model was already a cooler shade of brunette, these ashy blended highlights complemented her natural color," Rollo explains. "To complement the edgy ash tones, we made a fun textured bob with an angular slant and finished the look with light, casual beach waves."
These styles can be very versatile as they allow more time between appointments and therefore less maintenance. They will allow your natural roots to grow. Rollo believes it is best for finer hair, the cut can be smooth and straight to show a sharp concave shape, or wavy to emphasize the volume that can be created with this type of haircut.
Blonde highlights for brown hair

@doreneatgadabout
This stylish ash blonde balayage was created by stylist Doren Camarena from Tuscon, Arizona.
"What I love most about this look is that it is fun, simple and low maintenance. It will grow beautiful and natural," she notes.
This color and cut is great for women with naturally fine hair texture who don't do much with their hair and are looking for a new look that will look good on straight or curly hair to enhance their natural hair.
Ash brown hair with honey highlights

@_lexo._
"The most beautiful thing about this balayage is its color. These honey tones really complement the natural base color," says master stylist Lex Olson from New Jersey.
"Balayage is the perfect introduction for women who have never done makeup before and want to try something new," explains Olson. "For example, this guest came with a lush mop of gorgeous natural hair! Balayage is the perfect introduction for first-time clients seeking color. With the right home treatment, this look does not require much maintenance. Lightening techniques such as balayage can greatly improve hair color."
Caramel highlights on dark brown hair

@brushedbyaraven
Stylist Nicole chose this balayage with a light toasted color on her dark brown hair and didn't disappoint. Coloring accentuates darker hair and subtle density for a soft look.